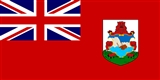 Bermuda
Bermuda
is a British overseas territory in the
North Atlantic Ocean
Atlantic Ocean
The Atlantic Ocean is the second-largest of the world's oceanic divisions. With a total area of about , it covers approximately 20% of the Earth's surface and about 26% of its water surface area...
. Located off the
east coast of the United States
East Coast of the United States
The East Coast of the United States, also known as the Eastern Seaboard, refers to the easternmost coastal states in the United States, which touch the Atlantic Ocean and stretch up to Canada. The term includes the U.S...
, its nearest
landmass
Landmass
A landmass is a contiguous area of land surrounded by ocean. Although it may be most often written as one word to distinguish it from the usage "land mass"—the measure of land area—it is also used as two words.Landmasses include:*supercontinents...
is
Cape Hatteras
Cape Hatteras
Cape Hatteras is a cape on the coast of North Carolina. It is the point that protrudes the farthest to the southeast along the northeast-to-southwest line of the Atlantic coast of North America...
,
North Carolina
North Carolina
North Carolina is a state located in the southeastern United States. The state borders South Carolina and Georgia to the south, Tennessee to the west and Virginia to the north. North Carolina contains 100 counties. Its capital is Raleigh, and its largest city is Charlotte...
, about 1030 kilometres (640 mi) to the west-northwest. It is about 1373 kilometres (853.1 mi) south of Halifax, Nova Scotia, Canada, and 1770 kilometres (1,099.8 mi) northeast of Miami, Florida. Its capital city is
Hamilton
Hamilton, Bermuda
Hamilton is the capital of the British Overseas Territory of Bermuda. It is the territory's financial centre and a major port and tourist destination.-Geography:...
.
Bermuda was discovered in 1505 by Spanish navigator
Juan de Bermúdez
Juan de Bermudez
Juan de Bermúdez was a Spanish navigator of the 16th century. In 1505, while sailing back to Spain from a provisioning voyage to Hispaniola in the ship La Garça , he discovered Bermuda, which was later named after him. Legatio Babylonica, published in 1511 by Peter Martyr d'Anghiera, lists "La...
(who claimed to find the island inhabited only by pigs) after whom the islands are named, who claimed it for the
Spanish Empire
Spanish Empire
The Spanish Empire comprised territories and colonies administered directly by Spain in Europe, in America, Africa, Asia and Oceania. It originated during the Age of Exploration and was therefore one of the first global empires. At the time of Habsburgs, Spain reached the peak of its world power....
.