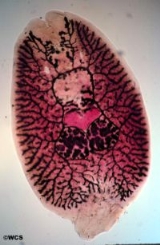 Monogenea
Monogenea
are a group of largely ectoparasitic members of the flatworm phylum Platyhelminthes, class
Monogenea
.
Characteristics
Monogenea are very small parasitic flatworms mainly found on skin or gills of fish.
They are rarely longer than about 2 cm. A few species infecting certain marine fish are larger and marine forms are generally larger than those found on fresh water hosts.
Monogeneans lack respiratory, skeletal and circulatory systems and have no or weakly developed oral suckers.
Monogenea attach to hosts using hooks, clamps and a variety of other specialized structures. They are often capable of dramatically elongating and shortening as they move. Biologists need to ensure that specimens are completely relaxed before measurements are taken.
Like all ectoparasites, monogeneans have well-developed attachment structures. The anterior structures are collectively termed the
prohaptor
, while the posterior ones are collectively termed the
opisthaptor
. The posterior opishaptor with its hooks, anchors, clamps etc. is typically the major attachment organ.
Like other flatworms, Monogenea have no true
body cavity
Body cavity
By the broadest definition, a body cavity is any fluid-filled space in a multicellular organism. However, the term usually refers to the space located between an animal's outer covering and the outer lining of the gut cavity, where internal organs develop...
(coelom). They have a simple digestive system consisting of a mouth opening with a muscular
pharynx
Pharynx
The human pharynx is the part of the throat situated immediately posterior to the mouth and nasal cavity, and anterior to the esophagus and larynx. The human pharynx is conventionally divided into three sections: the nasopharynx , the oropharynx , and the laryngopharynx...
and an intestine with no terminal opening (
anus
Anus
The anus is an opening at the opposite end of an animal's digestive tract from the mouth. Its function is to control the expulsion of feces, unwanted semi-solid matter produced during digestion, which, depending on the type of animal, may be one or more of: matter which the animal cannot digest,...
). Generally, they also are hermaphroditic with functional reproductive organs of both sexes occurring in one individual. Most species are oviparous but a few are viviparous. Monogenea are Platyhelminthes and therefore are among the lowest invertebrates to possess three embryonic germ layers—endoderm, mesoderm, and ectoderm. In addition, they have a head region that contains concentrated sense organs and nervous tissue (brain).
Systematics and Evolution
The ancestors of Monogenea were probably free-living flatworms similar to modern
Turbellaria
Turbellaria
The Turbellaria are one of the traditional sub-divisions of the phylum Platyhelminthes , and include all the sub-groups that are not exclusively parasitic. There are about 4,500 species, which range from to in length...
.
According to the more widely accepted view, "rhabdocoel turbellarians gave rise to monogeneans; these, in turn, gave rise to digeneans, from which the cestodes were derived. Another view is that the rhabdocoel ancestor gave rise to two lines; one gave rise to monogeneans, who gave rise to digeneans, and the other line gave rise to cestodes"
[1]
.
There are about 50
families
Family (biology)
In biological classification, family is* a taxonomic rank. Other well-known ranks are life, domain, kingdom, phylum, class, order, genus, and species, with family fitting between order and genus. As for the other well-known ranks, there is the option of an immediately lower rank, indicated by the...
and thousands of described species.
Some parasitologists divide Monogenea into two (or three) subclasses based on the complexity of their haptor: Monopisthocotylea have one main part to the haptor, often with hooks or a large attachment disc, whereas
Polyopisthocotylea
Polyopisthocotylea
Polyopisthocotylea is a flatworms subclass in the class Monogenea.Orders includes :* Chimaericolidea* Diclybothriidea* Mazocraeidea* Polystomatidea-External links:...
have multiple parts to the haptor, typically clamps. These groups are also known as Polyonchoinea and Heteronchoinea, respectively. Polyopisthocotyleans are almost exclusively gill-dwelling blood feeders, whereas Monopisthocotyleans may live on the gills, skin and fins.
Monopistocotylea include:
Genus Gyrodactylus, which has no eyespots and is viviparous.
Genus Dactylogyrus

Dactylogyrus

Dactylogyrus is a genus of the Dactylogyridae family. They are commonly known as gill flukesLike other monogeneans, Dactylogyrus only has one host required to complete its life cycle.-Introduction:...


, which has four eyespot

Eyespot

Eyespot is an important fungal disease of wheat caused by the necrotrophic fungus Tapesia yallundae and Tapesia acuformis . It is also called Strawbreaker...


s and is oviparous. This is one of the largest metazoan genera, with at least 970 species.
Genus Neobenedenia

Neobenedenia

Neobenedenia is a genus of Monopisthocotylean monogenean flatworm parasites. The most common species, N. melleni, causes problematic disease in public aquariums....


, which is much larger and lives on the skin of many tropical marine species, causing problematic infections in marine aquaria.
All of which can cause
epizootic
Epizootic
In epizoology, an epizootic is a disease that appears as new cases in a given animal population, during a given period, at a rate that substantially exceeds what is "expected" based on recent experience . Epidemic is the analogous term applied to human populations...
s in
freshwater fish
Freshwater fish
Freshwater fish are fish that spend some or all of their lives in freshwater, such as rivers and lakes, with a salinity of less than 0.05%. These environments differ from marine conditions in many ways, the most obvious being the difference in levels of salinity...
when raised in
aquaculture
Aquaculture
Aquaculture, also known as aquafarming, is the farming of aquatic organisms such as fish, crustaceans, molluscs and aquatic plants. Aquaculture involves cultivating freshwater and saltwater populations under controlled conditions, and can be contrasted with commercial fishing, which is the...
.
Polyopisthocotylea
Polyopisthocotylea
Polyopisthocotylea is a flatworms subclass in the class Monogenea.Orders includes :* Chimaericolidea* Diclybothriidea* Mazocraeidea* Polystomatidea-External links:...
include:
Genus Diclidophora, which is primarily found in marine fish and primitive freshwater fish like sturgeon

Sturgeon

Sturgeon is the common name used for some 26 species of fish in the family Acipenseridae, including the genera Acipenser, Huso, Scaphirhynchus and Pseudoscaphirhynchus. The term includes over 20 species commonly referred to as sturgeon and several closely related species that have distinct common...


s and paddlefish

Paddlefish

Paddlefish are primitive Chondrostean ray-finned fishes. The paddlefish can be distinguished by its large mouth and its elongated, spatula-like snout, called a rostrum, which is longer than the rest of the head...


.
Genus Protopolystoma, found in aquatic clawed toads (Xenopus

Xenopus

Xenopus is a genus of highly aquatic frogs native to Sub-Saharan Africa. There are 19 species in the Xenopus genus...


species).
Ecology and life cycle
Monogeneans possess the simplest life cycle among the parasitic platyhelminths. They have no intermediate hosts and are ectoparasitic on fish (seldom in the
urinary bladder
Urinary bladder
The urinary bladder is the organ that collects urine excreted by the kidneys before disposal by urination. A hollow muscular, and distensible organ, the bladder sits on the pelvic floor...
and
rectum
Rectum
The rectum is the final straight portion of the large intestine in some mammals, and the gut in others, terminating in the anus. The human rectum is about 12 cm long...
of
cold-blooded
Poikilotherm
A poikilotherm is an organism whose internal temperature varies considerably. It is the opposite of a homeotherm, an organism which maintains thermal homeostasis. Usually the variation is a consequence of variation in the ambient environmental temperature...
vertebrates). Although they are
hermaphrodite
Hermaphrodite
In biology, a hermaphrodite is an organism that has reproductive organs normally associated with both male and female sexes.Many taxonomic groups of animals do not have separate sexes. In these groups, hermaphroditism is a normal condition, enabling a form of sexual reproduction in which both...
s, the male reproductive system becomes functional before the female part. The eggs hatch releasing a heavily ciliated larval stage known as an
oncomiracidium
. The
oncomiracidium
has numerous posterior hooks and is generally the life stage responsible for transmission from host to host.
No known monogeneans infect birds, but one (
Oculotrema hippopotami
) infects mammals, parasitizing the eye of the
hippopotamus
Hippopotamus
The hippopotamus , or hippo, from the ancient Greek for "river horse" , is a large, mostly herbivorous mammal in sub-Saharan Africa, and one of only two extant species in the family Hippopotamidae After the elephant and rhinoceros, the hippopotamus is the third largest land mammal and the heaviest...
.
External links