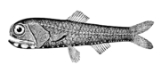 Lanternfish
Not to be confused with Lophiiformes Anglerfish

Anglerfish

Anglerfishes are members of the teleost order Lophiiformes . They are bony fishes named for their characteristic mode of predation, wherein a fleshy growth from the fish's head acts as a lure; this is considered analogous to angling.Some anglerfishes are pelagic , while others are benthic...


(some of which have bioluminescent "lanterns" which grow from their foreheads).
Cooper Lanternfishes
(or
myctophids
, from the
Greek
Greek language
Greek is an independent branch of the Indo-European family of languages. Native to the southern Balkans, it has the longest documented history of any Indo-European language, spanning 34 centuries of written records. Its writing system has been the Greek alphabet for the majority of its history;...
mykter, "nose" and ophis, "serpent") are small mesopelagic fish of the large
family
Family (biology)
In biological classification, family is* a taxonomic rank. Other well-known ranks are life, domain, kingdom, phylum, class, order, genus, and species, with family fitting between order and genus. As for the other well-known ranks, there is the option of an immediately lower rank, indicated by the...
Myctophidae
. One of two families in the
order
Order (biology)
In scientific classification used in biology, the order is# a taxonomic rank used in the classification of organisms. Other well-known ranks are life, domain, kingdom, phylum, class, family, genus, and species, with order fitting in between class and family...
Myctophiformes
Myctophiformes
Myctophiformes is an order of ray-finned fish consisting of two families of deep-sea marine fish, most notably the highly abundant lanternfishes...
, the Myctophidae are represented by 246
species
Species
In biology, a species is one of the basic units of biological classification and a taxonomic rank. A species is often defined as a group of organisms capable of interbreeding and producing fertile offspring. While in many cases this definition is adequate, more precise or differing measures are...
in 33
genera
Genus
In biology, a genus is a low-level taxonomic rank used in the biological classification of living and fossil organisms, which is an example of definition by genus and differentia...
, and are found in oceans worldwide.