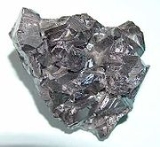 Zinc
Zinc
(ˈzɪŋk ; from ), or
spelter
(which may also refer to
zinc alloy
Spelter
Spelter, while sometimes used merely as a synonym for zinc, is often used to identify a zinc alloy. In this sense it might be an alloy of equal parts copper and zinc, i.e. a brass, used for hard soldering and brazing, or as an alloy, containing lead, that is used instead of bronze...
s), is a
metal
Metal
A metal , is an element, compound, or alloy that is a good conductor of both electricity and heat. Metals are usually malleable and shiny, that is they reflect most of incident light...
lic
chemical element
Chemical element
A chemical element is a pure chemical substance consisting of one type of atom distinguished by its atomic number, which is the number of protons in its nucleus. Familiar examples of elements include carbon, oxygen, aluminum, iron, copper, gold, mercury, and lead.As of November 2011, 118 elements...
; it has the symbol
Zn
and
atomic number
Atomic number
In chemistry and physics, the atomic number is the number of protons found in the nucleus of an atom and therefore identical to the charge number of the nucleus. It is conventionally represented by the symbol Z. The atomic number uniquely identifies a chemical element...
30. It is the first element in
group 12
Group 12 element
A group 12 element is one of the elements in group 12 in the periodic table. This includes zinc , cadmium and mercury . The further inclusion of copernicium in group 12 is supported by recent experiments on individual Cn atoms...
of the
periodic table
Periodic table
The periodic table of the chemical elements is a tabular display of the 118 known chemical elements organized by selected properties of their atomic structures. Elements are presented by increasing atomic number, the number of protons in an atom's atomic nucleus...
. Zinc is, in some respects, chemically similar to
magnesium
Magnesium
Magnesium is a chemical element with the symbol Mg, atomic number 12, and common oxidation number +2. It is an alkaline earth metal and the eighth most abundant element in the Earth's crust and ninth in the known universe as a whole...
, because its
ion
Ion
An ion is an atom or molecule in which the total number of electrons is not equal to the total number of protons, giving it a net positive or negative electrical charge. The name was given by physicist Michael Faraday for the substances that allow a current to pass between electrodes in a...
is of similar size and its only common
oxidation state
Oxidation state
In chemistry, the oxidation state is an indicator of the degree of oxidation of an atom in a chemical compound. The formal oxidation state is the hypothetical charge that an atom would have if all bonds to atoms of different elements were 100% ionic. Oxidation states are typically represented by...
is +2. Zinc is the 24th most abundant element in the Earth's crust and has five stable
isotope
Isotope
Isotopes are variants of atoms of a particular chemical element, which have differing numbers of neutrons. Atoms of a particular element by definition must contain the same number of protons but may have a distinct number of neutrons which differs from atom to atom, without changing the designation...
s. The most common zinc
ore
Ore
An ore is a type of rock that contains minerals with important elements including metals. The ores are extracted through mining; these are then refined to extract the valuable element....
is
sphalerite
Sphalerite
Sphalerite is a mineral that is the chief ore of zinc. It consists largely of zinc sulfide in crystalline form but almost always contains variable iron. When iron content is high it is an opaque black variety, marmatite. It is usually found in association with galena, pyrite, and other sulfides...
, a
zinc sulfide
Zinc sulfide
Zinc sulfide is a inorganic compound with the formula ZnS. ZnS is the main form of zinc in nature, where it mainly occurs as the mineral sphalerite...
.