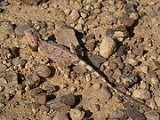 Crypsis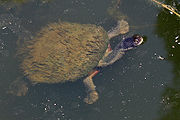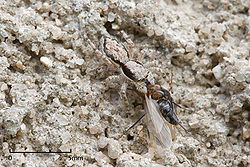 In
ecology
Ecology
Ecology is the scientific study of the relations that living organisms have with respect to each other and their natural environment. Variables of interest to ecologists include the composition, distribution, amount , number, and changing states of organisms within and among ecosystems...
,
crypsis
is the ability of an organism to avoid observation or detection by other organisms. It may be either a
predation strategy
Ambush predator
Ambush predators or sit-and-wait predators are carnivorous animals that capture prey by stealth or cunning, not by speed or necessarily by strength. These organisms usually hide motionless and wait for prey to come within striking distance. They are often camouflaged, and may be solitary...
or an antipredator adaptation, and methods include
camouflage
Camouflage
Camouflage is a method of concealment that allows an otherwise visible animal, military vehicle, or other object to remain unnoticed, by blending with its environment. Examples include a leopard's spotted coat, the battledress of a modern soldier and a leaf-mimic butterfly...
, nocturnality, subterranean lifestyle, transparency, and
mimicry
Batesian mimicry
Batesian mimicry is a form of mimicry typified by a situation where a harmless species has evolved to imitate the warning signals of a harmful species directed at a common predator...
. The word can also be used in the context of
eggs
Egg (biology)
An egg is an organic vessel in which an embryo first begins to develop. In most birds, reptiles, insects, molluscs, fish, and monotremes, an egg is the zygote, resulting from fertilization of the ovum, which is expelled from the body and permitted to develop outside the body until the developing...
and pheromone production.
Overview
There is a strong
evolutionary
Evolution
Evolution is any change across successive generations in the heritable characteristics of biological populations. Evolutionary processes give rise to diversity at every level of biological organisation, including species, individual organisms and molecules such as DNA and proteins.Life on Earth...
pressure for animals to blend into their environment or conceal their shape, for prey animals to avoid predators and for predators to be able to avoid detection by prey. (Exceptions include large
herbivore
Herbivore
Herbivores are organisms that are anatomically and physiologically adapted to eat plant-based foods. Herbivory is a form of consumption in which an organism principally eats autotrophs such as plants, algae and photosynthesizing bacteria. More generally, organisms that feed on autotrophs in...
s without natural enemies, brilliantly-colored birds that rely on flight to escape predators, and venomous animals that
advertise with bright colors
Aposematism
Aposematism , perhaps most commonly known in the context of warning colouration, describes a family of antipredator adaptations where a warning signal is associated with the unprofitability of a prey item to potential predators...
.) Cryptic animals include the
tawny frogmouth
Tawny Frogmouth
The Tawny Frogmouth is an Australian species of frogmouth, a type of bird found throughout the Australian mainland, Tasmania and southern New Guinea. The Tawny Frogmouth is often mistaken to be an owl...
(feather patterning resembles bark), the
tuatara
Tuatara
The tuatara is a reptile endemic to New Zealand which, though it resembles most lizards, is actually part of a distinct lineage, order Sphenodontia. The two species of tuatara are the only surviving members of its order, which flourished around 200 million years ago. Their most recent common...
(hides in burrows all day; nocturnal), some
jellyfish
Jellyfish
Jellyfish are free-swimming members of the phylum Cnidaria. Medusa is another word for jellyfish, and refers to any free-swimming jellyfish stages in the phylum Cnidaria...
(transparent), the
leafy sea dragon
Leafy sea dragon
The leafy seadragon or Glauert's seadragon, Phycodurus eques, is a marine fish in the family Syngnathidae, which also includes the seahorses. It is the only member of the genus Phycodurus. It is found along the southern and western coasts of Australia. The name is derived from the appearance, with...
, and the
flounder
Flounder
The flounder is an ocean-dwelling flatfish species that is found in coastal lagoons and estuaries of the Northern Atlantic and Pacific Oceans.-Taxonomy:There are a number of geographical and taxonomical species to which flounder belong.*Western Atlantic...
(covers itself in sediment).
Varieties of crypsis
Crypsis may occur in a variety of ways, each of which causes the organism in question to blend with its background in at least one of the senses, although visual crypsis is the best known.
Visual
Many animals have evolved so that they visually resemble their surroundings, using some sort of natural
camouflage
Camouflage
Camouflage is a method of concealment that allows an otherwise visible animal, military vehicle, or other object to remain unnoticed, by blending with its environment. Examples include a leopard's spotted coat, the battledress of a modern soldier and a leaf-mimic butterfly...
that may match the color of the surroundings (cryptic coloration) and/or break up the visual outline of the animal itself. Such animals may resemble rocks, sand, twigs, leaves, and even bird droppings.
A few animals have chromatic response, changing color in changing environments, either seasonally (
ermine
Ermine
Ermine has several uses:* A common name for the stoat * The white fur and black tail end of this animal, which is historically worn by and associated with royalty and high officials...
,
snowshoe hare
Snowshoe Hare
The Snowshoe Hare , also called the Varying Hare, or Snowshoe Rabbit, is a species of hare found in North America. It has the name "snowshoe" because of the large size of its hind feet and the marks its tail leaves. The animal's feet prevent it from sinking into the snow when it hops and walks...
) or far more rapidly with
chromatophore
Chromatophore
Chromatophores are pigment-containing and light-reflecting cells found in amphibians, fish, reptiles, crustaceans, and cephalopods. They are largely responsible for generating skin and eye colour in cold-blooded animals and are generated in the neural crest during embryonic development...
s in their integument (
chameleon
Chameleon
Chameleons are a distinctive and highly specialized clade of lizards. They are distinguished by their parrot-like zygodactylous feet, their separately mobile and stereoscopic eyes, their very long, highly modified, and rapidly extrudable tongues, their swaying gait, the possession by many of a...
,
cephalopod
Cephalopod
A cephalopod is any member of the molluscan class Cephalopoda . These exclusively marine animals are characterized by bilateral body symmetry, a prominent head, and a set of arms or tentacles modified from the primitive molluscan foot...
s).
Countershading
Countershading
Countershading, or Thayer's Law, is a form of camouflage. Countershading, in which an animal's pigmentation is darker dorsally, is often thought to have an adaptive effect of reducing conspicuous shadows cast on the ventral region of an animal's body...
, the use of different colors on upper and lower surfaces in graduating tones from a light belly to a darker back, is common in the sea and on land. This is sometimes called Thayer's law, after
Abbott H. Thayer
Abbott Handerson Thayer
Abbott Handerson Thayer was an American artist, naturalist and teacher. As a painter of portraits, figures, animals and landscapes, he enjoyed a certain prominence during his lifetime, as indicated by the fact that his paintings are part of the most important U.S. art collections...
, who published a paper on the form in 1896.
Some animals, notably decorator crabs, attach other plants or animals to their bodies, allowing themselves to blend in with any environment, and even to change their camouflage.
Olfactory
Some animals, in both terrestrial and aquatic environments, appear to camouflage their odour, which might otherwise attract predators. Numerous arthropods, both insects and spiders, mimic ants, whether to avoid predation, to hunt ants, or (for example in the
Large Blue Butterfly
Large blue butterfly
The Large Blue is a blue butterfly, that is resident in Europe and some parts of Asia. The butterfly was became extinct in the United Kingdom in 1979, but has since been reintroduced by conservationists...
caterpillar) to trick the ants into feeding them.
Auditory
Some insects, notably the
Noctuid moths
Noctuidae
The Noctuidae or owlet moths are a family of robustly-built moths that includes more than 35,000 known species out of possibly 100,000 total, in more than 4,200 genera. They constitute the largest family in the Lepidoptera....
(such as the
Large Yellow Underwing
Large Yellow Underwing
The Large Yellow Underwing is a moth, the type species for the family Noctuidae. It is an abundant species throughout Europe, one of the most common and most familiar moths of the region. In some years the species is highly migratory with large numbers appearing suddenly in marginal parts of the...
) and the
Arctiid moths
Arctiidae
Arctiidae is a large and diverse family of moths with around 11,000 species found all over the world, including 6,000 neotropical species. This family includes the groups commonly known as tiger moths , which usually have bright colours, footmen , lichen moths and wasp moths...
(such as the Garden Tiger), defend themselves against predation by
echolocating
Echolocation
Echolocation may refer to:* Acoustic location, the general use of sound to locate objects* Animal echolocation, non-human animals emitting sound waves and listening to the echo in order to locate objects or navigate...
bats, both by passively absorbing sound with soft fur-like body coverings, and by actively creating sounds to mimic echoes from other locations or objects.
Effects
There is often a self-perpetuating co-evolution, or
evolutionary arms race
Evolutionary arms race
In evolutionary biology, an evolutionary arms race is an evolutionary struggle between competing sets of co-evolving genes that develop adaptations and counter-adaptations against each other, resembling an arms race, which are also examples of positive feedback...
, between the
perceptive
Perception
Perception is the process of attaining awareness or understanding of the environment by organizing and interpreting sensory information. All perception involves signals in the nervous system, which in turn result from physical stimulation of the sense organs...
abilities of animals for whom it is beneficial to be able to detect the cryptic animal, versus the cryptic characteristics of the hiding species. Different aspects of crypsis and sensory abilities may be more or less pronounced in given predator-prey species pairs.
Zoologists need special methods to study cryptic animals including
biotelemetry
Biotelemetry
Biotelemetry involves the application of telemetry in the medical field to remotely monitor various vital signs of ambulatory patients.-Application:...
techniques such as radio tracking,
mark and recapture
Mark and recapture
Mark and recapture is a method commonly used in ecology to estimate population size. This method is most valuable when a researcher fails to detect all individuals present within a population of interest every time that researcher visits the study area...
, and enclosures or exclosures.
Cryptic animals tend to be overlooked in studies of
biodiversity
Biodiversity
Biodiversity is the degree of variation of life forms within a given ecosystem, biome, or an entire planet. Biodiversity is a measure of the health of ecosystems. Biodiversity is in part a function of climate. In terrestrial habitats, tropical regions are typically rich whereas polar regions...
and
ecological risk assessment
Ecological extinction
Ecological extinction is defined as "the reduction of a species to such low abundance that, although it is still present in the community, it no longer interacts significantly with other species."...
.
See also
Animal coloration
Antipredator adaptation
Camouflage

Camouflage

Camouflage is a method of concealment that allows an otherwise visible animal, military vehicle, or other object to remain unnoticed, by blending with its environment. Examples include a leopard's spotted coat, the battledress of a modern soldier and a leaf-mimic butterfly...



Crepuscular

Crepuscular

Crepuscular animals are those that are active primarily during twilight, that is during dawn and dusk. The word is derived from the Latin word crepusculum, meaning "twilight." Crepuscular is, thus, in contrast with diurnal and nocturnal behavior. Crepuscular animals may also be active on a bright...



Matutinal

Matutinal

Matutinal is a term used in the life sciences to describe an organism that is only or primarily active in the pre-dawn hours or early morning. The variant term matinal is used only in entomology, often used in literature on the natural history and ecology of bees...



Nocturnality
External links