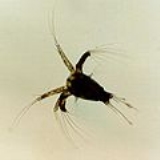 Shrimp
Shrimp
are
swimming
Aquatic locomotion
Swimming is biologically propelled motion through a liquid medium. Swimming has evolved a number of times in a range of organisms ranging from arthropods to fish to molluscs.-Evolution of swimming:...
,
decapod
Decapoda
The decapods or Decapoda are an order of crustaceans within the class Malacostraca, including many familiar groups, such as crayfish, crabs, lobsters, prawns and shrimp. Most decapods are scavengers. It is estimated that the order contains nearly 15,000 species in around 2,700 genera, with...
crustacean
Crustacean
Crustaceans form a very large group of arthropods, usually treated as a subphylum, which includes such familiar animals as crabs, lobsters, crayfish, shrimp, krill and barnacles. The 50,000 described species range in size from Stygotantulus stocki at , to the Japanese spider crab with a leg span...
s classified in the infraorder Caridea, found widely around the world in both
fresh
Fresh Water
Fresh Water is the debut album by Australian rock and blues singer Alison McCallum, released in 1972. Rare for an Australian artist at the time, it came in a gatefold sleeve...
and
salt water
Seawater
Seawater is water from a sea or ocean. On average, seawater in the world's oceans has a salinity of about 3.5% . This means that every kilogram of seawater has approximately of dissolved salts . The average density of seawater at the ocean surface is 1.025 g/ml...
. Adult shrimp are
filter feeding
Filter feeder
Filter feeders are animals that feed by straining suspended matter and food particles from water, typically by passing the water over a specialized filtering structure. Some animals that use this method of feeding are clams, krill, sponges, baleen whales, and many fish and some sharks. Some birds,...
benthic animals living close to the bottom. They can live in
schools
Shoaling and schooling
In biology, any group of fish that stay together for social reasons are said to be shoaling , and if, in addition, the group is swimming in the same direction in a coordinated manner, they are said to be schooling . In common usage, the terms are sometimes used rather loosely...
and can swim rapidly backwards. Shrimp are an important food source for larger animals from fish to
whale
Whale
Whale is the common name for various marine mammals of the order Cetacea. The term whale sometimes refers to all cetaceans, but more often it excludes dolphins and porpoises, which belong to suborder Odontoceti . This suborder also includes the sperm whale, killer whale, pilot whale, and beluga...
s. They have a high tolerance to toxins in polluted areas, and may contribute to high
toxin
Toxin
A toxin is a poisonous substance produced within living cells or organisms; man-made substances created by artificial processes are thus excluded...
levels in their predators.