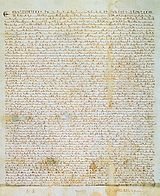 Right
Rights
are legal, social, or ethical
principle
Principle
A principle is a law or rule that has to be, or usually is to be followed, or can be desirably followed, or is an inevitable consequence of something, such as the laws observed in nature or the way that a system is constructed...
s of
freedom
Liberty
Liberty is a moral and political principle, or Right, that identifies the condition in which human beings are able to govern themselves, to behave according to their own free will, and take responsibility for their actions...
or
entitlement
Entitlement
An entitlement is a guarantee of access to benefits based on established rights or by legislation. A "right" is itself an entitlement associated with a moral or social principle, such that an "entitlement" is a provision made in accordance with legal framework of a society...
; that is, rights are the fundamental
normative
Normative
Normative has specialized contextual meanings in several academic disciplines. Generically, it means relating to an ideal standard or model. In practice, it has strong connotations of relating to a typical standard or model ....
rules about what is allowed of people or owed to people, according to some legal system, social convention, or ethical theory. Rights are of essential importance in such disciplines as
law
Law
Law is a system of rules and guidelines which are enforced through social institutions to govern behavior, wherever possible. It shapes politics, economics and society in numerous ways and serves as a social mediator of relations between people. Contract law regulates everything from buying a bus...
and
ethics
Ethics
Ethics, also known as moral philosophy, is a branch of philosophy that addresses questions about morality—that is, concepts such as good and evil, right and wrong, virtue and vice, justice and crime, etc.Major branches of ethics include:...
, especially theories of
justice
Justice
Justice is a concept of moral rightness based on ethics, rationality, law, natural law, religion, or equity, along with the punishment of the breach of said ethics; justice is the act of being just and/or fair.-Concept of justice:...
and deontology.
Rights are often considered fundamental to
civilization
Civilization
Civilization is a sometimes controversial term that has been used in several related ways. Primarily, the term has been used to refer to the material and instrumental side of human cultures that are complex in terms of technology, science, and division of labor. Such civilizations are generally...
, being regarded as established pillars of
society
Society
A society, or a human society, is a group of people related to each other through persistent relations, or a large social grouping sharing the same geographical or virtual territory, subject to the same political authority and dominant cultural expectations...
and
culture
Culture
Culture is a term that has many different inter-related meanings. For example, in 1952, Alfred Kroeber and Clyde Kluckhohn compiled a list of 164 definitions of "culture" in Culture: A Critical Review of Concepts and Definitions...
, and the history of
social conflict
Social conflict
Social conflict is the struggle for agency or power in society.Social conflict or group conflict occurs when two or more actors oppose each other in social interaction,reciprocally exerting social power in an effort to attain scarce or incompatible goals and prevent the opponent from attaining them...
s can be found in the history of each right and its development. The connection between rights and struggle cannot be overstated — rights are not as much granted or endowed as they are fought for and claimed, and the essence of struggles past and ancient are encoded in the spirit of current concepts of rights and their modern formulations.
Etymology
The
Modern English
Modern English
Modern English is the form of the English language spoken since the Great Vowel Shift in England, completed in roughly 1550.Despite some differences in vocabulary, texts from the early 17th century, such as the works of William Shakespeare and the King James Bible, are considered to be in Modern...
word
right
derives from Old English
riht
or
reht
, in turn from Proto-Germanic
*riχtaz
meaning "right" or "direct", and ultimately from
Proto-Indo-European
Proto-Indo-European language
The Proto-Indo-European language is the reconstructed common ancestor of the Indo-European languages, spoken by the Proto-Indo-Europeans...
*reg-to-
meaning "having moved in a straight line", in turn from
*(o)reg'(a)-
meaning "to straighten or direct". In several different
Indo-European languages
Indo-European languages
The Indo-European languages are a family of several hundred related languages and dialects, including most major current languages of Europe, the Iranian plateau, and South Asia and also historically predominant in Anatolia...
, a single word derived from the same root means both "right" and "law", such as French
droit
, Spanish
derecho
, and German
recht
.
Many other words related to normative or regulatory concepts derive from this same root, including
correct
,
regulate
, and
rex
(meaning "king"), whence
regal
and thence
royal
. Likewise many more geometric terms derive from this same root, such as
erect
(as in "upright"),
rectangle
(literally "
right angle
Right angle
In geometry and trigonometry, a right angle is an angle that bisects the angle formed by two halves of a straight line. More precisely, if a ray is placed so that its endpoint is on a line and the adjacent angles are equal, then they are right angles...
"),
straight
and
stretch
. Like
right
, the English words
rule
and
ruler
, deriving still from the same root, have both normative or regulatory and geometric meanings (e.g. a ruler as in a king, or a ruler as in a straightedge).
Several other roots have similar normative and geometric descendants, such as Latin
norma
, whence
norm
Norm (philosophy)
Norms are concepts of practical import, oriented to effecting an action, rather than conceptual abstractions that describe, explain, and express. Normative sentences imply "ought-to" types of statements and assertions, in distinction to sentences that provide "is" types of statements and assertions...
,
normal
, and
normative
itself, and also geometric concepts such as
surface normal

Surface normal

A surface normal, or simply normal, to a flat surface is a vector that is perpendicular to that surface. A normal to a non-flat surface at a point P on the surface is a vector perpendicular to the tangent plane to that surface at P. The word "normal" is also used as an adjective: a line normal to a...


s
; and likewise Greek
ortho
and Latin
ordo
, meaning either "right" or "correct" (as in
orthodox
, meaning "correct opinion") or "straight" or "perpendicular" (as in
orthogonal
, meaning "perpendicular angle"), and thence
order
,
ordinary
, etc.
A wide variety of meanings
There is considerable disagreement about what is meant precisely by the term
rights
. It has been used by different groups and thinkers for different purposes, with different and sometimes opposing definitions, and the precise definition of this principle, beyond having something to do with normative rules of some sort or another, is controversial.
One way to get an idea of the multiple understandings and senses of the term is to consider different ways it is used. Many diverse things are claimed as rights:
There are likewise diverse possible ways to categorize rights, such as:
There has been considerable debate about what this term means within the academic community, particularly within fields such as
philosophy
Philosophy
Philosophy is the study of general and fundamental problems, such as those connected with existence, knowledge, values, reason, mind, and language. Philosophy is distinguished from other ways of addressing such problems by its critical, generally systematic approach and its reliance on rational...
,
law
Law
Law is a system of rules and guidelines which are enforced through social institutions to govern behavior, wherever possible. It shapes politics, economics and society in numerous ways and serves as a social mediator of relations between people. Contract law regulates everything from buying a bus...
, deontology,
logic
Logic
In philosophy, Logic is the formal systematic study of the principles of valid inference and correct reasoning. Logic is used in most intellectual activities, but is studied primarily in the disciplines of philosophy, mathematics, semantics, and computer science...
, and
political science
Political science
Political Science is a social science discipline concerned with the study of the state, government and politics. Aristotle defined it as the study of the state. It deals extensively with the theory and practice of politics, and the analysis of political systems and political behavior...
. One way to look at different senses of the term of
rights
is to examine contrasting ideas about the concept.
Natural rights versus legal rights
Natural rights are rights which are "natural" in the sense of "not artificial, not man-made", as in rights deriving from deontic logic

Deontic logic

Deontic logic is the field of logic that is concerned with obligation, permission, and related concepts. Alternatively, a deontic logic is a formal system that attempts to capture the essential logical features of these concepts...


, from human nature

Human nature

Human nature refers to the distinguishing characteristics, including ways of thinking, feeling and acting, that humans tend to have naturally....


, or from the edicts of a god

Divine command theory

Divine command theory is the meta-ethical view about the semantics or meaning of ethical sentences, which claims that ethical sentences express propositions, some of which are true, about the attitudes of God...


. They are universal; that is, they apply to all people, and do not derive from the laws of any specific society. They exist necessarily, inhere in every individual, and can't be taken away. For example, it has been argued that humans have a natural right to life. They're sometimes called moral rights or inalienable rights.
Legal rights, in contrast, are based on a society's customs, laws, statute

Statute

A statute is a formal written enactment of a legislative authority that governs a state, city, or county. Typically, statutes command or prohibit something, or declare policy. The word is often used to distinguish law made by legislative bodies from case law, decided by courts, and regulations...


s or actions by legislature

Legislature

A legislature is a kind of deliberative assembly with the power to pass, amend, and repeal laws. The law created by a legislature is called legislation or statutory law. In addition to enacting laws, legislatures usually have exclusive authority to raise or lower taxes and adopt the budget and...


s. An example of a legal right is the right to vote of citizens. Citizenship

Citizenship

Citizenship is the state of being a citizen of a particular social, political, national, or human resource community. Citizenship status, under social contract theory, carries with it both rights and responsibilities...


, itself, is often considered as the basis for having legal rights, and has been defined as the "right to have rights". Legal rights are sometimes called civil rights

Civil rights

Civil and political rights are a class of rights that protect individuals' freedom from unwarranted infringement by governments and private organizations, and ensure one's ability to participate in the civil and political life of the state without discrimination or repression.Civil rights include...


or statutory rights and are culturally and politically relative

Moral relativism

Moral relativism may be any of several descriptive, meta-ethical, or normative positions. Each of them is concerned with the differences in moral judgments across different people and cultures:...


since they depend on a specific societal context to have meaning.
Some thinkers see rights in only one sense while others accept that both senses have a measure of validity. There has been considerable philosophical debate about these senses throughout history. For example,
Jeremy Bentham
Jeremy Bentham
Jeremy Bentham was an English jurist, philosopher, and legal and social reformer. He became a leading theorist in Anglo-American philosophy of law, and a political radical whose ideas influenced the development of welfarism...
believed that legal rights were the essence of rights, and he denied the existence of natural rights; whereas
Thomas Aquinas
Thomas Aquinas
Thomas Aquinas, O.P. , also Thomas of Aquin or Aquino, was an Italian Dominican priest of the Catholic Church, and an immensely influential philosopher and theologian in the tradition of scholasticism, known as Doctor Angelicus, Doctor Communis, or Doctor Universalis...
held that rights purported by
positive law
Positive law
Positive law is the term generally used to describe man-made laws which bestow specific privileges upon, or remove them from, an individual or group...
but not grounded in
natural law
Natural law
Natural law, or the law of nature , is any system of law which is purportedly determined by nature, and thus universal. Classically, natural law refers to the use of reason to analyze human nature and deduce binding rules of moral behavior. Natural law is contrasted with the positive law Natural...
were not properly rights at all, but only a facade or pretense of rights.
Claim rights versus liberty rights
A claim right is a right which entails that another person has a duty to the right-holder. Somebody else must do or refrain from doing something to or for the claim holder, such as perform a service or supply a product for him or her; that is, he or she has a claim to that service or product (another term is thing in action). In logic, this idea can be expressed as: "Person A has a claim that person B do something if and only if B has a duty to A to do that something." Every claim-right entails that some other duty-bearer must do some duty for the claim to be satisfied. This duty can be to act or to refrain from acting. For example, many jurisdictions recognize broad claim rights to things like "life, liberty, and property"; these rights impose an obligation upon others not to assault or restrain a person, or use their property, without the claim-holder's permission. Likewise, in jurisdictions where social welfare services are provided, citizens have legal claim rights to be provided with those services.
A liberty right or privilege, in contrast, is simply a freedom or permission for the right-holder to do something, and there are no obligations on other parties to do or not do anything. This can be expressed in logic as: "Person A has a privilege to do something if and only if A has no duty not to do that something." For example, if a person has a legal liberty right to free speech, that merely means that it is not legally forbidden for them to speak freely: it does not mean that anyone has to help enable their speech, or to listen to their speech; or even, per se, refrain from stopping them from speaking, though other rights, such as the claim right to be free from assault, may severely limit what others can do to stop them.
Liberty rights and claim rights are the inverse of one another: a person has a liberty right permitting him to do something only if there is no other person who has a claim right forbidding him from doing so. Likewise, if a person has a claim right against someone else, then that other person's liberty is limited. For example, a person has a
liberty right
to walk down a sidewalk and can decide freely whether or not to do so, since there is no obligation either to do so or to refrain from doing so. But pedestrians may have an obligation not to walk on certain lands, such as other people's private property, to which those other people have a claim right. So a person's
liberty right
of walking extends precisely to the point where another's
claim right
limits his or her freedom.
Positive rights versus negative rights
In one sense, a right is a permission to do something or an entitlement to a specific service or treatment, and these rights have been called
positive rights
. However, in another sense, rights may allow or require inaction, and these are called
negative rights
; they permit or require doing nothing. For example, in some democracies e.g. the US, citizens have the
positive right
to vote and they have the
negative right
not to vote; people can stay home and watch
television
Television
Television is a telecommunication medium for transmitting and receiving moving images that can be monochrome or colored, with accompanying sound...
instead, if they desire. In other democracies e.g.
Australia
Australia
Australia , officially the Commonwealth of Australia, is a country in the Southern Hemisphere comprising the mainland of the Australian continent, the island of Tasmania, and numerous smaller islands in the Indian and Pacific Oceans. It is the world's sixth-largest country by total area...
, however, citizens have a positive right to vote but they don't have a negative right to not vote, since non-voting citizens can be fined. Accordingly:
Positive rights are permissions to do things, or entitlements to be done unto. One example of a positive right is the purported "right to welfare."
Negative rights are permissions not to do things, or entitlements to be left alone. Often the distinction is invoked by libertarians

Libertarianism

Libertarianism, in the strictest sense, is the political philosophy that holds individual liberty as the basic moral principle of society. In the broadest sense, it is any political philosophy which approximates this view...


who think of a negative right as an entitlement to "non-interference" such as a right against being assaulted.
Though similarly named, positive and negative rights should not be confused with
active rights
(which encompass "privileges" and "powers") and
passive rights
(which encompass "claims" and "immunities").
Individual rights versus group rights
The general concept of rights is that they are possessed by individuals in the sense that they are permissions and entitlements to do things which other persons, or which governments or authorities, can not infringe. This is the understanding of people such as the author
Ayn Rand
Ayn Rand
Ayn Rand was a Russian-American novelist, philosopher, playwright, and screenwriter. She is known for her two best-selling novels The Fountainhead and Atlas Shrugged and for developing a philosophical system she called Objectivism....
who argued that only individuals have rights, according to her "philosophy" known as
Objectivism
Objectivism
Objectivism or Objectivist may refer to:* Any standpoint that stresses objectivity, including;* Philosophical objectivity, realism, the conviction that reality is mind-independent* Moral objectivism, the view that some ethics are absolute...
. However, others have argued that there are situations in which a group of persons is thought to have rights, or
group rights
. Accordingly:
Individual rights are rights held by individual people regardless of their group membership or lack thereof.
Group rights have been argued to exist when a group is seen as more than a mere composite or assembly of separate individuals but an entity in its own right. In other words, it's possible to see a group as a distinct being in and of itself; it's akin to an enlarged individual which has a distinct will and power of action and can be thought of as having rights. For example, a platoon of soldiers in combat

Combat

Combat, or fighting, is a purposeful violent conflict meant to establish dominance over the opposition, or to terminate the opposition forever, or drive the opposition away from a location where it is not wanted or needed....


can be thought of as a distinct group, since individual members are willing to risk their lives for the survival of the group, and therefore the group can be conceived as having a "right" which is superior to that of any individual member; for example, a soldier who disobeys an officer can be punished, perhaps even killed, for a breach of obedience. But there is another sense of group rights in which people who are members of a group can be thought of as having specific individual rights because of their membership in a group. In this sense, the set of rights which individuals-as-group-members have is expanded because of their membership in a group. For example, workers who are members of a group such as a labor union

Trade union

A trade union, trades union or labor union is an organization of workers that have banded together to achieve common goals such as better working conditions. The trade union, through its leadership, bargains with the employer on behalf of union members and negotiates labour contracts with...


can be thought of as having expanded individual rights because of their membership in the labor union, such as the rights to specific working conditions or wages. As expected, there is sometimes considerable disagreement about what exactly is meant by the term "group" as well as by the term "group rights."
There can be tension between individual and group rights. A classic instance in which group and individual rights clash is conflicts between unions and their members. For example, individual members of a union may wish a wage higher than the union-negotiated wage, but are prevented from making further requests; in a so-called
closed shop
Closed shop
A closed shop is a form of union security agreement under which the employer agrees to hire union members only, and employees must remain members of the union at all times in order to remain employed....
which has a union security agreement, only the union has a
right
to decide matters for the individual union members such as wage rates. So, do the supposed "individual rights" of the workers prevail about the proper wage? Or do the "group rights" of the union regarding the proper wage prevail? Clearly this is a source of tension.
Other senses
Other distinctions between rights draw more on historical association or
family resemblance
Family resemblance
Family resemblance is a philosophical idea made popular by Ludwig Wittgenstein, with the best known exposition being given in the posthumously published book Philosophical Investigations It has been suggested that Wittgenstein picked the idea and the term from Nietzsche, who had been using it,...
than on precise philosophical distinctions. These include the distinction between
civil and political rights
and
economic, social and cultural rights
, between which the articles of the
Universal Declaration of Human Rights
Universal Declaration of Human Rights
The Universal Declaration of Human Rights is a declaration adopted by the United Nations General Assembly . The Declaration arose directly from the experience of the Second World War and represents the first global expression of rights to which all human beings are inherently entitled...
are often divided. Another conception of rights groups them into
three generations
Three generations of human rights
The division of human rights into three generations was initially proposed in 1979 by the Czech jurist Karel Vasak at the International Institute of Human Rights in Strasbourg. He used the term at least as early as November 1977...
. These distinctions have much overlap with that between
negative and positive rights
Negative and positive rights
Philosophers and political scientists make a distinction between negative and positive rights . According to this view, positive rights permit or oblige action, whereas negative rights permit or oblige inaction. These permissions or obligations may be of either a legal or moral character...
, as well as between
individual rights
Individual rights
Group rights are rights held by a group rather than by its members separately, or rights held only by individuals within the specified group; in contrast, individual rights are rights held by individual people regardless of their group membership or lack thereof...
and group rights, but these groupings are not entirely coextensive.
Rights and politics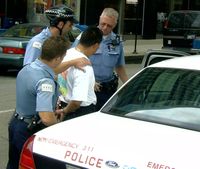 Rights are often included in the foundational questions governments and politics have been designed to deal with. Often the development of these socio-political institutions have formed a dialectical relationship with rights.
Rights about particular issues, or the rights of particular groups, are often areas of special concern. Often these concerns arise when rights come into conflict with other legal or moral issues, sometimes even other rights. Issues of concern have historically included
labor rights
Labor rights
Labor rights or workers' rights are a group of legal rights and claimed human rights having to do with labor relations between workers and their employers, usually obtained under labor and employment law. In general, these rights' debates have to do with negotiating workers' pay, benefits, and safe...
,
LGBT rights
LGBT social movements
Lesbian, gay, bisexual, and transgender social movements share inter-related goals of social acceptance of sexual and gender minorities. Lesbian, gay, bisexual, and transgender people and their allies have a long history of campaigning for what is generally called LGBT rights, also called gay...
,
reproductive rights
Reproductive rights
Reproductive rights are legal rights and freedoms relating to reproduction and reproductive health. The World Health Organization defines reproductive rights as follows:...
, disability rights, patient rights and
prisoners' rights
Prisoners' rights
The rights of civil and military prisoners are governed by both national and international law. International conventions include: the International Covenant on Civil and Political Rights; the United Nations' Minimum Rules for the Treatment of Prisoners and the European Committee for the...
. With increasing
monitoring
Mass surveillance
Mass surveillance is the pervasive surveillance of an entire population, or a substantial fraction thereof.Modern governments today commonly perform mass surveillance of their citizens, explaining that they believe that it is necessary to protect them from dangerous groups such as terrorists,...
and the information society,
information rights
Digital rights
The term digital rights describes the permissions of individuals legitimately to perform actions involving the use of a computer, any electronic device, or a communications network...
, such as the right to
privacy
Privacy
Privacy is the ability of an individual or group to seclude themselves or information about themselves and thereby reveal themselves selectively...
are becoming more important.
Some examples of groups whose rights are of particular concern include
animals
Animal rights
Animal rights, also known as animal liberation, is the idea that the most basic interests of non-human animals should be afforded the same consideration as the similar interests of human beings...
, and amongst
humans
Human rights
Human rights are "commonly understood as inalienable fundamental rights to which a person is inherently entitled simply because she or he is a human being." Human rights are thus conceived as universal and egalitarian . These rights may exist as natural rights or as legal rights, in both national...
, groups such as
children
Children's rights
Children's rights are the human rights of children with particular attention to the rights of special protection and care afforded to the young, including their right to association with both biological parents, human identity as well as the basic needs for food, universal state-paid education,...
and
youth
Youth rights
Youth rights refers to a set of philosophies intended to enhance civil rights for young people. They are a response to the oppression of young people, with advocates challenging ephebiphobia, adultism and ageism through youth participation, youth/adult partnerships, and promoting, ultimately,...
,
parents
Parents' rights movement
The Parents' rights movement is a civil rights movement whose members are primarily interested in issues affecting fathers, mothers and children related to family law, including child custody....
(both
mothers
Mothers' rights
Mothers' rights movements have formed in various areas, focusing on workplace issues , breast-feeding, and rights in family law...
and fathers), and
men
Men's rights
Men's rights is an umbrella term, encompassing the political rights, entitlements, and freedoms given or denied to males within a nation or culture....
and
women
Women's rights
Women's rights are entitlements and freedoms claimed for women and girls of all ages in many societies.In some places these rights are institutionalized or supported by law, local custom, and behaviour, whereas in others they may be ignored or suppressed...
.
Accordingly, politics plays an important role in developing or recognizing the above rights, and the discussion about which behaviors are included as "rights" is an ongoing political topic of importance. The concept of rights varies with political orientation. Positive rights such as a "right to medical care" are emphasized more often by left-leaning thinkers, while right-leaning thinkers place more emphasis on negative rights such as the "right to a fair trial".
Further, the term
equality
which is often bound up with the meaning of "rights" often depends on one's political orientation.
Conservatives
Conservatism
Conservatism is a political and social philosophy that promotes the maintenance of traditional institutions and supports, at the most, minimal and gradual change in society. Some conservatives seek to preserve things as they are, emphasizing stability and continuity, while others oppose modernism...
and
libertarians
Libertarianism
Libertarianism, in the strictest sense, is the political philosophy that holds individual liberty as the basic moral principle of society. In the broadest sense, it is any political philosophy which approximates this view...
and advocates of free markets often identify equality with equality of opportunity, and want equal and fair rules in the process of making things, while agreeing that sometimes these fair rules lead to unequal outcomes. In contrast,
socialists
Socialism
Socialism is an economic system characterized by social ownership of the means of production and cooperative management of the economy; or a political philosophy advocating such a system. "Social ownership" may refer to any one of, or a combination of, the following: cooperative enterprises,...
often identify equality with
equality of outcome
Equality of outcome
Equality of outcome, equality of condition, or equality of results is a controversial political concept. Although it is not always clearly defined, it is usually taken to describe a state in which people have approximately the same material wealth or, more generally, in which the general conditions...
and see fairness when people have equal amounts of goods and services, and therefore think that people have a right to equal portions of necessities such as
health care
Health care
Health care is the diagnosis, treatment, and prevention of disease, illness, injury, and other physical and mental impairments in humans. Health care is delivered by practitioners in medicine, chiropractic, dentistry, nursing, pharmacy, allied health, and other care providers...
or
economic assistance
Welfare
Welfare refers to a broad discourse which may hold certain implications regarding the provision of a minimal level of wellbeing and social support for all citizens without the stigma of charity. This is termed "social solidarity"...
or
housing
House
A house is a building or structure that has the ability to be occupied for dwelling by human beings or other creatures. The term house includes many kinds of different dwellings ranging from rudimentary huts of nomadic tribes to free standing individual structures...
.
History of rights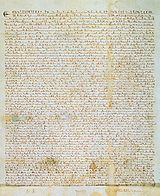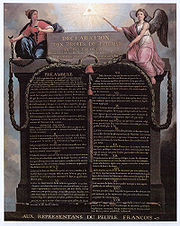 The specific enumeration of rights has differed greatly in different periods of history. In many cases, the system of rights promulgated by one group has come into sharp and bitter conflict with that of other groups. In the political sphere, a place in which rights have historically been an important issue, at present the question of who has what legal rights is sometimes addressed by the constitutions of the respective nations.
Most historic notions of rights were
authoritarian
Authoritarianism
Authoritarianism is a form of social organization characterized by submission to authority. It is usually opposed to individualism and democracy...
and
hierarchical
Hierarchy
A hierarchy is an arrangement of items in which the items are represented as being "above," "below," or "at the same level as" one another...
, with different people being granted different rights, and some having more rights than others. For instance, the right of a father to be respected by his son did not indicate a
duty
Duty
Duty is a term that conveys a sense of moral commitment to someone or something. The moral commitment is the sort that results in action and it is not a matter of passive feeling or mere recognition...
upon the father to return that respect, and the
divine right of kings
Divine Right of Kings
The divine right of kings or divine-right theory of kingship is a political and religious doctrine of royal and political legitimacy. It asserts that a monarch is subject to no earthly authority, deriving his right to rule directly from the will of God...
which permitted absolute power over subjects did not leave room for many rights to be granted to the subjects themselves.
In contrast, modern conceptions of rights often emphasize
liberty
Liberty
Liberty is a moral and political principle, or Right, that identifies the condition in which human beings are able to govern themselves, to behave according to their own free will, and take responsibility for their actions...
and
equality
Egalitarianism
Egalitarianism is a trend of thought that favors equality of some sort among moral agents, whether persons or animals. Emphasis is placed upon the fact that equality contains the idea of equity of quality...
as among the most important aspects of rights, though conceptions of liberty (e.g.
positive
Positive liberty
Positive liberty is defined as having the power and resources to fulfill one's own potential ; as opposed to negative liberty, which is freedom from external restraint...
or
negative
Negative liberty
Negative liberty is defined as freedom from interference by other people, and is set in contrast to positive liberty, which is defined as an individual's freedom from inhibitions of the social structure within the society such as classism, sexism or racism and is primarily concerned with the...
) and equality (e.g. of opportunity or of
outcome
Equality of outcome
Equality of outcome, equality of condition, or equality of results is a controversial political concept. Although it is not always clearly defined, it is usually taken to describe a state in which people have approximately the same material wealth or, more generally, in which the general conditions...
) frequently differ.
Important documents in the political history of rights include:
See also
Outline of rights
Outline of rights
The following outline is provided as an overview of and introduction to rights:Rights – normative principles, variously construed as legal, social, or moral freedoms or entitlements.-Theoretical distinctions:* Natural and legal rights** Natural law...
Contractual rights

Contractual rights

A contractual right is a claim, on other persons, that is acknowledged and perhaps reciprocated among the principals associated with that claim...



Constitutionalism

Constitutionalism

Constitutionalism has a variety of meanings. Most generally, it is "a complex of ideas, attitudes, and patterns of behavior elaborating the principle that the authority of government derives from and is limited by a body of fundamental law"....



Constitutional economics

Constitutional economics

Constitutional economics is a research program in economics and constitutionalism that has been described as extending beyond the definition of 'the economic analysis of constitutional law' in explaining the choice "of alternative sets of legal-institutional-constitutional rules that constrain the...



Rule according to higher law

Rule according to higher law

The rule according to a higher law means that no written law may be enforced by the government unless it conforms with certain unwritten, universal principles of fairness, morality, and justice...



Deed

Deed

A deed is any legal instrument in writing which passes, or affirms or confirms something which passes, an interest, right, or property and that is signed, attested, delivered, and in some jurisdictions sealed...



Droit

Droit

A droit is a legal title, claim or due.-Droits of admiralty :The term is used in English law in the phrase "droits of admiralty". This refers to certain customary rights or perquisites, formerly belonging to the Lord High Admiral, but now to the crown, for public purposes and paid into the...



Duty

Duty

Duty is a term that conveys a sense of moral commitment to someone or something. The moral commitment is the sort that results in action and it is not a matter of passive feeling or mere recognition...



Equal rights

Equal rights

Equal rights can refer to:*Equality before the law, when all people have the same rights*Human rights, when such rights are held in common by all people*Civil rights, when such rights are held in common by all citizens of a nation...



Exclusive rights
Freedom

Freedom (political)

Political freedom is a central philosophy in Western history and political thought, and one of the most important features of democratic societies...



Organisations:
Amnesty International

Amnesty International

Amnesty International is an international non-governmental organisation whose stated mission is "to conduct research and generate action to prevent and end grave abuses of human rights, and to demand justice for those whose rights have been violated."Following a publication of Peter Benenson's...



Human Rights Watch

Human Rights Watch

Human Rights Watch is an international non-governmental organization that conducts research and advocacy on human rights. Its headquarters are in New York City and it has offices in Berlin, Beirut, Brussels, Chicago, Geneva, Johannesburg, London, Los Angeles, Moscow, Paris, San Francisco, Tokyo,...



United States Commission on Civil Rights

United States Commission on Civil Rights

The U.S. Commission on Civil Rights is historically a bipartisan, independent commission of the U.S. federal government charged with the responsibility for investigating, reporting on, and making recommendations concerning civil rights issues that face the nation.-Commissioners:The Commission is...



External links