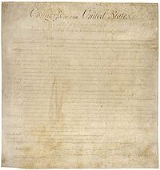 United States Bill of Rights
The
Bill of Rights
is the collective name for the first ten
amendments
to the
United States Constitution
United States Constitution
The Constitution of the United States is the supreme law of the United States of America. It is the framework for the organization of the United States government and for the relationship of the federal government with the states, citizens, and all people within the United States.The first three...
. These limitations serve to protect the
natural rights
Natural rights
Natural and legal rights are two types of rights theoretically distinct according to philosophers and political scientists. Natural rights are rights not contingent upon the laws, customs, or beliefs of any particular culture or government, and therefore universal and inalienable...
of
liberty
Liberty
Liberty is a moral and political principle, or Right, that identifies the condition in which human beings are able to govern themselves, to behave according to their own free will, and take responsibility for their actions...
and
property
Property
Property is any physical or intangible entity that is owned by a person or jointly by a group of people or a legal entity like a corporation...
. They guarantee a number of personal freedoms, limit the government's power in judicial and other proceedings, and reserve some powers to the states and the public.
Can any of you seriously say the Bill of Rights|Bill of Rights could get through Congress today? It wouldn't even get out of committee.

F. Lee Bailey, Newsweek, 17 April 1967.