 Masa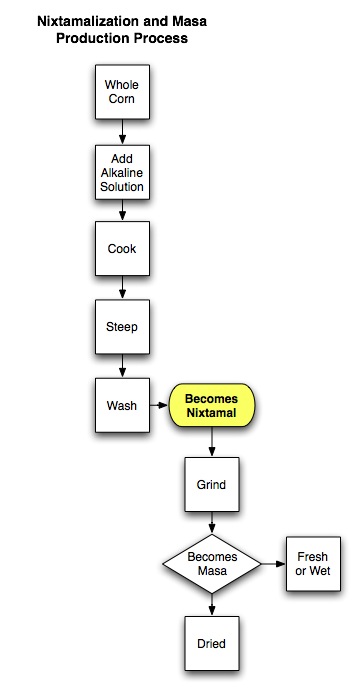 Masa
is
Spanish
Spanish language
Spanish , also known as Castilian , is a Romance language in the Ibero-Romance group that evolved from several languages and dialects in central-northern Iberia around the 9th century and gradually spread with the expansion of the Kingdom of Castile into central and southern Iberia during the...
for
dough
Dough
Dough is a paste made out of any cereals or leguminous crops by mixing flour with a small amount of water and/or other liquid. This process is a precursor to making a wide variety of foodstuffs, particularly breads and bread-based items , flatbreads, noodles, pastry, and similar items)...
. In the Americas it is often short for
masa de maíz
, a maize (corn) dough made from freshly prepared
hominy
Hominy
Hominy or nixtamal is dried maize kernels which have been treated with an alkali in a process called nixtamalization.The English term hominy is derived from the Powhatan language word for maize. Many other Native American cultures also made hominy and integrated it into their diet...
. It is used for making
corn tortilla
Corn tortilla
In Mexico and Central America, a tortilla is a type of thin, unleavened flat bread, made from finely ground maize...
s,
tamale
Tamale
A tamale — or more correctly tamal — is a traditional Latin American dish made of masa , which is steamed or boiled in a leaf wrapper. The wrapping is discarded before eating...
s,
pupusa
Pupusa
A pupusa is a traditional Salvadoran dish made of thick, hand-made corn tortilla that is usually filled with a blend of the following: cheese , cooked pork meat ground to a paste consistency...
s, arepas and many other
Latin American dishes
Latin American cuisine
Latin American Cuisine refers to typical foods, beverages, and cooking styles common to many of the countries and cultures in Latin America...
. The dried and powdered form is called
masa harina
,
masa de harina
, and sometimes
maseca
, the name of a leading commercial brand. It is reconstituted with water before use.
Masa de trigo
is Spanish for
wheat flour
Wheat flour
Wheat flour is a powder made from the grinding of wheat used for human consumption. More wheat flour is produced than any other flour. Wheat varieties are called "clean," "white," or "brown" if they have high gluten content, and they are called "soft" or "weak" flour if gluten content is low...
dough. It is also used for making wheat tortillas and other breads and pastries.
To make hominy, field corn (maize) is dried and then treated in a solution of slaked lime (hydrated mineral lime) or ash, and water. This loosens the hulls from the kernels and softens the corn. In addition, the lime reacts with the corn so that the nutrient niacin can be assimilated by the digestive tract. The soaked maize is then washed, and then ground into masa. When fresh masa is dried and powdered, that becomes masa seca or masa harina.
The process of making hominy is also called
Nixtamalization
Nixtamalization
Nixtamalization typically refers to a process for the preparation of maize , or other grain, in which the grain is soaked and cooked in an alkaline solution, usually limewater, and hulled. The term can also refer to the removal via an alkali process of the pericarp from other grains such as sorghum...
and the ground product can be called
Masa nixtamalera
. In Central American and
Mexican cuisine
Mexican cuisine
Mexican cuisine, a style of food that originates in Mexico, is known for its varied flavors, colourful decoration and variety of spices and ingredients, most of which are native to the country. The cuisine of Mexico has evolved through thousands of years of blending indigenous cultures, with later...
, masa nixtamalera is cooked with water and
milk
Milk
Milk is a white liquid produced by the mammary glands of mammals. It is the primary source of nutrition for young mammals before they are able to digest other types of food. Early-lactation milk contains colostrum, which carries the mother's antibodies to the baby and can reduce the risk of many...
to make a thick, gruel-like beverage called
atole
Atole
Atole is a traditional masa-based Mexican and Central American hot drink. Chocolate atole is known as champurrado or atole...
. When made with
chocolate
Chocolate
Chocolate is a raw or processed food produced from the seed of the tropical Theobroma cacao tree. Cacao has been cultivated for at least three millennia in Mexico, Central and South America. Its earliest documented use is around 1100 BC...
and
sugar
Sugar
Sugar is a class of edible crystalline carbohydrates, mainly sucrose, lactose, and fructose, characterized by a sweet flavor.Sucrose in its refined form primarily comes from sugar cane and sugar beet...
, it becomes
atole de chocolate
. Adding
anise
Anise
Anise , Pimpinella anisum, also called aniseed, is a flowering plant in the family Apiaceae native to the eastern Mediterranean region and Southwest Asia. Its flavor resembles that of liquorice, fennel, and tarragon.- Biology :...
and piloncillo to this mix creates
champurrado
, a popular breakfast drink.