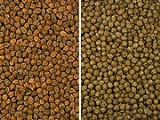 Chickpea
The
chickpea
(also
ceci bean
,
garbanzo bean
,
chana
,
sanagalu
Indian pea
,
Bengal gram
) is a
legume
of the family
Fabaceae
Fabaceae
The Fabaceae or Leguminosae, commonly known as the legume, pea, or bean family, is a large and economically important family of flowering plants. The group is the third largest land plant family, behind only the Orchidaceae and Asteraceae, with 730 genera and over 19,400 species...
, subfamily
Faboideae
Faboideae
Faboideae is a subfamily of the flowering plant family Fabaceae or Leguminosae. One acceptable alternative name for the subfamily is Papilionoideae....
. Its seeds are high in
protein
Protein
Proteins are biochemical compounds consisting of one or more polypeptides typically folded into a globular or fibrous form, facilitating a biological function. A polypeptide is a single linear polymer chain of amino acids bonded together by peptide bonds between the carboxyl and amino groups of...
and it is one of the earliest cultivated vegetables; 7,500-year-old remains have been found in the
Middle East
Middle East
The Middle East is a region that encompasses Western Asia and Northern Africa. It is often used as a synonym for Near East, in opposition to Far East...
.
The name "chickpea" traces back through the
French
French language
French is a Romance language spoken as a first language in France, the Romandy region in Switzerland, Wallonia and Brussels in Belgium, Monaco, the regions of Quebec and Acadia in Canada, and by various communities elsewhere. Second-language speakers of French are distributed throughout many parts...
to , Latin for 'chickpea' (from which the Roman
cognomen
Cognomen
The cognomen nōmen "name") was the third name of a citizen of Ancient Rome, under Roman naming conventions. The cognomen started as a nickname, but lost that purpose when it became hereditary. Hereditary cognomina were used to augment the second name in order to identify a particular branch within...
Cicero
Cicero
Marcus Tullius Cicero , was a Roman philosopher, statesman, lawyer, political theorist, and Roman constitutionalist. He came from a wealthy municipal family of the equestrian order, and is widely considered one of Rome's greatest orators and prose stylists.He introduced the Romans to the chief...
was taken).