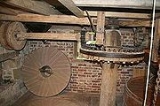 Millstone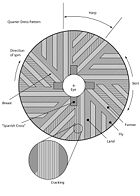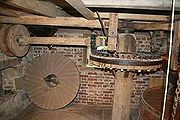 Millstones
or
mill stones
are used in
windmill
Windmill
A windmill is a machine which converts the energy of wind into rotational energy by means of vanes called sails or blades. Originally windmills were developed for milling grain for food production. In the course of history the windmill was adapted to many other industrial uses. An important...
s and
watermill
Watermill
A watermill is a structure that uses a water wheel or turbine to drive a mechanical process such as flour, lumber or textile production, or metal shaping .- History :...
s, including
tide mill
Tide mill
A tide mill is a water mill driven by tidal rise and fall. A dam with a sluice is created across a suitable tidal inlet, or a section of river estuary is made into a reservoir. As the tide comes in, it enters the mill pond through a one way gate, and this gate closes automatically when the tide...
s, for grinding
wheat
Wheat
Wheat is a cereal grain, originally from the Levant region of the Near East, but now cultivated worldwide. In 2007 world production of wheat was 607 million tons, making it the third most-produced cereal after maize and rice...
or other grains.
The type of stone most suitable for making millstones is a
siliceous rock
Siliceous rock
Siliceous rocks are sedimentary rocks that have silica as the principal constituent. The most common siliceous rock is Chert other types include Diatomite. They commonly form from silica-secreting organisms such as radiolarians, diatoms, or some types of sponges....
called burrstone (or buhrstone), an open-textured, porous but tough, fine-grained
sandstone
Sandstone
Sandstone is a sedimentary rock composed mainly of sand-sized minerals or rock grains.Most sandstone is composed of quartz and/or feldspar because these are the most common minerals in the Earth's crust. Like sand, sandstone may be any colour, but the most common colours are tan, brown, yellow,...
, or a silicified, fossiliferous
limestone
Limestone
Limestone is a sedimentary rock composed largely of the minerals calcite and aragonite, which are different crystal forms of calcium carbonate . Many limestones are composed from skeletal fragments of marine organisms such as coral or foraminifera....
. In some sandstones, the cement is
calcareous
Calcareous
Calcareous is an adjective meaning mostly or partly composed of calcium carbonate, in other words, containing lime or being chalky. The term is used in a wide variety of scientific disciplines.-In zoology:...
.
Types
Millstones used in Britain were commonly of two types:
Derbyshire

Derbyshire

Derbyshire is a county in the East Midlands of England. A substantial portion of the Peak District National Park lies within Derbyshire. The northern part of Derbyshire overlaps with the Pennines, a famous chain of hills and mountains. The county contains within its boundary of approx...


Peak stones of grey Millstone Grit

Millstone Grit

Millstone Grit is the name given to any of a number of coarse-grained sandstones of Carboniferous age which occur in the Northern England. The name derives from its use in earlier times as a source of millstones for use principally in watermills...


, cut from one piece, used for grinding barley

Barley

Barley is a major cereal grain, a member of the grass family. It serves as a major animal fodder, as a base malt for beer and certain distilled beverages, and as a component of various health foods...


; imitation Derbyshire Peak stones are used as decorative signposts at the boundaries of the Peak District National Park. Derbyshire Peak stones wear quickly and are typically used to grind animal feed since they leave stone powder in the flour, making it undesirable for human consumption.
French burrstones, used for finer grinding. Not cut from one piece, but built up from sections of quartz, cemented together with plaster

Plaster

Plaster is a building material used for coating walls and ceilings. Plaster starts as a dry powder similar to mortar or cement and like those materials it is mixed with water to form a paste which liberates heat and then hardens. Unlike mortar and cement, plaster remains quite soft after setting,...


, and bound with iron bands. French Burr comes from the Marne Valley in northern France.
In Europe, a third type of millstone was used. These were uncommon in Britain, but not unknown.
Cullen stones (stones from Cologne

Cologne

Cologne is Germany's fourth-largest city , and is the largest city both in the Germany Federal State of North Rhine-Westphalia and within the Rhine-Ruhr Metropolitan Area, one of the major European metropolitan areas with more than ten million inhabitants.Cologne is located on both sides of the...


) were quarried in the Rhine Valley near Cologne, Germany.
In India, grinding stones (
Chakki
) were used to grind grains and spices. These consist of a stationary stone cylinder upon which a smaller stone cylinder rotates. Smaller ones, for household use, were operated by two people. Larger ones, for community or commercial use, used livestock to rotate the upper cylinder.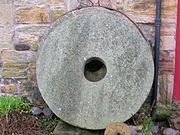 Runner stone
A
runner stone
is the upper of a pair of working millstones. The runner stone spins above the stationary bedstone creating the "scissoring" or grinding action of the stones. A runner stone is generally slightly concave, while the bedstone is slightly convex. This helps to channel the ground flour to the outer edges of the stones where it can be gathered up.
Patterning
The surface of a millstone is divided by deep grooves called
furrows
into separate flat areas called
lands
. Spreading away from the furrows are smaller grooves called
feathering
or
cracking
. The furrows and lands are arranged in repeating patterns called
harps
. A typical millstone will have six, eight or ten harps. The grooves provide a cutting edge and help to channel the ground flour out from the stones. When in regular use stones need to be
dressed
periodically, that is, re-cut to keep the cutting surfaces sharp.
Millstones come in pairs. The base or bedstone is stationary. Above the bedstone is the turning runner stone which actually does the grinding. The runner stone is supported by a cross-shaped metal piece (rind or rynd) fixed to a "mace head" topping the main shaft or spindle leading to the driving mechanism of the mill (either water or wind powered). The pattern of harps is repeated on the face of each stone, when they are laid face to face the patterns mesh in a kind of "scissoring" motion creating the cutting or grinding function of the stones.
Millstones need to be evenly balanced, and achieving the correct separation of the stones is crucial to producing good quality flour. The experienced miller will be able to adjust their separation very accurately.
Idiom
A millstone around one's neck
is a Biblical
metaphor
Metaphor
A metaphor is a literary figure of speech that uses an image, story or tangible thing to represent a less tangible thing or some intangible quality or idea; e.g., "Her eyes were glistening jewels." Metaphor may also be used for any rhetorical figures of speech that achieve their effects via...
meaning a burden or large inconvenience one has to endure.
The phrase "show your mettle" is also said to come from milling. Millwrights, who would typically shape the stones during maintenance, would use a thrift and millbit (or mill bill), and the millbit would often break off small flecks of metal during use. Being made of iron, these pieces would enter the forearms of the millwright during the course of his work, and thus a large collection would show his continued employment and experience.
Ancient history
Neolithic
Neolithic
The Neolithic Age, Era, or Period, or New Stone Age, was a period in the development of human technology, beginning about 9500 BC in some parts of the Middle East, and later in other parts of the world. It is traditionally considered as the last part of the Stone Age...
and
Upper Paleolithic
Upper Paleolithic
The Upper Paleolithic is the third and last subdivision of the Paleolithic or Old Stone Age as it is understood in Europe, Africa and Asia. Very broadly it dates to between 40,000 and 10,000 years ago, roughly coinciding with the appearance of behavioral modernity and before the advent of...
people used millstone to grind
grain
GRAIN
GRAIN is a small international non-profit organisation that works to support small farmers and social movements in their struggles for community-controlled and biodiversity-based food systems. Our support takes the form of independent research and analysis, networking at local, regional and...
s, nuts, rhizomes and other vegetable food products for consumption. These implements are often called
grinding stones
. They used either saddlestones or rotary
quern
Quern-stone
Quern-stones are stone tools for hand grinding a wide variety of materials. They were used in pairs. The lower, stationary, stone is called a quern, whilst the upper, mobile, stone is called a handstone...
s turned by hand. Such devices were also used to grind pigments and metal ores prior to
smelting
Smelting
Smelting is a form of extractive metallurgy; its main use is to produce a metal from its ore. This includes iron extraction from iron ore, and copper extraction and other base metals from their ores...
.
External links