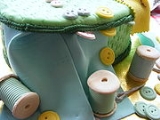 Fondant
Fondant
is one of several kinds of
icing
Icing (food)
Icing, also called frosting in the United States, is a sweet often creamy glaze made of sugar with a liquid such as water or milk, that is often enriched with ingredients such as butter, egg whites, cream cheese, or flavorings and is used to cover or decorate baked goods, such as cakes or cookies...
-like substance used to decorate or sculpt pastries. The word, in French, means "melting", coming from the same root as "
foundry
Foundry
A foundry is a factory that produces metal castings. Metals are cast into shapes by melting them into a liquid, pouring the metal in a mold, and removing the mold material or casting after the metal has solidified as it cools. The most common metals processed are aluminum and cast iron...
" in English.
Types
Poured fondant
is a cream confection used as a filling or coating for cakes, pastries, and candies or
sweets
SweetS
was a Japanese idol group. Put together through auditions, the group debuted in 2003 on the avex trax label. Although the group met minor success, they disbanded after three years with the release of a final single in June 2006....
. In its simplest form, it is
sugar
Sugar
Sugar is a class of edible crystalline carbohydrates, mainly sucrose, lactose, and fructose, characterized by a sweet flavor.Sucrose in its refined form primarily comes from sugar cane and sugar beet...
and
water
Water
Water is a chemical substance with the chemical formula H2O. A water molecule contains one oxygen and two hydrogen atoms connected by covalent bonds. Water is a liquid at ambient conditions, but it often co-exists on Earth with its solid state, ice, and gaseous state . Water also exists in a...
cooked to the soft-ball stage, cooled slightly, and stirred or beaten until it is an opaque mass of creamy consistency. Sometimes lemon is added to the mixture, mainly for taste. Other flavorings are used as well, as are various colorings. For example, the main filling of a Cadbury Creme Egg is poured fondant.
Rolled fondant
or
fondant icing
, which is not the same material as poured fondant, is commonly used to
decorate wedding cakes
Cake decorating
Cake decorating is one of the sugar arts that uses icing or frosting and other edible decorative elements to make otherwise plain cakes more visually interesting...
. It includes gelatin (or
agar
Agar
Agar or agar-agar is a gelatinous substance derived from a polysaccharide that accumulates in the cell walls of agarophyte red algae. Throughout history into modern times, agar has been chiefly used as an ingredient in desserts throughout Asia and also as a solid substrate to contain culture medium...
in vegetarian recipes) and food-grade glycerine, which keep the sugar pliable and creates a dough-like consistency. It can also be made using powdered sugar and melted marshmallows. Rolled fondant is rolled out like a pie crust and used to cover the cake.
Chemistry
Poured fondant is formed by
supersaturating
Supersaturation
The term supersaturation refers to a solution that contains more of the dissolved material than could be dissolved by the solvent under normal circumstances...
water with
sucrose
Sucrose
Sucrose is the organic compound commonly known as table sugar and sometimes called saccharose. A white, odorless, crystalline powder with a sweet taste, it is best known for its role in human nutrition. The molecule is a disaccharide composed of glucose and fructose with the molecular formula...
. More than twice the sugar will dissolve in water at the boiling point than at room temperature. After the sucrose is dissolved, the solution is left to cool and the sugar will remain dissolved in the supersaturated solution until
nucleation
Nucleation
Nucleation is the extremely localized budding of a distinct thermodynamic phase. Some examples of phases that may form by way of nucleation in liquids are gaseous bubbles, crystals or glassy regions. Creation of liquid droplets in saturated vapor is also characterized by nucleation...
occurs. While the solution is supersaturated, if a
seed crystal
Seed crystal
A seed crystal is a small piece of single crystal/polycrystal material from which a large crystal of the same material typically is to be grown...
(undissolved sucrose) falls into the mix, or if the solution is agitated, the dissolved sucrose crystallizes to form large, crunchy crystals (which is how
rock candy
Rock candy
Rock candy is a type of confectionery mineral composed of relatively large sugar crystals. This candy is formed by allowing a supersaturated solution of sugar and water to crystallize onto a surface suitable for crystal nucleation, such as a string or stick...
is made). However, if the solution is allowed to cool and then stirred vigorously, it forms many tiny crystals and results in a smooth texture.
In popular culture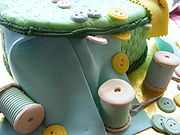 Fondant is popular on many cake-related
reality television
Reality television
Reality television is a genre of television programming that presents purportedly unscripted dramatic or humorous situations, documents actual events, and usually features ordinary people instead of professional actors, sometimes in a contest or other situation where a prize is awarded...
shows in the US, including shows such as
Ace of Cakes
Ace of Cakes
Ace of Cakes is an American reality television show which airs on the Food Network. The show focuses on the daily operations of Duff Goldman's custom cake shop, Charm City Cakes, in Baltimore, Maryland; including small-business ownership, working with various vendors, tasting with customers,...
,
Ultimate Cake Off
Ultimate Cake Off
Ultimate Cake Off is an American television series that currently airs on TLC. The show is based on professional cake artists that go "head-to-head" in constructing cakes over five feet tall with the assistance of a team of chefs, designers etc. for a money prize. Season one of the series, hosted...
,
Cake Boss
Cake Boss
Cake Boss is an American reality television series, airing on the cable television network TLC. Set at Carlo's Bakery in Hoboken, New Jersey, the show mainly follows Buddy Valastro, his mother, four sisters, and three brothers-in-law, as they operate their business, with a focus on how they make...
, and
The Next Great Baker
, all which often showcase decorators creatively decorating complex cake structures with fondant and other types of frosting and icing.
With the increased popularity of such reality shows, fondant has become a more popular way to decorate cakes. It is also seen as much easier to use, as well as to be creative with, than the butter cream icing traditionally used to decorate cakes. There are several different brands of fondant, and they can be found in major retailers as well as in specialty cake stores; cake stores are known to have a better quality fondant than retail or craft stores. Alternatively, numerous recipes for making homemade fondant are available.
External links