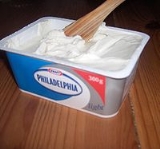 Cream cheese
Cream cheese
is a soft, mild-tasting, white
cheese
Cheese
Cheese is a generic term for a diverse group of milk-based food products. Cheese is produced throughout the world in wide-ranging flavors, textures, and forms....
with a high fat content. Traditionally, it is made from unskimmed milk enriched with additional cream.
In the United States of America it is defined by the US Department of Agriculture as containing at least 33%
milkfat
Butterfat
Butterfat or milkfat is the fatty portion of milk. Milk and cream are often sold according to the amount of butterfat they contain.- Composition :The fatty acids of butterfat are typically composed as follows :...
(as marketed) with a
moisture
Moisture
Humidity is the amount of moisture the air can hold before it rains. Moisture refers to the presence of a liquid, especially water, often in trace amounts...
content of not more than 55%, and a
pH
PH
In chemistry, pH is a measure of the acidity or basicity of an aqueous solution. Pure water is said to be neutral, with a pH close to 7.0 at . Solutions with a pH less than 7 are said to be acidic and solutions with a pH greater than 7 are basic or alkaline...
range of 4.4 to 4.9. In other countries it is defined differently and may need a considerably higher fat content.
Cream cheese is not naturally matured and is meant to be consumed fresh, and so it differs from other soft cheeses such as
Brie
Brie (cheese)
Brie is a soft cow's cheese named after Brie, the French region from which it originated . It is pale in color with a slight grayish tinge under a rind of white mold; very soft and savory with a hint of ammonia...
and
Neufchâtel
Neufchâtel (cheese)
French Neufchâtel is a soft, slightly crumbly, mould-ripened cheese made in the region of Normandy. One of the oldest cheeses in France, its production is believed to date back to the 6th century. It looks similar to Camembert, with a dry, white, edible rind, but the taste is saltier and sharper....
. It is more comparable in taste, texture, and production methods to
Boursin
Boursin (cheese)
Boursin is a brand of Gournay cheese. It is a soft creamy cheese available in a variety of flavours, with a flavor and texture somewhat similar to cream cheese...
and
Mascarpone
Mascarpone
Mascarpone |denaturation]], whey is removed without pressing or aging. One can manufacture mascarpone by using cream and tartaric acid, citric acid, or even lemon juice....
.
Origin
There are references to cream cheese in
England
England
England is a country that is part of the United Kingdom. It shares land borders with Scotland to the north and Wales to the west; the Irish Sea is to the north west, the Celtic Sea to the south west, with the North Sea to the east and the English Channel to the south separating it from continental...
as early as 1583 and in
France
France
The French Republic , The French Republic , The French Republic , (commonly known as France , is a unitary semi-presidential republic in Western Europe with several overseas territories and islands located on other continents and in the Indian, Pacific, and Atlantic oceans. Metropolitan France...
as early as 1651. Recipes are recorded soon after 1754, particularly from
Lincolnshire
Lincolnshire
Lincolnshire is a county in the east of England. It borders Norfolk to the south east, Cambridgeshire to the south, Rutland to the south west, Leicestershire and Nottinghamshire to the west, South Yorkshire to the north west, and the East Riding of Yorkshire to the north. It also borders...
and the southwest of England.
According to the American food processing company
Kraft Foods
Kraft Foods
Kraft Foods Inc. is an American confectionery, food and beverage conglomerate. It markets many brands in more than 170 countries. 12 of its brands annually earn more than $1 billion worldwide: Cadbury, Jacobs, Kraft, LU, Maxwell House, Milka, Nabisco, Oscar Mayer, Philadelphia, Trident, Tang...
, the first American cream cheese was made in
Chester, New York
Chester, New York
Chester, New York may refer to:*Chester , New York, a town in Orange County**Chester , New York, a village in that town*Chester, Warren County, New York...
in 1872 by American dairyman William Lawrence. In 1880, 'Philadelphia' was adopted as the brand name, after the city that was considered at the time to be the home of top quality food in the USA.
The technique is known to have been in use in
Normandy
Normandy
Normandy is a geographical region corresponding to the former Duchy of Normandy. It is in France.The continental territory covers 30,627 km² and forms the preponderant part of Normandy and roughly 5% of the territory of France. It is divided for administrative purposes into two régions:...
since the 1850s, producing cheeses with higher fat content than the US model, and
Philadelphia
cream cheese has been suggested as a substitute when
petit suisse
is not available.
Following successful
marketing
Marketing
Marketing is the process used to determine what products or services may be of interest to customers, and the strategy to use in sales, communications and business development. It generates the strategy that underlies sales techniques, business communication, and business developments...
by Kraft Foods in
Spain
Spain
Spain , officially the Kingdom of Spain languages]] under the European Charter for Regional or Minority Languages. In each of these, Spain's official name is as follows:;;;;;;), is a country and member state of the European Union located in southwestern Europe on the Iberian Peninsula...
, some people there refer to "queso filadelfia" instead of "queso crema" or "queso cremoso".
Usage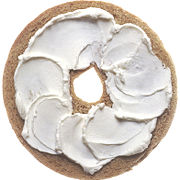 Cream cheese is typically used in savory snacks of various types (for example, as a spread on
bread
Bread
Bread is a staple food prepared by cooking a dough of flour and water and often additional ingredients. Doughs are usually baked, but in some cuisines breads are steamed , fried , or baked on an unoiled frying pan . It may be leavened or unleavened...
, bagels,
crackers
Cracker (food)
A cracker is a baked good commonly made from grain flour dough and typically made in quantity in various hand-sized or smaller shapes. Flavorings or seasonings, such as salt, herbs, seeds, and/or cheese, may be added to the dough or sprinkled on top before baking...
, various types of raw vegetables, etc.), and can be used in
cheesecake
Cheesecake
Cheesecake is a dessert consisting of a topping made of soft, fresh cheese, usually on a crust or base made from biscuit , pastry or sponge cake. They may be baked or unbaked...
s and
salad
Salad
Salad is any of a wide variety of dishes, including vegetable salads; salads of pasta, legumes, eggs, or grains; mixed salads incorporating meat, poultry, or seafood; and fruit salads. They may include a mixture of cold and hot, often including raw vegetables or fruits.Green salads include leaf...
s. It can also be used to make cheese sauces. It can be a base to some spreads, such as yogurt-cream cheese topping for graham crackers, (1.25 parts cream cheese, 1 part yogurt, whipped.). It is sometimes used in place of
butter
Butter
Butter is a dairy product made by churning fresh or fermented cream or milk. It is generally used as a spread and a condiment, as well as in cooking applications, such as baking, sauce making, and pan frying...
(or alongside butter in a ratio of two parts cream cheese to one part butter) when making cakes or cookies, and it is also used to make cream cheese icing, which is similar to buttercream icing, (using a ratio of two parts cream cheese to one part butter) which is used to ice
carrot cake
Carrot cake
Carrot cake is a cake which consists of grated carrots mixed with batter. The carrot softens in the cooking process, and the cake usually has a soft, dense texture...
. It is the main ingredient in
crab rangoon
Crab rangoon
Crab rangoon are deep-fried dumplings served in American Chinese, and more recently, Thai restaurants, stuffed with a combination of cream cheese, lightly flaked crab meat , with scallions and/or garlic...
, an appetizer commonly served at
American Chinese restaurant
American Chinese cuisine
American Chinese cuisine refers to the style of food served by many Chinese restaurants in the United States. This type of cooking typically caters to Western tastes, and differs significantly from the original Chinese cuisine.-History:...
s. It can also be used instead of butter or olive oil in mashed potatoes to create a creamy taste.
Manufacture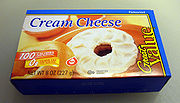 Cream cheese is difficult to manufacture. Normally,
protein
Protein
Proteins are biochemical compounds consisting of one or more polypeptides typically folded into a globular or fibrous form, facilitating a biological function. A polypeptide is a single linear polymer chain of amino acids bonded together by peptide bonds between the carboxyl and amino groups of...
molecule
Molecule
A molecule is an electrically neutral group of at least two atoms held together by covalent chemical bonds. Molecules are distinguished from ions by their electrical charge...
s in milk have a negative
surface charge
Surface charge
Surface charge is the electric charge present at an interface. There are many different processes which can lead to a surface being charged, including adsorption of ions, protonation/deprotonation, and the application of an external electric field...
, which keeps milk in a liquid state; the molecules act as
surfactant
Surfactant
Surfactants are compounds that lower the surface tension of a liquid, the interfacial tension between two liquids, or that between a liquid and a solid...
s, forming
micelle
Micelle
A micelle is an aggregate of surfactant molecules dispersed in a liquid colloid. A typical micelle in aqueous solution forms an aggregate with the hydrophilic "head" regions in contact with surrounding solvent, sequestering the hydrophobic single tail regions in the micelle centre. This phase is...
s around the particles of fat and keeping it in
emulsion
Emulsion
An emulsion is a mixture of two or more liquids that are normally immiscible . Emulsions are part of a more general class of two-phase systems of matter called colloids. Although the terms colloid and emulsion are sometimes used interchangeably, emulsion is used when both the dispersed and the...
.
Lactic acid bacteria
Lactic acid bacteria
The lactic acid bacteria comprise a clade of Gram-positive, low-GC, acid-tolerant, generally non-sporulating, non-respiring rod or cocci that are associated by their common metabolic and physiological characteristics. These bacteria, usually found in decomposing plants and lactic products, produce...
are added to pasteurized and homogenized milk. During the
fermentation
Fermentation (food)
Fermentation in food processing typically is the conversion of carbohydrates to alcohols and carbon dioxide or organic acids using yeasts, bacteria, or a combination thereof, under anaerobic conditions. Fermentation in simple terms is the chemical conversion of sugars into ethanol...
at around 23 °C, the pH level of the milk decreases. Amino acids at the surface of the proteins begin losing charge and become neutral, turning the fat micelles from hydrophilic to hydrophobic state and causing the liquid to
coagulate
Curd
Curds are a dairy product obtained by curdling milk with rennet or an edible acidic substance such as lemon juice or vinegar, and then draining off the liquid portion. The increased acidity causes the milk proteins to tangle into solid masses, or curds. The remaining liquid, which contains only...
. If the bacteria are left in the milk too long, the pH lowers further, the micelles attain a positive charge and the mixture returns to liquid form. The key then is to kill the bacteria by heating the mixture to 52-63 °C at the moment the cheese is in an
isoelectric point
Isoelectric point
The isoelectric point , sometimes abbreviated to IEP, is the pH at which a particular molecule or surface carries no net electrical charge....
, meaning the state at which half the ionizable surface amino acids of the proteins are positively charged and half are negative. Inaccurate timing of heating leads to an inferior or unusable product.
However, subtle changes in the timing of the process can result in variations in flavor and texture. Furthermore, because cream cheese has a higher
fat
Fat
Fats consist of a wide group of compounds that are generally soluble in organic solvents and generally insoluble in water. Chemically, fats are triglycerides, triesters of glycerol and any of several fatty acids. Fats may be either solid or liquid at room temperature, depending on their structure...
content than other cheeses, and fat repels water, which tends to separate from the cheese, stabilizers such as
guar
Guar gum
Guar gum, also called guaran, is a galactomannan. It is primarily the ground endosperm of guar beans. The guar seeds are dehusked, milled and screened to obtain the guar gum. It is typically produced as a free-flowing, pale, off-white-colored, coarse to fine ground powder.-Production:Guar gum is an...
and carob gums may be added to prolong its
shelf life
Shelf life
Shelf life is the length of time that food, drink, medicine, chemicals, and many other perishable items are given before they are considered unsuitable for sale, use, or consumption...
.
See also
Dairy product

Dairy product

Dairy products are generally defined as foods produced from cow's or domestic buffalo's milk. They are usually high-energy-yielding food products. A production plant for such processing is called a dairy or a dairy factory. Raw milk for processing comes mainly from cows, and, to a lesser extent,...



Petit suisse
Quark

Quark (cheese)

Quark is a type of fresh cheese, also known as tvorog , topfen , biezpiens , and varškė . It is made by warming soured milk until the desired degree of denaturation of milk proteins is met, and then strained...



Requeijão

Requeijão

Requeijão is a milk-derived product, produced in Portugal and Brazil. It is sometimes called Requesón .It is a loose, ricotta-like cheese used to make cheese spreads. A mild, unsalty ricotta can be substituted. This variety is most often sold in the markets wrapped in fresh corn husks...



Creole cream cheese

Creole cream cheese

Creole cream cheese is a form of farmer cheese that is common in the New Orleans area, made from skim milk, buttermilk and rennet. By itself, it has a mild, slightly sweet taste; frequently, it is mixed with cream, sugar and fruit and served as a dessert. Creole cream cheese had declined in...