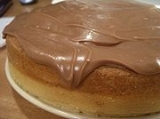 Icing (food)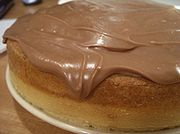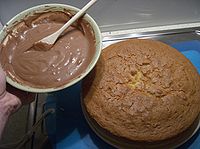 Icing
, also called
frosting
in the
United States
United States
The United States of America is a federal constitutional republic comprising fifty states and a federal district...
, is a sweet often creamy
glaze
Glaze (cooking technique)
A glaze in cooking is a coating of a glossy, often sweet, sometimes savoury, substance applied to food typically by dipping, dripping, or with a brush. Egg whites and basic icings are both used as glazes...
made of
sugar
Sugar
Sugar is a class of edible crystalline carbohydrates, mainly sucrose, lactose, and fructose, characterized by a sweet flavor.Sucrose in its refined form primarily comes from sugar cane and sugar beet...
with a liquid such as water or milk, that is often enriched with ingredients such as
butter
Butter
Butter is a dairy product made by churning fresh or fermented cream or milk. It is generally used as a spread and a condiment, as well as in cooking applications, such as baking, sauce making, and pan frying...
,
egg white
Egg white
Egg white is the common name for the clear liquid contained within an egg. In chickens it is formed from the layers of secretions of the anterior section of the hen's oviduct during the passage of the egg. It forms around either fertilized or unfertilized egg yolks...
s,
cream cheese
Cream cheese
Cream cheese is a soft, mild-tasting, white cheese with a high fat content. Traditionally, it is made from unskimmed milk enriched with additional cream....
, or
flavor
Flavor
Flavor or flavour is the sensory impression of a food or other substance, and is determined mainly by the chemical senses of taste and smell. The "trigeminal senses", which detect chemical irritants in the mouth and throat as well as temperature and texture, are also very important to the overall...
ings and is used to cover or
decorate
Cake decorating
Cake decorating is one of the sugar arts that uses icing or frosting and other edible decorative elements to make otherwise plain cakes more visually interesting...
baked goods, such as
cake
Cake
Cake is a form of bread or bread-like food. In its modern forms, it is typically a sweet and enriched baked dessert. In its oldest forms, cakes were normally fried breads or cheesecakes, and normally had a disk shape...
s or
cookie
Cookie
In the United States and Canada, a cookie is a small, flat, baked treat, usually containing fat, flour, eggs and sugar. In most English-speaking countries outside North America, the most common word for this is biscuit; in many regions both terms are used, while in others the two words have...
s. Elizabeth Raffald documented the first recipe for icing in 1769 in the Experienced English Housekeeper, according to the Food Timeline. However, it was not until the 1915 that Mrs. Fred W. Gurney created the first buttercream recipe, and Fannie Farmer followed suit with several more recipes in 1918 and 1923.
Icing can be formed into shapes such as flowers and leaves using a
pastry bag
Pastry bag
A pastry bag is an often cone- or triangular-shaped, hand-held bag made from cloth, paper, or plastic that is used to pipe semi-solid foods by pressing them through a narrow opening at one end, for many purposes including cake decoration...
. Such decorations commonly grace
birthday
Birthday cake
The birthday cake has been an integral part of the birthday celebrations in Western cultures since the middle of the 19th century. Certain rituals and traditions, such as singing of birthday songs, associated with birthday cakes are common to many Western cultures. The Western tradition of adding...
and
wedding cake
Wedding cake
A wedding cake is the traditional cake served to the guests at a wedding reception after a wedding. In modern Western culture, it is usually a large cake, multi-layered or tiered, and heavily decorated with icing, usually over a layer of marzipan or fondant...
s. Chef's color dye (
food coloring
Food coloring
Food coloring is a substance, liquid or powder, that is added to food or drink to change its color. Food coloring is used both in commercial food production and in domestic cooking...
) is commonly added to icing mixtures to achieve the desired color. Sprinkles, coloring mist,
edible images
Edible ink printing
Edible ink printing, is the process of creating preprinted images with edible food colors on to various confectionery products such as cookies, cakes, or pastries. Edible Image designs can either be preprinted, or created with an edible printer, a specialty device which transfers an image onto a...
or other decorations are often used on top of icing.
The simplest icing is a glacé icing, containing icing sugar and water. This can be flavored and colored as desired, for example by using
lemon juice
Lemon juice
The lemon fruit, from a citrus plant, provides a useful liquid when squeezed. Lemon juice, either in natural strength or concentrated, is sold as a bottled product, usually with the addition of preservatives and a small amount of lemon oil.-Uses:...
in place of the water. More complicated icings can be made by beating fat into icing sugar (as in
butter cream
Butter cream
Buttercream is a type of icing or filling, used inside cakes, as a coating, and as decoration. In its simplest form, it is made by creaming butter with powdered sugar, although other fats can be used, such as margarine or lard. Colorings and flavorings are often added, such as cocoa powder or...
), by melting fat and sugar together, by using egg whites (as in
royal icing
Royal icing
Royal icing is a hard white icing, made from softly beaten egg whites, icing sugar , and sometimes lemon or lime juice. It is used on Christmas cakes, wedding cakes, gingerbread houses and many other cakes and biscuits, either as a smooth covering like marzipan, or in sharp peaks...
), and by adding other ingredients such as glycerin (as in
fondant
Fondant
Fondant is one of several kinds of icing-like substance used to decorate or sculpt pastries. The word, in French, means "melting", coming from the same root as "foundry" in English....
). Some icings can be made from combinations of sugar and cream cheese or
sour cream
Sour cream
Sour cream is a dairy product rich in fats obtained by fermenting a regular cream by certain kinds of lactic acid bacteria. The bacterial culture, which is introduced either deliberately or naturally, sours and thickens the cream. Its name stems from the production of lactic acid by bacterial...
, or by using ground
almond
Almond
The almond , is a species of tree native to the Middle East and South Asia. Almond is also the name of the edible and widely cultivated seed of this tree...
s (as in
marzipan
Marzipan
Marzipan is a confection consisting primarily of sugar and almond meal. Persipan is a similar, yet less expensive product, in which the almonds are replaced by apricot or peach kernels...
).
Icing can be applied with a utensil such as a
knife
Knife
A knife is a cutting tool with an exposed cutting edge or blade, hand-held or otherwise, with or without a handle. Knives were used at least two-and-a-half million years ago, as evidenced by the Oldowan tools...
or
spatula
Spatula
The term spatula is used to refer to various small implements with a broad, flat, flexible blade used to mix, spread and lift materials including foods, drugs, plaster and paints...
, or it can be applied by drizzling or dipping (see
glaze
Glaze (cooking technique)
A glaze in cooking is a coating of a glossy, often sweet, sometimes savoury, substance applied to food typically by dipping, dripping, or with a brush. Egg whites and basic icings are both used as glazes...
) or by rolling the icing out and draping it over the cake. The method of application largely depends on the type and texture of icing being used. Icing may be used between layers in a cake as a filling, or it may be used to completely or partially cover the outside of a cake or other baked product.
See also