 Cake decorating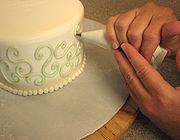 Cake decorating
is one of the
sugar arts
Sugar sculpture
Sugar sculpture, the art of producing artistic centerpieces entirely composed of sugar and sugar derivatives, is an art that is rapidly garnering support. There are many competitions that include sugar sculpture, and popular television networks, such as Food Network, televise many of these...
that uses
icing
Icing (food)
Icing, also called frosting in the United States, is a sweet often creamy glaze made of sugar with a liquid such as water or milk, that is often enriched with ingredients such as butter, egg whites, cream cheese, or flavorings and is used to cover or decorate baked goods, such as cakes or cookies...
or frosting and other edible decorative elements to make otherwise plain cakes more visually interesting. Alternatively, cakes can be molded and sculpted to resemble three-dimensional persons, places and things.
In many areas of the world, decorated cakes are often a focal point of a special celebration such as a
birthday
Birthday
A birthday is a day or anniversary where a person celebrates his or her date of birth. Birthdays are celebrated in numerous cultures, often with a gift, party or rite of passage. Although the major religions celebrate the birth of their founders , Christmas – which is celebrated widely by...
,
graduation
Graduation
Graduation is the action of receiving or conferring an academic degree or the ceremony that is sometimes associated, where students become Graduates. Before the graduation, candidates are referred to as Graduands. The date of graduation is often called degree day. The graduation itself is also...
,
bridal shower
Bridal shower
A bridal shower is a gift-giving party held for a bride-to-be in anticipation of her wedding. The custom originated in the 1890s and is today most common in the United States, Canada, and by North American influence, in Australia....
,
wedding
Wedding
A wedding is the ceremony in which two people are united in marriage or a similar institution. Wedding traditions and customs vary greatly between cultures, ethnic groups, religions, countries, and social classes...
, or
anniversary
Anniversary
An anniversary is a day that commemorates or celebrates a past event that occurred on the same day of the year as the initial event. For example, the first event is the initial occurrence or, if planned, the inaugural of the event. One year later would be the first anniversary of that event...
, or are given as gifts.
History
During the 1840s, the advent of temperature-controlled
oven
Oven
An oven is a thermally insulated chamber used for the heating, baking or drying of a substance. It is most commonly used for cooking. Kilns, and furnaces are special-purpose ovens...
s and the production of baking soda and
baking powder
Baking powder
Baking powder is a dry chemical leavening agent used to increase the volume and lighten the texture of baked goods such as muffins, cakes, scones and American-style biscuits. Baking powder works by releasing carbon dioxide gas into a batter or dough through an acid-base reaction, causing bubbles in...
made baking cakes much easier.
Even though baking from scratch decreased during the latter part of the 20th century in the United States, decorated cakes have remained an important part of celebrations such as weddings, anniversaries, birthdays, showers and other special occasions. Recently, cakes decorated with fondant have become extremely popular and resulted in several reality based TV shows across the country.
See also