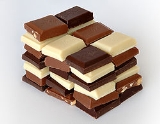 Chocolate
Chocolate
is a raw or processed food produced from the seed of the tropical
Theobroma cacao
tree. Cacao has been cultivated for at least three millennia in
Mexico
Mexico
The United Mexican States , commonly known as Mexico , is a federal constitutional republic in North America. It is bordered on the north by the United States; on the south and west by the Pacific Ocean; on the southeast by Guatemala, Belize, and the Caribbean Sea; and on the east by the Gulf of...
,
Central
Central America
Central America is the central geographic region of the Americas. It is the southernmost, isthmian portion of the North American continent, which connects with South America on the southeast. When considered part of the unified continental model, it is considered a subcontinent...
and
South America
South America
South America is a continent situated in the Western Hemisphere, mostly in the Southern Hemisphere, with a relatively small portion in the Northern Hemisphere. The continent is also considered a subcontinent of the Americas. It is bordered on the west by the Pacific Ocean and on the north and east...
. Its earliest documented use is around 1100 BC. The majority of the Mesoamerican people made chocolate beverages, including the
Aztec
Aztec
The Aztec people were certain ethnic groups of central Mexico, particularly those groups who spoke the Nahuatl language and who dominated large parts of Mesoamerica in the 14th, 15th and 16th centuries, a period referred to as the late post-classic period in Mesoamerican chronology.Aztec is the...
s, who made it into a beverage known as
xocolātl
, a
Nahuatl
Nahuatl
Nahuatl is thought to mean "a good, clear sound" This language name has several spellings, among them náhuatl , Naoatl, Nauatl, Nahuatl, Nawatl. In a back formation from the name of the language, the ethnic group of Nahuatl speakers are called Nahua...
word meaning "bitter water".
Life is like a box of chocolates. You never know what you're gonna get.

Forrest Gump
Augustus: I'm Augustus Gloop. I love your chocolate.Willy Wonka: I can see that.

Charlie and the Chocolate Factory
Well, folks, it looks like we're up chocolate creek without a popsicle stick.

Gingerbread Man, Shrek 2
Love, biochemically no different than consuming large quantities of chocolate.

The Devil's Advocate
Life is like a box of chocolates, you never know what you're going to get; your life, however, is like a box of active grenades!

Stewie Griffin, Family Guy