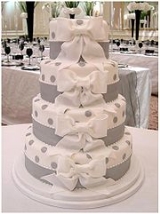 Wedding cake
A
wedding cake
is the traditional
cake
Cake
Cake is a form of bread or bread-like food. In its modern forms, it is typically a sweet and enriched baked dessert. In its oldest forms, cakes were normally fried breads or cheesecakes, and normally had a disk shape...
served to the guests at a
wedding reception
Wedding reception
A wedding reception is a party held after the completion of a marriage ceremony. It is held usually as hospitality for those who have attended the wedding, hence the name reception: the couple receives society, in the form of family and friends, for the first time as a married couple. Hosts...
(or in parts of England, at a
wedding breakfast
Wedding breakfast
A wedding breakfast is a dinner given to the bride, bridegroom and guests at the wedding reception that follows a wedding in the United Kingdom, Germany, Austria, Scandinavia and some other English-speaking countries...
) after a
wedding
Wedding
A wedding is the ceremony in which two people are united in marriage or a similar institution. Wedding traditions and customs vary greatly between cultures, ethnic groups, religions, countries, and social classes...
. In modern
Western culture
Western culture
Western culture, sometimes equated with Western civilization or European civilization, refers to cultures of European origin and is used very broadly to refer to a heritage of social norms, ethical values, traditional customs, religious beliefs, political systems, and specific artifacts and...
, it is usually a large cake, multi-layered or tiered, and heavily
decorated
Cake decorating
Cake decorating is one of the sugar arts that uses icing or frosting and other edible decorative elements to make otherwise plain cakes more visually interesting...
with
icing
Icing (food)
Icing, also called frosting in the United States, is a sweet often creamy glaze made of sugar with a liquid such as water or milk, that is often enriched with ingredients such as butter, egg whites, cream cheese, or flavorings and is used to cover or decorate baked goods, such as cakes or cookies...
, usually over a layer of
marzipan
Marzipan
Marzipan is a confection consisting primarily of sugar and almond meal. Persipan is a similar, yet less expensive product, in which the almonds are replaced by apricot or peach kernels...
or
fondant
Fondant
Fondant is one of several kinds of icing-like substance used to decorate or sculpt pastries. The word, in French, means "melting", coming from the same root as "foundry" in English....
. Achieving a dense, strong cake that can support the decorations while remaining edible can be considered the epitome of the baker's art and skill. The average cost of a professionally made wedding cake in the U.S.