 Blackface
Blackface
is a form of
theatrical
Theatre
Theatre is a collaborative form of fine art that uses live performers to present the experience of a real or imagined event before a live audience in a specific place. The performers may communicate this experience to the audience through combinations of gesture, speech, song, music or dance...
makeup used in
minstrel show
Minstrel show
The minstrel show, or minstrelsy, was an American entertainment consisting of comic skits, variety acts, dancing, and music, performed by white people in blackface or, especially after the Civil War, black people in blackface....
s, and later
vaudeville
Vaudeville
Vaudeville was a theatrical genre of variety entertainment in the United States and Canada from the early 1880s until the early 1930s. Each performance was made up of a series of separate, unrelated acts grouped together on a common bill...
, in which performers create a
stereotype
Stereotype
A stereotype is a popular belief about specific social groups or types of individuals. The concepts of "stereotype" and "prejudice" are often confused with many other different meanings...
d
caricature
Caricature
A caricature is a portrait that exaggerates or distorts the essence of a person or thing to create an easily identifiable visual likeness. In literature, a caricature is a description of a person using exaggeration of some characteristics and oversimplification of others.Caricatures can be...
of a
black person
Black people
The term black people is used in systems of racial classification for humans of a dark skinned phenotype, relative to other racial groups.Different societies apply different criteria regarding who is classified as "black", and often social variables such as class, socio-economic status also plays a...
. The practice gained popularity during the 19th century and contributed to the proliferation of stereotypes such as the "happy-go-lucky
darky
on the plantation" or the "
dandified
Dandy
A dandy is a man who places particular importance upon physical appearance, refined language, and leisurely hobbies, pursued with the appearance of nonchalance in a cult of Self...
coon
". In 1848, blackface minstrel shows were the national art of the time, translating formal art such as opera into popular terms for a general audience. Early in the 20th century, blackface branched off from the minstrel show and became a form in its own right, until it ended in the United States with the U.S. Civil Rights Movement of the 1960s. The Netherlands still holds its annual Christmas alike parade of
Sinterklaas
Sinterklaas
Sinterklaas is a traditional Winter holiday figure still celebrated today in the Low Countries, including the Netherlands and Belgium, as well as French Flanders and Artois...
featuring Zwarte Piet in full blackface outfit.
Blackface was an important performance tradition in the
American theater
Theater in the United States
Theater of the United States is based in the Western tradition. Regional or resident theatres in the United States are professional theatre companies outside of New York City that produce their own seasons.- Early history:...
for roughly 100 years beginning around 1830. It quickly became popular overseas, particularly so in Britain, where the tradition lasted longer than in the US, occurring on primetime TV as late as 1978 (
The Black and White Minstrel Show
The Black and White Minstrel Show
The Black and White Minstrel Show was a British light entertainment show that ran on BBC television from 1958-1978 and was a popular stage show. It was a weekly light entertainment and variety show presenting traditional American minstrel and Country songs, as well as show and music hall numbers,...
) and 1981. In both the United States and Britain, blackface was most commonly used in the minstrel performance tradition, but it predates that tradition, and it survived long past the heyday of the minstrel show. White blackface performers in the past used burnt
cork
Cork (material)
Cork is an impermeable, buoyant material, a prime-subset of bark tissue that is harvested for commercial use primarily from Quercus suber , which is endemic to southwest Europe and northwest Africa...
and later greasepaint or shoe polish to blacken their skin and exaggerate their lips, often wearing woolly wigs, gloves,
tailcoat
Tailcoat
A tailcoat is a coat with the front of the skirt cut away, so as to leave only the rear section of the skirt, known as the tails. The historical reason coats were cut this way was to make it easier for the wearer to ride a horse, but over the years tailcoats of varying types have evolved into forms...
s, or ragged clothes to complete the transformation. Later, black artists also performed in blackface.
Stereotypes embodied in the stock characters of blackface minstrels not only played a significant role in cementing and proliferating racist images, attitudes and perceptions worldwide, but also in popularizing black culture. In some quarters, the caricatures that were the legacy of blackface persist to the present day and are a cause of ongoing controversy. One view is that blackface is a form of
cross-dressing
Cross-dressing
Cross-dressing is the wearing of clothing and other accoutrement commonly associated with a gender within a particular society that is seen as different than the one usually presented by the dresser...
.
By the mid-20th century, changing attitudes about race and racism effectively ended the prominence of blackface makeup used in performance in the U.S. and elsewhere. It remains in relatively limited use as a theatrical device, mostly outside the U.S., and is more commonly used today as social commentary or
satire
Satire
Satire is primarily a literary genre or form, although in practice it can also be found in the graphic and performing arts. In satire, vices, follies, abuses, and shortcomings are held up to ridicule, ideally with the intent of shaming individuals, and society itself, into improvement...
. Perhaps the most enduring effect of blackface is the precedent it established in the introduction of
African American culture
African American culture
African-American culture, also known as black culture, in the United States refers to the cultural contributions of Americans of African descent to the culture of the United States, either as part of or distinct from American culture. The distinct identity of African-American culture is rooted in...
to an international audience, albeit through a distorted lens. Blackface's groundbreaking
appropriation
Cultural appropriation
Cultural appropriation is the adoption of some specific elements of one culture by a different cultural group. It describes acculturation or assimilation, but can imply a negative view towards acculturation from a minority culture by a dominant culture. It can include the introduction of forms of...
,
exploitation
Exploitation
This article discusses the term exploitation in the meaning of using something in an unjust or cruel manner.- As unjust benefit :In political economy, economics, and sociology, exploitation involves a persistent social relationship in which certain persons are being mistreated or unfairly used for...
, and
assimilation
Cultural assimilation
Cultural assimilation is a socio-political response to demographic multi-ethnicity that supports or promotes the assimilation of ethnic minorities into the dominant culture. The term assimilation is often used with regard to immigrants and various ethnic groups who have settled in a new land. New...
of African-American culture—as well as the inter-ethnic artistic collaborations that stemmed from it—were but a prologue to the lucrative packaging, marketing, and dissemination of African-American cultural expression and its myriad derivative forms in today's world popular culture.
"Displaying Blackness" and the shaping of racist archetypes
There is no consensus about a single moment that constitutes the origin of blackface.
John Strausbaugh
John Strausbaugh
John Strausbaugh is an American author, cultural commentator, and host of the New York Times "Weekend Explorer" video podcast series on New York City....
places it as part of a tradition of "displaying Blackness for the enjoyment and edification of white viewers" that dates back at least to 1441, when captive West Africans were displayed in Portugal. Whites routinely portrayed the black characters in the
Elizabethan
Elizabethan era
The Elizabethan era was the epoch in English history of Queen Elizabeth I's reign . Historians often depict it as the golden age in English history...
and
Jacobean
Jacobean era
The Jacobean era refers to the period in English and Scottish history that coincides with the reign of King James VI of Scotland, who also inherited the crown of England in 1603 as James I...
theater (see
English Renaissance theatre
English Renaissance theatre
English Renaissance theatre, also known as early modern English theatre, refers to the theatre of England, largely based in London, which occurred between the Reformation and the closure of the theatres in 1642...
), most famously in
Othello
Othello
The Tragedy of Othello, the Moor of Venice is a tragedy by William Shakespeare, believed to have been written in approximately 1603, and based on the Italian short story "Un Capitano Moro" by Cinthio, a disciple of Boccaccio, first published in 1565...
(1604). However,
Othello
and other plays of this era did not involve the emulation and caricature of "such supposed innate qualities of Blackness as inherent musicality, natural athleticism," etc. that Strausbaugh sees as crucial to blackface. Lewis Hallam, Jr., a white actor using blackface makeup of American Company fame, brought blackface in this more specific sense to prominence as a theatrical device in the United States when playing the role of "Mungo", an inebriated black man in
The Padlock
The Padlock
The Padlock is a two-act 'afterpiece' opera by Charles Dibdin. The text was by Isaac Bickerstaffe. It debuted in 1768 at the Drury Lane Theatre in London, England, as a companion piece to The Earl of Warwick. It partnered other plays before a run of six performances in tandem with "The Fatal...
, a British play that premiered in New York City at the John Street Theatre on May 29, 1769. The play attracted notice, and other performers adopted the style. From at least the 1810s, blackface
clown
Clown
Clowns are comic performers stereotypically characterized by the grotesque image of the circus clown's colored wigs, stylistic makeup, outlandish costumes, unusually large footwear, and red nose, which evolved to project their actions to large audiences. Other less grotesque styles have also...
s were popular in the United States. British actor
Charles Mathews
Charles Mathews
Charles Mathews was an English theatre manager and comic actor, well-known during his time for his gift of impersonation and skill at table entertainment...
toured the U.S. in 1822–1823, and as a result added a "black" characterization to his repertoire of British regional types for his next show,
A Trip to America
, which included Mathews singing "Possum up a Gum Tree", a popular slave freedom song.
Edwin Forrest
Edwin Forrest
Edwin Forrest was an American actor.-Early life:Forrest was born in Philadelphia, Pennsylvania, of Scottish and German descent. His father died and he was brought up by his mother, a German woman of humble origins. He was educated at the common schools in Philadelphia, and early evinced a taste...
played a plantation black in 1823, and
George Washington Dixon
George Washington Dixon
George Washington Dixon was an American singer, stage actor, and newspaper editor. He rose to prominence as a blackface performer after performing "Coal Black Rose", "Zip Coon", and similar songs...
was already building his stage career around blackface in 1828, but it was another white comic actor,
Thomas D. Rice
Thomas D. Rice
Thomas Dartmouth Rice was a white performer and playwright who used African American vernacular speech, song, and dance to become one of the most popular minstrel show entertainers of his time.-Background:...
, who truly popularized blackface. Rice introduced the song "
Jump Jim Crow
Jump Jim Crow
Jump Jim Crow is a song and dance from 1828 that was done in blackface by white comedian Thomas Dartmouth "Daddy" Rice. The first song sheet edition appeared in the early 1830s, published by E. Riley. The number was supposedly inspired by the song and dance of a crippled African slave called Jim...
" accompanied by a dance in his stage act in 1828 and scored stardom with it by 1832.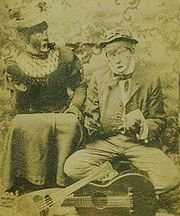 Rice traveled the U.S., performing under the
stage name
Stage name
A stage name, also called a showbiz name or screen name, is a pseudonym used by performers and entertainers such as actors, wrestlers, comedians, and musicians.-Motivation to use a stage name:...
"Daddy Jim Crow". The name
Jim Crow
later became attached to statutes that codified the reinstitution of
segregation
Racial segregation in the United States
Racial segregation in the United States, as a general term, included the racial segregation or hypersegregation of facilities, services, and opportunities such as housing, medical care, education, employment, and transportation along racial lines...
and discrimination after Reconstruction.
In the 1830s and early 1840s, blackface performances mixed skits with comic songs and vigorous dances. Initially, Rice and his peers performed only in relatively disreputable venues, but as blackface gained popularity they gained opportunities to perform as
entr'acte

Entr'acte

' is French for "between the acts" . It can mean a pause between two parts of a stage production, synonymous to an intermission, but it more often indicates a piece of music performed between acts of a theatrical production...


s
in theatrical venues of a higher class. Stereotyped blackface characters developed: buffoonish, lazy, superstitious, cowardly, and lascivious characters, who stole, lied pathologically, and mangled the English language. Early blackface minstrels were all male, so cross-dressing white men also played black women who were often portrayed either as unappealingly and grotesquely mannish; in the matronly,
mammy
Mammy archetype
The mammy archetype is perhaps one of the best-known archetypes of African American women. She is often portrayed within a narrative framework or other imagery as a domestic servant of African descent, generally good-natured, often overweight, very dark skinned, middle aged, and loud...
mold; or highly sexually provocative. The 1830s American stage, where blackface first rose to prominence featured similarly comic stereotypes of the clever Yankee and the larger-than-life Frontiersman; the late 19th- and early 20th-century American and British stage where it last prospered featured many other, mostly ethnically-based, comic stereotypes: conniving, venal Jews; drunken brawling
Irishmen
Ireland
Ireland is an island to the northwest of continental Europe. It is the third-largest island in Europe and the twentieth-largest island on Earth...
with blarney at the ready; oily Italians; stodgy Germans; and gullible rural rubes.
1830s and early 1840s blackface performers performed solo or as duos, with the occasional trio; the traveling troupes that would later characterize blackface minstrelsy arise only with the minstrel show. In New York City in 1843,
Dan Emmett
Dan Emmett
Daniel Decatur "Dan" Emmett was an American songwriter and entertainer, founder of the first troupe of the blackface minstrel tradition.-Biography:...
and his
Virginia Minstrels
Virginia Minstrels
The Virginia Minstrels or Virginia Serenaders was a group of 19th century American entertainers known for helping to invent the entertainment form known as the minstrel show...
broke blackface minstrelsy loose from its novelty act and
entr'acte
status and performed the first full-blown minstrel show: an evening's entertainment composed entirely of blackface performance. (E. P. Christy did more or less the same, apparently independently, earlier the same year in
Buffalo, New York
Buffalo, New York
Buffalo is the second most populous city in the state of New York, after New York City. Located in Western New York on the eastern shores of Lake Erie and at the head of the Niagara River across from Fort Erie, Ontario, Buffalo is the seat of Erie County and the principal city of the...
.) Their loosely structured show with the musicians sitting in a semicircle, a
tambourine
Tambourine
The tambourine or marine is a musical instrument of the percussion family consisting of a frame, often of wood or plastic, with pairs of small metal jingles, called "zils". Classically the term tambourine denotes an instrument with a drumhead, though some variants may not have a head at all....
player on one end and a
bones
Bones (instrument)
The bones are a musical instrument which, at the simplest, consists of a pair of animal bones, or pieces of wood or a similar material. Sections of large rib bones and lower leg bones are the most commonly used true bones, although wooden sticks shaped like the earlier true bones are now more...
player on the other, set the precedent for what would soon become the first act of a standard three-act minstrel show. By 1852, the skits that had been part of blackface performance for decades expanded to one-act farces, often used as the show's third act.
The songs of
northern
Northern United States
Northern United States, also sometimes the North, may refer to:* A particular grouping of states or regions of the United States of America. The United States Census Bureau divides some of the northernmost United States into the Midwest Region and the Northeast Region...
composer
Stephen Foster
Stephen Foster
Stephen Collins Foster , known as the "father of American music", was the pre-eminent songwriter in the United States of the 19th century...
figured prominently in blackface minstrel shows of the period. Though written in dialect and certainly
politically incorrect
Political correctness
Political correctness is a term which denotes language, ideas, policies, and behavior seen as seeking to minimize social and institutional offense in occupational, gender, racial, cultural, sexual orientation, certain other religions, beliefs or ideologies, disability, and age-related contexts,...
by today's standards, his later songs were free of the ridicule and blatantly racist caricatures that typified other songs of the genre. Foster's works treated slaves and the
South
Southern United States
The Southern United States—commonly referred to as the American South, Dixie, or simply the South—constitutes a large distinctive area in the southeastern and south-central United States...
in general with an often cloying sentimentality that appealed to audiences of the day.
White minstrel shows featured white performers pretending to be blacks, playing their versions of black music and speaking ersatz
black dialects
African American Vernacular English
African American Vernacular English —also called African American English; less precisely Black English, Black Vernacular, Black English Vernacular , or Black Vernacular English —is an African American variety of American English...
. Minstrel shows dominated popular show business in the U.S. from that time through into the 1890s, also enjoying massive popularity in the UK and in other parts of Europe. As the minstrel show went into decline, blackface returned to its novelty act roots and became part of vaudeville. Blackface featured prominently in
film
Film
A film, also called a movie or motion picture, is a series of still or moving images. It is produced by recording photographic images with cameras, or by creating images using animation techniques or visual effects...
at least into the 1930s, and the "aural blackface" of the
Amos 'n' Andy
Amos 'n' Andy
Amos 'n' Andy is a situation comedy set in the African-American community. It was very popular in the United States from the 1920s through the 1950s on both radio and television....
radio show lasted into the 1950s. Meanwhile, amateur blackface minstrel shows continued to be common at least into the 1950s.
As a result, the genre played an important role in shaping perceptions of and prejudices about blacks generally and
African American
African American
African Americans are citizens or residents of the United States who have at least partial ancestry from any of the native populations of Sub-Saharan Africa and are the direct descendants of enslaved Africans within the boundaries of the present United States...
s in particular. Some social commentators have stated that blackface provided an outlet for whites' fear of the unknown and the unfamiliar, and a socially acceptable way of expressing their feelings and fears about race and control. Writes Eric Lott in
Love and Theft: Blackface Minstrelsy and the American Working Class
, "The black mask offered a way to play with the collective fears of a degraded and threatening—and male—Other while at the same time maintaining some symbolic control over them."
Film
Through the 1930s, many well-known entertainers of stage and screen
also performed in blackface
. Whites who performed in blackface in film included
Al Jolson
Al Jolson
Al Jolson was an American singer, comedian and actor. In his heyday, he was dubbed "The World's Greatest Entertainer"....
,
Eddie Cantor
Eddie Cantor
Eddie Cantor was an American "illustrated song" performer, comedian, dancer, singer, actor and songwriter...
,
Bing Crosby
Bing Crosby
Harry Lillis "Bing" Crosby was an American singer and actor. Crosby's trademark bass-baritone voice made him one of the best-selling recording artists of the 20th century, with over half a billion records in circulation....
,
Fred Astaire
Fred Astaire
Fred Astaire was an American film and Broadway stage dancer, choreographer, singer and actor. His stage and subsequent film career spanned a total of 76 years, during which he made 31 musical films. He was named the fifth Greatest Male Star of All Time by the American Film Institute...
,
Mickey Rooney
Mickey Rooney
Mickey Rooney is an American film actor and entertainer whose film, television, and stage appearances span nearly his entire lifetime. He has won multiple awards, including an Honorary Academy Award, a Golden Globe and an Emmy Award...
,
Shirley Temple
Shirley Temple
Shirley Temple Black , born Shirley Jane Temple, is an American film and television actress, singer, dancer, autobiographer, and former U.S. Ambassador to Ghana and Czechoslovakia...
and
Judy Garland
Judy Garland
Judy Garland was an American actress and singer. Through a career that spanned 45 of her 47 years and for her renowned contralto voice, she attained international stardom as an actress in musical and dramatic roles, as a recording artist and on the concert stage...
.
In the early years of film, black characters were routinely played by whites in blackface. In the first known film of
Uncle Tom's Cabin
Uncle Tom's Cabin
Uncle Tom's Cabin; or, Life Among the Lowly is an anti-slavery novel by American author Harriet Beecher Stowe. Published in 1852, the novel "helped lay the groundwork for the Civil War", according to Will Kaufman....
(1903) all of the major black roles were whites in blackface. Even the 1914
Uncle Tom
starring African American actor
Sam Lucas
Sam Lucas
Sam Lucas was an African American actor, comedian, singer, and songwriter. His career began in blackface minstrelsy, but he later became one of the first African Americans to branch into more serious drama, with roles in seminal works such as The Creole Show and A Trip to Coontown...
in the title role had a white male in blackface as Topsy.
D. W. Griffith
D. W. Griffith
David Llewelyn Wark Griffith was a premier pioneering American film director. He is best known as the director of the controversial and groundbreaking 1915 film The Birth of a Nation and the subsequent film Intolerance .Griffith's film The Birth of a Nation made pioneering use of advanced camera...
's
The Birth of a Nation
The Birth of a Nation
The Birth of a Nation is a 1915 American silent film directed by D. W. Griffith and based on the novel and play The Clansman, both by Thomas Dixon, Jr. Griffith also co-wrote the screenplay , and co-produced the film . It was released on February 8, 1915...
(1915) used whites in blackface to represent all of its major black characters, but reaction against the film's racism largely put an end to this practice in dramatic film roles. Thereafter, whites in blackface would appear almost exclusively in broad comedies or "ventriloquizing" blackness in the context of a vaudeville or minstrel performance within a film. This stands in contrast to made-up whites routinely playing Native Americans, Asians, Arabs, and so forth, for several more decades.
Blackface makeup was largely eliminated even from live film comedy in the U.S. after the end of the 1930s, when public sensibilities regarding race began to change and blackface became increasingly associated with racism and
bigotry
Bigotry
A bigot is a person obstinately or intolerantly devoted to his or her own opinions and prejudices, especially one exhibiting intolerance, and animosity toward those of differing beliefs...
. Still, the tradition did not end all at once. The radio program
Amos 'n' Andy
(1928–1960) constituted a type of "aural blackface", in that the black characters were portrayed by whites and conformed to stage blackface stereotypes. The conventions of blackface also lived on unmodified at least into the 1950s in animated theatrical cartoons. Strausbaugh estimates that roughly one-third of late 1940s MGM cartoons "included a blackface, coon, or mammy figure."
Bugs Bunny
Bugs Bunny
Bugs Bunny is a animated character created in 1938 at Leon Schlesinger Productions, later Warner Bros. Cartoons. Bugs is an anthropomorphic gray rabbit and is famous for his flippant, insouciant personality and his portrayal as a trickster. He has primarily appeared in animated cartoons, most...
appeared in blackface at least as late as
Southern Fried Rabbit
Southern Fried Rabbit
Southern Fried Rabbit is a Looney Tunes cartoon by Warner Bros. starring Bugs Bunny and Yosemite Sam. Directed by Friz Freleng and produced in 1952, the animated short was first released on May 2, 1953....
in 1953.
Black Minstrel Shows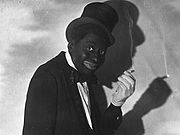 By 1840, negro performers also were performing in blackface makeup.
Frederick Douglass
Frederick Douglass
Frederick Douglass was an American social reformer, orator, writer and statesman. After escaping from slavery, he became a leader of the abolitionist movement, gaining note for his dazzling oratory and incisive antislavery writing...
generally abhorred blackface and was one of the first people to write against the institution of blackface minstrelsy, condemning it as racist in nature, with inauthentic, northern, white origins. Douglass did, however, maintain that, "It is something to be gained when the colored man in any form can appear before a white audience."
When all-black minstrel shows began to proliferate in the 1860s, they often were billed as "authentic" and "the real thing". These "colored minstrels" always claimed to be recently-freed slaves (doubtlessly many were, but most were not) and were widely seen as authentic. This presumption of authenticity could be a bit of a trap, with white audiences seeing them more like "animals in a zoo" than skilled performers. Despite often smaller budgets and smaller venues, their public appeal sometimes rivalled that of white minstrel troupes. In March 1866, Booker and Clayton's Georgia Minstrels may have been the country's most popular troupe, and were certainly among the most critically acclaimed.
These "colored" troupes—many using the name "Georgia Minstrels"—focused on "plantation" material, rather than the more explicit social commentary (and more nastily racist stereotyping) found in portrayals of northern blacks. In the execution of authentic black music and the
percussive
Percussion instrument
A percussion instrument is any object which produces a sound when hit with an implement or when it is shaken, rubbed, scraped, or otherwise acted upon in a way that sets the object into vibration...
,
polyrhythm
Polyrhythm
Polyrhythm is the simultaneous sounding of two or more independent rhythms.Polyrhythm in general is a nonspecific term for the simultaneous occurrence of two or more conflicting rhythms, of which cross-rhythm is a specific and definable subset.—Novotney Polyrhythms can be distinguished from...
ic tradition of
pattin' Juba
Juba dance
The Juba dance or hambone, originally known as Pattin' Juba , is a style of dance that involves stomping as well as slapping and patting the arms, legs, chest, and cheeks. "Pattin' Juba" would be used to keep time for other dances during a walkaround...
, when the only
instruments
Musical instrument
A musical instrument is a device created or adapted for the purpose of making musical sounds. In principle, any object that produces sound can serve as a musical instrument—it is through purpose that the object becomes a musical instrument. The history of musical instruments dates back to the...
performers used were their hands and feet, clapping and slapping their bodies and shuffling and stomping their feet, black troupes particularly excelled. One of the most successful black minstrel companies was
Sam Hague's Slave Troupe of Georgia Minstrels
Sam Hague
Sam Hague was a British blackface minstrel dancer and troupe owner. He was the first white owner of a minstrel troupe composed of black members, and the success he saw with this troupe inspired many other white owners to purchase black companies....
, managed by
Charles Hicks
Charles Hicks
Charles Barney Hicks was an African American advance man, manager, performer, and owner of blackface minstrel troupes composed of African American performers. Hicks himself was a talented minstrel performer who could sing and play challenging roles such as the minstrel-show interlocutor or endmen....
. This company eventually was taken over by Charles Callendar. The Georgia Minstrels toured the United States and abroad and later became
Haverly's Colored Minstrels
J. H. Haverly
J. H. Haverly was an entrepreneur and promoter of blackface minstrel shows. During the 1870s and 1880s, he created an entertainment empire centered on his minstrel troupes, particularly Haverly's United Mastodon Minstrels and Haverly's Colored Minstrels. Under his guidance, these troupes grew to...
.
From the mid-1870s, as white blackface minstrelsy became increasingly lavish and moved away from "Negro subjects", black troupes took the opposite tack. The popularity of the
Fisk Jubilee Singers
Fisk Jubilee Singers
The Fisk Jubilee Singers are an African-American a cappella ensemble, consisting of students at Fisk University. The first group was organized in 1871 to tour and raise funds for their college. Their early repertoire consisted mostly of traditional spirituals, but included some Stephen Foster songs...
and other
jubilee singers
had demonstrated northern white interest in white religious music as sung by blacks, especially
spirituals
Spiritual (music)
Spirituals are religious songs which were created by enslaved African people in America.-Terminology and origin:...
. Some jubilee troupes pitched themselves as quasi-minstrels and even incorporated minstrel songs; meanwhile, blackface troupes began to adopt first jubilee material and then a broader range of southern black religious material. Within a few years, the word "jubilee", originally used by the Fisk Jubilee Singers to set themselves apart from blackface minstrels and to emphasize the religious character of their music, became little more than a synonym for "plantation" material. Where the jubilee singers tried to "clean up" Southern black religion for white consumption, blackface performers exaggerated its more exotic aspects.
African-American blackface productions also contained buffoonery and comedy, by way of self-parody. In the early days of African-American involvement in theatrical performance, blacks could not perform without blackface makeup, regardless of how dark-skinned they were. The 1860s "colored" troupes violated this convention for a time: the comedy-oriented endmen "corked up", but the other performers "astonished" commentators by the diversity of their hues. Still, their performances were largely in accord with established blackface stereotypes.
These black performers became stars within the broad African-American community, but were largely ignored or condemned by the black bourgeoisie.
James Monroe Trotter
James Monroe Trotter
James Monroe Trotter was born into slavery in Grand Gulf, Mississippi to a slave named Letitia and her master Richard S. Trotter. Letitia, along with her two sons, James Monroe and Charles Trotter, escaped on the Underground Railroad to Cincinnati, Ohio...
—a middle class African American who had contempt for their "disgusting caricaturing" but admired their "highly musical culture"—wrote in 1882 that "few… who condemned black minstrels for giving 'aid and comfort to the enemy'" had ever seen them perform. Unlike white audiences, black audiences presumably always recognized blackface performance as caricature, and took pleasure in seeing their own culture observed and reflected, much as they would half a century later in the performances of
Moms Mabley
Moms Mabley
Jackie "Moms" Mabley, born Loretta Mary Aiken , was an American standup comedian and a pioneer of the so-called "Chitlin' Circuit" of African-American vaudeville.-Early years:...
.
Despite reinforcing racist stereotypes, blackface minstrelsy was a practical and often relatively lucrative livelihood when compared to the menial labor to which most blacks were relegated. Owing to the discrimination of the day, "corking (or "blacking") up" provided an often singular opportunity for African-American musicians, actors, and dancers to practice their crafts. Some minstrel shows, particularly when performing outside the South, also managed subtly to poke fun at the racist attitudes and double standards of white society or champion the
abolitionist
Abolitionism
Abolitionism is a movement to end slavery.In western Europe and the Americas abolitionism was a movement to end the slave trade and set slaves free. At the behest of Dominican priest Bartolomé de las Casas who was shocked at the treatment of natives in the New World, Spain enacted the first...
cause. It was through blackface performers, white and black, that the richness and exuberance of African-American music, humor, and dance first reached mainstream, white audiences in the U.S. and abroad. It was through blackface minstrelsy that African American performers first entered the mainstream of American show business. Black performers used blackface performance to satirize white behavior. It was also a forum for the sexual
double entendre
Double entendre
A double entendre or adianoeta is a figure of speech in which a spoken phrase is devised to be understood in either of two ways. Often the first meaning is straightforward, while the second meaning is less so: often risqué or ironic....
gags that were frowned upon by white moralists. There was often a subtle message behind the outrageous vaudeville routines:
With the rise of vaudeville,
Antigua
Antigua
Antigua , also known as Waladli, is an island in the West Indies, in the Leeward Islands in the Caribbean region, the main island of the country of Antigua and Barbuda. Antigua means "ancient" in Spanish and was named by Christopher Columbus after an icon in Seville Cathedral, Santa Maria de la...
n-born actor and comedian Bert Williams became
Florenz Ziegfeld
Florenz Ziegfeld
Florenz Ziegfeld, Jr. , , was an American Broadway impresario, notable for his series of theatrical revues, the Ziegfeld Follies , inspired by the Folies Bergère of Paris. He also produced the musical Show Boat...
's highest-paid star and only African American star.
In the Theater Owners Booking Association (TOBA), an all-black vaudeville circuit organized in 1909, blackface acts were a popular staple. Called "Toby" for short, performers also nicknamed it "Tough on Black Actors" (or, variously, "Artists" or "Asses"), because earnings were so meager. Still, TOBA headliners like
Tim Moore
Tim Moore (comedian)
Tim Moore was a celebrated American vaudevillian and comic actor of the first half of the 20th century. He gained his greatest recognition in the starring role of George "Kingfish" Stevens in the CBS television series, Amos 'n' Andy...
and Johnny Hudgins could make a very good living, and even for lesser players, TOBA provided fairly steady, more desirable work than generally was available elsewhere. Blackface served as a springboard for hundreds of artists and entertainers—black and white—many of whom later would go on to find work in other performance traditions. For example, one of the most famous stars of Haverly's European Minstrels was Sam Lucas, who became known as the "Grand Old Man of the
Negro
Negro
The word Negro is used in the English-speaking world to refer to a person of black ancestry or appearance, whether of African descent or not...
Stage". Lucas later played the title role in the 1914 cinematic production of
Harriet Beecher Stowe
Harriet Beecher Stowe
Harriet Beecher Stowe was an American abolitionist and author. Her novel Uncle Tom's Cabin was a depiction of life for African-Americans under slavery; it reached millions as a novel and play, and became influential in the United States and United Kingdom...
's
Uncle Tom's Cabin
. From the early 1930s to the late 1940s, New York City's famous
Apollo Theater
Apollo Theater
The Apollo Theater in New York City is one of the most famous, and older, music halls in the United States, and the most famous club associated almost exclusively with Black performers...
in
Harlem
Harlem
Harlem is a neighborhood in the New York City borough of Manhattan, which since the 1920s has been a major African-American residential, cultural and business center. Originally a Dutch village, formally organized in 1658, it is named after the city of Haarlem in the Netherlands...
featured skits in which almost all black male performers wore the blackface makeup and huge white painted lips, despite protests that it was degrading from the NAACP. The comics said they felt "naked" without it.
The minstrel show was appropriated by the black performer from the original white shows, but only in its general form. Blacks took over the form and made it their own. The professionalism of performance came from black theater. The black minstrels gave the shows vitality and humor that the white shows never had. As the black social critic
LeRoi Jones
Amiri Baraka
Amiri Baraka , formerly known as LeRoi Jones, is an American writer of poetry, drama, fiction, essays, and music criticism...
has written:
The black minstrel performer was not only poking fun at himself but in a more profound way, he was poking fun at the white man. The
cakewalk
Cakewalk
The Cakewalk dance was developed from a "Prize Walk" done in the days of slavery, generally at get-togethers on plantations in the Southern United States. Alternative names for the original form of the dance were "chalkline-walk", and the "walk-around"...
is caricaturing white customs, while white theater companies attempted to satirize the cakewalk as a black dance. Again, as LeRoi Jones notes:
Authentic or counterfeit
The degree to which blackface performance drew on authentic African American culture and traditions is controversial. Blacks, including slaves, were influenced by white culture, including white musical culture. Certainly this was the case with church music from very early times. Complicating matters further, once the blackface era began, some blackface minstrel songs unquestionably written by New York-based professionals (Stephen Foster, for example) made their way to the plantations in the South and merged into the body of African American folk music.
However, it seems clear that American music by the early 19th century was an interwoven mixture of many influences, and that blacks were quite aware of white musical traditions and incorporated these into their music.
Early blackface minstrels often said that their material was largely or entirely authentic to African-American culture; John Strausbaugh, author of
Black Like You
, said that such claims were likely to be untrue. Well into the 20th century, scholars took the stories at face value.
Constance Rourke
Constance Rourke
Constance Mayfield Rourke was an American author and educator. She was born in Cleveland, Ohio, and attended Sorbonne and Vassar College. She taught at Vassar from 1910 to 1915. She died in Grand Rapids, Michigan in 1941....
, one of the founders of what is now known as
cultural studies
Cultural studies
Cultural studies is an academic field grounded in critical theory and literary criticism. It generally concerns the political nature of contemporary culture, as well as its historical foundations, conflicts, and defining traits. It is, to this extent, largely distinguished from cultural...
, largely assumed this as late as 1931. In the Civil Rights era there was a strong reaction against this view, to the point of denying that blackface was anything other than a white racist counterfeit. Starting no later than Robert Toll's
Blacking Up
(1974), a "third wave" has systematically studied the origins of blackface, and has put forward a nuanced picture: that blackface did, indeed, draw on African American culture, but that it transformed, stereotyped, and caricatured that culture, resulting in often racist representations of black characters.
As discussed above, this picture becomes even more complicated after the
Civil War
American Civil War
The American Civil War was a civil war fought in the United States of America. In response to the election of Abraham Lincoln as President of the United States, 11 southern slave states declared their secession from the United States and formed the Confederate States of America ; the other 25...
, when many African Americans became blackface performers. They drew on much material of undoubted slave origins, but they also drew on a professional performer's instincts, while working within an established genre, and with the same motivation as white performers to make exaggerated claims of the authenticity of their own material.
Author Strausbaugh summed up as follows: "Some minstrel songs started as Negro folk songs, were adapted by White minstrels, became widely popular, and were readopted by Blacks," writes Strausbaugh. "The question of whether minstrelsy was white or black music was moot. It was a mix, a mutt – that is, it was American music."
"Darky" iconography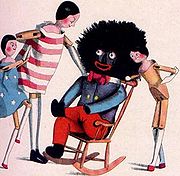 The darky icon itself—
googly-eyed
Googly eyes
Googly eyes or wiggly eyes are small plastic craft supplies used to imitate eyeballs. Googly eyes traditionally are composed of a clear, hard-plastic shell, with a smaller, black plastic disk trapped within. The plastic shells come in a variety of sizes ranging from 3/16" to over 3" diameter...
, with inky skin; exaggerated white, pink or red lips; and bright, white teeth—became a common motif in entertainment, children's literature, mechanical banks and other toys and games of all sorts, cartoons and comic strips, advertisements, jewelry, textiles, postcards, sheet music, food
brand
Brand
The American Marketing Association defines a brand as a "Name, term, design, symbol, or any other feature that identifies one seller's good or service as distinct from those of other sellers."...
ing and packaging, and other consumer goods.
In 1895, the
Golliwogg
Golliwogg
The "Golliwogg" was a character in children's books in the late 19th century and depicted as a type of rag doll. It was reproduced, both by commercial and hobby toy-makers as a children's toy called the "golliwog", and had great popularity in North America, the United Kingdom, Europe and...
surfaced in Great Britain, the product of American-born children's book illustrator
Florence Kate Upton
Florence Kate Upton
Florence Kate Upton was an American-born English cartoonist and author most famous for her Golliwogg series of children's books.-Early life:Upton was born in Flushing, New York to recently emigrated British parents...
, who modeled her rag doll character Golliwogg after a minstrel doll she had in the U.S. as a child. "Golly", as he later affectionately came to be called, had a jet-black face; wild, woolly hair; bright, red lips; and sported formal minstrel attire. The generic British golliwog later made its way back across the
Atlantic
Atlantic Ocean
The Atlantic Ocean is the second-largest of the world's oceanic divisions. With a total area of about , it covers approximately 20% of the Earth's surface and about 26% of its water surface area...
as dolls, toy tea sets, ladies' perfume, and in myriad other forms. The word
golliwog
may have given rise to the ethnic slur
wog
Wog
Wog or Pog is a slang word with a number of meanings, generally considered derogatory and, in some instances, extremely offensive when used in relation to ethnicity...
.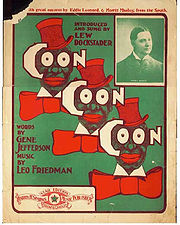 U.S. cartoons from the 1930s and 1940s often featured characters in blackface gags as well as other racial and
ethnic
Ethnic group
An ethnic group is a group of people whose members identify with each other, through a common heritage, often consisting of a common language, a common culture and/or an ideology that stresses common ancestry or endogamy...
caricatures. Blackface was one of the influences in the development of characters such as Mickey Mouse. The
United Artists
United Artists
United Artists Corporation is an American film studio. The original studio of that name was founded in 1919 by D. W. Griffith, Charles Chaplin, Mary Pickford and Douglas Fairbanks....
1933 release "
Mickey's Mellerdrammer
Mickey's Mellerdrammer
Mickey's Mellerdrammer is a United Artists film released in 1933. The title is a corruption of "melodrama", thought to harken back to the earliest minstrel shows, as a film short based on a production of Uncle Tom's Cabin by the Disney characters....
"—the name a corruption of "
melodrama
Melodrama
The term melodrama refers to a dramatic work that exaggerates plot and characters in order to appeal to the emotions. It may also refer to the genre which includes such works, or to language, behavior, or events which resemble them...
" thought to harken back to the earliest minstrel shows—was a film short based on a production of
Uncle Tom's Cabin
by the Disney characters. Mickey, of course, was already black, but the advertising poster for the film shows Mickey with exaggerated, orange lips; bushy, white sidewhiskers; and his now trademark white gloves.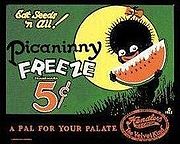 In the U.S., by the 1950s, the NAACP had begun calling attention to such portrayals of African Americans and mounted a campaign to put an end to blackface performances and depictions. For decades, darky images had been seen in the branding of everyday products and commodities such as
Picaninny

Pickaninny

Pickaninny is a term in English which refers to children of black descent or a racial caricature thereof. It is a pidgin word form, which may be derived from the Portuguese pequenino . In the Creole English of Surinam the word for a child is pikin ningre...


Freeze
, the
Coon Chicken Inn
Coon Chicken Inn
Coon Chicken Inn was an American chain of three restaurants founded by Maxon Lester Graham and Adelaide Burt in 1925, which prospered until the late 1950s. The restaurant's name , trademarks, and entrances of the restaurants were designed to look like a smiling blackface caricature of an...
restaurant chain and Darkie toothpaste (renamed Darlie) and Blackman mops in Thailand. With the eventual successes of the modern day
Civil Rights Movement
Civil rights movement
The civil rights movement was a worldwide political movement for equality before the law occurring between approximately 1950 and 1980. In many situations it took the form of campaigns of civil resistance aimed at achieving change by nonviolent forms of resistance. In some situations it was...
, such blatantly racist branding practices ended in the U.S., and blackface became an American
taboo
Taboo
A taboo is a strong social prohibition relating to any area of human activity or social custom that is sacred and or forbidden based on moral judgment, religious beliefs and or scientific consensus. Breaking the taboo is usually considered objectionable or abhorrent by society...
.
In Japan, in the early 1960s, a toy called Dakkochan became hugely popular.
Dakkochan
was a black child with large red lips and a grass skirt. There were boy and girl dolls, with the girls being distinguished by a bow. The black skin of the dolls was said to have been significant and in-line with the rising popularity of jazz. Novelist Tensei Kawano went as far as to state, "We of the younger generation are outcasts from politics and society. In a way we are like Negroes, who have a long record of oppression and misunderstanding, and we feel akin to them."
Modern-day manifestations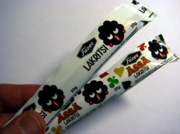 Over time, blackface and darky iconography became artistic and stylistic devices associated with
art deco
Art Deco
Art deco , or deco, is an eclectic artistic and design style that began in Paris in the 1920s and flourished internationally throughout the 1930s, into the World War II era. The style influenced all areas of design, including architecture and interior design, industrial design, fashion and...
and the
Jazz Age
1920s
File:1920s decade montage.png|From left, clockwise: Third Tipperary Brigade Flying Column No. 2 under Sean Hogan during the Irish Civil War; Prohibition agents destroying barrels of alcohol in accordance to the 18th amendment, which made alcoholic beverages illegal throughout the entire decade; In...
. By the 1950s and
'60s
1960s
The 1960s was the decade that started on January 1, 1960, and ended on December 31, 1969. It was the seventh decade of the 20th century.The 1960s term also refers to an era more often called The Sixties, denoting the complex of inter-related cultural and political trends across the globe...
, particularly in Europe, where it was more widely tolerated, blackface became a kind of
outré
,
camp
Camp (style)
Camp is an aesthetic sensibility that regards something as appealing because of its taste and ironic value. The concept is closely related to kitsch, and things with camp appeal may also be described as being "cheesy"...
convention in some artistic circles.
The Black and White Minstrel Show
was a popular British musical
variety show
Variety show
A variety show, also known as variety arts or variety entertainment, is an entertainment made up of a variety of acts, especially musical performances and sketch comedy, and normally introduced by a compère or host. Other types of acts include magic, animal and circus acts, acrobatics, juggling...
that featured blackface performers, and remained on British television until 1978. Many of the songs were from the
music hall
Music hall
Music Hall is a type of British theatrical entertainment which was popular between 1850 and 1960. The term can refer to:# A particular form of variety entertainment involving a mixture of popular song, comedy and speciality acts...
, country and western and folk traditions. Actors and dancers in blackface appeared in music videos such
Grace Jones
Grace Jones
Grace Jones is a Jamaican-American singer, model and actress.Jones secured a record deal with Island Records in 1977, which resulted in a string of dance-club hits. In the late 1970s, she adapted the emerging electronic music style and adopted a severe, androgynous look with square-cut hair and...
's "
Slave to the Rhythm
Slave to the Rhythm (song)
"Slave to the Rhythm" was the first single from Grace Jones' album of the same name, which was released in 1985. The song and the album was written by Bruce Woolley, Simon Darlow, Stephen Lipson and Trevor Horn and was produced by Horn...
" (1980, also part of her touring piece
A One Man Show
) and Taco's "
Puttin' on the Ritz
Puttin' on the Ritz
"Puttin' on the Ritz" is a popular song written and published in 1929 by Irving Berlin and introduced by Harry Richman in the musical film Puttin' on the Ritz . The title derives from the slang expression "putting on the Ritz," meaning to dress very fashionably. The expression was inspired by the...
" (1984).
When trade and tourism produce a confluence of cultures, bringing differing sensibilities regarding blackface into contact with one another, the results can be jarring. Darky iconography is still popular in Japan today, but when Japanese toymaker
Sanrio Corporation
Sanrio
is a Japanese company that designs, licenses and produces products focusing on the kawaii segment of Japanese popular culture. Their products include stationery, school supplies, gifts and accessories that are sold worldwide and at specialty brand retail stores in Japan...
exported a darky-icon character doll (the doll, Bibinba, had fat, pink lips and rings in its ears) in the 1990s, the ensuing controversy prompted Sanrio to halt production.
Foreigners visiting the Netherlands in November and December are often shocked at the sight of whites in classic blackface as a character known as
Zwarte Piet
Zwarte Piet
In the folklore and legends of the Netherlands and Belgium, Zwarte Piet is a companion of Saint Nicholas whose yearly feast in the Netherlands is usually celebrated on the evening of 5 December In the folklore and legends of the Netherlands and Belgium, Zwarte Piet (meaning Black Pete) is a...
, whom many Dutch nationals love as a holiday symbol. Travelers to Spain have expressed dismay at seeing "Conguito", a tubby, little brown character with full, red lips, as the trademark for Conguitos, a confection manufactured by the LACASA Group. In Britain, "Golly", a golliwog character, fell out of favor in 2001 after almost a century as the trademark of jam producer James Robertson & Sons; but the debate still continues whether the golliwog should be banished in all forms from further commercial production and display, or preserved as a treasured childhood icon. In France, the chocolate powder
Banania
Banania
Banania is a popular chocolate drink found most widely distributed in France. It is made from cocoa, banana flour, cereals, honey and sugar. There are two types of Banania available in French supermarkets: 'traditional' which must be cooked with milk for 10 minutes, and 'instant' which can be...
still uses a little black boy with large red lips as its emblem.
The influence of blackface on branding and advertising, as well as on perceptions and portrayals of blacks, generally, can be found worldwide.
Mexico
In modern day Mexico there are examples of images (usually caricatures) in blackface (i.e.:
Memín Pinguín
Memín Pinguín
Memín Pinguín is a fictional character from Mexico. Stories featuring him, a very poor Cuban Mexican boy, first appeared in the 1940s and have remained in print since....
). Though there is backlash from international communities, Mexican society has not protested to have these images changed to racially sensitive images. On the contrary, in the controversial Memín Pinguín cartoon there has been support publicly and politically (chancellor for Mexico,
Luis Ernesto Derbez
Luis Ernesto Derbez
Luis Ernesto Derbez Bautista is a Mexican politician and current rector of the Universidad de Las Américas.Upon assuming power in December 2000, President Vicente Fox chose him to serve as his Secretary of Economy...
). Currently in Mexico, only 3–4% of the population are composed of
Afro-Mexican
Afro-Mexican
People of African descent in Mexico is a term mainly used outside of Mexico to identify Mexicans of predominantly African ancestry. Now largely assimilated into the general population, Afro Mexicans historically have been located in certain communities, most notably in two coastal areas of Guerrero...
s (this percentage includes Asian Mexicans).
Netherlands' and Flanders' Zwarte Piet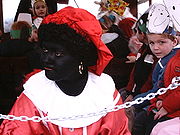 In Dutch and
Flemish
Flanders
Flanders is the community of the Flemings but also one of the institutions in Belgium, and a geographical region located in parts of present-day Belgium, France and the Netherlands. "Flanders" can also refer to the northern part of Belgium that contains Brussels, Bruges, Ghent and Antwerp...
folklore
Folklore
Folklore consists of legends, music, oral history, proverbs, jokes, popular beliefs, fairy tales and customs that are the traditions of a culture, subculture, or group. It is also the set of practices through which those expressive genres are shared. The study of folklore is sometimes called...
,
Zwarte Piet
Zwarte Piet
In the folklore and legends of the Netherlands and Belgium, Zwarte Piet is a companion of Saint Nicholas whose yearly feast in the Netherlands is usually celebrated on the evening of 5 December In the folklore and legends of the Netherlands and Belgium, Zwarte Piet (meaning Black Pete) is a...
—"Black Pete"—is a helper of
Sinterklaas
Sinterklaas
Sinterklaas is a traditional Winter holiday figure still celebrated today in the Low Countries, including the Netherlands and Belgium, as well as French Flanders and Artois...
(Saint Nicholas). The addition of Zwarte Piet to the Saint Nicholas celebration is thought to have originated from a custom on the Dutch islands in the Waddenzee. Once a year young men would cover their faces in ashes and terrorize the streets. This blackening of the face was thought to make the men look like the devil, whom they expected to have a black face. In the past, Zwarte Piet was more identified with the chastising of bad children than the rewarding of the good, but both characters have softened since the mid-19th century, and today the 5 December feast of Saint Nicholas (in the Netherlands, 6 December in Belgium) is mainly an occasion for giving gifts to children. Zwarte Piet inherited many of the classic darky icons, contemporaneous with the spread of darky iconography. The children put their shoes in front of the fireplace, hoping to find a gift in it the next morning. Zwarte Piet is said to climb down the chimney and place the gifts. Children are told Zwarte Piet is black because of the
soot
Soot
Soot is a general term that refers to impure carbon particles resulting from the incomplete combustion of a hydrocarbon. It is more properly restricted to the product of the gas-phase combustion process but is commonly extended to include the residual pyrolyzed fuel particles such as cenospheres,...
. To this day, holiday revellers in the Netherlands blacken their faces, wear
afro
Afro
Afro, sometimes shortened to fro and also known as a "natural", is a hairstyle worn naturally by people with lengthy kinky hair texture or specifically styled in such a fashion by individuals with naturally curly or straight hair...
wigs and bright red lipstick, and walk the streets throwing
candy
Candy
Candy, specifically sugar candy, is a confection made from a concentrated solution of sugar in water, to which flavorings and colorants are added...
to passers-by.
Accepted without question in the past within an ethnically homogeneous nation, today there is some controversy regarding Zwarte Piet. Most people continue to enjoy this as a cherished tradition and look forward to his annual appearance, while others, especially overseas visitors, see him as a racist caricature and fear it shapes Dutch children's perceptions of black people. As a result of the allegations of racism, some of the Dutch have tried replacing Zwarte Piet's blackface makeup with face paint in alternative colors such as green or purple. This practice, however, was widely ridiculed and has since disappeared.
South Africa
Inspired by blackface minstrels who visited
Cape Town
Cape Town
Cape Town is the second-most populous city in South Africa, and the provincial capital and primate city of the Western Cape. As the seat of the National Parliament, it is also the legislative capital of the country. It forms part of the City of Cape Town metropolitan municipality...
, South Africa in 1848, former Javanese and
Malaysia
n slaves took up the minstrel tradition, holding emancipation celebrations which consisted of music, dancing and parades. Such celebrations eventually became consolidated into an annual, year-end event called the "Coon Carnival" but now known as the Cape Town Minstrel Carnival or the Kaapse Klopse.
Today, carnival minstrels are mostly
Coloured
Coloured
In the South African, Namibian, Zambian, Botswana and Zimbabwean context, the term Coloured refers to an heterogenous ethnic group who possess ancestry from Europe, various Khoisan and Bantu tribes of Southern Africa, West Africa, Indonesia, Madagascar, Malaya, India, Mozambique,...
("mixed race"),
Afrikaans
Afrikaans
Afrikaans is a West Germanic language, spoken natively in South Africa and Namibia. It is a daughter language of Dutch, originating in its 17th century dialects, collectively referred to as Cape Dutch .Afrikaans is a daughter language of Dutch; see , , , , , .Afrikaans was historically called Cape...
-speaking revelers. Often in a pared-down style of blackface which exaggerates only the lips, they parade down the streets of the city in colorful costumes, in a celebration of
Creole
Creole peoples
The term Creole and its cognates in other languages — such as crioulo, criollo, créole, kriolu, criol, kreyol, kreol, kriulo, kriol, krio, etc. — have been applied to people in different countries and epochs, with rather different meanings...
culture. Participants also pay homage to the carnival's African-American roots, playing Negro spirituals and
jazz
Jazz
Jazz is a musical style that originated at the beginning of the 20th century in African American communities in the Southern United States. It was born out of a mix of African and European music traditions. From its early development until the present, jazz has incorporated music from 19th and 20th...
featuring traditional
Dixieland
Dixieland
Dixieland music, sometimes referred to as Hot jazz, Early Jazz or New Orleans jazz, is a style of jazz music which developed in New Orleans at the start of the 20th century, and was spread to Chicago and New York City by New Orleans bands in the 1910s.Well-known jazz standard songs from the...
jazz instruments, including
horns
Brass instrument
A brass instrument is a musical instrument whose sound is produced by sympathetic vibration of air in a tubular resonator in sympathy with the vibration of the player's lips...
,
banjo
Banjo
In the 1830s Sweeney became the first white man to play the banjo on stage. His version of the instrument replaced the gourd with a drum-like sound box and included four full-length strings alongside a short fifth-string. There is no proof, however, that Sweeney invented either innovation. This new...
s, and tambourines. Former South African president
Nelson Mandela
Nelson Mandela
Nelson Rolihlahla Mandela served as President of South Africa from 1994 to 1999, and was the first South African president to be elected in a fully representative democratic election. Before his presidency, Mandela was an anti-apartheid activist, and the leader of Umkhonto we Sizwe, the armed wing...
endorsed the carnival in 1986, while it still bore the "coon" name.
Some have denounced Blackface as an artefact of apartheid accusing broadcasters of lampooning off of disenfranchised African people who still do not control their images of self.
Vodacom
Vodacom
Vodacom is a pan-African mobile telecommunications company, and was the 1st cellular network in South Africa. It provides GSM service to more than 35 million customers in South Africa, Tanzania, Lesotho, Mozambique and the Democratic Republic of the Congo. Revenue for the year ended 31 March 2008...
South Africa has been accused of using non-African actors in Blackface in its advertising as opposed to simple using African actors as principles. Others, mainly Whites, continue to see it as harmless fun.
United States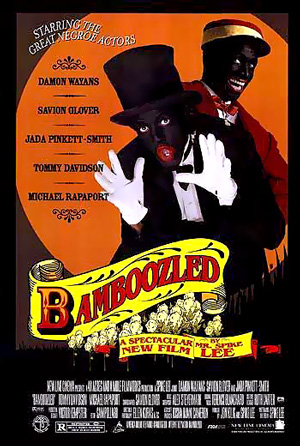 20th century examples
In 1936 when the lead in touring company of
Orson Welles
Orson Welles
George Orson Welles , best known as Orson Welles, was an American film director, actor, theatre director, screenwriter, and producer, who worked extensively in film, theatre, television and radio...
' Voodoo Macbeth (Maurice Evans) fell ill, Welles stepped temporarily into the part and played the role in blackface.
An example of the fascination in American culture with racial boundaries and the color line is demonstrated in the popular duo Amos 'n' Andy, characters played by two white men who performed the show in blackface. They gradually stripped off the blackface makeup during live 1929 performances while continuing to talk in dialect. This fascination with color boundaries had been well-established since the beginning of the century, as it also had been before the Civil War.
In New Orleans in the early 1900s, a group of African American laborers began a marching club in the annual
Mardi Gras
Mardi Gras
The terms "Mardi Gras" , "Mardi Gras season", and "Carnival season", in English, refer to events of the Carnival celebrations, beginning on or after Epiphany and culminating on the day before Ash Wednesday...
parade, dressed as hobos and calling themselves "The Tramps". Wanting a flashier look, they later renamed themselves "Zulus" and copied their costumes from a blackface vaudeville skit performed at a local black jazz club and cabaret. The result is one of the best known and most striking krewes of Mardi Gras, the Zulu Social Aid and Pleasure Club. Dressed in grass skirts, top hats and exaggerated blackface, the Zulus of New Orleans are controversial as well as popular.
The wearing of blackface was once a traditional part of the annual
Mummers Parade
Mummers Parade
The Mummers Parade is held each New Year's Day in Philadelphia, Pennsylvania. Local clubs compete in one of four categories . They prepare elaborate costumes and moveable scenery, which take months to complete...
in Philadelphia. Growing dissent from civil rights groups and the offense of the black community led to a 1964 official city policy ruling out blackface. Also in 1964, bowing to pressure from the interracial group Concern, teenagers in Norfolk, Connecticut, reluctantly agreed to discontinue using blackface in their traditional minstrel show that was a fund-raiser for the March of Dimes.
The musician Taco Ockerse stirred up controversy in 1983 by using dancers in blackface for his hit synthpop version of
Puttin' on the Ritz
Puttin' on the Ritz
"Puttin' on the Ritz" is a popular song written and published in 1929 by Irving Berlin and introduced by Harry Richman in the musical film Puttin' on the Ritz . The title derives from the slang expression "putting on the Ritz," meaning to dress very fashionably. The expression was inspired by the...
.
Former
Illinois
Illinois
Illinois is the fifth-most populous state of the United States of America, and is often noted for being a microcosm of the entire country. With Chicago in the northeast, small industrial cities and great agricultural productivity in central and northern Illinois, and natural resources like coal,...
congressman and
House
United States House of Representatives
The United States House of Representatives is one of the two Houses of the United States Congress, the bicameral legislature which also includes the Senate.The composition and powers of the House are established in Article One of the Constitution...
Republican party
Republican Party (United States)
The Republican Party is one of the two major contemporary political parties in the United States, along with the Democratic Party. Founded by anti-slavery expansion activists in 1854, it is often called the GOP . The party's platform generally reflects American conservatism in the U.S...
minority leader
Minority leader
In U.S. politics, the minority leader is the floor leader of the second largest caucus in a legislative body. Given the two-party nature of the U.S. system, the minority leader is almost inevitably either a Republican or a Democrat, with their counterpart being of the opposite party. The position...
Bob Michel caused a minor stir in 1988, when on the
USA Today
television program
Television program
A television program , also called television show, is a segment of content which is intended to be broadcast on television. It may be a one-time production or part of a periodically recurring series...
he fondly recalled minstrel shows in which he had participated as a young man and expressed his regret that they had fallen out of fashion.
In 1993, white actor
Ted Danson
Ted Danson
Edward Bridge "Ted" Danson III is an American actor best known for his role as central character Sam Malone in the sitcom Cheers, and his role as Dr. John Becker on the series Becker. He also plays a recurring role on Larry David's HBO sitcom Curb Your Enthusiasm and starred alongside Glenn Close...
ignited a firestorm of controversy when he appeared at a
Friars Club
Friars Club
Friars Club can refer to:* The New York Friars' Club* The Friars Club of Beverly Hills* The Friar Society, University of Texas at Austin* The Friars , Louisiana State University* "The Friars Club", a Seinfeld episode...
roast
Roast (comedy)
A roast is an event in which an individual is subjected to a public presentation of comedic insults, praise, outlandish true and untrue stories, and heartwarming tributes, the implication being that the roastee is able to take the jokes in good humor and not as serious criticism or insult, and...
in blackface, delivering a risqué shtick written by his then love interest, African-American
comedian
Comedian
A comedian or comic is a person who seeks to entertain an audience, primarily by making them laugh. This might be through jokes or amusing situations, or acting a fool, as in slapstick, or employing prop comedy...
Whoopi Goldberg
Whoopi Goldberg
Whoopi Goldberg is an American comedian, actress, singer-songwriter, political activist, author and talk show host.Goldberg made her film debut in The Color Purple playing Celie, a mistreated black woman in the Deep South. She received a nomination for the Academy Award for Best Actress and won...
. Recently,
gay
Gay
Gay is a word that refers to a homosexual person, especially a homosexual male. For homosexual women the specific term is "lesbian"....
white performer
Chuck Knipp
Chuck Knipp
Chuck Knipp is an American and Canadian drag queen and comedian best known for his alter egos, the characters 'Shirley Q. Liquor' and 'Betty Butterfield.' A number of videos of Knipp's Butterfield were featured on several different Youtube accounts until 2007 when most disappeared. In mid-2009 a...
has used drag, blackface, and broad racial caricature while portraying a character named "Shirley Q. Liquor" in his
cabaret
Cabaret
Cabaret is a form, or place, of entertainment featuring comedy, song, dance, and theatre, distinguished mainly by the performance venue: a restaurant or nightclub with a stage for performances and the audience sitting at tables watching the performance, as introduced by a master of ceremonies or...
act, generally performed for all-white audiences. Knipp's outrageously stereotypical character has drawn criticism and prompted
demonstrations
Demonstration (people)
A demonstration or street protest is action by a mass group or collection of groups of people in favor of a political or other cause; it normally consists of walking in a mass march formation and either beginning with or meeting at a designated endpoint, or rally, to hear speakers.Actions such as...
from black, gay and
transgender
Transgender
Transgender is a general term applied to a variety of individuals, behaviors, and groups involving tendencies to vary from culturally conventional gender roles....
activists.
21st century
Blackface and minstrelsy also serve as the theme of
Spike Lee
Spike Lee
Shelton Jackson "Spike" Lee is an American film director, producer, writer, and actor. His production company, 40 Acres & A Mule Filmworks, has produced over 35 films since 1983....
's film
Bamboozled
Bamboozled
Bamboozled is a 2000 satirical film written and directed by Spike Lee about a modern televised minstrel show featuring black actors donning blackface makeup and the violent fall-out from the show's success...
(2000). It tells of a disgruntled black television executive who reintroduces the old blackface style and is horrified by its success.
In recent years, there have been several inflammatory blackface "incidents" where white
college
College
A college is an educational institution or a constituent part of an educational institution. Usage varies in English-speaking nations...
students donned blackface as part of possibly innocent, but insensitive, gags, or as part of an acknowledged climate of racism and intolerance on campus. Such incidents usually escalate around
Halloween
Halloween
Hallowe'en , also known as Halloween or All Hallows' Eve, is a yearly holiday observed around the world on October 31, the night before All Saints' Day...
, with students often acting out racial stereotypes.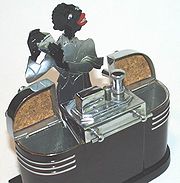 In November 2005, controversy erupted when journalist
Steve Gilliard
Steve Gilliard
Steve Gilliard was a freelance journalist and left-wing political blogger who ran the website The News Blog...
posted a photograph on his
blog
Blog
A blog is a type of website or part of a website supposed to be updated with new content from time to time. Blogs are usually maintained by an individual with regular entries of commentary, descriptions of events, or other material such as graphics or video. Entries are commonly displayed in...
. The image was of African American
Michael S. Steele
Michael S. Steele
Michael Stephen Steele is an American politician who served as the first African-American chairman of the Republican National Committee from January 2009 until January 2011. From 2003 to 2007, he was the seventh Lieutenant Governor of Maryland, the first African American elected to statewide...
, a politician, then a candidate for U.S. Senate. It had been doctored to include bushy, white eyebrows and big, red lips. The caption read, "I's simple
Sambo
Sambo (ethnic slur)
Sambo is a racial term for a person with African heritage and, in some countries, also mixed with Native American heritage .-History:...
and I's running for the big house." Gilliard, also African American, defended the image, commenting that the politically conservative Steele has "refused to stand up for his people."
In October 2009, a talent-search skit on Australian TV's
Hey Hey It's Saturday
Hey Hey It's Saturday
Hey Hey It's Saturday was a long-running variety television program on Australian television. It initially ran for 27 years , debuting on the Nine Network on 9 October 1971 and broadcasting its last episode on 20 November 1999. Its host throughout its entire run was Daryl Somers, who would later...
reunion show featured an Australian tribute group for
Michael Jackson
Michael Jackson
Michael Joseph Jackson was an American recording artist, entertainer, and businessman. Referred to as the King of Pop, or by his initials MJ, Jackson is recognized as the most successful entertainer of all time by Guinness World Records...
, the "Jackson Jive" in blackface, with the Michael Jackson character in whiteface. American performer
Harry Connick, Jr.
Harry Connick, Jr.
Joseph Harry Fowler Connick, Jr. is an American singer, big-band leader/conductor, pianist, actor, and composer. He has sold over 25 million albums worldwide. Connick is ranked among the top 60 best-selling male artists in the United States by the Recording Industry Association of America, with...
was one of the guest judges and objected to the act, stating that he believed it was offensive to African-Americans, and gave the troupe a score of zero. The show and the group later apologized to Connick, with the troupe leader of Indian descent stating that the skit was not intended to be offensive or racist.
In 2010 An episode of
It's Always Sunny In Philadelphia
It's Always Sunny in Philadelphia
It's Always Sunny in Philadelphia is an American television sitcom that premiered on FX on August 4, 2005. New episodes continue to air on FX, with reruns playing on Comedy Central, general broadcast syndication, and WGN America—the first-ever cable-to-cable syndication deal for a sitcom...
comically explored if Blackface could ever be done "right"
Commodities bearing iconic "darky" images, from tableware, soap and toy marbles to home accessories and T-shirts, continue to be manufactured and marketed in the U.S. and elsewhere. Some are reproductions of historical
artifacts
Cultural artifact
A cultural artifact is a term used in the social sciences, particularly anthropology, ethnology, and sociology for anything created by humans which gives information about the culture of its creator and users...
, while others are so-called "fantasy" items, newly designed and manufactured for the marketplace. There is a thriving
niche market
Niche market
A niche market is the subset of the market on which a specific product is focusing; therefore the market niche defines the specific product features aimed at satisfying specific market needs, as well as the price range, production quality and the demographics that is intended to impact...
for such item in the U.S., particularly, as well as for original artifacts of darky iconography. The value of vintage "negrobilia" pieces has risen steadily since the 1970s.
United Kingdom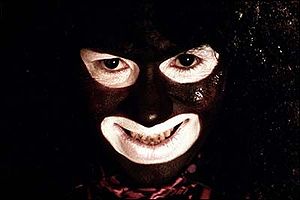 A sketch in a 2003 episode of "
Little Britain
Little Britain
Little Britain is a British character-based comedy sketch show which was first broadcast on BBC radio and then turned into a television show. It was written by comic duo David Walliams and Matt Lucas...
" features two characters who appear in blackface. The same characters, again in blackface, return for one 2005 sketch. In the sketches, the racist overtones are subverted with the characters presented as belonging to a race genuinely possessing the appearance of white men in blackface (referred to as "Minstrels") who are persecuted by the public and local government in a similar manner to European government treatment of the Romani people.
The character of
Papa Lazarou
Papa Lazarou
Papa Lazarou is a fictional character in the BBC TV comedy programme The League of Gentlemen.He appeared in two episodes, a Christmas special, and the film The League of Gentlemen's Apocalypse. The character is part written by and played by Reece Shearsmith.Papa Lazarou has been listed as both the...
was an evil character who appeared in two episodes of the TV show "
The League of Gentlemen
The League of Gentlemen
The League of Gentlemen are a group of British comedians formed in 1995, best known for their radio and television series.The League of Gentlemen may also refer to:* The League of Gentlemen ,...
", who was regularly in blackface. He also appeared in blackface in the 2005 movie, "
The League of Gentlemen's Apocalypse
The League of Gentlemen's Apocalypse
The League of Gentlemen's Apocalypse is a feature film spin-off of the popular British television comedy series The League of Gentlemen. Starring Mark Gatiss, Steve Pemberton and Reece Shearsmith, the film was written by the cast with Jeremy Dyson, and directed by Steve Bendelack...
", however it was revealed at the end of the series, when he dressed up as a Caucasian, that this was actually his skin colour.
Other contexts
There are blackface performance traditions the origins of which stem not from representation of racial stereotype and are not in the stereotypical blackface mode. In Europe, there are a number of folk dances or folk performances in which the black face appears to represent the night, or the coming of the longer nights associated with winter. Many fall or autumn North European folk black face customs are employed ritualistically to appease the forces of the oncoming winter, utilizing characters with blackened faces, or black masks.
In
Bacup
Bacup
Bacup is a town within the Rossendale borough of Lancashire, England. It is located amongst the South Pennines, along Lancashire's eastern boundary with West Yorkshire. The town sits within a rural setting in the Forest of Rossendale, amongst the steep-sided upper-Irwell Valley, through which the...
,
Lancashire
Lancashire
Lancashire is a non-metropolitan county of historic origin in the North West of England. It takes its name from the city of Lancaster, and is sometimes known as the County of Lancaster. Although Lancaster is still considered to be the county town, Lancashire County Council is based in Preston...
, England, the Britannia Coco-nut Dancers wear black faces. Some believe the origin of this dance can be traced back to the influx of Cornish miners to northern England, and the black face relates to the dirty blackened faces associated with mining.
In
Cornwall
Cornwall
Cornwall is a unitary authority and ceremonial county of England, within the United Kingdom. It is bordered to the north and west by the Celtic Sea, to the south by the English Channel, and to the east by the county of Devon, over the River Tamar. Cornwall has a population of , and covers an area of...
, UK several
Mummer's Day
Mummer's Day
Mummer's Day, or "Darkie Day" as it is sometimes known, is an ancient Cornish midwinter celebration that occurs every year on Boxing Day and New Year's Day in Padstow, Cornwall...
celebrations are held, these were sometimes known as "Darkie Day" and involved local residents dancing through the streets in blackface to musical accompaniment. Although the origins of blacking-up for Mummer's Day have no racial connotations – the tradition going back to the days of the Celts – controversially, in the
Padstow
Padstow
Padstow is a town, civil parish and fishing port on the north coast of Cornwall, England, United Kingdom. The town is situated on the west bank of the River Camel estuary approximately five miles northwest of Wadebridge, ten miles northwest of Bodmin and ten miles northeast of Newquay...
festival, a song with the words "He's gone where the good niggers go", was formerly included due to the popularity of minstrel songs during the 20th century.
In Japan,
Ganguro
Ganguro
Ganguro is an alternative fashion trend of blonde or orange hair and tanned skin among young Japanese women that peaked in popularity around the year 2000. The Shibuya and Ikebukuro districts of Tokyo were the centers of ganguro fashion...
, (from 顔黒, lit. "black face") was an alternative
fashion
Fashion
Fashion, a general term for a currently popular style or practice, especially in clothing, foot wear, or accessories. Fashion references to anything that is the current trend in look and dress up of a person...
trend of blonde or orange hair and darkened skin among young Japanese women that peaked in popularity around the year 2000, partly as a reaction against the traditional view of white skin being more beautiful and the consequent popularity of white make-up. (See also:
Japanese Blackface
,
Shirabyōshi
Shirabyoshi
were female dancers, prominent in the Japanese Imperial Court, who performed traditional Japanese dances dressed as men. The profession of shirabyōshi developed in the 12th century...
,
Geisha
Geisha
, Geiko or Geigi are traditional, female Japanese entertainers whose skills include performing various Japanese arts such as classical music and dance.-Terms:...
and
Butoh
Butoh
is the collective name for a diverse range of activities, techniques and motivations for dance, performance, or movement inspired by the movement. It typically involves playful and grotesque imagery, taboo topics, extreme or absurd environments, and is traditionally performed in white body makeup...
.)
In
Nowruz
Nowruz
Nowrūz is the name of the Iranian New Year in Iranian calendars and the corresponding traditional celebrations. Nowruz is also widely referred to as the Persian New Year....
celebrations in Iran,
Hajji Firuz
Hajji Firuz
Hâjji Fîrûz or Hajji Piruz, is the traditional herald of Nowruz, the Iranian New Year. He oversees celebrations for the new year perhaps as a remnant of the ancient Zoroastrian fire-keeper. His face is covered in soot and he is clad in bright red clothes and a felt hat...
performers blacken their faces, and each "wears very colorful clothes, usually — but not always — red, and always a hat that is sometimes long and cone-shaped. His songs, quite traditional in wording and melody, are very short repetitive". Iranian-American scholars
Golbarg Bashi
Golbarg Bashi
Golbarg Bashi , born in Ahvaz, Iran, is an Iranian-Swedish feminist professor of Iranian Studies at Rutgers University in the US. Among other topics, Bashi has published works and given talks about human rights in the Middle East and the situation of women in Iran.-Biography:Golbarg Bashi was born...
and
Hamid Dabashi
Hamid Dabashi
Hamid Dabashi born 1951 in Ahvaz is an Iranian-American Professor of Iranian Studies and Comparative Literature at Columbia University in New York City.He is the author of over twenty books...
offer an anti-racist critique of the figure of Hajji Firuz and called for the elimination of the figure of Blackface from the Nowruz festivities. In their piece they write of the "deeply racist figure of Blackface Hajji Firuz, doubtless a nasty remnant of African slaves that were bought and sold and made into an object of ridicule at the same time. We have been horrified to see Iranians celebrate the Noruz here in the US in colorful parades down Fifth Avenue, an otherwise perfectly beautiful thing to do, while parading a figure of Hajji Firuz, much to the horror of African-Americans who cannot believe that in this day and age there are still people that flaunt such racist acts unconsciously."
In the 1976 Soviet film
How Tsar Peter the Great Married Off His Moor
(
Сказ про то, как царь Пётр арапа женил
), the iconic singer
Vladimir Vysotsky
Vladimir Vysotsky
Vladimir Semyonovich Vysotsky was a Soviet singer, songwriter, poet, and actor whose career had an immense and enduring effect on Russian culture. He became widely known for his unique singing style and for his lyrics, which featured social and political commentary in often humorous street...
performs the role of the Moor in blackface.
In West African folk theatre and puppetry there is a tradition of satirical representation of white Europeans. Performers will wear white masks and white gloves. In the Yoruba Egungun festivals overly affectionate white couples are made fun of due to their unseemly and ridiculous behaviour. The imagery is very similar to the representation of white colonists, sometimes with a humorous undercurrent, in wood carvings from the same regions.
In
Thailand
Thailand
Thailand , officially the Kingdom of Thailand , formerly known as Siam , is a country located at the centre of the Indochina peninsula and Southeast Asia. It is bordered to the north by Burma and Laos, to the east by Laos and Cambodia, to the south by the Gulf of Thailand and Malaysia, and to the...
, actors darken their faces to portray
the Negrito of Thailand
Semang
The Semang are a Negrito ethnic group of the Malay Peninsula. Lowland Semang tribes are also known as Sakai, although this term is considered to be derogatory by the Semang people. They are probably the indigenous peoples of this area. They have been recorded to have lived here since before the...
in a popular play by King
Chulalongkorn
Chulalongkorn
Phra Bat Somdet Phra Poramintharamaha Chulalongkorn Phra Chunla Chom Klao Chao Yu Hua , or Rama V was the fifth monarch of Siam under the House of Chakri. He was known to the Siamese of his time as Phra Phuttha Chao Luang . He is considered one of the greatest kings of Siam...
(1868–1910),
Ngo Pa
, which has been turned into a musical and a movie.
Legacy
Despite its racist portrayals, blackface minstrelsy was the conduit through which African-American and African-American-influenced music, comedy, and dance first reached the American mainstream. It played a seminal role in the introduction of African-American culture to world audiences. Wrote jazz historian
Gary Giddins
Gary Giddins
Gary Giddins is an American jazz critic, author, and director, best known for his longtime work with The Village Voice. Born in Brooklyn, and raised on Long Island, Giddins graduated from Grinnell College, Iowa, in 1970...
in
Bing Crosby: A Pocketful of Dreams, The Early Years 1903–1940
:
In a specific example of this, from Ted Fox's
Showtime at the Apollo
Many of country's earliest stars, such as
Jimmie Rodgers
Jimmie Rodgers (country singer)
James Charles Rodgers , known as Jimmie Rodgers, was an American country singer in the early 20th century known most widely for his rhythmic yodeling...
and
Bob Wills
Bob Wills
James Robert Wills , better known as Bob Wills, was an American Western Swing musician, songwriter, and bandleader, considered by music authorities as the co-founder of Western Swing and universally known as the pioneering King of Western Swing.Bob Wills' name will forever be associated with...
, were veterans of blackface performance. More recently, the American country music television show
Hee Haw
Hee Haw
Hee Haw is an American television variety show featuring country music and humor with fictional rural Kornfield Kounty as a backdrop. It aired on CBS-TV from 1969–1971 before a 20-year run in local syndication. The show was inspired by Rowan & Martin's Laugh-In, the major difference being...
(1969–1993) had the format and much of the content of a minstrel show.
The immense popularity and profitability of blackface were testaments to the power, appeal, and commercial viability of not only black music and dance, but also of black style. This led to cross-cultural collaborations, as Giddings writes; but particularly to the often ruthless exploitation and outright theft of African-American artistic genius, as well—by other, white performers and composers; agents; promoters; publishers; and record company executives.
While blackface in the literal sense has played only a minor role in entertainment in recent decades, various writers see it as epitomizing an appropriation and imitation of black culture that continues today. As noted above, Strausbaugh sees blackface as central to a longer tradition of "displaying Blackness". "To this day," he writes, "Whites admire, envy and seek to emulate such supposed innate qualities of Blackness as inherent musicality, natural athleticism, the composure known as 'cool' and superior sexual endowment," a phenomemon he views as part of the history of blackface. For more than a century, when white performers have wanted to appear sexy, (like
Elvis
Elvis Presley
Elvis Aaron Presley was one of the most popular American singers of the 20th century. A cultural icon, he is widely known by the single name Elvis. He is often referred to as the "King of Rock and Roll" or simply "the King"....
or
Mick Jagger
Mick Jagger
Sir Michael Philip "Mick" Jagger is an English musician, singer and songwriter, best known as the lead vocalist and a founding member of The Rolling Stones....
); or streetwise, (like
Eminem
Eminem
Marshall Bruce Mathers III , better known by his stage name Eminem or his alter ego Slim Shady, is an American rapper, record producer, songwriter and actor. Eminem's popularity brought his group project, D12, to mainstream recognition...
); or hip, (like
Mezz Mezzrow
Mezz Mezzrow
Milton Mesirow, better known as Mezz Mezzrow was an American jazz clarinetist and saxophonist from Chicago, Illinois. Mezzrow is well known for organizing and financing historic recording sessions with Tommy Ladnier and Sidney Bechet. Mezzrow also recorded a number of times with Bechet and...
); they often have turned to African-American performance styles, stage presence and personas. Pop culture referencing and cultural appropriation of African-American performance and stylistic traditions—often resulting in tremendous profit—is a tradition with origins in blackface minstrelsy.
The international imprint of African-American culture is pronounced in its depth and breadth, in indigenous expressions, as well as in myriad, blatantly mimetic and subtler, more attenuated forms. This "browning", à la
Richard Rodriguez
Richard Rodriguez
Richard Rodriguez is an American writer who became famous as the author of Hunger of Memory: The Education of Richard Rodriguez , a narrative about his intellectual development.- Early life :...
, of American and world popular culture began with blackface minstrelsy. It is a continuum of pervasive African-American influence which has many prominent manifestations today, among them the ubiquity of the
cool aesthetic
Cool (aesthetic)
Something regarded as cool is an admired aesthetic of attitude, behavior, comportment, appearance and style, influenced by and a product of the Zeitgeist. Because of the varied and changing connotations of cool, as well its subjective nature, the word has no single meaning. It has associations of...
and hip hop culture.
See also
Two Black Crows

Two Black Crows

The Two Black Crows was a blackface comedy act popular in the 1920s and 30s. The duo appeared in vaudeville, on Broadway, on radio, comedy records, and in film features and shorts....



Jynx (Pokemon)
External links
General
Zwarte Piet