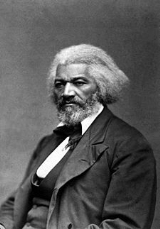 Frederick Douglass
Frederick Douglass
was an American social reformer, orator,
writer
Writer
A writer is a person who produces literature, such as novels, short stories, plays, screenplays, poetry, or other literary art. Skilled writers are able to use language to portray ideas and images....
and
statesman
Statesman
A statesman is usually a politician or other notable public figure who has had a long and respected career in politics or government at the national and international level. As a term of respect, it is usually left to supporters or commentators to use the term...
. After escaping from
slavery
Slavery
Slavery is a system under which people are treated as property to be bought and sold, and are forced to work. Slaves can be held against their will from the time of their capture, purchase or birth, and deprived of the right to leave, to refuse to work, or to demand compensation...
, he became a leader of the
abolitionist
Abolitionism
Abolitionism is a movement to end slavery.In western Europe and the Americas abolitionism was a movement to end the slave trade and set slaves free. At the behest of Dominican priest Bartolomé de las Casas who was shocked at the treatment of natives in the New World, Spain enacted the first...
movement, gaining note for his dazzling oratory and incisive antislavery writing. He stood as a living counter-example to slaveholders' arguments that slaves did not have the intellectual capacity to function as independent American citizens. Many Northerners also found it hard to believe that such a great orator had been a slave.
Douglass wrote several autobiographies, eloquently describing his experiences in slavery in his 1845 autobiography,
Narrative of the Life of Frederick Douglass, an American Slave
Narrative of the Life of Frederick Douglass, an American Slave
Narrative of the Life of Frederick Douglass is a memoir and treatise on abolition written by famous orator and ex-slave, Frederick Douglass. It is generally held to be the most famous of a number of narratives written by former slaves during the same period...
, which became influential in its support for abolition.
The ground which a colored man occupies in this country is, every inch of it, sternly disputed.

Speech at the American and Foreign Anti-Slavery Society annual meeting, New York City (May 1853)
The destiny of the colored American ... is the destiny of America.

Speech at the Emancipation League, Boston (1862-02-12)
The relation between the white and colored people of this country is the great, paramount, imperative, and all-commanding question for this age and nation to solve.

Speech at the Church of the Puritans, New York City (May 1863)