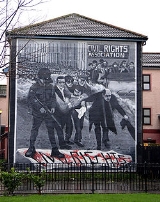 Civil rights movement
The
civil rights movement
was a worldwide
political movement
Political movement
A political movement is a social movement in the area of politics. A political movement may be organized around a single issue or set of issues, or around a set of shared concerns of a social group...
for
equality before the law
Equality before the law
Equality before the law or equality under the law or legal egalitarianism is the principle under which each individual is subject to the same laws....
occurring between approximately 1950 and 1980. In many situations it took the form of campaigns of
civil resistance
Civil resistance
The term civil resistance, alongside the term nonviolent resistance, is used to describe political action that relies on the use of non-violent methods by civil groups to challenge a particular power, force, policy or regime. Civil resistance operates through appeals to the adversary, pressure and...
aimed at achieving change by
nonviolent forms of resistance
Nonviolent resistance
Nonviolent resistance is the practice of achieving goals through symbolic protests, civil disobedience, economic or political noncooperation, and other methods, without using violence. It is largely synonymous with civil resistance...
. In some situations it was accompanied, or followed, by civil unrest and armed rebellion. The process was long and tenuous in many countries, and many of these movements did not fully achieve their goals although, the efforts of these movements did lead to improvements in the legal rights of previously oppressed groups of people.
Northern Ireland
Northern Ireland
Northern Ireland is one of the four countries of the United Kingdom. Situated in the north-east of the island of Ireland, it shares a border with the Republic of Ireland to the south and west...
is a province of the
United Kingdom
United Kingdom
The United Kingdom of Great Britain and Northern IrelandIn the United Kingdom and Dependencies, other languages have been officially recognised as legitimate autochthonous languages under the European Charter for Regional or Minority Languages...
which has witnessed violence over many decades, mainly because of sectarian tensions between the Catholic and Protestant community, known as
the Troubles
The Troubles
The Troubles was a period of ethno-political conflict in Northern Ireland which spilled over at various times into England, the Republic of Ireland, and mainland Europe. The duration of the Troubles is conventionally dated from the late 1960s and considered by many to have ended with the Belfast...
.
The civil rights struggle in Northern Ireland can be traced to Catholics in Dungannon who were fighting for equal access to public housing for the members of the Catholic community, led by
Austin Currie
Austin Currie
Austin Currie is a former politician who was elected to the parliaments of both Northern Ireland and the Republic of Ireland....
.