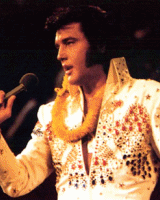 Elvis Presley
Elvis Aaron Presley
was one of the most popular American singers of the 20th century. A cultural icon, he is widely known by the single name
Elvis
. He is often referred to as the "
King of Rock and Roll
" or simply "
the King
".
Born in
Tupelo, Mississippi
Tupelo, Mississippi
Tupelo is the largest city in and the county seat of Lee County, Mississippi, United States. It is the seventh largest city in the state of Mississippi, smaller than Meridian, and larger than Greenville. As of the 2000 United States Census, the city's population was 34,211...
, Presley moved to
Memphis, Tennessee
Memphis, Tennessee
Memphis is a city in the southwestern corner of the U.S. state of Tennessee, and the county seat of Shelby County. The city is located on the 4th Chickasaw Bluff, south of the confluence of the Wolf and Mississippi rivers....
, with his family at the age of 13. He began his career there in 1954 when
Sun Records
Sun Records
Sun Records is a record label founded in Memphis, Tennessee, starting operations on March 27, 1952.Founded by Sam Phillips, Sun Records was known for giving notable musicians such as Elvis Presley , Carl Perkins, Roy Orbison, and Johnny Cash...
owner
Sam Phillips
Sam Phillips
Samuel Cornelius Phillips , better known as Sam Phillips, was an American businessman, record executive, record producer and DJ who played an important role in the emergence of rock and roll as the major form of popular music in the 1950s...
, eager to bring the sound of
African American music
African American music
African-American music is an umbrella term given to a range of musics and musical genres emerging from or influenced by the culture of African Americans, who have long constituted a large and significant ethnic minority of the population of the United States...
to a wider audience, saw in Presley the means to realize his ambition.
1954 Elvis Presley records That's All Right, his first single to be released.
1954 Elvis Presley made his radio debut when WHBQ Memphis played his first recording for Sun Records, "That's All Right."
1956 Elvis Presley introduces his new single, "Hound Dog", on ''The Milton Berle Show'', scandalizing the audience with his suggestive hip movements.
1956 Elvis Presley appears on ''The Ed Sullivan Show'' for the first time.
1958 Entertainer Elvis Presley is conscripted into the U.S. Army.
1982 Priscilla Presley opens Graceland to the public; the bathroom where Elvis Presley died five years earlier is kept off-limits.
1986 The Rock and Roll Hall of Fame inducts its first members: Little Richard, Chuck Berry, James Brown, Ray Charles, Fats Domino, the Everly Brothers, Buddy Holly, Jerry Lee Lewis and Elvis Presley.
The first time that I appeared on stage, it scared me to death. I really didn't know what all the yelling was about. I didn't realize that my body was moving. It's a natural thing to me. So to the manager backstage I said, 'What'd I do? What'd I do?' And he said, 'Whatever it is, go back and do it again.'

Interview (March/April 1972)
Man, I was tame compared to what they do now. Are you kidding? I didn't do anything but just jiggle.

Press conference (June 1972)
The image is one thing and the human being is another...it's very hard to live up to an image.

Press conference (June 1972)
A live concert to me is exciting because of all the electricity that is generated in the crowd and on stage. It's my favorite part of the business — live concerts.

Press conference (5 September 1972)
Thank you, Thank you very much.

Quote frequently used by impersonators of Elvis and used with a drawl