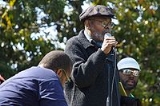 Amiri Baraka
Amiri Baraka
formerly known as
LeRoi Jones
, is an American writer of poetry,
drama
Drama
Drama is the specific mode of fiction represented in performance. The term comes from a Greek word meaning "action" , which is derived from "to do","to act" . The enactment of drama in theatre, performed by actors on a stage before an audience, presupposes collaborative modes of production and a...
,
fiction
Fiction
Fiction is the form of any narrative or informative work that deals, in part or in whole, with information or events that are not factual, but rather, imaginary—that is, invented by the author. Although fiction describes a major branch of literary work, it may also refer to theatrical,...
,
essay
Essay
An essay is a piece of writing which is often written from an author's personal point of view. Essays can consist of a number of elements, including: literary criticism, political manifestos, learned arguments, observations of daily life, recollections, and reflections of the author. The definition...
s, and
music criticism
Music criticism
See also Music journalism for reporting on classical and popular music in the media.The Oxford Companion to Music defines music criticism as 'the intellectual activity of formulating judgments on the value and degree of excellence of individual works of music, or whole groups or genres'. In this...
. He is the author of numerous books of poetry and has taught at a number of universities, including the
State University of New York at Buffalo
University at Buffalo, The State University of New York
University at Buffalo, The State University of New York, also commonly known as the University at Buffalo or UB, is a public research university and a "University Center" in the State University of New York system. The university was founded by Millard Fillmore in 1846. UB has multiple campuses...
and the State University of New York at Stony Brook.
Early life
Baraka was born
Everett LeRoi Jones
in
Newark, New Jersey
Newark, New Jersey
Newark is the largest city in the American state of New Jersey, and the seat of Essex County. As of the 2010 United States Census, Newark had a population of 277,140, maintaining its status as the largest municipality in New Jersey. It is the 68th largest city in the U.S...
, where he attended
Barringer High School
Barringer High School
Barringer High School, formerly Newark High School, is a four-year comprehensive public high school in Newark, in Essex County, New Jersey, United States, operating as part of the Newark Public Schools. Some consider it to be the third oldest public high school in the United States...
. His father, Coyt Leverette Jones, worked as a postal supervisor and lift operator. His mother, Anna Lois (
née
Married and maiden names
A married name is the family name adopted by a person upon marriage. When a person assumes the family name of her spouse, the new name replaces the maiden name....
Russ), was a social worker. In 1967 he adopted the African name Imamu Amear Baraka, which he later changed to Amiri Baraka.
Baraka studied at
Rutgers
Rutgers University
Rutgers, The State University of New Jersey , is the largest institution for higher education in New Jersey, United States. It was originally chartered as Queen's College in 1766. It is the eighth-oldest college in the United States and one of the nine Colonial colleges founded before the American...
,
Columbia
Columbia University
Columbia University in the City of New York is a private, Ivy League university in Manhattan, New York City. Columbia is the oldest institution of higher learning in the state of New York, the fifth oldest in the United States, and one of the country's nine Colonial Colleges founded before the...
, and
Howard
Howard University
Howard University is a federally chartered, non-profit, private, coeducational, nonsectarian, historically black university located in Washington, D.C., United States...
Universities, leaving each without a degree, and the
New School for Social Research
The New School
The New School is a university in New York City, located mostly in Greenwich Village. From its founding in 1919 by progressive New York academics, and for most of its history, the university was known as the New School for Social Research. Between 1997 and 2005 it was known as New School University...
. He won a scholarship to Rutgers University in 1951, but a continuing sense of cultural dislocation prompted him to transfer in 1952 to Howard University. His major fields of study were
philosophy
Philosophy
Philosophy is the study of general and fundamental problems, such as those connected with existence, knowledge, values, reason, mind, and language. Philosophy is distinguished from other ways of addressing such problems by its critical, generally systematic approach and its reliance on rational...
and
religion
Religious studies
Religious studies is the academic field of multi-disciplinary, secular study of religious beliefs, behaviors, and institutions. It describes, compares, interprets, and explains religion, emphasizing systematic, historically based, and cross-cultural perspectives.While theology attempts to...
. Baraka also served two years in the
U.S. Air Force
United States Air Force
The United States Air Force is the aerial warfare service branch of the United States Armed Forces and one of the American uniformed services. Initially part of the United States Army, the USAF was formed as a separate branch of the military on September 18, 1947 under the National Security Act of...
as a gunner. Baraka continued his studies of comparative literature at Columbia University.
1934–1965
Baraka studied philosophy and religion at Rutgers University, Columbia University and Howard University without obtaining a degree. In 1954 he joined the US Air Force, reaching the rank of sergeant.
After an anonymous letter to his commanding officer accusing him of being a communist led to the discovery of
Soviet
Soviet Union
The Soviet Union , officially the Union of Soviet Socialist Republics , was a constitutionally socialist state that existed in Eurasia between 1922 and 1991....
writings, Baraka was put on gardening duty and given a dishonorable discharge for violation of his oath of duty.
The same year, he moved to
Greenwich Village
Greenwich Village
Greenwich Village, , , , .in New York often simply called "the Village", is a largely residential neighborhood on the west side of Lower Manhattan in New York City. A large majority of the district is home to upper middle class families...
working initially in a warehouse for music records. His interest in
jazz
Jazz
Jazz is a musical style that originated at the beginning of the 20th century in African American communities in the Southern United States. It was born out of a mix of African and European music traditions. From its early development until the present, jazz has incorporated music from 19th and 20th...
began in this period. At the same time he came into contact with Beat, Black Mountain College and New York School poets. In 1958 he married Hettie Cohen and founded Totem Press, which published such
Beat Generation
Beat generation
The Beat Generation refers to a group of American post-WWII writers who came to prominence in the 1950s, as well as the cultural phenomena that they both documented and inspired...
icons as
Jack Kerouac
Jack Kerouac
Jean-Louis "Jack" Lebris de Kerouac was an American novelist and poet. He is considered a literary iconoclast and, alongside William S. Burroughs and Allen Ginsberg, a pioneer of the Beat Generation. Kerouac is recognized for his spontaneous method of writing, covering topics such as Catholic...
and
Allen Ginsberg
Allen Ginsberg
Irwin Allen Ginsberg was an American poet and one of the leading figures of the Beat Generation in the 1950s. He vigorously opposed militarism, materialism and sexual repression...
. Their literary magazine Yugen lasted for eight issues (1958–62). Baraka also worked as editor and critic for Kulchur (1960–65). With Diane DiPrima he edited the first twenty-five issues (1961–63) of their little magazine Floating Bear.
Baraka visited Cuba in July 1960 with a
Fair Play for Cuba Committee
Fair Play for Cuba Committee
The Fair Play for Cuba Committee was an activist group set up in New York in April 1960. The FPCC's purpose was to provide grassroots support for the Cuban Revolution against attacks by the United States government, once Fidel Castro began openly admitting his commitment to Marxism and began the...
delegation and reported his impressions in his essay Cuba libre. In 1961 Baraka co-authored a Declaration of Conscience in support of
Fidel Castro
Fidel Castro
Fidel Alejandro Castro Ruz is a Cuban revolutionary and politician, having held the position of Prime Minister of Cuba from 1959 to 1976, and then President from 1976 to 2008. He also served as the First Secretary of the Communist Party of Cuba from the party's foundation in 1961 until 2011...
's regime. Baraka also was a member of the
Umbra Poets Workshop
Umbra poets
Umbra was a collective of young Black writers based in Manhattan's Lower East Side founded in 1962. Major members included the following writers:*Steve Cannon*Thomas Covington Dent/Tom Dent*Al Haynes*David Henderson*Calvin C. Hernton*Joe Johnson...
of emerging Black Nationalist writers (
Ishmael Reed
Ishmael Reed
Ishmael Scott Reed is an American poet, essayist, and novelist. A prominent African-American literary figure, Reed is known for his satirical works challenging American political culture, and highlighting political and cultural oppression.Reed has been described as one of the most controversial...
,
Lorenzo Thomas
Lorenzo Thomas (poet)
Lorenzo Thomas was an American poet and critic. He was born in the Republic of Panama and grew up in New York City, where his family immigrated in 1948.-Life:Thomas was a graduate of Queens College in New York...
and many others) on the
Lower East Side
Lower East Side
The Lower East Side, LES, is a neighborhood in the southeastern part of the New York City borough of Manhattan. It is roughly bounded by Allen Street, East Houston Street, Essex Street, Canal Street, Eldridge Street, East Broadway, and Grand Street....
(1962–65). He had begun to be a politically active artist. In 1961 a first book of poems, Preface to a Twenty Volume Suicide Note, was published, followed in 1963 by Blues People: Negro Music in White America — to this day one of the most influential volumes of jazz criticism, especially in regard to the then beginning
Free Jazz
Free jazz
Free jazz is an approach to jazz music that was first developed in the 1950s and 1960s. Though the music produced by free jazz pioneers varied widely, the common feature was a dissatisfaction with the limitations of bebop, hard bop, and modal jazz, which had developed in the 1940s and 1950s...
movement. His acclaimed controversial play
Dutchman
Dutchman (play)
Dutchman is a play written by African-American playwright Amiri Baraka. It played at the Cherry Lane Theatre in Greenwich Village, New York in March 1964 and won an Obie Award. Made into a film in 1967, Dutchman was the last play produced by Baraka under his birth name, LeRoi Jones...
premiered in 1964 and received an
Obie Award
Obie Award
The Obie Awards or Off-Broadway Theater Awards are annual awards given by The Village Voice newspaper to theatre artists and groups in New York City...
the same year.
After the assassination of
Malcolm X
Malcolm X
Malcolm X , born Malcolm Little and also known as El-Hajj Malik El-Shabazz , was an African American Muslim minister and human rights activist. To his admirers he was a courageous advocate for the rights of African Americans, a man who indicted white America in the harshest terms for its...
(1965), Baraka left his wife and their two children and moved to
Harlem
Harlem
Harlem is a neighborhood in the New York City borough of Manhattan, which since the 1920s has been a major African-American residential, cultural and business center. Originally a Dutch village, formally organized in 1658, it is named after the city of Haarlem in the Netherlands...
. Now a black cultural nationalist, he broke away from the basically white
Beat Generation
Beat generation
The Beat Generation refers to a group of American post-WWII writers who came to prominence in the 1950s, as well as the cultural phenomena that they both documented and inspired...
and became very critical of the pacifist and integrationist Civil Rights movement. His revolutionary poetry now became more controversial. A poem like "Black Art" (1969), according to academic Werner Sollors from
Harvard University
Harvard University
Harvard University is a private Ivy League university located in Cambridge, Massachusetts, United States, established in 1636 by the Massachusetts legislature. Harvard is the oldest institution of higher learning in the United States and the first corporation chartered in the country...
, expressed his need to commit the violence required to "establish a Black World." Rather than use poetry as an escapist mechanism, Baraka saw poetry as a weapon of action. His poetry demanded violence against those he felt were responsible for an unjust society.
1966–1980
In 1966, Baraka married his second wife, Sylvia Robinson, who later adopted the name Amina Baraka. In 1967 he lectured at
San Francisco State University
San Francisco State University
San Francisco State University is a public university located in San Francisco, California. As part of the 23-campus California State University system, the university offers over 100 areas of study from nine academic colleges...
. The year after, he was arrested in Newark for having allegedly carried an illegal weapon and resisting arrest during the
1967 Newark riots
1967 Newark riots
The 1967 Newark riots were a major civil disturbance that occurred in the city of Newark, New Jersey between July 12 and July 17, 1967. The six days of rioting, looting, and destruction left 26 dead and hundreds injured.-Social unrest:...
, and was subsequently sentenced to three years in prison. Shortly afterward an appeals court reversed the sentence based on his defense by attorney,
Raymond A. Brown
Raymond A. Brown
Raymond A. Brown was an American criminal defense lawyer who represented a wide variety of high-profile clients, ranging from politicians to accused spies, including New Jersey state senator Angelo Errichetti , boxer Rubin "Hurricane" Carter and "Dr...
. That same year his second book of jazz criticism, Black Music, came out, a collection of previously published
music journalism
Music journalism
Music journalism is criticism and reportage about music. It began in the eighteenth century as comment on what is now thought of as 'classical music'. This aspect of music journalism, today often referred to as music criticism , comprises the study, discussion, evaluation, and interpretation of...
, including the seminal Apple Cores columns from
Down Beat
Down Beat
Down Beat is an American magazine devoted to "jazz, blues and beyond" to indicate its expansion beyond the jazz realm which it covered exclusively in previous years. The publication was established in 1934 in Chicago, Illinois...
magazine. In 1970 he strongly supported
Kenneth A. Gibson
Kenneth A. Gibson
Kenneth Allen Gibson is an American Democratic Party politician, who was elected in 1970 as the 34th Mayor of Newark, New Jersey, the largest city in the state. He was the first African American elected mayor of any major Northeastern U.S. city...
's candidacy for mayor of Newark; Gibson was elected the city's first Afro-American Mayor. In the late 1960s and early 1970s, Baraka courted controversy by penning some strongly
anti-Jewish
Anti-Semitism
Antisemitism is suspicion of, hatred toward, or discrimination against Jews for reasons connected to their Jewish heritage. According to a 2005 U.S...
poems and articles, similar to the stance at that time of the
Nation of Islam
Nation of Islam
The Nation of Islam is a mainly African-American new religious movement founded in Detroit, Michigan by Wallace D. Fard Muhammad in July 1930 to improve the spiritual, mental, social, and economic condition of African-Americans in the United States of America. The movement teaches black pride and...
.
Around 1974, Baraka distanced himself from
Black nationalism
Black nationalism
Black nationalism advocates a racial definition of indigenous national identity, as opposed to multiculturalism. There are different indigenous nationalist philosophies but the principles of all African nationalist ideologies are unity, and self-determination or independence from European society...
and became a
Marxist
Marxism
Marxism is an economic and sociopolitical worldview and method of socioeconomic inquiry that centers upon a materialist interpretation of history, a dialectical view of social change, and an analysis and critique of the development of capitalism. Marxism was pioneered in the early to mid 19th...
and a supporter of
third-world liberation movements
Maoism
Maoism, also known as the Mao Zedong Thought , is claimed by Maoists as an anti-Revisionist form of Marxist communist theory, derived from the teachings of the Chinese political leader Mao Zedong . Developed during the 1950s and 1960s, it was widely applied as the political and military guiding...
. In 1979 he became a lecturer SUNY-Stony Brook's Africana Studies Department. The same year, after altercations with his wife, he was sentenced to a short period of compulsory community service. Around this time he began writing his autobiography. In 1980 he denounced his former anti-semitic utterances, declaring himself an
anti-zionist
Anti-Zionism
Anti-Zionism is opposition to Zionistic views or opposition to the state of Israel. The term is used to describe various religious, moral and political points of view in opposition to these, but their diversity of motivation and expression is sufficiently different that "anti-Zionism" cannot be...
.
1980–today
During the 1982-83 academic year, Baraka was a visiting professor at Columbia University, where he taught a course entitled "Black Women and Their Fictions." In 1984 Baraka became a full professor at Rutgers University, but was subsequently denied tenure. In 1987, together with
Maya Angelou
Maya Angelou
Maya Angelou is an American author and poet who has been called "America's most visible black female autobiographer" by scholar Joanne M. Braxton. She is best known for her series of six autobiographical volumes, which focus on her childhood and early adult experiences. The first and most highly...
and
Toni Morrison
Toni Morrison
Toni Morrison is a Nobel Prize and Pulitzer Prize-winning American novelist, editor, and professor. Her novels are known for their epic themes, vivid dialogue, and richly detailed characters. Among her best known novels are The Bluest Eye, Song of Solomon and Beloved...
, he was a speaker at the commemoration ceremony for
James Baldwin
James Baldwin (writer)
James Arthur Baldwin was an American novelist, essayist, playwright, poet, and social critic.Baldwin's essays, for instance "Notes of a Native Son" , explore palpable yet unspoken intricacies of racial, sexual, and class distinctions in Western societies, most notably in mid-20th century America,...
. In 1989 he won an
American Book Award
American Book Award
The American Book Award was established in 1978 by the Before Columbus Foundation. It seeks to recognize outstanding literary achievement by contemporary American authors, without restriction to race, sex, ethnic background, or genre...
for his works as well as a Langston Hughes Award. In 1990 he co-authored the autobiography of
Quincy Jones
Quincy Jones
Quincy Delightt Jones, Jr. is an American record producer and musician. A conductor, musical arranger, film composer, television producer, and trumpeter. His career spans five decades in the entertainment industry and a record 79 Grammy Award nominations, 27 Grammys, including a Grammy Legend...
, and 1998 was a supporting actor in
Warren Beatty
Warren Beatty
Warren Beatty born March 30, 1937) is an American actor, producer, screenwriter and director. He has received a total of fourteen Academy Award nominations, winning one for Best Director in 1982. He has also won four Golden Globe Awards including the Cecil B. DeMille Award.-Early life and...
's film
Bulworth
Bulworth
Bulworth is a 1998 American film co-written, co-produced and directed by the film's star, Warren Beatty. It was loosely based on the life of Beatty's friend, Tennessee political figure John Jay Hooker. It co-stars Halle Berry, Oliver Platt, Don Cheadle, Paul Sorvino, Jack Warden, and Isaiah...
. In 1996, Baraka contributed to the
AIDS
AIDS
Acquired immune deficiency syndrome or acquired immunodeficiency syndrome is a disease of the human immune system caused by the human immunodeficiency virus...
benefit album
Offbeat: A Red Hot Soundtrip
Offbeat: A Red Hot Soundtrip
Offbeat: A Red Hot Soundtrip is a compilation album from the Red Hot AIDS Benefit Series produced by Paul Heck. It combines elements of ambient, spoken word, and trip hop to expand the ideas of artistic collage and spiritual transcendence of "the Beats"...
produced by the
Red Hot Organization
Red Hot Organization
Red Hot Organization is a not-for-profit, 501 3, international organization dedicated to fighting AIDS through pop culture.Since its inception in 1989, over 400 artists, producers and directors have contributed to over 15 compilation albums, related television programs and media events to raise...
.
Baraka collaborated with
hip hop
Hip hop
Hip hop is a form of musical expression and artistic culture that originated in African-American and Latino communities during the 1970s in New York City, specifically the Bronx. DJ Afrika Bambaataa outlined the four pillars of hip hop culture: MCing, DJing, breaking and graffiti writing...
group
The Roots
The Roots
The Roots is an American hip hop/neo soul band formed in 1987 by Tariq "Black Thought" Trotter and Ahmir "Questlove" Thompson in Philadelphia, Pennsylvania. They are famed for beginning with a jazzy, eclectic approach to hip hop which still includes live instrumentals...
on the song "Something in the Way of Things (In Town)" on their 2002 album
Phrenology
Phrenology (album)
Phrenology is the fifth studio album by American hip hop band The Roots, released November 26, 2002, on Geffen Records and MCA Records. Recording sessions for the album took place during June 2000 to September 2002...
.
In 2002, scholar
Molefi Kete Asante
Molefi Kete Asante
Molefi Kete Asante is an African-American scholar, historian, and philosopher. He is a leading figure in the fields of African American studies, African Studies and Communication Studies...
listed Amiri Baraka on his list of
100 Greatest African Americans
100 Greatest African Americans
100 Greatest African Americans is a biographical dictionary of the one hundred historically greatest African Americans , as assessed by Molefi Kete Asante in 2002.-Criteria:...
.
In 2003, Baraka's daughter Shani, age 31, and her lesbian partner, Rayshon Homes, were murdered in the home of Shani's sister, Wanda Wilson Pasha, by Pasha's ex-husband, James Coleman. Prosecutors argued that Coleman shot Shani because she had helped her sister separate from her husband. A New Jersey jury found Coleman (also known as Ibn El-Amin Pasha) guilty of murdering Shani Baraka and Rayshon Holmes, and sentenced him to 168 years in prison for the 2003 shooting.
Controversies
Baraka's writings (and the covers of his early notebooks with large images of erect penises on the cover which were in open display in the Greenwich Village cafes he sat in) have generated controversy over the years, particularly his advocacy of
rape
Rape
Rape is a type of sexual assault usually involving sexual intercourse, which is initiated by one or more persons against another person without that person's consent. The act may be carried out by physical force, coercion, abuse of authority or with a person who is incapable of valid consent. The...
and violence towards (at various times) women, gay people, white people, and Jews. Critics of his work have alternately described such usage as ranging from being vernacular
expressions of Black oppression
Black Arts Movement
The Black Arts Movement or BAM is the artistic branch of the Black Power movement. It was started in Harlem by writer and activist Amiri Baraka...
to outright examples of the racism, sexism, homophobia, and anti-Semitism they perceive in his work.
The following is from a 1965 essay:
Most American white men are trained to be fags. For this reason it is no wonder their faces are weak and blank. … The average ofay [white person] thinks of the black man as potentially raping every white lady in sight. Which is true, in the sense that the black man should want to rob the white man of everything he has. But for most whites the guilt of the robbery is the guilt of rape. That is, they know in their deepest hearts that they should be robbed, and the white woman understands that only in the rape sequence is she likely to get cleanly, viciously popped.
In 2009, he was again asked about the quote, and placed it in a personal and political perspective:
Those quotes are from the essays in Home, a book written almost fifty years ago. The anger was part of the mindset created by, first, the assassination of John Kennedy, followed by the Assassination of Patrice Lumumba, followed by the assassination of Malcolm X amidst the lynching, and national oppression. A few years later, the assassination of Martin Luther King and Robert Kennedy. What changed my mind was that I became a Marxist, after recognizing classes within the Black community and the class struggle even after we had worked and struggled to elect the first Black Mayor of Newark, Kenneth Gibson.
Amiri Baraka wrote a poem titled "Somebody Blew Up America" about the September 11, 2001 attacks. The poem was controversial and highly critical of
racism
Racism
Racism is the belief that inherent different traits in human racial groups justify discrimination. In the modern English language, the term "racism" is used predominantly as a pejorative epithet. It is applied especially to the practice or advocacy of racial discrimination of a pernicious nature...
in America, and includes angry depictions of public figures such as
Trent Lott
Trent Lott
Chester Trent Lott, Sr. , is a former United States Senator from Mississippi and has served in numerous leadership positions in the House of Representatives and the Senate....
,
Clarence Thomas
Clarence Thomas
Clarence Thomas is an Associate Justice of the Supreme Court of the United States. Succeeding Thurgood Marshall, Thomas is the second African American to serve on the Court....
, and
Condoleezza Rice
Condoleezza Rice
Condoleezza Rice is an American political scientist and diplomat. She served as the 66th United States Secretary of State, and was the second person to hold that office in the administration of President George W. Bush...
. The poem also contains lines claiming Israel's involvement in the World Trade Center attacks:

Who knew the World Trade Center was gonna get bombed

Who told 4000 Israeli workers at the Twin Towers

To stay home that day

Why did Sharon stay away?

[...]

Who know why Five Israelis was filming the explosion

And cracking they sides at the notion

Baraka has said that he believed Israelis (and President
George W. Bush
George W. Bush
George Walker Bush is an American politician who served as the 43rd President of the United States, from 2001 to 2009. Before that, he was the 46th Governor of Texas, having served from 1995 to 2000....
) were involved in the Sept. 11 attacks, citing what he described as information that had been reported in the American and Israeli press and on Jordanian television. He denies that the poem is anti-Semitic, and points to its accusation, which is directed against Israelis, rather than Jews as a people. The
Anti-Defamation League
Anti-Defamation League
The Anti-Defamation League is an international non-governmental organization based in the United States. Describing itself as "the nation's premier civil rights/human relations agency", the ADL states that it "fights anti-Semitism and all forms of bigotry, defends democratic ideals and protects...
denounced the poem as anti-Semitic, though Baraka and his defenders defined his position as
Anti-Zionism
Anti-Zionism
Anti-Zionism is opposition to Zionistic views or opposition to the state of Israel. The term is used to describe various religious, moral and political points of view in opposition to these, but their diversity of motivation and expression is sufficiently different that "anti-Zionism" cannot be...
.
In July 2002, ten months after the attacks, Baraka was named
Poet Laureate of New Jersey
Poet Laureate of New Jersey
The Poet Laureate of New Jersey position was created on October 4, 1999. Gerald Stern was appointed first New Jersey poet laureate on April 17, 2000, by Governor Christie Whitman. The second poet laureate, Amiri Baraka was dismissed after reading his poem "Somebody Blew Up America" at the September...
. After this poem's publication, Governor
Jim McGreevey
Jim McGreevey
James Edward "Jim" McGreevey is an American Democratic politician. He served as the 52nd Governor of New Jersey from January 15, 2002, until he resigned from office at 11:59 pm on November 15, 2004. His term was set to expire on January 17, 2006...
tried to remove Baraka from the post, only to discover that there was no legal way to do so. In 2003, after legislation was passed allowing him to do so, McGreevey abolished the NJ Poet Laureate title. In response to legal action filed by Baraka, the
United States Court of Appeals for the Third Circuit
United States Court of Appeals for the Third Circuit
The United States Court of Appeals for the Third Circuit is a federal court with appellate jurisdiction over the district courts for the following districts:* District of Delaware* District of New Jersey...
ruled that state officials were immune from such suits, and in November 2007 the
Supreme Court of the United States
Supreme Court of the United States
The Supreme Court of the United States is the highest court in the United States. It has ultimate appellate jurisdiction over all state and federal courts, and original jurisdiction over a small range of cases...
refused to hear an appeal of the case.
In response to the attempts to remove Baraka as Poet Laureate of New Jersey, a nine-member advisory board named him the poet laureate of the
Newark Public Schools
Newark Public Schools
Newark Public Schools is a comprehensive community public school district that serves the entire city of Newark, New Jersey. The district is one of 31 Abbott Districts statewide....
in December 2002.
Baraka has received honors from a number of prestigious foundations, including: fellowships from the Guggenheim Foundation and the National Endowment for the Arts, the Langston Hughes Award from the City College of New York, The Rockefeller Foundation Award for Drama, an induction into the American Academy of Arts and Letters, and the Before Columbus Foundation Lifetime Achievement Award.
Works
Preface to a Twenty Volume Suicide Note, poems, 1961
Blues People: Negro Music in White America, 1963
Dutchman and The Slave

Dutchman (play)

Dutchman is a play written by African-American playwright Amiri Baraka. It played at the Cherry Lane Theatre in Greenwich Village, New York in March 1964 and won an Obie Award. Made into a film in 1967, Dutchman was the last play produced by Baraka under his birth name, LeRoi Jones...


, drama, 1964
The System of Dante's Hell

The System of Dante's Hell

The System of Dante's Hell is a short novel by African American writer LeRoi Jones, published in 1965 by Grove Press. The novel follows a young black man living nomadically in big cities and small towns in the southern United States, and his struggles with segregation and racism...


, novel, 1965
Home: Social Essays, 1965
A Black Mass

A Black Mass

A Black Mass is a play written by Amiri Baraka and performed at Proctor's Theatre in Newark, New Jersey in 1966. Baraka also recorded a version of the play with Sun Ra's Myth-Science Orchestra. The play is based on the religious doctrine of Yakub as taught by the Nation of Islam...


(1966), a play is based on the Nation of Islam

Nation of Islam

The Nation of Islam is a mainly African-American new religious movement founded in Detroit, Michigan by Wallace D. Fard Muhammad in July 1930 to improve the spiritual, mental, social, and economic condition of African-Americans in the United States of America. The movement teaches black pride and...


narrative of Yakub
Tales, 1967
Black Magic, poems, 1969
Four Black Revolutionary Plays, 1969
Slave Ship, 1970
It's Nation Time, poems, 1970
Raise Race Rays Raize: Essays Since 1965, 1971
Hard Facts, poems, 1975
The Motion of History and Other Plays, 1978
Poetry for the Advanced, 1979
New Music, New Poetry, 1980, India Navigation

India Navigation

India Navigation was an American independent record label that was active from the 1970s to the early 1990s. Founded by corporate lawyer Bob Cummins, the label specialized in jazz music, particularly avant-garde jazz.-Discography:...



reggae or not!, 1981
Confirmation: An Anthology of African American Women, 1983 (edited with Amina Baraka)
Daggers and Javelins: Essays 1974-1979, 1984
The Autobiography of LeRoi Jones/Amiri Baraka, 1984
The Music: Reflections on Jazz and Blues, 1987
Transbluesency: The Selected Poems of Amiri Baraka/LeRoi Jones, 1995
Wise, Why's Y's, a long poem, 1995
Funk Lore: New Poems, 1996.
Somebody Blew Up America, 2001
The Book of Monk, 2005
Tales of the Out & the Gone, 2006
Billy Harper: Blueprints of Jazz, Volume 2, Audio CD, 2008
Ancient Music
Film appearances
One P.M. (1972)
Fried Shoes Cooked Diamonds (1978) .... Himself
Black Theatre: The Making of a Movement (1978) .... Himself
Furious Flower: A Video Anthology of African American Poetry 1960-95, Volume II: Warriors (1998) .... Himself
Bulworth

Bulworth

Bulworth is a 1998 American film co-written, co-produced and directed by the film's star, Warren Beatty. It was loosely based on the life of Beatty's friend, Tennessee political figure John Jay Hooker. It co-stars Halle Berry, Oliver Platt, Don Cheadle, Paul Sorvino, Jack Warden, and Isaiah...


(1998) .... Rastaman
Piñero

Piñero

Piñero is a 2001 biopic about the troubled life of Nuyorican poet and playwright Miguel Piñero, starring Benjamin Bratt as the titular character. It was written and directed by the Cuban filmmaker, Leon Ichaso. It premiered at the Montreal Film Festival on 31 August 2001...


(2001) .... Himself
Strange Fruit (2002) .... Himself
Ralph Ellison: An American Journey (2002) .... Himself
Chisholm '72: Unbought & Unbossed (2004) .... Himself
Keeping Time: The Life, Music & Photography of Milt Hinton (2004) .... Himself
Hubert Selby Jr: It/ll Be Better Tomorrow

Hubert Selby Jr: It/ll Be Better Tomorrow

Hubert Selby Jr: It/ll Be Better Tomorrow is a 2005 documentary film about writer Hubert Selby, Jr. , the author of the novels Last Exit to Brooklyn, The Room, The Demon, Requiem for a Dream, The Willow Tree, and Waiting Period and a book of short stories, Song of the Silent Snow. The movie's title...


(2005) .... Himself
500 Years Later

500 Years Later

500 Years Later is the title of an independent documentary film directed by Owen 'Alik Shahadah, written by M. K. Asante, Jr. released in 2005. It won five international film festival awards in the category of Best Documentary...


(2005) (voice) .... Himself
The Ballad of Greenwich Village (2005) .... Himself
The Pact (2006) .... Himself
Retour à Gorée (2007) .... Himself
Polis Is This: Charles Olson and the Persistence of Place (2007)
Revolution '67 (2007) .... Himself
Turn Me On (2007) (TV) .... Himself
Oscene (2007) .... Himself
Corso: The Last Beat (2008)
The Black Candle

The Black Candle

The Black Candle is a 2008 documentary film about Kwanzaa directed by M. K. Asante and narrated by Maya Angelou.-Synopsis:The Black Candle uses Kwanzaa as a vehicle to explore and celebrate the African-American experience....


(2008)
Ferlinghetti: A City Light (2008) .... Himself
Motherland (film)

Motherland (film)

Motherland is a 2010 independent documentary film directed and written by Owen 'Alik Shahadah. Motherland is the sequel to the multiaward winning film 500 Years Later.- Synopsis:...


(2010)
External links