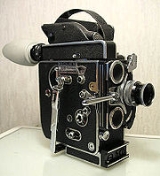 Film
A
film
, also called a
movie
or
motion picture
, is a series of still or moving images. It is produced by
recording
Recording
Recording is the process of capturing data or translating information to a recording format stored on some storage medium, which is often referred to as a record or, if an auditory medium, a recording....
photographic images with
camera
Camera
A camera is a device that records and stores images. These images may be still photographs or moving images such as videos or movies. The term camera comes from the camera obscura , an early mechanism for projecting images...
s, or by creating images using
animation
Animation
Animation is the rapid display of a sequence of images of 2-D or 3-D artwork or model positions in order to create an illusion of movement. The effect is an optical illusion of motion due to the phenomenon of persistence of vision, and can be created and demonstrated in several ways...
techniques or
visual effects
Visual effects
Visual effects are the various processes by which imagery is created and/or manipulated outside the context of a live action shoot. Visual effects involve the integration of live-action footage and generated imagery to create environments which look realistic, but would be dangerous, costly, or...
. The process of
filmmaking
Filmmaking
Filmmaking is the process of making a film, from an initial story, idea, or commission, through scriptwriting, casting, shooting, directing, editing, and screening the finished product before an audience that may result in a theatrical release or television program...
has developed into an
art
Art
Art is the product or process of deliberately arranging items in a way that influences and affects one or more of the senses, emotions, and intellect....
form and
industry
Film industry
The film industry consists of the technological and commercial institutions of filmmaking: i.e. film production companies, film studios, cinematography, film production, screenwriting, pre-production, post production, film festivals, distribution; and actors, film directors and other film crew...
.
Films are
cultural artifact
Cultural artifact
A cultural artifact is a term used in the social sciences, particularly anthropology, ethnology, and sociology for anything created by humans which gives information about the culture of its creator and users...
s created by specific
culture
Culture
Culture is a term that has many different inter-related meanings. For example, in 1952, Alfred Kroeber and Clyde Kluckhohn compiled a list of 164 definitions of "culture" in Culture: A Critical Review of Concepts and Definitions...
s, which reflect those cultures, and, in turn, affect them. Film is considered to be an important
art
Art
Art is the product or process of deliberately arranging items in a way that influences and affects one or more of the senses, emotions, and intellect....
form, a source of popular entertainment and a powerful method for
educating
Documentary film
Documentary films constitute a broad category of nonfictional motion pictures intended to document some aspect of reality, primarily for the purposes of instruction or maintaining a historical record...
– or
indoctrinating
Propaganda
Propaganda is a form of communication that is aimed at influencing the attitude of a community toward some cause or position so as to benefit oneself or one's group....
– citizens.
The cinema is not an art which films life: the cinema is something between art and life. Unlike painting and literature, the cinema both gives to life and takes from it, and I try to render this concept in my films. Literature and painting both exist as art from the very start; the cinema doesn't.

Who: Jean-Luc Godard, Quoted in Richard Roud, Godard, introduction (1970)
Photography is truth. The cinema is truth twenty-four times per second.

[variation] Cinema is truth at twenty-four frames a second
A film is a ribbon of dreams. The camera is much more than a recording apparatus; it is a medium via which messages reach us from another world that is not ours and that brings us to the heart of a great secret. Here magic begins.

Who: Orson Welles
"A film is a petrified fountain of thought." ~ Jean Cocteau

Esquire, (Feb. 1961)
The public has lost the habit of movie-going because the cinema no longer possesses the charm, the hypnotic charisma, the authority it once commanded. The image it once held for us all, that of a dream we dreamt with our eyes open, has disappeared. Is it still possible that one thousand people might group together in the dark and experience the dream that a single individual has directed?

Who: Federico Fellini [on the Decline of Cinema], a Fellini Lexicon, (1992)
A good opening and a good ending make for a good film provide they come close together.

Who: Federico Fellini, [Recipe for a Good Film], a Fellini Lexicon, (1992)
"American motion pictures are written by the half-educated for the half-witted." ~ St. John Ervine

Ney York Mirror(June 6, 1963)
"A wide screen just makes a bad film twice as bad." ~ Samuel Goldwyn

Quote (Sept. 9, 1956)