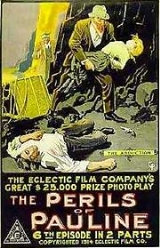 Melodrama
The term
melodrama
refers to a
drama
Drama
Drama is the specific mode of fiction represented in performance. The term comes from a Greek word meaning "action" , which is derived from "to do","to act" . The enactment of drama in theatre, performed by actors on a stage before an audience, presupposes collaborative modes of production and a...
tic work that exaggerates plot and characters in order to appeal to the emotions. It may also refer to the
genre
Genre
Genre , Greek: genos, γένος) is the term for any category of literature or other forms of art or culture, e.g. music, and in general, any type of discourse, whether written or spoken, audial or visual, based on some set of stylistic criteria. Genres are formed by conventions that change over time...
which includes such works, or to language, behavior, or events which resemble them. It is also used in scholarly and historical musical contexts to refer to dramas of the 18th and 19th centuries in which orchestral music or song was used to accompany the action.