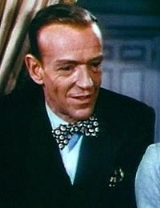 Fred Astaire
Fred Astaire
was an
American
United States
The United States of America is a federal constitutional republic comprising fifty states and a federal district...
film and
Broadway
Broadway theatre
Broadway theatre, commonly called simply Broadway, refers to theatrical performances presented in one of the 40 professional theatres with 500 or more seats located in the Theatre District centered along Broadway, and in Lincoln Center, in Manhattan in New York City...
stage dancer, choreographer, singer and actor. His stage and subsequent film career spanned a total of 76 years, during which he made 31
musical film
Musical film
The musical film is a film genre in which songs sung by the characters are interwoven into the narrative, sometimes accompanied by dancing. The songs usually advance the plot or develop the film's characters, though in some cases they serve merely as breaks in the storyline, often as elaborate...
s. He was named the fifth
Greatest Male Star of All Time
AFI's 100 Years... 100 Stars
Part of the AFI 100 Years... series, AFI's 100 Years...100 Stars is a list of the top 50 greatest screen legends of American cinema, 25 male and 25 female...
by the
American Film Institute
American Film Institute
The American Film Institute is an independent non-profit organization created by the National Endowment for the Arts, which was established in 1967 when President Lyndon B. Johnson signed the National Foundation on the Arts and the Humanities Act...
. He is particularly associated with
Ginger Rogers
Ginger Rogers
Ginger Rogers was an American actress, dancer, and singer who appeared in film, and on stage, radio, and television throughout much of the 20th century....
, with whom he made ten films.
Gene Kelly
Gene Kelly
Eugene Curran "Gene" Kelly was an American dancer, actor, singer, film director and producer, and choreographer...
, another major innovator in filmed dance, said that "the history of dance on film begins with Astaire".
I have no desire to prove anything by it. I have never used it as an outlet or a means of expressing myself. I just dance.

from Astaire's autobiography Steps in Time, 1959, p325.
When working on my choreography I am not always receptive to outside suggestions or opinions. I believe that if you have something in mind in the way of a creation, such as a new dance, a sequence, or an effect, you are certain to come up with inaccurate criticism and damaging results if you go around asking for opinions.

op. cit., p6.
But I do nothing that I don't like, such as "inventing" up to the arty or "down" to the corny. I happen to relish a certain type of corn. What I think is the really dangerous approach is the "let's be artistic" attitude. I know that artistry just happens.

op. cit., p6,7
Either the camera will dance, or I will.

Fred Astaire in Winge, John. "How Astaire Works." Film and Theatre Today, January 1950, pp.7-9. (M)
There comes a day when people begin to say, 'Why doesn't that old duffer retire?' I want to get out while they're still saying Astaire is a hell of a dancer.

Fred Astaire in Time Magazine|Time. "The New Pictures: 'Blue Skies|Blue Skies'". October 14, 1946, p. 103. (M)
A four wood I hit on the 13th hole at Bel Air Country Club in June of 1945. It landed right on the green and rolled into the cup for a hole in one.

Fred Astaire on his proudest achievement in Lewis, Jerry D. "Interview : Fred Astaire." Glendale Federal Magazine, Summer 1982, pp.8-10 (M)
What's all this talk about me being teamed with Ginger Rogers|Ginger Rogers? I will not have it Leland--I did not go into pictures to be teamed with her or anyone else, and if that is the program in mind for me I will not stand for it. I don't mind making another picture with her but as for this teams idea, it's out.

Fred Astaire in a letter to his agent Leland Hayward dated February 9, 1934. He went on to make a further nine musical films with Rogers. (M)
I have had to do most of my choreography. I would say most of it, with help from various choreographers I have worked with.

Fred Astaire in "Reminiscences of Fred Astaire", Interview with Ronald L. Davis, Beverly Hills, July 31, 1978, SMU Oral History Project on the Performing Arts (M)
Oh, there's no such thing as my favorite performance. I can't sit here today and look back, and say, Top Hat|Top Hat was better than Easter Parade|Easter Parade or any of the others. I just don't look back, period. When I finish with a project, I say 'all right, that's that. What's next?

Fred Astaire, interviewed by Dan Navarro for American Classic Screen Magazine, September/October 1978