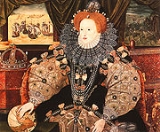 Elizabethan era
The
Elizabethan era
was the epoch in English history of
Queen Elizabeth I
Elizabeth I of England
Elizabeth I was queen regnant of England and Ireland from 17 November 1558 until her death. Sometimes called The Virgin Queen, Gloriana, or Good Queen Bess, Elizabeth was the fifth and last monarch of the Tudor dynasty...
's reign (1558–1603). Historians often depict it as the
golden age
Golden Age (metaphor)
A golden age is a period in a field of endeavour when great tasks were accomplished. The term originated from early Greek and Roman poets who used to refer to a time when mankind lived in a better time and was pure .-Golden Age in society:...
in
English history
History of England
The history of England concerns the study of the human past in one of Europe's oldest and most influential national territories. What is now England, a country within the United Kingdom, was inhabited by Neanderthals 230,000 years ago. Continuous human habitation dates to around 12,000 years ago,...
. The symbol of
Britannia
Britannia
Britannia is an ancient term for Great Britain, and also a female personification of the island. The name is Latin, and derives from the Greek form Prettanike or Brettaniai, which originally designated a collection of islands with individual names, including Albion or Great Britain. However, by the...
was first used in 1572 and often thereafter to mark the Elizabethan age as a renaissance that inspired national pride through classical ideals, international expansion, and naval triumph over the hated Spanish foe. In terms of the entire century, John Guy (1988) argues that "England was economically healthier, more expansive, and more optimistic under the
Tudors
Tudor dynasty
The Tudor dynasty or House of Tudor was a European royal house of Welsh origin that ruled the Kingdom of England and its realms, including the Lordship of Ireland, later the Kingdom of Ireland, from 1485 until 1603. Its first monarch was Henry Tudor, a descendant through his mother of a legitimised...
" than at any time in a thousand years.
It was the height of the
English Renaissance
English Renaissance
The English Renaissance was a cultural and artistic movement in England dating from the late 15th and early 16th centuries to the early 17th century. It is associated with the pan-European Renaissance that is usually regarded as beginning in Italy in the late 14th century; like most of northern...
and saw the flowering of poetry, music and literature.