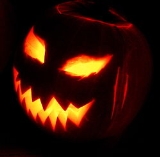 Halloween
Hallowe'en also known as Halloween or All Hallows' Eve, is a yearly
holiday
Holiday
A Holiday is a day designated as having special significance for which individuals, a government, or a religious group have deemed that observance is warranted. It is generally an official or unofficial observance of religious, national, or cultural significance, often accompanied by celebrations...
observed around the world
Halloween around the world
Halloween is a celebration observed on October 31, primarily in regions of the Western world; the traditions and importance of the celebration vary significantly between geographical areas.-Ireland:...
on October 31, the night before
All Saints' Day
All Saints
All Saints' Day , often shortened to All Saints, is a solemnity celebrated on 1 November by parts of Western Christianity, and on the first Sunday after Pentecost in Eastern Christianity, in honour of all the saints, known and unknown...
. Much like
Day of the Dead
Day of the Dead
Day of the Dead is a Mexican holiday celebrated throughout Mexico and around the world in many cultures. The holiday focuses on gatherings of family and friends to pray for and remember friends and family members who have died. It is particularly celebrated in Mexico, where it attains the quality...
celebrations, the
Christian
Christian
A Christian is a person who adheres to Christianity, an Abrahamic, monotheistic religion based on the life and teachings of Jesus of Nazareth as recorded in the Canonical gospels and the letters of the New Testament...
feast of All Hallows' Eve, according to some scholars, incorporates traditions from
pagan
Paganism
Paganism is a blanket term, typically used to refer to non-Abrahamic, indigenous polytheistic religious traditions....
harvest festivals and
festivals honouring the dead
Festival of the Dead
Festival of the Dead is held by many cultures throughout the world in honor or recognition of deceased members of the community, generally occurring after the harvest in August, September, October, or November. In Japanese Buddhist custom the festival honoring the departed spirits of one's...
, particularly the Celtic
Samhain
Samhain
Samhain is a Gaelic harvest festival held on October 31–November 1. It was linked to festivals held around the same time in other Celtic cultures, and was popularised as the "Celtic New Year" from the late 19th century, following Sir John Rhys and Sir James Frazer...
; other scholars maintain that the feast originated entirely independently of Samhain. Typical festive Halloween activities include
trick-or-treating
Trick-or-treating
Trick-or-treating or "Guising", is a customary practice for children on Halloween in many countries. Children in costumes travel from house to house in order to ask for treats such as candy with the question "Trick or treat?"...
(also known as "guising"), attending
costume
Halloween costume
Halloween costumes are costumes worn on or around Halloween, a festival which falls on October 31. The Halloween costume has a fairly short history. Wearing costumes has long been associated with other holidays around the time of Halloween, even Christmas...
parties
Costume party
A fancy dress party or a costume party , mainly in contemporary Western culture, is a type of party where guests dress up in a costume.-Fancy dress parties in Britain:...
, carving
jack-o'-lantern
Jack-o'-lantern
A jack-o'-lantern is typically a carved pumpkin. It is associated chiefly with the holiday of Halloween and was named after the phenomenon of strange light flickering over peat bogs, called ignis fatuus or jack-o'-lantern...
s, lighting
bonfire
Bonfire
A bonfire is a controlled outdoor fire used for informal disposal of burnable waste material or as part of a celebration. Celebratory bonfires are typically designed to burn quickly and may be very large...
s, apple bobbing, visiting
haunted attraction
Haunted attraction
A haunted attraction is a form of entertainment that simulates the experience of entering a haunted location that might be inhabited by ghosts, monsters, criminals, humorous characters, and other such creatures...
s, playing pranks, telling scary stories, watching
horror films
, as well as the
religious observances
Christian worship
In Christianity, worship is adoration and contemplation of God.-Overview:Throughout most of Christianity's history, corporate Christian worship has been primarily liturgical, characterized by prayers and hymns, with texts rooted in, or closely related to, the Scripture, particularly the Psalter;...
of
praying
Prayer in Christianity
Prayer has been an essential part of Christianity since its earliest days. Prayer is an integral element of the Christian faith and permeates all forms of Christian worship...
,
fasting
Fasting
Fasting is primarily the act of willingly abstaining from some or all food, drink, or both, for a period of time. An absolute fast is normally defined as abstinence from all food and liquid for a defined period, usually a single day , or several days. Other fasts may be only partially restrictive,...
and attending
vigil
Vigil
A vigil is a period of purposeful sleeplessness, an occasion for devotional watching, or an observance...
s or
church service
Church service
In Christianity, a church service is a term used to describe a formalized period of communal worship, often but not exclusively occurring on Sunday, or Saturday in the case of those churches practicing seventh-day Sabbatarianism. The church service is the gathering together of Christians to be...
s.
The word
Halloween
is first attested in the 16th century and represents a
Scottish
Scotland
Scotland is a country that is part of the United Kingdom. Occupying the northern third of the island of Great Britain, it shares a border with England to the south and is bounded by the North Sea to the east, the Atlantic Ocean to the north and west, and the North Channel and Irish Sea to the...
variant of the fuller
All-Hallows'-Even
("evening"), that is, the night before
All Hallows' Day
All Saints
All Saints' Day , often shortened to All Saints, is a solemnity celebrated on 1 November by parts of Western Christianity, and on the first Sunday after Pentecost in Eastern Christianity, in honour of all the saints, known and unknown...
.