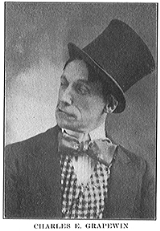 Vaudeville
Vaudeville
was a
theatrical
Theatre
Theatre is a collaborative form of fine art that uses live performers to present the experience of a real or imagined event before a live audience in a specific place. The performers may communicate this experience to the audience through combinations of gesture, speech, song, music or dance...
genre
Genre
Genre , Greek: genos, γένος) is the term for any category of literature or other forms of art or culture, e.g. music, and in general, any type of discourse, whether written or spoken, audial or visual, based on some set of stylistic criteria. Genres are formed by conventions that change over time...
of
variety entertainment
Variety show
A variety show, also known as variety arts or variety entertainment, is an entertainment made up of a variety of acts, especially musical performances and sketch comedy, and normally introduced by a compère or host. Other types of acts include magic, animal and circus acts, acrobatics, juggling...
in the
United States
United States
The United States of America is a federal constitutional republic comprising fifty states and a federal district...
and
Canada
Canada
Canada is a North American country consisting of ten provinces and three territories. Located in the northern part of the continent, it extends from the Atlantic Ocean in the east to the Pacific Ocean in the west, and northward into the Arctic Ocean...
from the early 1880s until the early 1930s. Each performance was made up of a series of separate, unrelated acts grouped together on a common bill. Types of acts included popular and classical
musician
Musician
A musician is an artist who plays a musical instrument. It may or may not be the person's profession. Musicians can be classified by their roles in performing music and writing music.Also....* A person who makes music a profession....
s, dancers,
comedian
Comedian
A comedian or comic is a person who seeks to entertain an audience, primarily by making them laugh. This might be through jokes or amusing situations, or acting a fool, as in slapstick, or employing prop comedy...
s,
trained animals
Animal training
Animal training refers to teaching animals specific responses to specific conditions or stimuli. Training may be for the purpose of companionship, detection, protection, entertainment or all of the above....
, magicians, female and male impersonators,
acrobats
Acrobatics
Acrobatics is the performance of extraordinary feats of balance, agility and motor coordination. It can be found in many of the performing arts, as well as many sports...
,
illustrated songs
Illustrated songs
An illustrated song is a type of performance art and was a popular form of entertainment in the early 20th century in the United States.Live performers and music recordings were both used by different venues to accompany still images projected from glass slides...
, jugglers, one-act
plays
Play (theatre)
A play is a form of literature written by a playwright, usually consisting of scripted dialogue between characters, intended for theatrical performance rather than just reading. There are rare dramatists, notably George Bernard Shaw, who have had little preference whether their plays were performed...
or scenes from plays, athletes, lecturing celebrities,
minstrels
Minstrel show
The minstrel show, or minstrelsy, was an American entertainment consisting of comic skits, variety acts, dancing, and music, performed by white people in blackface or, especially after the Civil War, black people in blackface....
, and
movies
Film
A film, also called a movie or motion picture, is a series of still or moving images. It is produced by recording photographic images with cameras, or by creating images using animation techniques or visual effects...
.