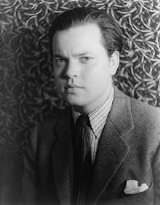 Orson Welles
George Orson Welles best known as Orson Welles, was an American
film director
Film director
A film director is a person who directs the actors and film crew in filmmaking. They control a film's artistic and dramatic nathan roach, while guiding the technical crew and actors.-Responsibilities:...
,
actor
Actor
An actor is a person who acts in a dramatic production and who works in film, television, theatre, or radio in that capacity...
, theatre director,
screenwriter
Screenwriter
Screenwriters or scriptwriters or scenario writers are people who write/create the short or feature-length screenplays from which mass media such as films, television programs, Comics or video games are based.-Profession:...
, and
producer
Film producer
A film producer oversees and delivers a film project to all relevant parties while preserving the integrity, voice and vision of the film. They will also often take on some financial risk by using their own money, especially during the pre-production period, before a film is fully financed.The...
, who worked extensively in film, theatre, television and radio. Noted for his innovative dramatic productions as well as his distinctive voice and personality, Welles is widely acknowledged as one of the most accomplished dramatic artists of the twentieth century, especially for his significant and influential early work—despite his notoriously contentious relationship with Hollywood.
In Italy, for thirty years under the Borgias, they had warfare, terror, murder and bloodshed - they produced Michelangelo, Leonardo Da Vinci and the Renaissance. In Switzerland, they had brotherly love and five hundred years of democracy and peace, and what did they produce? The cuckoo clock!

as the character Harry Lime in the film The Third Man (1949)
A long-playing full shot is what always separates the men from the boys. Anybody can make movies with a pair of scissors and a two-inch lens.

Quoted by Peter Bogdanovich|Peter Bogdanovich, from the DVD audio commentary on The Lady from Shanghai (1947)
The ideal American type is perfectly expressed by the Protestant, individualist, anti-conformist, and this is the type that is in the process of disappearing. In reality there are few left.

Quoted in an interview from Hollywood Voices, ed. Andrew Sarris|Andrew Sarris (1971)
I try to be a Christian...I don't pray really, because I don't want to bore God.

Quoted in interview by Merv Griffin, from Frank Brady, Citizen Welles: A Biography of Orson Welles, Charles Scribner's Sons: New York, NY (1989), page 576.
Even if I'd stayed [in the US to finish 'The Magnificent Ambersons'] I would've had to make compromises on the editing, but these would've been mine and not the fruit of confused and often semi-hysterical committees. If I had been there myself I would have found my own solutions and saved the pictures in a form which would have carried the stamp of my own effort.

In conversation with Peter Bogdanovich|Peter Bogdanovich in This is Orson Welles
Hollywood is Hollywood. There's nothing you can say about it that isn't true, good or bad. And if you get into it, you have no right to be bitter — you're the one who sat down, and joined the game.

Quoted in The Orson Welles Story