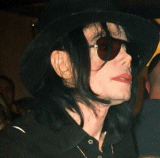 Michael Jackson
Michael Joseph Jackson
(August 29, 1958 – June 25, 2009) was an American recording artist, entertainer, and businessman. Referred to as the King of Pop, or by his initials MJ, Jackson is recognized as the most successful entertainer of all time by
Guinness World Records
Guinness World Records
Guinness World Records, known until 2000 as The Guinness Book of Records , is a reference book published annually, containing a collection of world records, both human achievements and the extremes of the natural world...
. His contribution to music, dance, and fashion, along with a much-publicized personal life, made him a global figure in
popular culture
Popular culture
Popular culture is the totality of ideas, perspectives, attitudes, memes, images and other phenomena that are deemed preferred per an informal consensus within the mainstream of a given culture, especially Western culture of the early to mid 20th century and the emerging global mainstream of the...
for over four decades.
1978 Michael Jackson starts recording his album ''Off the wall''.
1984 Pop singer Michael Jackson suffers second and third degree burns to his scalp during the filming of a Pepsi commercial in the Shrine Auditorium.
2005 A jury in Santa Maria, California acquits pop singer Michael Jackson of molesting 13-year-old Gavin Arvizo at his Neverland Ranch.
I sit there and say, 'Please don't call me up, I am too shy.' But once I get up there, I take control of myself. Being onstage is magic. There's nothing like it. You feel the energy of everybody who's out there. You feel it all over your body. When the lights hit you, it's all over, I swear it is.

Snakes are very misunderstood. Snakes, I suggest, may be the oldest victims of bad press.

I have begun to see that even my father's harshness was a kind of love. An imperfect love, to be sure, but love nonetheless. He pushed me because he loved me, because he wanted no man to ever look down at his offspring. Now with time, rather than bitterness I feel blessing.… My initial fury has slowly given way to forgiveness.

"Heal the Kids" speech at the Oxford Union (2001)
I put a lot of mannequins in my room in the past, and I still have mannequins in my room, because I used to be very lonely, painfully lonely. You have no idea. I used to walk the streets looking for people to talk to. I'm talking about the height of one's career…. I would walk up to them, strangers, and say, "will you be my friend?" They'd go, "my god, Michael Jackson!" and that's not what I wanted.

The Michael Jackson Interview: The Footage You Were Never Meant to See (2002)
The record companies really do conspire against the artists. They steal. They cheat. They do whatever they can, especially the black artists.… Sony's Tommy Mottola is the president of the record division. He is mean. He is a racist, and he's very, very, very devilish.

Remarks at National Action Network headquarters (6 July 2002)