 Adhesive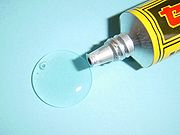 An
adhesive
, or
glue
, is a
mixture
Mixture
In chemistry, a mixture is a material system made up by two or more different substances which are mixed together but are not combined chemically...
in a
liquid
Liquid
Liquid is one of the three classical states of matter . Like a gas, a liquid is able to flow and take the shape of a container. Some liquids resist compression, while others can be compressed. Unlike a gas, a liquid does not disperse to fill every space of a container, and maintains a fairly...
or semi-liquid state that
adheres
Adhesion
Adhesion is any attraction process between dissimilar molecular species that can potentially bring them in close contact. By contrast, cohesion takes place between similar molecules....
or bonds items together. Adhesives may come from either natural or
synthetic
Chemical synthesis
In chemistry, chemical synthesis is purposeful execution of chemical reactions to get a product, or several products. This happens by physical and chemical manipulations usually involving one or more reactions...
sources. The types of materials that can be bonded are vast but they are especially useful for bonding thin materials. Adhesives
cure
Curing (chemistry)
Curing is a term in polymer chemistry and process engineering that refers to the toughening or hardening of a polymer material by cross-linking of polymer chains, brought about by chemical additives, ultraviolet radiation, electron beam or heat...
(harden) by either evaporating a solvent or by chemical reactions that occur between two or more constituents.
Adhesives are advantageous for joining thin or dissimilar materials, minimizing weight, and when a vibration dampening joint is needed. A disadvantage to adhesives is that they do not form an instantaneous joint, unlike most other joining processes, because the adhesive needs time to cure.
The earliest known date for a simple glue is 200,000 BC and for a compound glue 70,000 BC.
History
The oldest known adhesive, dated to approximately 200,000 BC, is from spear stone flakes glued to a wood with birch-bark-tar, which was found in central Italy. The use of compound glues to
haft
Haft
Haft may refer to:* Haft , the handle of a sword* Herbert Haft , American businessman and father of businessman Robert Haft * Robert Haft , American businessman...
stone spears into wood dates back to round 70,000 BC. Evidence for this has been found in
Sibudu Cave
Sibudu Cave
Sibudu Cave is a cave in a sandstone cliff in northern KwaZulu-Natal, South Africa. It is an important Middle Stone Age site occupied, with some gaps, from 77,000 years ago to 38,000 years ago...
, South Africa and the compound glues used were made from plant gum and red
ochre
Ochre
Ochre is the term for both a golden-yellow or light yellow brown color and for a form of earth pigment which produces the color. The pigment can also be used to create a reddish tint known as "red ochre". The more rarely used terms "purple ochre" and "brown ochre" also exist for variant hues...
. The
Tyrolean Iceman
Ötzi the Iceman
Ötzi the Iceman , Similaun Man, and Man from Hauslabjoch are modern names for a well-preserved natural mummy of a man who lived about 5,300 years ago. The mummy was found in September 1991 in the Ötztal Alps, near Hauslabjoch on the border between Austria and Italy. The nickname comes from the...
had weapons fixed together with the aid of birch-bark-tar glue.
6000-year-old ceramics show evidence of adhesives based upon
animal glue
Animal glue
An animal glue is an adhesive that is created by prolonged boiling of animal connective tissue.These protein colloid glues are formed through hydrolysis of the collagen from skins, bones, tendons, and other tissues, similar to gelatin. The word "collagen" itself derives from Greek κόλλα kolla, glue...
s made by rendering animal products such as horse teeth. During the times of
Babylon
Babylon
Babylon was an Akkadian city-state of ancient Mesopotamia, the remains of which are found in present-day Al Hillah, Babil Province, Iraq, about 85 kilometers south of Baghdad...
ia, tar-like glue was used for gluing statues. The
Egyptians
Egyptians
Egyptians are nation an ethnic group made up of Mediterranean North Africans, the indigenous people of Egypt.Egyptian identity is closely tied to geography. The population of Egypt is concentrated in the lower Nile Valley, the small strip of cultivable land stretching from the First Cataract to...
made much use of
animal glue
Animal glue
An animal glue is an adhesive that is created by prolonged boiling of animal connective tissue.These protein colloid glues are formed through hydrolysis of the collagen from skins, bones, tendons, and other tissues, similar to gelatin. The word "collagen" itself derives from Greek κόλλα kolla, glue...
s to adhere furniture,
ivory
Ivory
Ivory is a term for dentine, which constitutes the bulk of the teeth and tusks of animals, when used as a material for art or manufacturing. Ivory has been important since ancient times for making a range of items, from ivory carvings to false teeth, fans, dominoes, joint tubes, piano keys and...
, and
papyrus
Papyrus
Papyrus is a thick paper-like material produced from the pith of the papyrus plant, Cyperus papyrus, a wetland sedge that was once abundant in the Nile Delta of Egypt....
. The
Mongols
Mongols
Mongols ) are a Central-East Asian ethnic group that lives mainly in the countries of Mongolia, China, and Russia. In China, ethnic Mongols can be found mainly in the central north region of China such as Inner Mongolia...
also used adhesives to make their short bows, and the
Native Americans
Native Americans in the United States
Native Americans in the United States are the indigenous peoples in North America within the boundaries of the present-day continental United States, parts of Alaska, and the island state of Hawaii. They are composed of numerous, distinct tribes, states, and ethnic groups, many of which survive as...
of the eastern United States used a mixture of
spruce
Spruce
A spruce is a tree of the genus Picea , a genus of about 35 species of coniferous evergreen trees in the Family Pinaceae, found in the northern temperate and boreal regions of the earth. Spruces are large trees, from tall when mature, and can be distinguished by their whorled branches and conical...
gum and fat as adhesives to fashion waterproof seams in their
birchbark
Birch bark
Birch bark or birchbark is the bark of several Eurasian and North American birch trees of the genus Betula.The strong and water-resistant cardboard-like bark can be easily cut, bent, and sewn, which made it a valuable building, crafting, and writing material, since pre-historic times...
canoe
Canoe
A canoe or Canadian canoe is a small narrow boat, typically human-powered, though it may also be powered by sails or small electric or gas motors. Canoes are usually pointed at both bow and stern and are normally open on top, but can be decked over A canoe (North American English) or Canadian...
s.
In
medieval
Middle Ages
The Middle Ages is a periodization of European history from the 5th century to the 15th century. The Middle Ages follows the fall of the Western Roman Empire in 476 and precedes the Early Modern Era. It is the middle period of a three-period division of Western history: Classic, Medieval and Modern...
Europe, egg whites were used as glue to decorate
parchment
Parchment
Parchment is a thin material made from calfskin, sheepskin or goatskin, often split. Its most common use was as a material for writing on, for documents, notes, or the pages of a book, codex or manuscript. It is distinct from leather in that parchment is limed but not tanned; therefore, it is very...
s with
gold leaf
Metal leaf
Metal leaf, also called composition leaf or schlagmetal, is a thin foil used for decoration. Metal leaf can come in many different shades. Some metal leaf may look like gold leaf but not contain any real gold...
. The first actual glue factory was founded in Holland in the early 18th century. In the 1750s, the English introduced fish glue. As the modern world evolved, several other patented materials, such as bones, starch, fish skins and
isinglass
Isinglass
Isinglass is a substance obtained from the dried swim bladders of fish. It is a form of collagen used mainly for the clarification of wine and beer. It can also be cooked into a paste for specialized gluing purposes....
, and
casein
Casein
Casein is the name for a family of related phosphoprotein proteins . These proteins are commonly found in mammalian milk, making up 80% of the proteins in cow milk and between 60% and 65% of the proteins in human milk....
, were introduced as alternative materials for glue manufacture. Modern glues have improved flexibility, toughness, curing rate, and chemical resistance.
In the late 19th century in Switzerland,
casein
Casein
Casein is the name for a family of related phosphoprotein proteins . These proteins are commonly found in mammalian milk, making up 80% of the proteins in cow milk and between 60% and 65% of the proteins in human milk....
was first used as a
wood glue
Wood glue
Wood glue is an adhesive used to tightly bond pieces of wood together. Many substances have been used as glues.-Types of wood glue:* For many centuries animal glue, especially hide glue was the traditional glue for all kinds of woodwork. It is still used today, mainly for musical instruments and...
. Today, it is used to glue grocery bags.
Types
Adhesives are typically organized by the method of adhesion. These are then organized into reactive and non-reactive adhesives, which refers to if the adhesive
chemically reacts
Chemical reaction
A chemical reaction is a process that leads to the transformation of one set of chemical substances to another. Chemical reactions can be either spontaneous, requiring no input of energy, or non-spontaneous, typically following the input of some type of energy, such as heat, light or electricity...
to harden. Alternatively they can be organized by whether the raw stock is of natural, or synthetic origin, or by their starting
physical phase
Phase (matter)
In the physical sciences, a phase is a region of space , throughout which all physical properties of a material are essentially uniform. Examples of physical properties include density, index of refraction, and chemical composition...
.
Drying adhesives
There are two types of adhesives that harden by drying:
solvent based adhesives
and
polymer dispersion adhesives
, also known as
emulsion adhesives
.
Solvent based adhesives are a mixture of ingredients (typically
polymer
Polymer
A polymer is a large molecule composed of repeating structural units. These subunits are typically connected by covalent chemical bonds...
s) dissolved in a
solvent
Solvent
A solvent is a liquid, solid, or gas that dissolves another solid, liquid, or gaseous solute, resulting in a solution that is soluble in a certain volume of solvent at a specified temperature...
. White glue, contact adhesives and
rubber cement
Rubber cement
Rubber cement is an adhesive made from elastic polymers mixed in a solvent such as acetone, hexane, heptane or toluene to keep them fluid enough to be used. Water-based formulas, often stabilised by ammonia, are also available...
s are members of the
drying adhesive
family. As the solvent evaporates, the adhesive hardens. Depending on the chemical composition of the adhesive, they will adhere to different materials to greater or lesser degrees.
Polymer dispersion adhesives are milky-white dispersions often based on
polyvinyl acetate
Polyvinyl acetate
Polyvinyl acetate, PVA, PVAc, poly, is a rubbery synthetic polymer with the formula n. It belongs to the polyvinyl esters family with the general formula -[RCOOCHCH2]-...
(PVAc). Used extensively in the woodworking and packaging industries. Also used with fabrics and fabric-based components, and in engineered products such as loudspeaker cones.
Pressure sensitive adhesives
Pressure sensitive adhesives
(PSA) form a bond by the application of light pressure to marry the adhesive with the adherend. They are designed with a balance between flow and resistance to flow. The bond forms because the adhesive is soft enough to flow (i.e. "wet") the adherend. The bond has strength because the adhesive is hard enough to resist flow when stress is applied to the bond. Once the adhesive and the adherend are in close proximity, molecular interactions, such as
van der Waals force
Van der Waals force
In physical chemistry, the van der Waals force , named after Dutch scientist Johannes Diderik van der Waals, is the sum of the attractive or repulsive forces between molecules other than those due to covalent bonds or to the electrostatic interaction of ions with one another or with neutral...
s, become involved in the bond, contributing significantly to its ultimate strength.
PSAs are designed for either permanent or removable applications. Examples of permanent applications include safety labels for power equipment, foil tape for HVAC duct work, automotive interior trim assembly, and sound/vibration damping films. Some high performance permanent PSAs exhibit high adhesion values and can support kilograms of weight per square centimeter of contact area, even at elevated temperature. Permanent PSAs may be initially removable (for example to recover mislabeled goods) and build adhesion to a permanent bond after several hours or days.
Removable adhesives are designed to form a temporary bond, and ideally can be removed after months or years without leaving residue on the adherend. Removable adhesives are used in applications such as surface protection films, masking tapes, bookmark and note papers, price marking labels, promotional graphics materials, and for skin contact (wound care dressings, EKG electrodes, athletic tape, analgesic and transdermal drug patches, etc.). Some removable adhesives are designed to repeatedly stick and unstick. They have low adhesion and generally can not support much weight.
Pressure sensitive adhesives are manufactured with either a liquid carrier or in 100% solid form. Articles are made from liquid PSAs by coating the adhesive and drying off the solvent or water carrier. They may be further heated to initiate a
cross-link
Cross-link
Cross-links are bonds that link one polymer chain to another. They can be covalent bonds or ionic bonds. "Polymer chains" can refer to synthetic polymers or natural polymers . When the term "cross-linking" is used in the synthetic polymer science field, it usually refers to the use of...
ing reaction and increase
molecular weight
Molecular mass
The molecular mass of a substance is the mass of one molecule of that substance, in unified atomic mass unit u...
. 100% solid PSAs may be low viscosity polymers that are coated and then reacted with radiation to increase molecular weight and form the adhesive; or they may be high viscosity materials that are heated to reduce viscosity enough to allow coating, and then cooled to their final form. Major raw material for PSA's are
acrylate
Acrylate
The acrylate ion is the ion of acrylic acid.Acrylates are the salts and esters of acrylic acid. They are also known as propenoates ....
based polymers.
Contact adhesives
Contact adhesives
are used in strong bonds with high shear-resistance like
laminate
Laminate
A laminate is a material that can be constructed by uniting two or more layers of material together. The process of creating a laminate is lamination, which in common parlance refers to the placing of something between layers of plastic and gluing them with heat and/or pressure, usually with an...
s, such as bonding
Formica
Formica (plastic)
Formica is a brand of composite materials manufactured by the Formica Corporation now based in Newcastle, Tyne & Wear, a division of the New Zealand company Fletcher Building. In common use, the term refers to the company's classic product, a heat-resistant, wipe-clean, plastic laminate of paper or...
to a wooden counter, and in
footwear
Footwear
Footwear consists of garments worn on the feet, for fashion, protection against the environment, and adornment. Being barefoot is commonly associated with poverty, but some cultures chose not to wear footwear at least in some situations....
, as in attaching outsoles to uppers.
Natural rubber and polychloroprene (Neoprene) are commonly used contact adhesives. Both of these elastomers undergo
strain crystallization
Strain crystallization
Strain crystallization is a phenomenon in which an initially amorphous solid material undergoes a phase transformation due to the application of strain. Strain crystallization occurs in natural rubber, and some other elastomers. The phenomenon has important effects on strength and fatigue...
. In the construction industry a specialised proprietary adhesive known as Liquid Nails (or liquid nails as the generic), is used. This also copes with tasks such as sealing
artificial turf
Artificial turf
Artificial turf is a surface manufactured from synthetic fibers made to look like natural grass. It is most often used in arenas for sports that were originally or are normally played on grass. However, it is now being used on residential lawns and commercial applications as well...
.
Contact adhesives must be applied to both surfaces and allowed some time to dry before the two surfaces are pushed together. Some contact adhesives require as long as 24 hours to dry before the surfaces are to be held together. Once the surfaces are pushed together, the bond forms very quickly. It is usually not necessary to apply pressure for a long time, so there is less need for
clamps
Clamp (tool)
A clamp is a fastening device to hold or secure objects tightly together to prevent movement or separation through the application of inward pressure...
.
Hot adhesives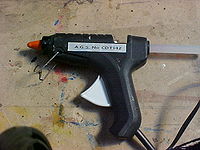 Hot adhesives
, also known as
hot melt adhesives
, are
thermoplastic
Thermoplastic
Thermoplastic, also known as a thermosoftening plastic, is a polymer that turns to a liquid when heated and freezes to a very glassy state when cooled sufficiently...
s applied in molten form (in the 65-180 °C range) which solidify on cooling to form strong bonds between a wide range of materials.
Ethylene-vinyl acetate
Ethylene-vinyl acetate
Ethylene vinyl acetate is the copolymer of ethylene and vinyl acetate. The weight percent vinyl acetate usually varies from 10 to 40%, with the remainder being ethylene....
based hot-melts are particularly popular for crafts because of their ease of use and the wide range of common materials they can join. A glue gun (shown at right) is one method of applying hot adhesives. The glue gun melts the solid adhesive then allows the liquid to pass through its barrel onto the material, where it solidifies.
Thermoplastic glue may have been invented around 1940 by
Procter & Gamble
Procter & Gamble
Procter & Gamble is a Fortune 500 American multinational corporation headquartered in downtown Cincinnati, Ohio and manufactures a wide range of consumer goods....
as a solution to water-based adhesives commonly used in packaging at that time failing in humid climates, causing packages to open.
Multi-part adhesives
Multi-component adhesives
harden by mixing two or more components which chemically react. This reaction causes polymers to cross-link into acrylics, urethanes, and epoxies.
There are several commercial combinations of multi - component adhesives in use in industry. Some of these combinations are:
Polyester resin - polyurethane resin
Polyols - polyurethane resin
Acrylic polymers - polyurethane resins
The individual components of a multi-component adhesive are not adhesive by nature. The individual components react with each other after being mixed and show full adhesion only on curing. The multi-component resins can be either solvent-based or solvent-less. The solvents present in the adhesives are a medium for the polyester or the polyurethane resin. The solvent is dried during the curing process.
One-part adhesives
One-part adhesives
harden via a chemical reaction with an external energy source, such as
radiation
Radiation
In physics, radiation is a process in which energetic particles or energetic waves travel through a medium or space. There are two distinct types of radiation; ionizing and non-ionizing...
,
heat
Heat
In physics and thermodynamics, heat is energy transferred from one body, region, or thermodynamic system to another due to thermal contact or thermal radiation when the systems are at different temperatures. It is often described as one of the fundamental processes of energy transfer between...
, and
moisture
Moisture
Humidity is the amount of moisture the air can hold before it rains. Moisture refers to the presence of a liquid, especially water, often in trace amounts...
.
Ultraviolet
(UV)
light curing adhesives
, also known as
light curing materials
(LCM), have become popular within the manufacturing sector due to their rapid curing time and strong bond strength. Light curing adhesives can cure in as little as a second and many formulations can bond dissimilar substrates (materials) and withstand harsh temperatures. These qualities make UV curing adhesives essential to the manufacturing of items in many industrial markets such as electronics, telecommunications, medical, aerospace, glass, and optical. Unlike traditional adhesives, UV light curing adhesives not only bond materials together but they can also be used to seal and coat products. They are generally acrylic based.
Heat curing adhesives
consist of a pre-made mixture of two or more components. When heat is applied the components react and cross-link. This type of adhesive includes epoxies, urethanes, and
polyimide
Polyimide
Polyimide is a polymer of imide monomers. The structure of imide is as shown. Polyimides have been in mass production since 1955...
s.
Moisture curing adhesives
cure when they react with moisture present on the substrate surface or in the air. This type of adhesive includes cyanoacrylates and urethanes.
Natural adhesives
Natural adhesives
are made from organic sources such as vegetable matter,
starch
Starch
Starch or amylum is a carbohydrate consisting of a large number of glucose units joined together by glycosidic bonds. This polysaccharide is produced by all green plants as an energy store...
(
dextrin
Dextrin
Dextrins are a group of low-molecular-weight carbohydrates produced by the hydrolysis of starch or glycogen. Dextrins are mixtures of polymers of D-glucose units linked by α- or α- glycosidic bonds....
), natural resins or from animals e.g. casein or
animal glue
Animal glue
An animal glue is an adhesive that is created by prolonged boiling of animal connective tissue.These protein colloid glues are formed through hydrolysis of the collagen from skins, bones, tendons, and other tissues, similar to gelatin. The word "collagen" itself derives from Greek κόλλα kolla, glue...
. They are often referred to as
bioadhesives
Bioadhesives
Bioadhesives are natural polymeric materials that act as adhesives. The term is sometimes used more loosely to describe a glue formed synthetically from biological monomers such as sugars, or to mean a synthetic material designed to adhere to biological tissue....
. One example is a simple paste made by cooking flour in water. Animal glues are traditionally used in bookbinding, wood joining, and many other areas but now are largely replaced by synthetic glues. Casein are mainly used in glass bottle labelling. Starch based adhesives are used in corrugated board production and
paper sack
Paper bag
A paper bag or paper sack is a preformed container made of paper, usually with an opening on one side. It can be one layer of paper or multiple layers of paper and other flexible materials. A bag is used for packaging and/or carrying items....
production, paper tube winding, wall paper adhesives.
Masonite
Masonite
Masonite is a type of hardboard invented by William H. Mason.-History:Masonite was invented in 1924 in Laurel, Mississippi, by William H. Mason. Mass production started in 1929. In the 1930s and 1940s Masonite was used for many applications including doors, roofing, walls, desktops, and canoes...
, a wood hardboard, was bonded using natural
lignin
Lignin
Lignin or lignen is a complex chemical compound most commonly derived from wood, and an integral part of the secondary cell walls of plants and some algae. The term was introduced in 1819 by de Candolle and is derived from the Latin word lignum, meaning wood...
, (although most modern MDF particle boards use synthetic thermosetting resins). Another form of natural adhesive is blood albumen (made from protein component of blood), which is used in the
plywood
Plywood
Plywood is a type of manufactured timber made from thin sheets of wood veneer. It is one of the most widely used wood products. It is flexible, inexpensive, workable, re-usable, and can usually be locally manufactured...
industry.
Animal glue
Animal glue
An animal glue is an adhesive that is created by prolonged boiling of animal connective tissue.These protein colloid glues are formed through hydrolysis of the collagen from skins, bones, tendons, and other tissues, similar to gelatin. The word "collagen" itself derives from Greek κόλλα kolla, glue...
remains the preferred glue of the
luthier
Luthier
A luthier is someone who makes or repairs lutes and other string instruments. In the United States, the term is used interchangeably with a term for the specialty of each maker, such as violinmaker, guitar maker, lute maker, etc...
. Casein based glues are made by
precipitating
Precipitation (chemistry)
Precipitation is the formation of a solid in a solution or inside anothersolid during a chemical reaction or by diffusion in a solid. When the reaction occurs in a liquid, the solid formed is called the precipitate, or when compacted by a centrifuge, a pellet. The liquid remaining above the solid...
casein from
milk
Milk
Milk is a white liquid produced by the mammary glands of mammals. It is the primary source of nutrition for young mammals before they are able to digest other types of food. Early-lactation milk contains colostrum, which carries the mother's antibodies to the baby and can reduce the risk of many...
protein
Protein
Proteins are biochemical compounds consisting of one or more polypeptides typically folded into a globular or fibrous form, facilitating a biological function. A polypeptide is a single linear polymer chain of amino acids bonded together by peptide bonds between the carboxyl and amino groups of...
using the
acetic acid
Acetic acid
Acetic acid is an organic compound with the chemical formula CH3CO2H . It is a colourless liquid that when undiluted is also called glacial acetic acid. Acetic acid is the main component of vinegar , and has a distinctive sour taste and pungent smell...
from
vinegar
Vinegar
Vinegar is a liquid substance consisting mainly of acetic acid and water, the acetic acid being produced through the fermentation of ethanol by acetic acid bacteria. Commercial vinegar is produced either by fast or slow fermentation processes. Slow methods generally are used with traditional...
. This forms
curd
Curd
Curds are a dairy product obtained by curdling milk with rennet or an edible acidic substance such as lemon juice or vinegar, and then draining off the liquid portion. The increased acidity causes the milk proteins to tangle into solid masses, or curds. The remaining liquid, which contains only...
s, which are neutralized with a
base
Base (chemistry)
For the term in genetics, see base A base in chemistry is a substance that can accept hydrogen ions or more generally, donate electron pairs. A soluble base is referred to as an alkali if it contains and releases hydroxide ions quantitatively...
, such as
sodium bicarbonate
Sodium bicarbonate
Sodium bicarbonate or sodium hydrogen carbonate is the chemical compound with the formula Na HCO3. Sodium bicarbonate is a white solid that is crystalline but often appears as a fine powder. It has a slightly salty, alkaline taste resembling that of washing soda . The natural mineral form is...
(baking soda), to cause them to unclump and become a thicker plastic-like substance.
Synthetic adhesives
Synthetic adhesives
are based on
elastomer
Elastomer
An elastomer is a polymer with the property of viscoelasticity , generally having notably low Young's modulus and high yield strain compared with other materials. The term, which is derived from elastic polymer, is often used interchangeably with the term rubber, although the latter is preferred...
s, thermoplastics,
emulsion
Emulsion
An emulsion is a mixture of two or more liquids that are normally immiscible . Emulsions are part of a more general class of two-phase systems of matter called colloids. Although the terms colloid and emulsion are sometimes used interchangeably, emulsion is used when both the dispersed and the...
s, and
thermosets
Thermosetting plastic
A thermosetting plastic, also known as a thermoset, is polymer material that irreversibly cures. The cure may be done through heat , through a chemical reaction , or irradiation such as electron beam processing.Thermoset materials are usually liquid or malleable prior to curing and designed to be...
. Examples of thermosetting adhesives are:
epoxy
Epoxy
Epoxy, also known as polyepoxide, is a thermosetting polymer formed from reaction of an epoxide "resin" with polyamine "hardener". Epoxy has a wide range of applications, including fiber-reinforced plastic materials and general purpose adhesives....
,
polyurethane
Polyurethane
A polyurethane is any polymer composed of a chain of organic units joined by carbamate links. Polyurethane polymers are formed through step-growth polymerization, by reacting a monomer with another monomer in the presence of a catalyst.Polyurethanes are...
,
cyanoacrylate
Cyanoacrylate
Cyanoacrylate is the generic name for cyanoacrylate based fast-acting adhesives such as methyl 2-cyanoacrylate, ethyl-2-cyanoacrylate , and n-butyl cyanoacrylate...
and acrylic polymers. See also post-it notes. The first commercially produced synthetic adhesive was Karlsons klister in the 1920s.
Application
Applicators of different adhesives are designed according to the adhesive being used and the size of the area to which the adhesive will be applied. The adhesive is applied to either one or both of the materials being bonded. The pieces are aligned and pressure is added to aid in adhesion and rid the bond of air bubbles.
Common ways of applying an adhesive include brushes, rollers, using films or pellets, spray guns and applicator guns (
e.g.
, caulk gun). All of these can be done manually or can be automated into a machine.
Mechanisms of adhesion
Adhesion, the attachment between adhesive and substrate may occur either by mechanical means, in which the adhesive works its way into small pores of the substrate, or by one of several chemical mechanisms. The strength of adhesion depends on many factors, including the means by which it occurs.
In some cases, an actual
chemical bond
Chemical bond
A chemical bond is an attraction between atoms that allows the formation of chemical substances that contain two or more atoms. The bond is caused by the electromagnetic force attraction between opposite charges, either between electrons and nuclei, or as the result of a dipole attraction...
occurs between adhesive and substrate. In others, electrostatic forces, as in static electricity, hold the substances together. A third mechanism involves the van der Waals forces that develop between molecules. A fourth means involves the moisture-aided diffusion of the glue into the substrate, followed by hardening.
Failure of the adhesive joint
There are several factors that could contribute to the failure of two adhered surfaces. Sunlight and heat may weaken the adhesive. Solvents can deteriorate or dissolve adhesive. Physical stresses may also cause the separation of surfaces. When subjected to loading, debonding may occur at different locations in the adhesive joint. The major fracture types are the following:
Cohesive fracture
Cohesive fracture
is obtained if a crack propagates in the bulk polymer which constitutes the adhesive. In this case the surfaces of both adherents after debonding will be covered by fractured adhesive. The crack may propagate in the centre of the layer or near an interface. For this last case, the cohesive fracture can be said to be "cohesive near the interface".
Interfacial fracture
The fracture is
adhesive
or
interfacial
when debonding occurs between the adhesive and the adherent. In most cases, the occurrence of interfacial fracture for a given adhesive goes along with a smaller fracture toughness. The interfacial character of a fracture surface is usually to identify the precise location of the crack path in the interphase.
Other types of fracture
Other types of fracture include:
The mixed type, which occurs if the crack propagates at some spots in a cohesive and in others in an interfacial manner. Mixed fracture surfaces can be characterised by a certain percentage of adhesive and cohesive areas.
The alternating crack path type which occurs if the cracks jumps from one interface to the other. This type of fracture appears in the presence of tensile pre-stresses in the adhesive layer.
Fracture can also occur in the adherent if the adhesive is tougher than the adherent. In this case the adhesive remains intact and is still bonded to one substrate and remnants of the other. For example, when one removes a price label, adhesive usually remains on the label and the surface. This is cohesive failure. If, however, a layer of paper remains stuck to the surface, the adhesive has not failed. Another example is when someone tries to pull apart Oreo

Oreo

Oreo is a trademark for a popular sandwich cookie by the Nabisco Division of Kraft Foods. The current design consists of a sweet, white filling commonly referred to as 'cream' or 'creme', sandwiched between two circular chocolate or golden cookie pieces....


cookies and all the filling remains on one side; this is an adhesive failure, rather than a cohesive failure.
Design of adhesive joints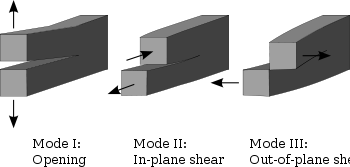 As a general design rule, the material properties of the object need to be greater than the forces anticipated during its use. (i.e. geometry, loads, etc.). The engineering work will consist of having a good model to evaluate the function. For most adhesive joints, this can be achieved using
fracture mechanics
Fracture mechanics
Fracture mechanics is the field of mechanics concerned with the study of the propagation of cracks in materials. It uses methods of analytical solid mechanics to calculate the driving force on a crack and those of experimental solid mechanics to characterize the material's resistance to fracture.In...
. Concepts such as the
stress concentration
Stress concentration
A stress concentration is a location in an object where stress is concentrated. An object is strongest when force is evenly distributed over its area, so a reduction in area, e.g. caused by a crack, results in a localized increase in stress...
factor and the
strain energy release rate
Strain energy release rate
Strain energy release rate is the energy dissipated during fracture per unit of newly created fracture surface area. This quantity is central to fracture mechanics because the energy that must be supplied to a crack tip for it to grow must be balanced by the amount of energy dissipated due to the...
can be used to predict failure. In such models, the behavior of the adhesive layer itself is neglected and only the adherents are considered.
Failure will also very much depend on the opening
mode
of the joint.
Mode I is an opening or tensile mode where the loadings are normal to the crack.
Mode II is a sliding or in-plane shear mode where the crack surfaces slide over one another in direction perpendicular to the leading edge of the crack. This is typically the mode for which the adhesive exhibits the highest resistance to fracture.
Mode III is a tearing or antiplane shear mode.
As the loads are usually fixed, an acceptable design will result from combination of a material selection procedure and geometry modifications, if possible. In adhesively bonded structures, the global geometry and loads are fixed by structural considerations and the design procedure focuses on the material properties of the adhesive and on local changes on the geometry.
Increasing the joint resistance is usually obtained by designing its geometry so that:
The bonded zone is large
It is mainly loaded in mode II
Stable crack propagation will follow the appearance of a local failure.
Testing the resistance of the adhesive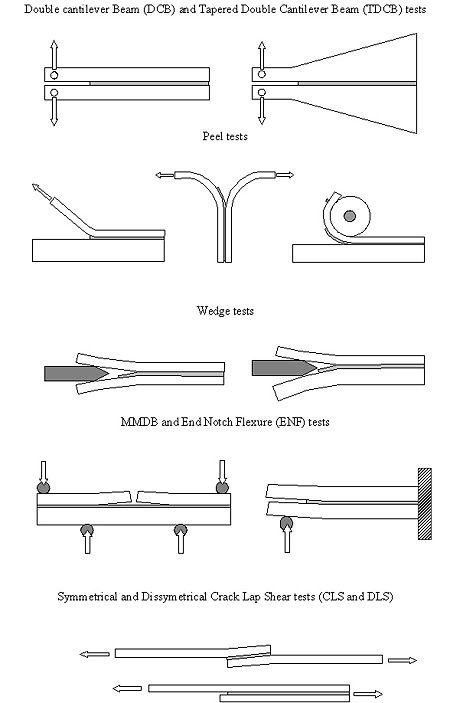 A wide range of testing devices have been devised to evaluate the fracture resistance of bonded structures in pure mode I, pure mode II or in mixed mode. Most of these devices are beam type specimens. We will very shortly review the most popular:
Double cantilever beam tests (DCB) measure the mode I fracture resistance of adhesives in a fracture mechanics framework. These tests consist in opening an assembly of two beams by applying a force at the ends of the two beams. The test is unstable (i.e. the crack propagates along the entire specimen once a critical load is attained) and a modified version of this test characterised by a non constant inertia was proposed called the tapered double cantilever beam (TDCB) specimen.
Peel tests measure the fracture resistance of a thin layer bonded on a thick substrate or of two layers bonded together. They consist in measuring the force needed for tearing an adherent layer from a substrate or for tearing two adherent layers one from another. Whereas the structure is not symmetrical, various mode mixities can be introduced in these tests. This is one of the more common methods of evaluating paper strength in library and archival preservation

Preservation (library and archival science)

Preservation is a branch of library and information science concerned with maintaining or restoring access to artifacts, documents and records through the study, diagnosis, treatment and prevention of decay and damage....


.
Wedge tests measure the mode I dominated fracture resistance of adhesives used to bond thin plates. These tests consist in inserting a wedge in between two bonded plates. A critical energy release rate can be derived from the crack length during testing. This test is a mode I test but some mode II component can be introduced by bonding plates of different thicknesses.
Mixed-mode delaminating beam tests (MMDB) consist in a bonded bilayer with two starting cracks loaded on four points. The test presents roughly the same amount of mode I and mode II with a slight dependence on the ratio of the two layer thicknesses.
End notch flexure tests consist in two bonded beams built-in on one side and loaded by a force on the other. As no normal opening is allowed, this device allows testing in essentially mode II condition.
Crack lap shear tests (CLS) are application-oriented fracture resistance tests. They consist in two plates bonded on a limited length and loaded in tension on both ends. The test can be either symmetrical or dis-symmetrical. In the first case two cracks can be initiated and in the second only one crack can propagate.
External links