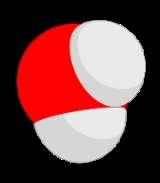 Molecular mass
The
molecular mass
of a
substance
Chemical compound
A chemical compound is a pure chemical substance consisting of two or more different chemical elements that can be separated into simpler substances by chemical reactions. Chemical compounds have a unique and defined chemical structure; they consist of a fixed ratio of atoms that are held together...
is the
mass
Mass
Mass can be defined as a quantitive measure of the resistance an object has to change in its velocity.In physics, mass commonly refers to any of the following three properties of matter, which have been shown experimentally to be equivalent:...
of one
molecule
Molecule
A molecule is an electrically neutral group of at least two atoms held together by covalent chemical bonds. Molecules are distinguished from ions by their electrical charge...
of that substance, in unified atomic mass unit(s) u (equal to 1/12 the mass of one atom of the
isotope
Isotope
Isotopes are variants of atoms of a particular chemical element, which have differing numbers of neutrons. Atoms of a particular element by definition must contain the same number of protons but may have a distinct number of neutrons which differs from atom to atom, without changing the designation...
carbon-12
Carbon-12
Carbon-12 is the more abundant of the two stable isotopes of the element carbon, accounting for 98.89% of carbon; it contains 6 protons, 6 neutrons, and 6 electrons....
). This is numerically equivalent to the
relative molecular mass
(
Mr
) of a molecule, frequently referred to by the term
molecular weight
, which is the ratio of the mass of that molecule to 1/12 of the mass of carbon-12 and is a dimensionless number.