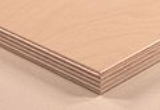 Plywood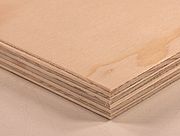 Plywood
is a type of manufactured timber made from thin sheets of
wood veneer
Wood veneer
In woodworking, veneer refers to thin slices of wood, usually thinner than 3 mm , that are typically glued onto core panels to produce flat panels such as doors, tops and panels for cabinets, parquet floors and parts of furniture. They are also used in marquetry...
. It is one of the most widely used wood products. It is flexible, inexpensive, workable, re-usable, and can usually be locally manufactured. Plywood is used instead of plain wood because of its resistance to cracking, shrinkage, and twisting/warping, and its general high degree of strength.
Plywood layers (called veneers) are glued together with adjacent plies having their
grain
Wood grain
In speaking of wood the term grain refers to the alternating regions of relatively darker and lighter wood resulting from the differing growth parameters occurring in different seasons . The term is used in several ways. Perhaps most important is that in woodworking techniques...
at right angles to each other for greater strength. There are usually an odd number of plies so that the sheet is balanced—this reduces warping. Because of the way plywood is bonded (with grains running against one another and with an odd number of composite parts) it is very hard to bend it perpendicular to the grain direction.
Plywood was invented around 3500 B.C. by the
Egyptians
Ancient Egypt
Ancient Egypt was an ancient civilization of Northeastern Africa, concentrated along the lower reaches of the Nile River in what is now the modern country of Egypt. Egyptian civilization coalesced around 3150 BC with the political unification of Upper and Lower Egypt under the first pharaoh...
, who first thought of sticking several thinner layers of wood together to make one thick layer. They originally did this during a shortage of quality wood, gluing very thin layers of qualitative wood over lesser-quality wood. What we know as plywood was invented by
Immanuel Nobel
Immanuel Nobel
'Immanuel Nobel' , the younger, was a Swedish engineer, architect, inventor and industrialist. He was the inventor of the rotary lathe used in plywood manufacturing. He was a member of the Nobel family and the father of Robert Nobel, Ludvig Nobel and Alfred Nobel...
, father of Alfred Nobel, the inventor of dynamite and founder of the Nobel Prize. Nobel realized that several thinner layers of wood bonded together would be stronger than one single thick layer of wood. Plywood is now a staple of the construction industry, used in floors and roofing. Forssmanholz or Holzblechär is an extra-resilient plywood patented in Germany in 1921-1922 by Swedish engineer Villehad Forssman.
Stresses
It is quite usual for the outer layer on each face to be of a higher-grade timber, and sometimes thinner than the other layers, and perhaps more decorative. The principal reason for the central layers is to increase the separation of the outer layers, where the stresses are highest - in bending, the maximum stress is in the outer layers, one in tension, the other in compression, changing lineally with distance from the surface, i.e. zero bending stress in the middle, where only a very weak layer is needed. Shear stress is constant throughout the depth.
Types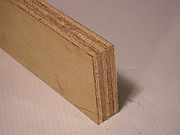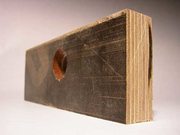 Different varieties of plywood exist for different applications:-
Softwood plywood
Softwood
Softwood
The term softwood is used to describe wood from trees that are known as gymnosperms.Conifers are an example. It may also be used to describe trees, which tend to be evergreen, notable exceptions being bald cypress and the larches....
panel is usually made either of cedar, Douglas fir or
spruce
Spruce
A spruce is a tree of the genus Picea , a genus of about 35 species of coniferous evergreen trees in the Family Pinaceae, found in the northern temperate and boreal regions of the earth. Spruces are large trees, from tall when mature, and can be distinguished by their whorled branches and conical...
,
pine
Pine
Pines are trees in the genus Pinus ,in the family Pinaceae. They make up the monotypic subfamily Pinoideae. There are about 115 species of pine, although different authorities accept between 105 and 125 species.-Etymology:...
, and
fir
Fir
Firs are a genus of 48–55 species of evergreen conifers in the family Pinaceae. They are found through much of North and Central America, Europe, Asia, and North Africa, occurring in mountains over most of the range...
(collectively known as
spruce-pine-fir
Spruce-pine-fir
Part of a larger group of tree species known as softwoods, in the wood industry, Spruce-pine-fir refers to Canadian woods of similar characteristics that have been grouped for production and marketing...
or SPF) or
redwood
Redwood
-Trees:Conifers* Family Cupressaceae *** Sequoia sempervirens - coast redwood**** Albino redwood*** Sequoiadendron giganteum - giant sequoia*** Metasequoia glyptostroboides - dawn redwood* Family Pinaceae...
and is typically used for construction and industrial purposes.
The most common varieties of softwood plywood come in three, five or seven plies with a metric dimension of 1.2 m × 2.4 m or the slightly larger imperial dimension of 4 feet × 8 feet. Plies vary in thickness from 1/10"(2.54mm) through 1/6"(4.23mm) depending on the panel thickness. Roofing can use the thinner 5/8-inch(15.875mm) plywood. Subfloors are at least 3/4-inch(19.05mm) thick, the thickness depending on the distance between floor
joist
Joist
A joist, in architecture and engineering, is one of the horizontal supporting members that run from wall to wall, wall to beam, or beam to beam to support a ceiling, roof, or floor. It may be made of wood, steel, or concrete. Typically, a beam is bigger than, and is thus distinguished from, a joist...
s. Plywood for flooring applications is often
tongue and groove
Tongue and groove
A strong joint, the tongue and groove joint is widely used for re-entrant angles. The effect of wood shrinkage is concealed when the joint is beaded or otherwise moulded...
; the mating edge will have a "groove" notched into it to fit with the adjacent "tongue" that protrudes from the next board. This prevents one board from moving up or down relative to its neighbor, so providing a solid feeling floor when the joints do not lie over joists. Tongue & groove flooring plywood is typically 1"(25.4mm) in thickness.
Hardwood plywood
Used for demanding end uses.
Birch
Birch
Birch is a tree or shrub of the genus Betula , in the family Betulaceae, closely related to the beech/oak family, Fagaceae. The Betula genus contains 30–60 known taxa...
plywood is characterized by its excellent strength, stiffness and resistance to creep. It has a high planar shear strength and impact resistance, which make it especially suitable for heavy-duty floor and wall structures. Oriented plywood construction has a high wheel-carrying capacity. Birch plywood has excellent surface hardness, and damage- and wear-resistance.
Tropical plywood
Tropical plywood is always made of mixed species of tropical wood in the Asian region. Tropical plywood boasts its superiority over softwood plywood due to its density, strength, evenness of layers, and high quality. It is usually sold at a premium in many markets if manufactured with high standards. Tropical plywood is widely used in the UK, Japan, Taiwan, Korea, Dubai, and other countries worldwide. It is the most preferred choice for construction purposes in many regions.
Special purpose plywood
Certain plywoods do not have alternating plies. These are designed for a specific purpose.
Aircraft plywood
High-strength plywood, known as aircraft plywood, is made from mahogany and/or birch, and uses adhesives with increased resistance to heat and humidity. It was used for several
World War II
World War II
World War II, or the Second World War , was a global conflict lasting from 1939 to 1945, involving most of the world's nations—including all of the great powers—eventually forming two opposing military alliances: the Allies and the Axis...
fighter aircraft
Fighter aircraft
A fighter aircraft is a military aircraft designed primarily for air-to-air combat with other aircraft, as opposed to a bomber, which is designed primarily to attack ground targets...
, including the British-built
Mosquito
De Havilland Mosquito
The de Havilland DH.98 Mosquito was a British multi-role combat aircraft that served during the Second World War and the postwar era. It was known affectionately as the "Mossie" to its crews and was also nicknamed "The Wooden Wonder"...
bomber which was nicknamed The Wooden Wonder.
Structural aircraft-grade plywood is more commonly manufactured from African mahogany or American birch veneers that are bonded together in a hot press over hardwood cores of basswood or poplar. Basswood is another type of aviation-grade plywood that is lighter and more flexible than mahogany and birch plywood but has slightly less structural strength. All aviation-grade plywood is manufactured to specifications outlined in MIL-P-607, which calls for shear testing after immersion in boiling water for three hours to verify the adhesive qualities between the piles and meets specifications.
Decorative plywood (overlaid plywood)
Usually faced with
hardwood
Hardwood
Hardwood is wood from angiosperm trees . It may also be used for those trees themselves: these are usually broad-leaved; in temperate and boreal latitudes they are mostly deciduous, but in tropics and subtropics mostly evergreen.Hardwood contrasts with softwood...
, including ash,
oak
Oak
An oak is a tree or shrub in the genus Quercus , of which about 600 species exist. "Oak" may also appear in the names of species in related genera, notably Lithocarpus...
, red oak,
birch
Birch
Birch is a tree or shrub of the genus Betula , in the family Betulaceae, closely related to the beech/oak family, Fagaceae. The Betula genus contains 30–60 known taxa...
,
maple
Maple
Acer is a genus of trees or shrubs commonly known as maple.Maples are variously classified in a family of their own, the Aceraceae, or together with the Hippocastanaceae included in the family Sapindaceae. Modern classifications, including the Angiosperm Phylogeny Group system, favour inclusion in...
,
mahogany
Mahogany
The name mahogany is used when referring to numerous varieties of dark-colored hardwood. It is a native American word originally used for the wood of the species Swietenia mahagoni, known as West Indian or Cuban mahogany....
,
Philippine mahogany
Philippine mahogany
Philippine mahogany is a common name for several different species of trees and their wood.*Botanically, the name refers to the species Toona calantas in the mahogany family Meliaceae....
(often called lauan), rose wood,
teak
Teak
Teak is the common name for the tropical hardwood tree species Tectona grandis and its wood products. Tectona grandis is native to south and southeast Asia, mainly India, Indonesia, Malaysia, and Burma, but is naturalized and cultivated in many countries, including those in Africa and the...
and a large number of other hardwoods. However,
Formica
Formica (plastic)
Formica is a brand of composite materials manufactured by the Formica Corporation now based in Newcastle, Tyne & Wear, a division of the New Zealand company Fletcher Building. In common use, the term refers to the company's classic product, a heat-resistant, wipe-clean, plastic laminate of paper or...
, metal and resin-impregnated paper or fabric bonded are also added on top of plywood at both side as a kind of ready for use in the decoration field.
Flexible plywood
Flexible plywood
is very flexible and is designed for making curved parts. In the UK this is known as "Hatters Ply" as it was used to make
stovepipe hats
Top hat
A top hat, beaver hat, high hat silk hat, cylinder hat, chimney pot hat or stove pipe hat is a tall, flat-crowned, broad-brimmed hat, predominantly worn from the latter part of the 18th to the middle of the 20th century...
in Victorian times. However these may not be termed plywood in some countries because the basic description of plywood is layers of veneered wood laid on top of each other with the grain of each layer perpendicular to the grain of the next.
Marine plywood
Marine plywood
is specially treated to resist rotting in a high-moisture environment. Its construction is such that it can be used in environments where it is exposed to moisture for long periods. Each wood veneer will have negligible core gap, limiting the chance of trapping water in the plywood and hence providing a solid and stable glue bond. It uses an exterior Water Boiled Proof (WBP) glue similar to most exterior plywoods. Marine plywood is frequently used in the construction of
dock
Dock (maritime)
A dock is a human-made structure or group of structures involved in the handling of boats or ships, usually on or close to a shore.However, the exact meaning varies among different variants of the English language...
s and
boat
Boat
A boat is a watercraft of any size designed to float or plane, to provide passage across water. Usually this water will be inland or in protected coastal areas. However, boats such as the whaleboat were designed to be operated from a ship in an offshore environment. In naval terms, a boat is a...
s. It is much more expensive than standard plywood: the cost for a typical 4-foot by 8-foot 1/2-inch thick board is roughly $75 to $100 US or around $2.5 per square foot, which is about three times as expensive as standard plywood.
Marine plywood can be graded as being compliant with
BS 1088
BS 1088
In materials, the BS 1088 specification is a marine plywood specification that applies to plywood produced with untreated tropical hardwood veneers that have a set level of resistance to fungal attack. The plies are bonded with WBP glue. Although the initials BS are for "British Standard", the...
, which is a
British
United Kingdom
The United Kingdom of Great Britain and Northern IrelandIn the United Kingdom and Dependencies, other languages have been officially recognised as legitimate autochthonous languages under the European Charter for Regional or Minority Languages...
Standard for marine plywood. There are few international standards for grading marine plywood and most of the standards are voluntary. Some marine plywood has a Lloyd's of London stamp that certifies it to be BS 1088 compliant. Some plywood is also labeled based on the wood used to manufacture it. Examples of this are
Okoume
Okoume
Okoumé may refer to:* Okoumé, a Quebec band active from 1995-2002* Okoumé, an alternate name for Aucoumea klaineana, an African hardwood...
or Meranti
Other types of plywoods include fire-retardant, moisture-resistant, sign-grade and pressure-treated. However, the plywood may be treated with various chemicals to improve the plywood's fireproofing. Each of these products is designed to fill a need in industry.
Production
Plywood production requires a good log, called a peeler, which is generally straighter and larger in diameter than one required for processing into dimensioned lumber by a
sawmill
Sawmill
A sawmill is a facility where logs are cut into boards.-Sawmill process:A sawmill's basic operation is much like those of hundreds of years ago; a log enters on one end and dimensional lumber exits on the other end....
. The log is laid horizontally and rotated about its long axis while a long blade is pressed into it (rather like turning a Swiss Roll against the edge of a ruler), causing a thin layer of wood to peel off. In this way the log is peeled into sheets of veneer which are then cut to the desired dimensions, dried, patched, glued together and then baked in a press at 140 °C (280 °F) and 1.9 MPa (2800 psi) to form the plywood panel. The panel can then be patched, re-sized, sanded or otherwise refinished, depending on the market for which it is intended.
Plywood for indoor use generally uses the less expensive
urea-formaldehyde
Urea-formaldehyde
Urea-formaldehyde, also known as urea-methanal, named so for its common synthesis pathway and overall structure, is a non-transparent thermosetting resin or plastic, made from urea and formaldehyde heated in the presence of a mild base such as ammonia or pyridine...
glue which has limited water resistance, while outdoor and marine-grade plywood are designed to withstand rot, and use a water resistant
phenol
Phenol
Phenol, also known as carbolic acid, phenic acid, is an organic compound with the chemical formula C6H5OH. It is a white crystalline solid. The molecule consists of a phenyl , bonded to a hydroxyl group. It is produced on a large scale as a precursor to many materials and useful compounds...
-
formaldehyde
Formaldehyde
Formaldehyde is an organic compound with the formula CH2O. It is the simplest aldehyde, hence its systematic name methanal.Formaldehyde is a colorless gas with a characteristic pungent odor. It is an important precursor to many other chemical compounds, especially for polymers...
glue to prevent
delamination
Delamination
Delamination is a mode of failure for composite materials. Modes of failure are also known as 'failure mechanisms'. In laminated materials, repeated cyclic stresses, impact, and so on can cause layers to separate, forming a mica-like structure of separate layers, with significant loss of mechanical...
and to retain strength in high
humidity
Humidity
Humidity is a term for the amount of water vapor in the air, and can refer to any one of several measurements of humidity. Formally, humid air is not "moist air" but a mixture of water vapor and other constituents of air, and humidity is defined in terms of the water content of this mixture,...
.
The adhesives used in plywood have become a point of concern. Both urea formaldehyde and phenol formaldehyde are carcinogenic in very high concentrations. As a result, many manufacturers are turning to low formaldehyde-emitting glue systems, denoted by an "E" rating ("E0" possessing the lowest formaldehyde emissions). Plywood produced to "E0" has effectively zero formaldehyde emissions.
In addition to the glues being brought to the forefront, the wood resources themselves are becoming the focus of manufacturers, due in part to energy conservation, as well as concern for natural resources. There are several certifications available to manufacturers who participate in these programs.
Forest Stewardship Council
Forest Stewardship Council
The Forest Stewardship Council is an international not-for-profit, multi-stakeholder organization established in 1993 to promote responsible management of the world's forests. Its main tools for achieving this are standard setting, independent certification and labeling of forest products...
(FSC),
Leadership in Energy and Environmental Design
Leadership in Energy and Environmental Design
Leadership in Energy and Environmental Design consists of a suite of rating systems for the design, construction and operation of high performance green buildings, homes and neighborhoods....
(LEED),
Sustainable Forestry Initiative
Sustainable Forestry Initiative
The Sustainable Forestry Initiative is a 'forest certification standard' and program of SFI Inc., a non-profit organization. The Sustainable Forestry Initiative is the world's largest single forest certification standard by area....
(SFI), and Greenguard are all certification programs that ensure that production and construction practices are sustainable. Many of these programs offer tax benefits to both the manufacturer and the end user.
Sizes
The most commonly used thickness range is from 0.6 in.(1.6 cm.) to 3.0 in. (76 mm.). The sizes of the most commonly used plywood sheets are 4 ft.(1.2 m.) wide by 8 ft.(2.4 m.) or 3 ft. (0.9 m.) by 6 ft. (1.8 m.). Width and length may vary in 1 ft.(0.3 m.) in increments.
In US, the most commly used size is: 4 ft by 8 ft or 5 ft by 5 ft.
Grades
Grading rules differ according to the country of origin. Most popular standard is the British Standard (BS) and American Standard (ASTM). Joyce (1970), however, list some general indication of grading rules:
| Grade | Description |
| --- | --- |
| A | Face and back veneers practically free from all defects. |
| A/B | Face veneers practically free from all defects. Reverse veneers with only a few small knots or discolorations. |
| A/BB | Face as A but reverse side permitting jointed veneers, large knots, plugs, etc. |
| B | Both side as reverse of A/B |
| B/BB | Face as reverse of A/B. Reverse side as reverse of A/BB |
| BB | Both sides as reverse of B/BB |
| WG | Guaranteed well glued only. All broken knots plugged. |
| X | Knots, knot-holes, cracks, and all other defects permitted. |
Applications
Plywood is used in many applications that need high-quality, high-strength sheet material. Quality in this context means resistance to cracking, breaking, shrinkage, twisting and warping.
Exterior glued plywood is suitable for outdoor use, but because moisture affects the strength of wood, optimal performance is achieved in end uses where the wood's moisture content remains relatively low. On the other hand, subzero conditions don't affect plywood's dimensional or strength properties, which makes some special applications possible.
Plywood is also used as an engineering material for stressed-skin applications. It has been used for marine and aviation applications since WWII. Most notable is the British
De Havilland Mosquito
De Havilland Mosquito
The de Havilland DH.98 Mosquito was a British multi-role combat aircraft that served during the Second World War and the postwar era. It was known affectionately as the "Mossie" to its crews and was also nicknamed "The Wooden Wonder"...
bomber, which was primarily made out of wood. Plywood is currently successfully used in
stressed-skin
Stressed skin
In mechanical engineering, stressed skin is a type of rigid construction, intermediate between monocoque and a rigid frame with a non-loaded covering:...
applications.. The American designers Charles and Ray Eames are famous for their plywood-based furniture, while
Phil Bolger
Phil Bolger
Philip C. Bolger , prolific boat designer, was born and lived in Gloucester, Massachusetts. He began work full time as a draftsman for boat designers Lindsay Lord and then John Hacker in the early 1950s. Bolger also cites being influenced by mentors L.F...
is famous for designing a wide range of boats built primarily of plywood.
Softwood plywood applications
Typical end uses of spruce plywood are:
Floors, walls and roofs in house constructions
Wind bracing panels
Vehicle internal body work
Packages and boxes
Fencing
There are coating solutions available that mask the prominent grain structure of spruce plywood. For these coated plywoods there are some end uses where reasonable strength is needed but the lightness of spruce is a benefit e.g.:
Concrete shuttering panels
Ready-to-paint surfaces for constructions
Birch plywood applications
Coated special birch plywood is typically used as a ready-to-install component e.g.:
Panels in concrete form work systems
Floors, walls and roofs in transport vehicles
Container floors,
Floors subjected to heavy wear in various buildings and factories,
Scaffolding materials
Birch plywood is used as a structural material in special applications e.g.:
Wind turbine blades
Insulation boxes for Liquefied Natural Gas (LNG) carriers
Smooth surface and accurate thickness combined with the durability of the material makes birch plywood a favorable material for many special end uses e.g.:
Die-cutting boards
Supporting structure for parquet
Playground equipment
Furniture
Signs and fences for demanding outdoor advertising
Musical instruments
Sports equipment
Tropical plywood applications
Tropical plywood is widely available from the South-East Asia region, mainly from Malaysia and Indonesia. Tropical plywood boasts premium quality, and strength. Depending on machinery, tropical plywood can be made with high accuracy in thickness, and is a highly preferable choice in America, Japan, Middle East, Korea, and other regions around the world.
Common plywood
Concrete panel
Floor base
Structure panel
Container flooring
Lamin board
Laminated Veneer Lumber (LVL)
See also
BS 1088

BS 1088

In materials, the BS 1088 specification is a marine plywood specification that applies to plywood produced with untreated tropical hardwood veneers that have a set level of resistance to fungal attack. The plies are bonded with WBP glue. Although the initials BS are for "British Standard", the...



Engineered wood

Engineered wood

Engineered wood, also called composite wood, man-made wood, or manufactured board; includes a range of derivative wood products which are manufactured by binding the strands, particles, fibers, or veneers of wood, together with adhesives, to form composite materials...



Fiberboard

Fiberboard

Fiberboard is known as low density fiberboard is a type of engineered wood product that is made out of wood fibers. Types of fiberboard include particle board, medium-density fiberboard, and hardboard. Fiberboard is sometimes used as a synonym for particle board, but particle board usually refers...



Glued laminated timber

Glued laminated timber

Glued laminated timber, also called Glulam, is a type of structural timber product composed of several layers of dimensioned timber bonded together with durable, moisture-resistant adhesives. This material is called 'laminating stock' or lamstock for short.By laminating several smaller pieces of...



Hardboard

Hardboard

Hardboard, also called high-density fiberboard , not to be confused with 'hardwood', is a type of fiberboard, which is an engineered wood product....



Masonite

Masonite

Masonite is a type of hardboard invented by William H. Mason.-History:Masonite was invented in 1924 in Laurel, Mississippi, by William H. Mason. Mass production started in 1929. In the 1930s and 1940s Masonite was used for many applications including doors, roofing, walls, desktops, and canoes...



Medium-density fiberboard
Oriented strand board

Oriented strand board

Oriented strand board, also known as OSB and SmartPly , is an engineered wood product formed by layering strands of wood in specific orientations. In appearance, it may have a rough and variegated surface with the individual strips Oriented strand board, also known as OSB (UK) and SmartPly (UK &...



Particle board

Particle board

Particle board, or particleboard , is an engineered wood product manufactured from wood particles, such as wood chips, sawmill shavings, or even saw dust, and a synthetic resin or other suitable binder, which is pressed and extruded...



Pressed wood

Pressed wood

Pressed wood is any engineered wood building and furniture construction material made from wood veneers, particles, or wood fibers bonded together with an adhesive under heat and pressure.-See also:*Engineered wood*Fiberboard*Glued laminated timber...



External links