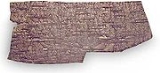 Birch bark
Birch bark or birchbark is the
bark
Bark
Bark is the outermost layers of stems and roots of woody plants. Plants with bark include trees, woody vines and shrubs. Bark refers to all the tissues outside of the vascular cambium and is a nontechnical term. It overlays the wood and consists of the inner bark and the outer bark. The inner...
of several Eurasian and North American
birch
Birch
Birch is a tree or shrub of the genus Betula , in the family Betulaceae, closely related to the beech/oak family, Fagaceae. The Betula genus contains 30–60 known taxa...
trees of the genus Betula.
The strong and water-resistant cardboard-like bark can be easily cut, bent, and sewn, which made it a valuable building, crafting, and
writing material
Writing material
Writing material refers to the materials that provide the surfaces on which humans use writing instruments to inscribe writings. The same materials can also be used for symbolic or representational drawings. Building material on which writings or drawings are produced are not included...
, since
pre-historic
Prehistory
Prehistory is the span of time before recorded history. Prehistory can refer to the period of human existence before the availability of those written records with which recorded history begins. More broadly, it refers to all the time preceding human existence and the invention of writing...
times. Even today birch bark remains a popular type of wood for various
handicraft
Handicraft
Handicraft, more precisely expressed as artisanic handicraft, sometimes also called artisanry, is a type of work where useful and decorative devices are made completely by hand or by using only simple tools. It is a traditional main sector of craft. Usually the term is applied to traditional means...
s and arts.
Birch bark also contains substances of medicinal and chemical interest. Some of those products (such as
betulin
Betulin
Betulin is an abundant naturally occurring triterpene. It is commonly isolated from the bark of birch trees and forms up to 30% of the dry weight of the extractive . The purpose of the compound in the bark is not known...
) also have fungicidal properties that help preserve bark artifacts, as well as food preserved in bark containers.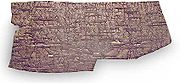 Collection and storage
Birch bark can be removed fairly easily from the trunk or branches, living or recently dead, by cutting a slit lengthwise through the bark and pulling or prying it away from the wood. The best time for collection is spring or early summer, as the bark is of better quality and most easily removed.
Removing the outer (light) layer of bark from the trunk of a living tree may not kill it, but probably weakens it and makes it more prone to
infection
Infection
An infection is the colonization of a host organism by parasite species. Infecting parasites seek to use the host's resources to reproduce, often resulting in disease...
s. Removal of the inner (dark) layer, the
phloem
Phloem
In vascular plants, phloem is the living tissue that carries organic nutrients , in particular, glucose, a sugar, to all parts of the plant where needed. In trees, the phloem is the innermost layer of the bark, hence the name, derived from the Greek word "bark"...
, kills the tree by preventing the flow of
sap
Sap
Sap may refer to:* Plant sap, the fluid transported in xylem cells or phloem sieve tube elements of a plant* Sap , a village in the Dunajská Streda District of Slovakia...
to the
root
Root
In vascular plants, the root is the organ of a plant that typically lies below the surface of the soil. This is not always the case, however, since a root can also be aerial or aerating . Furthermore, a stem normally occurring below ground is not exceptional either...
s.
To prevent it from rolling up during storage, the bark should be spread open and kept pressed flat.
Working
Birch bark can be cut with a sharp
knife
Knife
A knife is a cutting tool with an exposed cutting edge or blade, hand-held or otherwise, with or without a handle. Knives were used at least two-and-a-half million years ago, as evidenced by the Oldowan tools...
, and worked like cardboard. For sharp bending, the fold should be scored (scratched) first with a blunt
stylus
Stylus
A stylus is a writing utensil, or a small tool for some other form of marking or shaping, for example in pottery. The word is also used for a computer accessory . It usually refers to a narrow elongated staff, similar to a modern ballpoint pen. Many styli are heavily curved to be held more easily...
.
Fresh bark can be worked as is; bark that has dried up (before or after collection) should be softened by steaming, by soaking in warm water, or over a fire.
Uses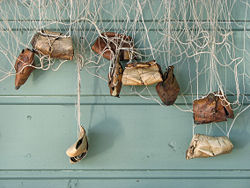 Birch bark was a valuable construction material in any part of the world where birch trees were available. Containers like wrappings, bags, baskets,
box
Box
Box describes a variety of containers and receptacles for permanent use as storage, or for temporary use often for transporting contents. The word derives from the Greek πύξος , "box, boxwood"....
es, or
quiver
Quiver
A quiver is a container for arrows. Quivers have been traditionally made of leather, bark, wood, furs and other natural materials; modern quivers are often made of metal and plastic....
s were made by most societies well before
pottery
Pottery
Pottery is the material from which the potteryware is made, of which major types include earthenware, stoneware and porcelain. The place where such wares are made is also called a pottery . Pottery also refers to the art or craft of the potter or the manufacture of pottery...
was invented. Other uses include:
Birch bark also makes an outstanding
tinder
Tinder
Tinder is easily combustible material used to ignite fires by rudimentary methods. A small fire consisting of tinder is then used to ignite kindling. Anything that can be ignited by a match can be considered tinder; or by more rigorous definition, anything that begins to glow under a shower of...
, as the inner layers will stay dry even through heavy rainstorms. To render birch bark useless as tinder, it must be soaked for an extended period of time.
See also
Mazinibaganjigan

Mazinibaganjigan

Mazinibaganjigan is an ancient folk art made by the Ojibwe , Cree and other Algonquian peoples who use birch bark, by biting down on small pieces of birch bark to form intricate designs. It is also known as mazinashkwemaganjigan and ozhibaganjigan...


(Ojibwa

Ojibwa

The Ojibwe or Chippewa are among the largest groups of Native Americans–First Nations north of Mexico. They are divided between Canada and the United States. In Canada, they are the third-largest population among First Nations, surpassed only by Cree and Inuit...


birch bark decorative designs)
Wiigwaasabak (Ojibwa birch bark scrolls)
"Wiigwaas" entry in Wiktionary
External links
The Birch Bark Torch, a Wilderness Way Magazines article by Kevin Finney. dead link Archive of the original page
Birchbark articles from the NativeTech site.
Birch and Birch Bark, an article by John Zasada at a University of Minnesota

University of Minnesota

The University of Minnesota, Twin Cities is a public research university located in Minneapolis and St. Paul, Minnesota, United States. It is the oldest and largest part of the University of Minnesota system and has the fourth-largest main campus student body in the United States, with 52,557...


site.
Birch Bark Canoe Building Courses at the North House Folk School, Minnesota

Minnesota

Minnesota is a U.S. state located in the Midwestern United States. The twelfth largest state of the U.S., it is the twenty-first most populous, with 5.3 million residents. Minnesota was carved out of the eastern half of the Minnesota Territory and admitted to the Union as the thirty-second state...


.
Birch Bark Canoe page on the site of the Algonquins of Pikwàganagàn.
http://www.davidmosesbridges.com (Traditional Wabanaki Birch-Bark Craft)
Bureau of Catholic Indian Missions Digital Image Collection at Marquette University; keyword: birch bark.