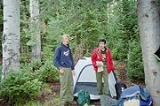 Camping
Camping is an outdoor
recreation
Recreation
Recreation is an activity of leisure, leisure being discretionary time. The "need to do something for recreation" is an essential element of human biology and psychology. Recreational activities are often done for enjoyment, amusement, or pleasure and are considered to be "fun"...
al activity. The participants (known as campers) leave
urban area
Urban area
An urban area is characterized by higher population density and vast human features in comparison to areas surrounding it. Urban areas may be cities, towns or conurbations, but the term is not commonly extended to rural settlements such as villages and hamlets.Urban areas are created and further...
s, their home region, or
civilization
Civilization
Civilization is a sometimes controversial term that has been used in several related ways. Primarily, the term has been used to refer to the material and instrumental side of human cultures that are complex in terms of technology, science, and division of labor. Such civilizations are generally...
and enjoy nature while spending one or several nights outdoors, usually at a
campsite
Campsite
A campsite or camping pitch is a place used for overnight stay in the outdoors. In British English a campsite is an area, usually divided into a number of pitches, where people can camp overnight using tents or camper vans or caravans; this British English use of the word is synonymous with the...
. Camping may involve the use of a
tent
Tent
A tent is a shelter consisting of sheets of fabric or other material draped over or attached to a frame of poles or attached to a supporting rope. While smaller tents may be free-standing or attached to the ground, large tents are usually anchored using guy ropes tied to stakes or tent pegs...
,
caravan
Travel trailer
A travel trailer or caravan is towed behind a road vehicle to provide a place to sleep which is more comfortable and protected than a tent . It provides the means for people to have their own home on a journey or a vacation, without relying on a motel or hotel, and enables them to stay in places...
, motorhome, cabin, a primitive structure, or no shelter at all. In many parts of the world, 'camping' refers exclusively to the use of tents or similar portable structures.
Camping as a recreational activity became popular in the early 20th century.