Mallet
A
mallet
is a kind of
hammer
Hammer
A hammer is a tool meant to deliver an impact to an object. The most common uses are for driving nails, fitting parts, forging metal and breaking up objects. Hammers are often designed for a specific purpose, and vary widely in their shape and structure. The usual features are a handle and a head,...
, usually of
rubber
Rubber
Natural rubber, also called India rubber or caoutchouc, is an elastomer that was originally derived from latex, a milky colloid produced by some plants. The plants would be 'tapped', that is, an incision made into the bark of the tree and the sticky, milk colored latex sap collected and refined...
,or sometimes
wood
Wood
Wood is a hard, fibrous tissue found in many trees. It has been used for hundreds of thousands of years for both fuel and as a construction material. It is an organic material, a natural composite of cellulose fibers embedded in a matrix of lignin which resists compression...
smaller than a
maul
Maul
A splitting maul also known as a block buster, or block splitter is a heavy, long-handled hammer used for splitting a piece of wood along its grain. One side of its head is like a sledgehammer, and the other side is like an axe.- Wedged mauls :...
or beetle and usually with a relatively large head.
Tools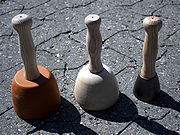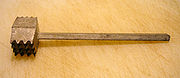 Tool mallets come in different types, the most common of which are:
Less common mallets include:
Rawhide mallets, which may employ rawhide covering a steel head, or simply consist of rolled-up rawhide, are used for leather

Leather

Leather is a durable and flexible material created via the tanning of putrescible animal rawhide and skin, primarily cattlehide. It can be produced through different manufacturing processes, ranging from cottage industry to heavy industry.-Forms:...


work, jewellery

Jewellery

Jewellery or jewelry is a form of personal adornment, such as brooches, rings, necklaces, earrings, and bracelets.With some exceptions, such as medical alert bracelets or military dog tags, jewellery normally differs from other items of personal adornment in that it has no other purpose than to...


, and assembling electric motor

Electric motor

An electric motor converts electrical energy into mechanical energy.Most electric motors operate through the interaction of magnetic fields and current-carrying conductors to generate force...


s and delicate machinery.
Plastic

Plastic

A plastic material is any of a wide range of synthetic or semi-synthetic organic solids used in the manufacture of industrial products. Plastics are typically polymers of high molecular mass, and may contain other substances to improve performance and/or reduce production costs...


mallets, made of nylon

Nylon

Nylon is a generic designation for a family of synthetic polymers known generically as polyamides, first produced on February 28, 1935, by Wallace Carothers at DuPont's research facility at the DuPont Experimental Station...


, polycarbonate

Polycarbonate

PolycarbonatePhysical PropertiesDensity 1.20–1.22 g/cm3Abbe number 34.0Refractive index 1.584–1.586FlammabilityV0-V2Limiting oxygen index25–27%Water absorption – Equilibrium0.16–0.35%Water absorption – over 24 hours0.1%...


, or polystyrene

Polystyrene

Polystyrene ) also known as Thermocole, abbreviated following ISO Standard PS, is an aromatic polymer made from the monomer styrene, a liquid hydrocarbon that is manufactured from petroleum by the chemical industry...


are used especially in leatherwork and jewellery.
Split head mallets, which have removable faces which can be changed to an appropriate material for the job.
Beetle mallet, or a large mallet with a circular wood or plastic head, with rounded ends about 18 inches to 15 inched in diameter, with a handle about 3 foot (0.9144 m) long. It is used by paviours for putting paving stones into position when bedding. Beetles are also used in jobs such as timber framing

Timber framing

Timber framing , or half-timbering, also called in North America "post-and-beam" construction, is the method of creating structures using heavy squared off and carefully fitted and joined timbers with joints secured by large wooden pegs . It is commonplace in large barns...


to shift the bases of large wooden posts, fit joints, and drive in pegs.
Dead blow mallets

Dead blow hammer

A dead blow hammer is a specialized mallet helpful in minimizing damage to the struck surface and in controlling striking force with minimal rebound from the striking surface...


, which have an internal cavity filled with steel or lead shot

Lead shot

Lead shot is a collective term for small balls of lead. These were the original projectiles for muskets and early rifles, but today lead shot is fired primarily from shotguns. It is also used for a variety of other purposes...


. This addition evens out the time-impulse curve of the impact, enabling a more powerful blow to be delivered without risk of marring the target.
Mallets of various types are some of the oldest forms of
tool
Tool
A tool is a device that can be used to produce an item or achieve a task, but that is not consumed in the process. Informally the word is also used to describe a procedure or process with a specific purpose. Tools that are used in particular fields or activities may have different designations such...
s, and have been found in
stone age
Stone Age
The Stone Age is a broad prehistoric period, lasting about 2.5 million years , during which humans and their predecessor species in the genus Homo, as well as the earlier partly contemporary genera Australopithecus and Paranthropus, widely used exclusively stone as their hard material in the...
gravesites.
Musical instruments
Mallets used as drumsticks are often used to strike a
marimba
Marimba
The marimba is a musical instrument in the percussion family. It consists of a set of wooden keys or bars with resonators. The bars are struck with mallets to produce musical tones. The keys are arranged as those of a piano, with the accidentals raised vertically and overlapping the natural keys ...
,
xylophone
Xylophone
The xylophone is a musical instrument in the percussion family that consists of wooden bars struck by mallets...
,
glockenspiel
Glockenspiel
A glockenspiel is a percussion instrument composed of a set of tuned keys arranged in the fashion of the keyboard of a piano. In this way, it is similar to the xylophone; however, the xylophone's bars are made of wood, while the glockenspiel's are metal plates or tubes, and making it a metallophone...
,
metallophone
Metallophone
A metallophone is any musical instrument consisting of tuned metal bars which are struck to make sound, usually with a mallet.Metallophones have been used in music for hundreds of years. There are several different types used in Balinese and Javanese gamelan ensembles, including the gendér, gangsa...
, or
vibraphone
Vibraphone
The vibraphone, sometimes called the vibraharp or simply the vibes, is a musical instrument in the struck idiophone subfamily of the percussion family....
, collectively referred to as mallet percussion. They usually have shafts made of
rattan
Rattan
Rattan is the name for the roughly 600 species of palms in the tribe Calameae, native to tropical regions of Africa, Asia and Australasia.- Structure :...
,
birch
Birch
Birch is a tree or shrub of the genus Betula , in the family Betulaceae, closely related to the beech/oak family, Fagaceae. The Betula genus contains 30–60 known taxa...
, or
fiberglass
Fiberglass
Glass fiber is a material consisting of numerous extremely fine fibers of glass.Glassmakers throughout history have experimented with glass fibers, but mass manufacture of glass fiber was only made possible with the invention of finer machine tooling...
. Rattan shafts are more flexible than the other materials. Heads vary in size, shape, and material. They may be made of
metal
Metal
A metal , is an element, compound, or alloy that is a good conductor of both electricity and heat. Metals are usually malleable and shiny, that is they reflect most of incident light...
, plastic, rubber, or wood, and some are wrapped with
felt
Felt
Felt is a non-woven cloth that is produced by matting, condensing and pressing woollen fibres. While some types of felt are very soft, some are tough enough to form construction materials. Felt can be of any colour, and made into any shape or size....
,
cord
Cord
Cord may refer to:* String or rope* Cord , a trimming made of multiple strands of yarn twisted together* The spinal cord* Cord Automobile, a former American car marque founded by Errett Lobban Cord* The cord , used to measure firewood...
, or
yarn
Yarn
Yarn is a long continuous length of interlocked fibres, suitable for use in the production of textiles, sewing, crocheting, knitting, weaving, embroidery and ropemaking. Thread is a type of yarn intended for sewing by hand or machine. Modern manufactured sewing threads may be finished with wax or...
. Heavier heads produce louder sounds. Harder heads produce sharper and louder sounds and generate more overtones.
Toys
Mallets are commonly used as children's toys. Lightweight wooden mallets are used for peg toys. Toy mallets are also used in games such as
Whac-A-Mole
Whac-A-Mole
Whac-A-Mole is an arcade redemption game. A typical Whac-A-Mole machine consists of a large, waist-level cabinet with five holes in its top and a large, soft, black mallet. Each hole contains a single plastic mole and the machinery necessary to move it up and down. Once the game starts, the moles...
. Another type of toy mallet is a plastic mallet made of soft, hollow
vinyl
Vinyl
A vinyl compound is any organic compound that contains a vinyl group ,which are derivatives of ethene, CH2=CH2, with one hydrogen atom replaced with some other group...
, with
bellows
Bellows
A bellows is a device for delivering pressurized air in a controlled quantity to a controlled location.Basically, a bellows is a deformable container which has an outlet nozzle. When the volume of the bellows is decreased, the air escapes through the outlet...
and a built-in whistle, so that when the mallet is struck, it produces a sharp, chirping sound.
Sport and culture
Bat mallets are used to "knock in" new English Willow cricket bats
Carnival High striker

High striker

A high striker, also known as a strength tester, or strongman game, is an attraction used in funfairs, fundraisers, and carnivals. It operates by utilizing the lever where one end holds a puck attached to the tower and the other end is struck by the person or contestant using a hammer or mallet....



croquet

Croquet

Croquet is a lawn game, played both as a recreational pastime and as a competitive sport. It involves hitting plastic or wooden balls with a mallet through hoops embedded into the grass playing court.-History:...


mallets
polo

Polo

Polo is a team sport played on horseback in which the objective is to score goals against an opposing team. Sometimes called, "The Sport of Kings", it was highly popularized by the British. Players score by driving a small white plastic or wooden ball into the opposing team's goal using a...


mallets
mallets used in courts by judges, known as gavel

Gavel

A gavel is a small ceremonial mallet commonly made of hardwood, typically fashioned with a handle and often struck against a sound block to enhance its sounding qualities. It is a symbol of the authority and right to act officially in the capacity of a chair or presiding officer. It is used to call...


s
Cartoons
The accidents received from mistreatment of wooden mallets in the workplace became a classic gag in the
Looney Tunes
Looney Tunes
Looney Tunes is a Warner Bros. animated cartoon series. It preceded the Merrie Melodies series and was Warner Bros.'s first animated theatrical series. Since its first official release, 1930's Sinkin' in the Bathtub, the series has become a worldwide media franchise, spawning several television...
Hanna-Barbera
Hanna-Barbera
Hanna-Barbera Productions, Inc. was an American animation studio that dominated North American television animation during the second half of the 20th century...
Nickelodeon
Nickelodeon
Nickelodeon is a US cable TV channel.Nickelodeon may also refer to:-In television:*Spinoffs of the Nickelodeon channel:** Nickelodeon Magazine, a children's magazine.** Nickelodeon Universe, an amusement park....
Disney cartoons and 3D. Characters like
Snagglepuss
Snagglepuss
Snagglepuss is a Hanna-Barbera cartoon character created in 1959, a pink anthropomorphic mountain lion voiced by Daws Butler. He is best known for his famous catchphrase, "Heavens to Murgatroyd!", along with phrases such as "Exit, stage left!" Snagglepuss was originally known as "Snaggletooth"...
,
Toucan Sam
Toucan Sam
Toucan Sam is the cartoon mascot for Froot Loops breakfast cereal. The character has been featured in advertising since the 1960s. He exhibits the ability to smell out Froot Loops from great distances and invariably locates a concealed bowl of the cereal while intoning, "Follow my nose! It always...
,
Lightning McQueen
Lightning McQueen
Lightning McQueen, typically referred to by his surname McQueen, and occasionally called "Stickers" by his girlfriend Sally , is an anthropomorphic racecar and the main protagonist in the 2006 animated Pixar film Cars, and the deuteragonist of its sequel Cars 2...
,
Roger Rabbit
,
Tony the Tiger
Frosted Flakes
Kellogg's Frosted Flakes is a breakfast cereal first introduced by the Kellogg Company. It consists of corn flakes "frosted" or coated with sugar. The "Frosted Flakes" name is used by Kellogg's in United States and Canada. The cereal was first introduced in 1951 as Sugar Frosted Flakes...
,
Bugs Bunny
Bugs Bunny
Bugs Bunny is a animated character created in 1938 at Leon Schlesinger Productions, later Warner Bros. Cartoons. Bugs is an anthropomorphic gray rabbit and is famous for his flippant, insouciant personality and his portrayal as a trickster. He has primarily appeared in animated cartoons, most...
,
Donald Duck
Donald Duck
Donald Fauntleroy Duck is a cartoon character created in 1934 at Walt Disney Productions and licensed by The Walt Disney Company. Donald is an anthropomorphic white duck with a yellow-orange bill, legs, and feet. He typically wears a sailor suit with a cap and a black or red bow tie. Donald is most...
,
Daffy Duck
Daffy Duck
Daffy Duck is an animated cartoon character in the Warner Bros. Looney Tunes and Merrie Melodies series of cartoons, often running the gamut between being the best friend and sometimes arch-rival of Bugs Bunny...
and
Tom and Jerry
Tom and Jerry
Tom and Jerry are the cat and mouse cartoon characters that were evolved starting in 1939.Tom and Jerry also may refer to:Cartoon works featuring the cat and mouse so named:* The Tom and Jerry Show...
made use of mallets as part of their arsenal in the Golden Age of animation.
In
anime
Anime
is the Japanese abbreviated pronunciation of "animation". The definition sometimes changes depending on the context. In English-speaking countries, the term most commonly refers to Japanese animated cartoons....
and
Manga
Manga
Manga is the Japanese word for "comics" and consists of comics and print cartoons . In the West, the term "manga" has been appropriated to refer specifically to comics created in Japan, or by Japanese authors, in the Japanese language and conforming to the style developed in Japan in the late 19th...
, it is very common for an angry character to pull out a large mallet, via hammerspace, and attack the person or thing that is angering him/her.