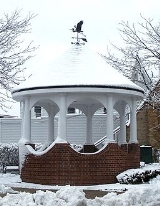 Gazebo
A
gazebo
is a
pavilion structure
Pavilion (structure)
In architecture a pavilion has two main meanings.-Free-standing structure:Pavilion may refer to a free-standing structure sited a short distance from a main residence, whose architecture makes it an object of pleasure. Large or small, there is usually a connection with relaxation and pleasure in...
, sometimes
octagonal
, that may be built, in parks, gardens, and spacious public areas. Gazebos are freestanding or attached to a garden wall, roofed, and open on all sides; they provide
shade
Shade
Shade is the blocking of sunlight by any object, and also the shadow created by that object. Shade also consists of the colors grey, black, white, etc...
, shelter, ornamental features in a
landscape
Landscaping
Landscaping refers to any activity that modifies the visible features of an area of land, including:# living elements, such as flora or fauna; or what is commonly referred to as gardening, the art and craft of growing plants with a goal of creating a beautiful environment within the landscape.#...
, and a place to rest. Some gazebos in public parks are large enough to serve as
bandstand
Bandstand
A bandstand is a circular or semicircular structure set in a park, garden, pier, or indoor space, designed to accommodate musical bands performing concerts...
s or rain shelters.
Gazebos include
pagoda
Pagoda
A pagoda is the general term in the English language for a tiered tower with multiple eaves common in Nepal, India, China, Japan, Korea, Vietnam and other parts of Asia. Some pagodas are used as Taoist houses of worship. Most pagodas were built to have a religious function, most commonly Buddhist,...
s, pavilions,
kiosk
Kiosk
Kiosk is a small, separated garden pavilion open on some or all sides. Kiosks were common in Persia, India, Pakistan, and in the Ottoman Empire from the 13th century onward...
s,
belvedere
Belvedere (structure)
Belvedere is an architectural term adopted from Italian , which refers to any architectural structure sited to take advantage of such a view. A belvedere may be built in the upper part of a building so as to command a fine view...
s,
follies
Folly
In architecture, a folly is a building constructed primarily for decoration, but either suggesting by its appearance some other purpose, or merely so extravagant that it transcends the normal range of garden ornaments or other class of building to which it belongs...
, alambras,
pergola
Pergola
A pergola, arbor or arbour is a garden feature forming a shaded walkway, passageway or sitting area of vertical posts or pillars that usually support cross-beams and a sturdy open lattice, often upon which woody vines are trained...
s, and
rotunda
Rotunda (architecture)
A rotunda is any building with a circular ground plan, sometimes covered by a dome. It can also refer to a round room within a building . The Pantheon in Rome is a famous rotunda. A Band Rotunda is a circular bandstand, usually with a dome...
s.