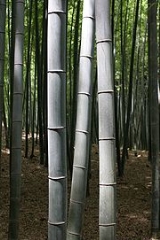 Bamboo
Bamboo
is a group of
perennial
Perennial plant
A perennial plant or simply perennial is a plant that lives for more than two years. The term is often used to differentiate a plant from shorter lived annuals and biennials. The term is sometimes misused by commercial gardeners or horticulturalists to describe only herbaceous perennials...
evergreen
Evergreen
In botany, an evergreen plant is a plant that has leaves in all seasons. This contrasts with deciduous plants, which completely lose their foliage during the winter or dry season.There are many different kinds of evergreen plants, both trees and shrubs...
s in the true grass family
Poaceae
Poaceae
The Poaceae is a large and nearly ubiquitous family of flowering plants. Members of this family are commonly called grasses, although the term "grass" is also applied to plants that are not in the Poaceae lineage, including the rushes and sedges...
, subfamily
Bambusoideae
Bambusoideae
The Bambusoideae is a subfamily of the true grass family Poaceae, and is characterized by having 3 stigmas and are mostly tree-like. However, there are uncertainties at practically every taxonomic level within the Bambusoideae, and different types of data often result in support for differing...
, tribe
Bambuseae
. Giant bamboos are the largest members of the grass family.
In bamboo, the internodal regions of the
stem
Stem
-Science:* Plant stem, the above ground structures that have vascular tissue and that support leaves and flowers Also see similar:**Stipe **Stipe * Stem cell...
are hollow and the vascular bundles in the cross section are scattered throughout the stem instead of in a cylindrical arrangement. The dicotyledonous
woody
Woody plant
A woody plant is a plant that uses wood as its structural tissue. These are typically perennial plants whose stems and larger roots are reinforced with wood produced adjacent to the vascular tissues. The main stem, larger branches, and roots of these plants are usually covered by a layer of...
xylem
Xylem
Xylem is one of the two types of transport tissue in vascular plants. . The word xylem is derived from the Classical Greek word ξυλον , meaning "wood"; the best-known xylem tissue is wood, though it is found throughout the plant...
is also absent.
Bamboo
is a group of
perennial
Perennial plant
A perennial plant or simply perennial is a plant that lives for more than two years. The term is often used to differentiate a plant from shorter lived annuals and biennials. The term is sometimes misused by commercial gardeners or horticulturalists to describe only herbaceous perennials...
evergreen
Evergreen
In botany, an evergreen plant is a plant that has leaves in all seasons. This contrasts with deciduous plants, which completely lose their foliage during the winter or dry season.There are many different kinds of evergreen plants, both trees and shrubs...
s in the true grass family
Poaceae
Poaceae
The Poaceae is a large and nearly ubiquitous family of flowering plants. Members of this family are commonly called grasses, although the term "grass" is also applied to plants that are not in the Poaceae lineage, including the rushes and sedges...
, subfamily
Bambusoideae
Bambusoideae
The Bambusoideae is a subfamily of the true grass family Poaceae, and is characterized by having 3 stigmas and are mostly tree-like. However, there are uncertainties at practically every taxonomic level within the Bambusoideae, and different types of data often result in support for differing...
, tribe
Bambuseae
. Giant bamboos are the largest members of the grass family.
In bamboo, the internodal regions of the
stem
Stem
-Science:* Plant stem, the above ground structures that have vascular tissue and that support leaves and flowers Also see similar:**Stipe **Stipe * Stem cell...
are hollow and the vascular bundles in the cross section are scattered throughout the stem instead of in a cylindrical arrangement. The dicotyledonous
woody
Woody plant
A woody plant is a plant that uses wood as its structural tissue. These are typically perennial plants whose stems and larger roots are reinforced with wood produced adjacent to the vascular tissues. The main stem, larger branches, and roots of these plants are usually covered by a layer of...
xylem
Xylem
Xylem is one of the two types of transport tissue in vascular plants. . The word xylem is derived from the Classical Greek word ξυλον , meaning "wood"; the best-known xylem tissue is wood, though it is found throughout the plant...
is also absent. The absence of secondary growth
wood
Wood
Wood is a hard, fibrous tissue found in many trees. It has been used for hundreds of thousands of years for both fuel and as a construction material. It is an organic material, a natural composite of cellulose fibers embedded in a matrix of lignin which resists compression...
causes the stems of monocots, even of
palms
Arecaceae
Arecaceae or Palmae , are a family of flowering plants, the only family in the monocot order Arecales. There are roughly 202 currently known genera with around 2600 species, most of which are restricted to tropical, subtropical, and warm temperate climates...
and large bamboos, to be columnar rather than tapering.
Bamboos are some of the fastest growing plants in the world, as some species have been recorded as growing up to 100 cm (39.4 in) within a 24 hour period due to a unique
rhizome
Rhizome
In botany and dendrology, a rhizome is a characteristically horizontal stem of a plant that is usually found underground, often sending out roots and shoots from its nodes...
-dependent system.
Bamboos are of notable economic and cultural significance in
South Asia
South Asia
South Asia, also known as Southern Asia, is the southern region of the Asian continent, which comprises the sub-Himalayan countries and, for some authorities , also includes the adjoining countries to the west and the east...
, South East Asia and
East Asia
East Asia
East Asia or Eastern Asia is a subregion of Asia that can be defined in either geographical or cultural terms...
, being used for
building material
Building material
Building material is any material which is used for a construction purpose. Many naturally occurring substances, such as clay, sand, wood and rocks, even twigs and leaves have been used to construct buildings. Apart from naturally occurring materials, many man-made products are in use, some more...
s, as a food source, and as a versatile raw product.
Genus and geography
More than 70
genera
Genus
In biology, a genus is a low-level taxonomic rank used in the biological classification of living and fossil organisms, which is an example of definition by genus and differentia...
are divided into about 1,450 species. Bamboo species are found in diverse climates, from cold mountains to hot tropical regions. They occur across East Asia, from 50°N latitude in
Sakhalin
Sakhalin
Sakhalin or Saghalien, is a large island in the North Pacific, lying between 45°50' and 54°24' N.It is part of Russia, and is Russia's largest island, and is administered as part of Sakhalin Oblast...
through to
Northern Australia
Northern Australia
The term northern Australia is generally known to include two State and Territories, being Queensland and the Northern Territory . The part of Western Australia north of latitude 26° south—a definition widely used in law and State government policy—is also usually included...
, and west to
India
India
India , officially the Republic of India , is a country in South Asia. It is the seventh-largest country by geographical area, the second-most populous country with over 1.2 billion people, and the most populous democracy in the world...
and the
Himalayas
Himalayas
The Himalaya Range or Himalaya Mountains Sanskrit: Devanagari: हिमालय, literally "abode of snow"), usually called the Himalayas or Himalaya for short, is a mountain range in Asia, separating the Indian subcontinent from the Tibetan Plateau...
. They also occur in
sub-Saharan Africa
Sub-Saharan Africa
Sub-Saharan Africa as a geographical term refers to the area of the African continent which lies south of the Sahara. A political definition of Sub-Saharan Africa, instead, covers all African countries which are fully or partially located south of the Sahara...
, and in the
Americas
Americas
The Americas, or America , are lands in the Western hemisphere, also known as the New World. In English, the plural form the Americas is often used to refer to the landmasses of North America and South America with their associated islands and regions, while the singular form America is primarily...
from the Mid-Atlantic United States south to
Argentina
Argentina
Argentina , officially the Argentine Republic , is the second largest country in South America by land area, after Brazil. It is constituted as a federation of 23 provinces and an autonomous city, Buenos Aires...
and
Chile
Chile
Chile ,officially the Republic of Chile , is a country in South America occupying a long, narrow coastal strip between the Andes mountains to the east and the Pacific Ocean to the west. It borders Peru to the north, Bolivia to the northeast, Argentina to the east, and the Drake Passage in the far...
, reaching their southernmost point anywhere, at 47°S latitude. Continental
Europe
Europe
Europe is, by convention, one of the world's seven continents. Comprising the westernmost peninsula of Eurasia, Europe is generally 'divided' from Asia to its east by the watershed divides of the Ural and Caucasus Mountains, the Ural River, the Caspian and Black Seas, and the waterways connecting...
is not known to have any native species of bamboo.
There have recently been some attempts to grow bamboo on a commercial basis in the
Great Lakes region
African Great Lakes
The African Great Lakes are a series of lakes and the Rift Valley lakes in and around the geographic Great Rift Valley formed by the action of the tectonic East African Rift on the continent of Africa...
of eastern-central
Africa
Africa
Africa is the world's second largest and second most populous continent, after Asia. At about 30.2 million km² including adjacent islands, it covers 6% of the Earth's total surface area and 20.4% of the total land area...
, especially in
Rwanda
Rwanda
Rwanda or , officially the Republic of Rwanda , is a country in central and eastern Africa with a population of approximately 11.4 million . Rwanda is located a few degrees south of the Equator, and is bordered by Uganda, Tanzania, Burundi and the Democratic Republic of the Congo...
. Companies in the United States are growing, harvesting and distributing species such as Henon and Moso.
Growth
Bamboo is one of the fastest-growing plants on Earth with reported growth rates of 100 cm (39.4 in) in 24 hours. However, the growth rate is dependent on local soil and climatic conditions as well as species, and a more typical growth rate for many commonly cultivated bamboos in temperate climates is in the range of 3-10 cm (1-4 inches) per day during the growing period. Primarily growing in regions of warmer climates during the Cretaceous period, vast fields existed in what is now Asia. Some of the largest timber bamboo can grow over 30 metres (98.4 ft) tall, and be as large as 6-8 inches in diameter. However, the size range for mature bamboo is species dependent, with the smallest bamboos reaching only several inches high at maturity. A typical height range that would cover many of the common bamboos grown in the United States is 15-40 feet, depending on species.
Unlike trees, individual bamboo culms emerge from the ground at their full diameter and grow to their full height in a single
growing season
Growing season
In botany, horticulture, and agriculture the growing season is the period of each year when native plants and ornamental plants grow; and when crops can be grown....
of 3–4 months. During these several months, each new shoot grows vertically into a culm with no branching out until the majority of the mature height is reached. Then the branches extend from the nodes and leafing out occurs. In the next year, the pulpy wall of each
culm
Culm
Culm, in botanical context, originally referred to a stem of any type of plant. It is derived from the Latin word for 'stalk' and now specifically refers to the above-ground or aerial stems of grasses and sedges....
or stem slowly hardens. During the third year, the culm further hardens. The shoot is now considered a fully mature culm. Over the next 2–5 years (depending on species), fungus and mold begin to form on the outside of the culm, which eventually penetrate and overcome the culm. Around 5 – 8 years later (species and climate dependent), the fungal and mold growth cause the culm to collapse and decay. This brief life means culms are ready for harvest and suitable for use in construction within about 3 – 7 years. Individual bamboo culms do not get any taller or larger in diameter in subsequent years than they do in their first year, and they do not replace any growth that is lost from pruning or natural breakage. Bamboos have a wide range of hardiness depending on species and locale. Small or young specimens of an individual species will produce small culms initially. As the clump and its rhizome system matures, taller and larger culms will be produced each year until the plant approaches its particular species limits of height and diameter.
Many tropical bamboo species will die at or near freezing temperatures, while some of the hardier or so-called temperate bamboos can survive temperatures as low as -29 °C. Some of the hardiest bamboo species can be grown in places as cold as USDA Plant Hardiness Zones 5-6, although they typically will defoliate and may even lose all above-ground growth; yet the rhizomes will survive and send up shoots again the next spring. In milder climates, such as USDA Zone 8 and above, some hardy bamboo may remain fully leafed out year around. For information on the characteristics of individual bamboo species, the site
www.bambooweb.info
maintains an extensive catalog of photographs as well as data on height, diameter, sun/shade preferences, and hardiness.
Mass flowering
Most bamboo species flower infrequently. In fact, many bamboos only flower at intervals as long as 65 or 120 years. These taxa exhibit mass flowering (or gregarious flowering), with all plants in a particular species flowering worldwide over a several year period. The longest mass flowering interval known is 130 years, and is found for all the species
Phyllostachys bambusoides
(Sieb. & Zucc.). In this species, all plants of the same stock flower at the same time, regardless of differences in geographic locations or climatic conditions, and then the bamboo dies. The lack of environmental impact on the time of flowering indicates the presence of some sort of "alarm clock" in each cell of the plant which signals the diversion of all energy to flower production and the cessation of vegetative growth. This mechanism, as well as the evolutionary cause behind it, is still largely a mystery.
One theory to explain the
evolution
Evolution
Evolution is any change across successive generations in the heritable characteristics of biological populations. Evolutionary processes give rise to diversity at every level of biological organisation, including species, individual organisms and molecules such as DNA and proteins.Life on Earth...
of this semelparous mass flowering is the predator satiation hypothesis. This theory argues that by fruiting at the same time, a population increases the survival rate of their seeds by flooding the area with fruit so that even if predators eat their fill, there will still be seeds left over. By having a flowering cycle longer than the lifespan of the rodent predators, bamboos can regulate animal populations by causing starvation during the period between flowering events. Thus, according to this hypothesis, the death of the adult clone is due to resource exhaustion, as it would be more effective for parent plants to devote all resources to creating a large seed crop than to hold back energy for their own regeneration.
A second theory, the fire cycle hypothesis, argues that periodic flowering followed by death of the adult plants has evolved as a mechanism to create disturbance in the habitat, thus providing the seedlings with a gap in which to grow. This hypothesis argues that the dead culms create a large fuel load, and also a large target for lightning strikes, increasing the likelihood of wildfire. Because bamboos can be aggressive as early successional plants, the seedlings would be able to outstrip other plants and take over the space left by their parents.
However, both have been disputed for different reasons. The predator satiation theory does not explain why the flowering cycle is 10 times longer than the lifespan of the local rodents, something not predicted by the theory. The bamboo fire cycle theory is considered by a few scientists to be unreasonable; they argue that fires only result from humans and there is no natural fire in India. This notion is considered wrong based on distribution of lightning strike data during the dry season throughout India. However, another argument against this theory is the lack of precedent for any living organism to harness something as unpredictable as lightning strikes to increase its chance of survival as part of natural evolutionary progress.
The mass fruiting also has direct economic and ecological consequences, however. The huge increase in available fruit in the forests often causes a boom in rodent populations, leading to increases in disease and famine in nearby human populations. For example, there are devastating consequences when the
Melocanna bambusoides
population flowers and fruits once every 30–35 years
http://www.britannica.com/EBchecked/topic/396788/muli-bamboo
around the
Bay of Bengal
Bay of Bengal
The Bay of Bengal , the largest bay in the world, forms the northeastern part of the Indian Ocean. It resembles a triangle in shape, and is bordered mostly by the Eastern Coast of India, southern coast of Bangladesh and Sri Lanka to the west and Burma and the Andaman and Nicobar Islands to the...
. The death of the bamboo plants following their fruiting means the local people lose their building material, and the large increase in bamboo fruit leads to a rapid increase in rodent populations. As the number of rodents increase, they consume all available food, including grain fields and stored food, sometimes leading to
famine
Famine
A famine is a widespread scarcity of food, caused by several factors including crop failure, overpopulation, or government policies. This phenomenon is usually accompanied or followed by regional malnutrition, starvation, epidemic, and increased mortality. Every continent in the world has...
. These rats can also carry dangerous diseases such as
typhus
Typhus
Epidemic typhus is a form of typhus so named because the disease often causes epidemics following wars and natural disasters...
, typhoid, and
bubonic plague
Bubonic plague
Plague is a deadly infectious disease that is caused by the enterobacteria Yersinia pestis, named after the French-Swiss bacteriologist Alexandre Yersin. Primarily carried by rodents and spread to humans via fleas, the disease is notorious throughout history, due to the unrivaled scale of death...
, which can reach epidemic proportions as the rodents increase in number. The relationship between rat populations and bamboo flowering was examined in a 2009
Nova
NOVA (TV series)
Nova is a popular science television series from the U.S. produced by WGBH Boston. It can be seen on the Public Broadcasting Service in the United States, and in more than 100 other countries...
documentary Rat Attack.
In any case, flowering produce masses of seeds, typically suspended from the ends of the branches. These seeds will give rise to a new generation of plants that may be identical in appearance to those that preceded the flowering, or they may also produce new cultivars with different characteristics, such as the presence or absence of striping or other changes in coloration of the culms.
Bamboo in animal diets
Soft bamboo shoots, stems, and leaves are the major food source of the giant panda of
China
China
Chinese civilization may refer to:* China for more general discussion of the country.* Chinese culture* Greater China, the transnational community of ethnic Chinese.* History of China* Sinosphere, the area historically affected by Chinese culture...
, the
red panda
Red Panda
The red panda , is a small arboreal mammal native to the eastern Himalayas and southwestern China. It is the only species of the genus Ailurus. Slightly larger than a domestic cat, it has reddish-brown fur, a long, shaggy tail, and a waddling gait due to its shorter front legs...
of Nepal and the
bamboo lemur
Bamboo lemur
The bamboo or gentle lemurs are the lemurs in genus Hapalemur. They are medium sized primates that live exclusively on Madagascar...
s of
Madagascar
Madagascar
The Republic of Madagascar is an island country located in the Indian Ocean off the southeastern coast of Africa...
. Rats will eat the fruits as described above.
Mountain gorilla
Mountain Gorilla
The Mountain Gorilla is one of the two subspecies of the Eastern Gorilla. There are two populations. One is found in the Virunga volcanic mountains of Central Africa, within three National Parks: Mgahinga, in south-west Uganda; Volcanoes, in north-west Rwanda; and Virunga in the eastern Democratic...
s of Africa also feed on bamboo, and have been documented consuming bamboo sap which was fermented and alcoholic; chimps and
elephant
Elephant
Elephants are large land mammals in two extant genera of the family Elephantidae: Elephas and Loxodonta, with the third genus Mammuthus extinct...
s of the region also eat the stalks.
Survival
The bamboo's underground
rhizomes
Rhizome
In botany and dendrology, a rhizome is a characteristically horizontal stem of a plant that is usually found underground, often sending out roots and shoots from its nodes...
give the plant an ability to stay alive through many natural disasters. They are reputed to have survived the atomic explosions in Japan in World War II.
Cultivation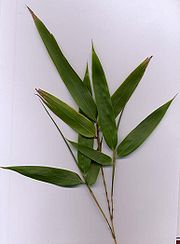 Commercial timber
Timber is harvested from cultivated and wild stands and some of the larger bamboos, particularly species in the genus
Phyllostachys
Phyllostachys
Phyllostachys is a genus of bamboo. The species are native to Asia with a large number of species found in Central China, but can now be found in many temperate and semi-tropical areas around the world as cultivated plants or escapes from cultivation...
, are known as "timber bamboos".
Harvesting
Bamboo used for construction purposes must be harvested when the culms reach their greatest strength and when
sugar
Sugar
Sugar is a class of edible crystalline carbohydrates, mainly sucrose, lactose, and fructose, characterized by a sweet flavor.Sucrose in its refined form primarily comes from sugar cane and sugar beet...
levels in the
sap
Sap
Sap may refer to:* Plant sap, the fluid transported in xylem cells or phloem sieve tube elements of a plant* Sap , a village in the Dunajská Streda District of Slovakia...
are at their lowest, as high sugar content increases the ease and rate of pest infestation.
Harvesting of bamboo is typically undertaken according to the following cycles:
1) Life cycle of the culm
:
As each individual culm goes through a 5–7 year life cycle, culms are ideally allowed to reach this level of maturity prior to full capacity harvesting. The clearing out or thinning of culms, particularly older decaying culms, helps to ensure adequate light and resources for new growth. Well-maintained clumps may have a productivity three to four times that of an unharvested wild clump.
2) Life cycle of the culm
:
Consistent with the life cycle described above, bamboo is harvested from two to three years through to five to seven years, depending on the species.
3) Annual cycle
:
As all growth of new bamboo occurs during the
wet season
Wet season
The the wet season, or rainy season, is the time of year, covering one or more months, when most of the average annual rainfall in a region occurs. The term green season is also sometimes used as a euphemism by tourist authorities. Areas with wet seasons are dispersed across portions of the...
, disturbing the clump during this phase will potentially damage the upcoming crop. Also during this high rain fall period, sap levels are at their highest, and then diminish towards the
dry season
Dry season
The dry season is a term commonly used when describing the weather in the tropics. The weather in the tropics is dominated by the tropical rain belt, which oscillates from the northern to the southern tropics over the course of the year...
. Picking immediately prior to the wet/growth season may also damage new shoots. Hence, harvesting is best at the end of the dry season, a few months prior to the start of the wet.
4) Daily cycle
:
During the height of the day,
photosynthesis
Photosynthesis
Photosynthesis is a chemical process that converts carbon dioxide into organic compounds, especially sugars, using the energy from sunlight. Photosynthesis occurs in plants, algae, and many species of bacteria, but not in archaea. Photosynthetic organisms are called photoautotrophs, since they can...
is at its peak, producing the highest levels of sugar in sap, making this the least ideal time of day to harvest. Many traditional practitioners believe the best time to harvest is at dawn or dusk on a waning moon. This practice makes sense in terms of both moon cycles, visibility and daily cycles.
Leaching
Leaching is the removal of sap after harvest. In many areas of the world, the sap levels in harvested bamboo are reduced either through leaching or postharvest photosynthesis.
Examples of this practice include:
Cut bamboo is raised clear of the ground and leant against the rest of the clump for one to two weeks until leaves turn yellow to allow full consumption of sugars by the plant.
A similar method is undertaken, but with the base of the culm standing in fresh water, either in a large drum or stream to leach out sap.
Cut culms are immersed in a running stream and weighted down for three to four weeks.
Water is pumped through the freshly cut culms, forcing out the sap (this method is often used in conjunction with the injection of some form of treatment).
In the process of water leaching, the bamboo is dried slowly and evenly in the shade to avoid cracking in the outer skin of the bamboo, thereby reducing opportunities for pest infestation.
Durability of bamboo in construction is directly related to how well it is handled from the moment of planting through harvesting, transportation, storage, design, construction and maintenance. Bamboo harvested at the correct time of year and then exposed to ground contact or rain, will break down just as quickly as incorrectly harvested material.
Ornamental bamboos
There are two general patterns for the growth of bamboo: "clumping" (sympodial) and "running" (monopodial). Clumping bamboo species tend to spread slowly, as the growth pattern of the rhizomes is to simply expand the root mass gradually, similar to ornamental grasses. "Running" bamboos, on the other hand, need to be taken care of in cultivation because of their potential for aggressive behavior. They spread mainly through their
root
Root
In vascular plants, the root is the organ of a plant that typically lies below the surface of the soil. This is not always the case, however, since a root can also be aerial or aerating . Furthermore, a stem normally occurring below ground is not exceptional either...
s and/or rhizomes, which can spread widely underground and send up new culms to break through the surface. Running bamboo species are highly variable in their tendency to spread; this is related to both the species and the
soil
Soil
Soil is a natural body consisting of layers of mineral constituents of variable thicknesses, which differ from the parent materials in their morphological, physical, chemical, and mineralogical characteristics...
and
climate
Climate
Climate encompasses the statistics of temperature, humidity, atmospheric pressure, wind, rainfall, atmospheric particle count and other meteorological elemental measurements in a given region over long periods...
conditions. Some can send out runners of several metres a year, while others can stay in the same general area for long periods. If neglected, over time they can cause problems by moving into adjacent areas.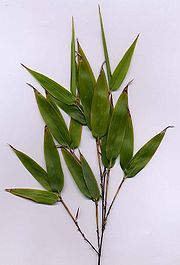 Bamboos seldom and unpredictably flower, and the frequency of flowering varies greatly from species to species. Once flowering takes place, a plant will decline and often die entirely. Although there are always a few species of bamboo in flower at any given time, collectors desiring to grow specific bamboo typically obtain their plants as divisions of already-growing plants, rather than waiting for seeds to be produced.
Regular maintenance will indicate major growth directions and locations. Once the rhizomes are cut, they are typically removed; however, rhizomes take a number of months to mature and an immature, severed rhizome will usually cease growing if left in-ground. If any bamboo shoots come up outside of the bamboo area afterwards, their presence indicates the precise location of the missed rhizome. The fibrous roots that radiate from the rhizomes do not produce more bamboo if they stay in the ground.
Bamboo growth can also be controlled by surrounding the plant or grove with a physical barrier. Typically, concrete and specially-rolled HDPE plastic are the materials used to create the barrier, which is placed in a 60 – deep ditch around the planting, and angled out at the top to direct the rhizomes to the surface. (This is only possible if the barrier is installed in a straight line.) If the containment area is small, this method can be detrimental to ornamental bamboo as the bamboo within can become rootbound and start to display the signs of any unhealthy containerized plant. In addition, rhizomes can escape over the top, or beneath the barrier if it is not deep enough. Strong rhizomes and tools can penetrate plastic barriers, so care must be taken. In small areas, regular maintenance may be the best method for controlling the running bamboos. Barriers and edging are unnecessary for clump-forming bamboos, although clump-forming bamboos may eventually need to have portions removed if they become too large.
The
ornamental plant
Ornamental plant
Ornamental plants are plants that are grown for decorative purposes in gardens and landscape design projects, as house plants, for cut flowers and specimen display...
sold in containers and marketed as "lucky bamboo" is actually an entirely unrelated plant,
Dracaena sanderiana
Dracaena sanderiana
Dracaena sanderiana is a species of the genus Dracaena. The species was named after the German-English gardener Henry Frederick Conrad Sander . It is also known as Dracaena braunii, Ribbon Dracaena, Lucky Bamboo, Belgian Evergreen or sometimes Ribbon PlantD...
. It is a resilient member of the lily family that grows in the dark, tropical rainforests of Southeast Asia and Africa. Lucky bamboo has long been associated with the Eastern practice of
feng shui
Feng shui
Feng shui ' is a Chinese system of geomancy believed to use the laws of both Heaven and Earth to help one improve life by receiving positive qi. The original designation for the discipline is Kan Yu ....
. On a similar note,
Japanese knotweed
Japanese knotweed
Japanese Knotweed is a large, herbaceous perennial plant, native to eastern Asia in Japan, China and Korea...
is also sometimes mistaken for a bamboo, but it grows wild and is considered an invasive species.
Culinary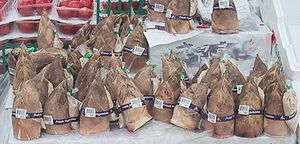 The shoots (new culms that come out of the ground) of bamboo are edible. They are used in numerous Asian dishes and broths, and are available in supermarkets in various sliced forms, in both fresh and canned versions. The shoots of the giant bamboo (
Cathariostachys madagascariensis
Cathariostachys madagascariensis
Cathariostachys madagascariensis, the Madagascar giant bamboo or Volohosy in Malagasy language, is a bamboo species in the genus Cathariostachys found in Madagascar....
) contain
cyanide
Cyanide
A cyanide is a chemical compound that contains the cyano group, -C≡N, which consists of a carbon atom triple-bonded to a nitrogen atom. Cyanides most commonly refer to salts of the anion CN−. Most cyanides are highly toxic....
. Despite this, the
golden bamboo lemur
Golden Bamboo Lemur
The Golden Bamboo Lemur or Golden Lemur is a medium sized bamboo lemur endemic to southeastern Madagascar. It is listed as an endangered species due to habitat loss. The population is declining with only about 1000 individuals...
ingests many times the quantity of toxin that would kill a human.
The bamboo shoot in its fermented state forms an important ingredient in cuisines across the Himalayas. In Assam, India, for example, it is called
khorisa
. In Nepal, a delicacy popular across ethnic boundaries consists of bamboo shoots fermented with turmeric and oil, and cooked with potatoes into a dish that usually accompanies rice (
alu tama
in Nepali).
In
Indonesia
Indonesia
Indonesia , officially the Republic of Indonesia , is a country in Southeast Asia and Oceania. Indonesia is an archipelago comprising approximately 13,000 islands. It has 33 provinces with over 238 million people, and is the world's fourth most populous country. Indonesia is a republic, with an...
, they are sliced thin and then boiled with
santan
(thick coconut milk) and spices to make a dish called
gulai rebung
. Other recipes using bamboo shoots are
sayur lodeh
Sayur lodeh
Sayur lodeh is a popular vegetable in coconut milk soup in Indonesian cuisine. Common ingredients are young jackfruit, eggplant, chayote, melinjo, long beans, tofu, tempeh all cooked in coconut milk soups and sometimes enrichen with chicken or beef stock....
(mixed vegetables in coconut milk) and
lun pia
(sometimes written
lumpia
Lumpia
Lumpia are pastries of Chinese origin similar to fresh popiah or fried spring rolls popular in Southeast Asia. The term lumpia derives from Hokkien lunpia , which is an alternate term for popiah...
: fried wrapped bamboo shoots with vegetables). The shoots of some species contain toxins that need to be leached or boiled out before they can be eaten safely.
Pickled bamboo, used as a condiment, may also be made from the
pith
Pith
Pith, or medulla, is a tissue in the stems of vascular plants. Pith is composed of soft, spongy parenchyma cells, which store and transport nutrients throughout the plant. In eudicots, pith is located in the center of the stem. In monocots, it extends also into flowering stems and roots...
of the young shoots.
The sap of young stalks tapped during the rainy season may be
fermented
Fermentation (wine)
The process of fermentation in wine turns grape juice into an alcoholic beverage. During fermentation, yeast interact with sugars in the juice to create ethanol, commonly known as ethyl alcohol, and carbon dioxide...
to make
ulanzi
(a sweet wine) or simply made into a soft drink. Bamboo leaves are also used as wrappers for steamed dumplings which usually contains glutinous rice and other ingredients.
In
Sambalpur
Sambalpur
Sambalpur is a city in Sambalpur district in the Indian state of Orissa.It lies at a distance of 321 km from the state capital Bhubaneswar. In the year 1876, Sambalpur was established as a municipality. It is currently the headquarters and the largest city of Sambalpur district. It is also...
, India, the tender shoots are grated into
juliennes
Julienning
Julienne is a culinary knife cut in which the food item is cut into long thin strips, not unlike matchsticks. Sometimes called 'shoe string', e.g. 'shoestring fries'...
and
fermented
Fermentation (food)
Fermentation in food processing typically is the conversion of carbohydrates to alcohols and carbon dioxide or organic acids using yeasts, bacteria, or a combination thereof, under anaerobic conditions. Fermentation in simple terms is the chemical conversion of sugars into ethanol...
to prepare
kardi
. The name is derived from the Sanskrit word for bamboo shoot,
karira
. This fermented bamboo shoot is used in various culinary preparations, notably
amil
, a sour vegetable soup. It is also made into pancakes using
rice flour
Rice flour
Rice flour is a form of flour made from finely milled rice. It is distinct from rice starch, which is usually produced by steeping rice in lye....
as a binding agent. The shoots that have turned a little fibrous are fermented, dried, and ground to sand-sized particles to prepare a garnish known as
hendua
. It is also cooked with tender pumpkin leaves to make sag green leaves.
The empty hollow in the stalks of larger bamboo is often used to cook food in many Asian cultures. Soups are boiled and rice is cooked in the hollows of fresh stalks of bamboo directly over a flame. Similarly, steamed tea is sometimes rammed into bamboo hollows to produce compressed forms of
Pu-erh tea
Pu-erh tea
Pu'er, Pu-erh, Puer, also Po Lei or Bolay is a variety of post-fermented tea produced in Yunnan province, China. Post-fermentation is a tea production style in which the tea leaves undergo a microbial fermentation process after they are dried and rolled. This is a Chinese specialty and is sometimes...
. Cooking food in bamboo is said to give the food a subtle but distinctive taste.
In addition, bamboo is frequently used for cooking utensils within many cultures, and is used in the manufacture of
chopsticks
Chopsticks
Chopsticks are small, often tapered, sticks used in pairs of equal length as the traditional eating utensils of China and its diaspora, Japan, Korea, Vietnam and Northern provinces of Laos, Thailand and Burma. Generally believed to have originated in ancient China, they can also be found in some...
. In modern times, some see bamboo tools as an ecofriendly alternative to other manufactured utensils.
Medicine
Bamboo is used in Chinese medicine for treating infections and healing.
It is a low-calorie source of potassium. It is known for its sweet taste and as a good source of nutrients and protein.
In
Ayurveda
Ayurveda
Ayurveda or ayurvedic medicine is a system of traditional medicine native to India and a form of alternative medicine. In Sanskrit, words , meaning "longevity", and , meaning "knowledge" or "science". The earliest literature on Indian medical practice appeared during the Vedic period in India,...
, the Indian system of traditional medicine, the silicious concretion found in the culms of the bamboo stem is called
banslochan
. It is known as
tabashir
or
tawashir
in
Unani-Tibb
the Indo-Persian system of medicine. In English, it is called "bamboo manna". This concretion is said to be a tonic for the respiratory diseases. It was earlier obtained from
Melocanna bambusoides
and is very hard to get. In most Indian literature,
Bambusa arundinacea
is described as the source of bamboo manna.
Construction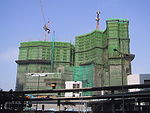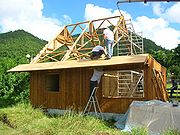 In its natural form, bamboo as a construction material is traditionally associated with the cultures of South Asia, East Asia and the South Pacific, to some extent in Central and South America and by extension in the aesthetic of
Tiki culture
Tiki culture
Tiki kitsch culture is a 20th-century theme used in Polynesian-style restaurants and clubs originally in the United States and then, to a lesser degree, around the world...
. In China and India, bamboo was used to hold up
simple suspension bridge
Simple suspension bridge
A simple suspension bridge is an early type of bridge that is supported entirely from anchors at either end, and has no towers or piers. However, it may have saddles...
s, either by making cables of split bamboo or twisting whole culms of sufficiently pliable bamboo together. One such bridge in the area of Qian-Xian is referenced in writings dating back 960 A.D. and may have stood since as far back as the 3rd century B.C., due largely to continuous maintenance. It has long been used as scaffolding; the practice has been banned in China for buildings over six storeys but is still in continuous use for skyscrapers in
Hong Kong
Hong Kong
Hong Kong is one of two Special Administrative Regions of the People's Republic of China , the other being Macau. A city-state situated on China's south coast and enclosed by the Pearl River Delta and South China Sea, it is renowned for its expansive skyline and deep natural harbour...
. In the Philippines, the
nipa hut
Nipa Hut
The nipa hut also known as bahay kubo, is an indigenous house used in the Philippines. The native house has traditionally been constructed with bamboo tied together and covered with a thatched roof using nipa/anahaw leaves....
is a fairly typical example of the most basic sort of
housing
House
A house is a building or structure that has the ability to be occupied for dwelling by human beings or other creatures. The term house includes many kinds of different dwellings ranging from rudimentary huts of nomadic tribes to free standing individual structures...
where bamboo is used; the walls are split and woven bamboo, and bamboo slats and poles may be used as its support. In
Japanese architecture
Japanese architecture
' originated in prehistoric times with simple pit-houses and stores that were adapted to a hunter-gatherer population. Influence from Han Dynasty China via Korea saw the introduction of more complex grain stores and ceremonial burial chambers....
, bamboo is used primarily as a supplemental and/or decorative element in buildings such as fencing, fountains, grates and gutters, largely due to the ready abundance of quality timber.
Various structural shapes may be made by training the bamboo to assume them as it grows. Squared sections of bamboo are created by compressing the growing stalk within a square form. Arches may similarly be created by forcing the bamboo's growth with the desired form, and costs much less than it would to assume the same shape in regular wood timber. More traditional forming methods, such as the application of heat and pressure, may also be used to curve or flatten the cut stalks.
Bamboo can be cut and laminated into sheets and planks. This process involves cutting stalks into thin strips, planing them flat, boiling and drying the strips, which are then glued, pressed and finished. Generally long used in China and Japan, entrepreneurs started developing and selling laminated
bamboo floor
Bamboo floor
Bamboo floors are manufactured from the bamboo plant. The majority of today's bamboo flooring products originate in China and other portions of Asia. The species of bamboo used for flooring is commonly known as "Moso".- Characteristics :...
ing in the West during the mid 1990s; products made from bamboo laminate, including flooring, cabinetry, furniture and even decorations, are currently surging in popularity, transitioning from the boutique market to mainstream providers such as Home Depot. The bamboo goods industry (which also includes small goods, fabric, etc.) is expected to be worth $25 billion by the year 2012. The quality of bamboo laminate varies between manufacturers and the maturity of the plant from which it was harvested (six years being considered the optimum); the sturdiest products fulfil their claims of being up to three times harder than
oak
Oak
An oak is a tree or shrub in the genus Quercus , of which about 600 species exist. "Oak" may also appear in the names of species in related genera, notably Lithocarpus...
hardwood, but others may be softer than standard hardwood.
Bamboo intended for use in construction should be treated to resist insects and rot. The most common solution for this purpose is a mixture of
borax
Borax
Borax, also known as sodium borate, sodium tetraborate, or disodium tetraborate, is an important boron compound, a mineral, and a salt of boric acid. It is usually a white powder consisting of soft colorless crystals that dissolve easily in water.Borax has a wide variety of uses...
and
boric acid
Boric acid
Boric acid, also called hydrogen borate or boracic acid or orthoboric acid or acidum boricum, is a weak acid of boron often used as an antiseptic, insecticide, flame retardant, as a neutron absorber, and as a precursor of other chemical compounds. It exists in the form of colorless crystals or a...
. Another process involves boiling cut bamboo to remove the starches that attract insects.
Bamboo has been used as reinforcement for concrete in those areas where it is plentiful, though dispute exists over its effectiveness in the various studies done on the subject. Bamboo does have the necessary strength to fulfil this function, but untreated bamboo will swell from the absorption of water from the concrete, causing it to crack. Several procedures must be followed to overcome this shortcoming.
Several institutes, businesses, and universities are working on the bamboo as an ecological construction material. In the United States and France, it is possible to get houses made entirely of bamboo, which are earthquake and cyclone-resistant and internationally certified. In Bali, Indonesia, an international primary school, named the
Green School
, is constructed entirely of bamboo, due to its beauty, and advantages as a sustainable resource. There are three ISO standards for bamboo as a construction material.
In parts of India, bamboo is used for drying clothes indoors, both as the rod high up near the ceiling to hang clothes on, as well as the stick that is wielded with acquired expert skill to hoist, spread, and to take down the clothes when dry. It is also commonly used to make ladders, which apart from their normal function, are also used for carrying bodies in funerals. In
Maharashtra
Maharashtra
Maharashtra is a state located in India. It is the second most populous after Uttar Pradesh and third largest state by area in India...
, the bamboo groves and forests are called VeLuvana, the name
VeLu
for bamboo is most likely from Sanskrit, while
Vana
means forest.
Furthermore, bamboo is also used to create flagpoles for
saffron
Saffron
Saffron is a spice derived from the flower of Crocus sativus, commonly known as the saffron crocus. Crocus is a genus in the family Iridaceae. Each saffron crocus grows to and bears up to four flowers, each with three vivid crimson stigmas, which are each the distal end of a carpel...
-coloured,
Hindu
Hindu
Hindu refers to an identity associated with the philosophical, religious and cultural systems that are indigenous to the Indian subcontinent. As used in the Constitution of India, the word "Hindu" is also attributed to all persons professing any Indian religion...
religious flags, which can be seen fluttering across India, especially
Bihar
Bihar
Bihar is a state in eastern India. It is the 12th largest state in terms of geographical size at and 3rd largest by population. Almost 58% of Biharis are below the age of 25, which is the highest proportion in India....
and
Uttar Pradesh
Uttar Pradesh
Uttar Pradesh abbreviation U.P. , is a state located in the northern part of India. With a population of over 200 million people, it is India's most populous state, as well as the world's most populous sub-national entity...
, as well as in
Guyana
Guyana
Guyana , officially the Co-operative Republic of Guyana, previously the colony of British Guiana, is a sovereign state on the northern coast of South America that is culturally part of the Anglophone Caribbean. Guyana was a former colony of the Dutch and of the British...
and
Suriname
Suriname
Suriname , officially the Republic of Suriname , is a country in northern South America. It borders French Guiana to the east, Guyana to the west, Brazil to the south, and on the north by the Atlantic Ocean. Suriname was a former colony of the British and of the Dutch, and was previously known as...
.
Bamboo is used for the structural members of the India pavilion at
Expo 2010
Expo 2010
Expo 2010, officially Expo 2010 Shanghai China was held on both banks of the Huangpu River in the city of Shanghai, China, from May 1 to October 31, 2010. It was a major World Expo in the tradition of international fairs and expositions, the first since 1992...
in
Shanghai
Shanghai
Shanghai is the largest city by population in China and the largest city proper in the world. It is one of the four province-level municipalities in the People's Republic of China, with a total population of over 23 million as of 2010...
. The pavilion is the world's largest bamboo dome, about 34 m in diameter, with bamboo beams/members overlaid with a ferro-cement slab, water proofing, copper plate, solar PV panels, a small windmill and live plants. A total of 30 km of bamboo were used. The dome is supported on 18-m-long steel piles and a series of steel ring beams. The bamboo was treated with borax and boric acid as a fire retardant and insecticide and bent in the required shape. The bamboo sections are joined with reinforcement bars and concrete mortar to achieve necessary lengths.
Furniture
Bamboo has a long history of use in
Asian furniture
Asian furniture
The term Asian furniture or sometimes referred to Oriental furniture is a type of furniture that originated from the continent of Asia. Sometimes people also think of Asian furniture as a style of furniture that has Asian accents...
.
Chinese bamboo furniture
Chinese furniture
The forms of Chinese furniture evolved along three distinct lineages which dates back to 1000 BC, based on frame and panel, yoke and rack and bamboo construction techniques...
is a distinct style based on millennia-long tradition.
Textiles
Because the fibers of bamboo are very short (less than 3mm), they are impossible to transform into yarn in a natural process. The usual process by which textiles labeled as being made of bamboo are produced uses only the rayon, that is being made out of the fibers with heavy employment of chemicals. To accomplish this, the fibers are broken down with chemicals and extruded through mechanical spinnerets; the chemicals include
lye
Lye
Lye is a corrosive alkaline substance, commonly sodium hydroxide or historically potassium hydroxide . Previously, lye was among the many different alkalis leached from hardwood ashes...
,
carbon disulfide
Carbon disulfide
Carbon disulfide is a colorless volatile liquid with the formula CS2. The compound is used frequently as a building block in organic chemistry as well as an industrial and chemical non-polar solvent...
and strong acids. Retailers have sold both end products as "bamboo fabric" to cash in on bamboo's current ecofriendly cachet; however, the Canadian Competition Bureau and the US
Federal Trade Commission
Federal Trade Commission
The Federal Trade Commission is an independent agency of the United States government, established in 1914 by the Federal Trade Commission Act...
, as of mid-2009, are cracking down on the practice of labeling bamboo rayon as natural bamboo fabric. Under the guidelines of both agencies, these products must be labeled as rayon with the optional qualifier "from bamboo".
Paper
Bamboo fiber has been used to make
paper
Paper
Paper is a thin material mainly used for writing upon, printing upon, drawing or for packaging. It is produced by pressing together moist fibers, typically cellulose pulp derived from wood, rags or grasses, and drying them into flexible sheets....
in China since early times. A high quality hand-made paper is still produced in small quantities. Coarse bamboo paper is still used to make
spirit money
Joss paper
Joss paper , also known as ghost money, are sheets of paper and/or paper-crafts made into burnt offerings which are common in traditional Chinese religious practices including the veneration of the deceased on holidays and special occasions...
in many Chinese communities.
Bamboo
pulps
Pulp (paper)
Pulp is a lignocellulosic fibrous material prepared by chemically or mechanically separating cellulose fibres from wood, fibre crops or waste paper. Wood pulp is the most common raw material in papermaking.-History:...
are mainly produced in China,
Myanmar
Myanmar
Burma , officially the Republic of the Union of Myanmar , is a country in Southeast Asia. Burma is bordered by China on the northeast, Laos on the east, Thailand on the southeast, Bangladesh on the west, India on the northwest, the Bay of Bengal to the southwest, and the Andaman Sea on the south....
,
Thailand
Thailand
Thailand , officially the Kingdom of Thailand , formerly known as Siam , is a country located at the centre of the Indochina peninsula and Southeast Asia. It is bordered to the north by Burma and Laos, to the east by Laos and Cambodia, to the south by the Gulf of Thailand and Malaysia, and to the...
and India and are used in printing and writing papers. The most common bamboo species used for paper are
Dendrocalamus asper
and
Bamboo bluemanea
. It is also possible to make
dissolving pulp
Dissolving pulp
Dissolving pulp is a bleached wood pulp that has a high cellulose content . It is produced chemically from the pulpwood, in a process that has a low yield...
from bamboo. The average fibre length is similar to hardwoods, but the properties of bamboo pulp are closer to softwoods pulps due to it having a very broad fibre length distribution. With the help of molecular tools, it is now possible to distinguish the superior fiber-yielding species/varieties even at juvenile stages of their growth which can help in unadulterated merchandise production.
Musical instruments
Bamboo's natural hollow form makes it an obvious choice for many instruments, particularly wind and percussion. There are numerous types of
bamboo flute
Bamboo flute
Flutes made of bamboo are found in many musical traditions.Some bamboo flutes include:Flute Country of Origin Atenteben Bashi Bansuri Chi Dizi Daegeum...
made all over the world, such as the
dizi
,
xiao
Xiao (flute)
The xiao is a Chinese vertical end-blown flute. It is generally made of dark brown bamboo . It is also sometimes called dòngxiāo , dòng meaning "hole." An ancient name for the xiāo is shùdí The xiao is a Chinese vertical end-blown flute. It is generally made of dark brown bamboo (called...
,
shakuhachi
Shakuhachi
The is a Japanese end-blown flute. It is traditionally made of bamboo, but versions now exist in ABS and hardwoods. It was used by the monks of the Fuke school of Zen Buddhism in the practice of...
,
palendag
Palendag
The palendag, also called Pulalu , Palandag , Pulala and Lumundeg is a type of Philippine bamboo flute, the largest one used by the Maguindanaon, a smaller type of this instrument is called the Hulakteb ....
and
jinghu
Jinghu
The jinghu is a Chinese bowed string instrument in the huqin family, used primarily in Beijing opera. It is the smallest and highest pitched instrument in the huqin family.-Construction:...
. In India, it is a very popular and highly respected musical instrument, available even to the poorest and the choice of many highly venerated maestros of classical music. It is known and revered above all as the divine flute forever associated with Lord Krishna, who is always portrayed holding a
bansuri
Bansuri
The bansuri is a transverse alto flute of Bangladesh, India and Nepal made from a single hollow shaft of bamboo with six or seven finger holes. An ancient musical instrument associated with cowherds and the pastoral tradition, it is intimately linked to the love story of Krishna and Radha, and is...
in sculptures and paintings. Four of the instruments used in
Polynesia
Polynesia
Polynesia is a subregion of Oceania, made up of over 1,000 islands scattered over the central and southern Pacific Ocean. The indigenous people who inhabit the islands of Polynesia are termed Polynesians and they share many similar traits including language, culture and beliefs...
for traditional
hula
Hula
Hula is a dance form accompanied by chant or song . It was developed in the Hawaiian Islands by the Polynesians who originally settled there. The hula dramatizes or portrays the words of the oli or mele in a visual dance form....
are made of bamboo:
nose flute
Nose flute
The nose flute is a popular musical instrument played in Polynesia and the Pacific Rim countries. Other versions are found in Africa, China, and India.- Hawaii :In the North Pacific, in the Hawaiian islands the nose flute was a common courting instrument...
, rattle, stamping pipes and the jaw harp. Bamboo may be used in the construction of the Australian
didgeridoo
Didgeridoo
The didgeridoo is a wind instrument developed by Indigenous Australians of northern Australia around 1,500 years ago and still in widespread usage today both in Australia and around the world. It is sometimes described as a natural wooden trumpet or "drone pipe"...
instead of the more traditional
eucalyptus
Eucalyptus
Eucalyptus is a diverse genus of flowering trees in the myrtle family, Myrtaceae. Members of the genus dominate the tree flora of Australia...
wood. In Indonesia and the Philippines, bamboo has been used for making various kinds of musical instruments, including the
kolintang
,
angklung
Angklung
The Angklung is a musical instrument made of two bamboo tubes attached to a bamboo frame. The tubes are carved to have a resonant pitch when struck and are tuned to octaves. The base of the frame is held in one hand, whilst the other hand shakes the instrument rapidly. This causes a repeating note...
and
bumbong
. Traditional Philippine
banda kawayan
(bamboo bands) use a variety of bamboo musical instruments, including the
marimba
Marimba
The marimba is a musical instrument in the percussion family. It consists of a set of wooden keys or bars with resonators. The bars are struck with mallets to produce musical tones. The keys are arranged as those of a piano, with the accidentals raised vertically and overlapping the natural keys ...
,
angklung
, panpipes and
bumbong
, as well as bamboo versions of western instruments, such as
clarinet
Clarinet
The clarinet is a musical instrument of woodwind type. The name derives from adding the suffix -et to the Italian word clarino , as the first clarinets had a strident tone similar to that of a trumpet. The instrument has an approximately cylindrical bore, and uses a single reed...
s,
saxophone
Saxophone
The saxophone is a conical-bore transposing musical instrument that is a member of the woodwind family. Saxophones are usually made of brass and played with a single-reed mouthpiece similar to that of the clarinet. The saxophone was invented by the Belgian instrument maker Adolphe Sax in 1846...
s, and
tuba
Tuba
The tuba is the largest and lowest-pitched brass instrument. Sound is produced by vibrating or "buzzing" the lips into a large cupped mouthpiece. It is one of the most recent additions to the modern symphony orchestra, first appearing in the mid-19th century, when it largely replaced the...
s. The
Las Piñas Bamboo Organ
Las Piñas Bamboo Organ
The Las Piñas Bamboo Organ in St. Joseph Parish Church, the parish church of Las Piñas City in the Philippines, is a nineteenth-century pipe organ made almost entirely from bamboo. The organ is declared a National Cultural Treasure of the country....
in the Philippines has pipes made of bamboo culms. The modern amplified string instrument, the
Chapman stick
Chapman Stick
The Chapman Stick is an electric musical instrument devised by Emmett Chapman in the early 1970s. A member of the guitar family, the Chapman Stick usually has ten or twelve individually tuned strings and has been used on music recordings to play bass lines, melody lines, chords or textures...
, is also constructed using bamboo. The
khene
Khene
The khene is a mouth organ of Lao origin whose pipes, which are usually made of bamboo, are connected with a small, hollowed-out hardwood reservoir into which air is blown, creating a sound similar to that of the violin...
(also spelled
khaen
,
kaen
and
khen
;
Lao
Lao language
Lao or Laotian is a tonal language of the Tai–Kadai language family. It is the official language of Laos, and also spoken in the northeast of Thailand, where it is usually referred to as the Isan language. Being the primary language of the Lao people, Lao is also an important second language for...
: ແຄນ,
Thai
Thai language
Thai , also known as Central Thai and Siamese, is the national and official language of Thailand and the native language of the Thai people, Thailand's dominant ethnic group. Thai is a member of the Tai group of the Tai–Kadai language family. Historical linguists have been unable to definitively...
: แคน) is a mouth organ of Lao origin whose pipes, which are usually made of bamboo, are connected with a small, hollowed-out hardwood reservoir into which air is blown, creating a sound similar to that of the violin. In the
Indian Ocean
Indian Ocean
The Indian Ocean is the third largest of the world's oceanic divisions, covering approximately 20% of the water on the Earth's surface. It is bounded on the north by the Indian Subcontinent and Arabian Peninsula ; on the west by eastern Africa; on the east by Indochina, the Sunda Islands, and...
island of Madagascar, the
valiha
Valiha
The valiha is a tube zither from Madagascar made from a species of local bamboo. It is played by plucking the strings, which may be made of metal or the bamboo skin which is pried up in long strands and propped up by small bridges made of pieces of dried gourd...
, a long tube zither made of a single bamboo stalk, is considered the national instrument.
Water processing
Bamboo as a versatile material is demonstrated by its use in
water desalination
Desalination
Desalination, desalinization, or desalinisation refers to any of several processes that remove some amount of salt and other minerals from saline water...
. A bamboo filter is used to remove the salt from
seawater
Seawater
Seawater is water from a sea or ocean. On average, seawater in the world's oceans has a salinity of about 3.5% . This means that every kilogram of seawater has approximately of dissolved salts . The average density of seawater at the ocean surface is 1.025 g/ml...
.
Landscaping
Bamboo is widely used in landscaping due to its ability to grow quickly in thick, tall sections. It makes an excellent privacy barrier, while also providing a nice aesthetic.
Tattoo Subject
Thanks to its longitudinal shape, the bamboo plant lends its form to spinal
tattoo
Tattoo
A tattoo is made by inserting indelible ink into the dermis layer of the skin to change the pigment. Tattoos on humans are a type of body modification, and tattoos on other animals are most commonly used for identification purposes...
s but also is a popular subject for
body art
Body art
Body art is art made on, with, or consisting of, the human body. The most common forms of body art are tattoos and body piercings, but other types include scarification, branding, scalpelling, shaping , full body tattoo and body painting.More extreme body art can involve things such as mutilation...
generally.
Angling
Due to its flexibility bamboo is also used to make
fishing rod
Fishing rod
A fishing rod or a fishing pole is a tool used to catch fish, usually in conjunction with the pastime of angling, and can also be used in competition casting. . A length of fishing line is attached to a long, flexible rod or pole: one end terminates in a hook for catching the fish...
s. The split cane rod is especially prized for
fly fishing
Fly fishing
Fly fishing is an angling method in which an artificial 'fly' is used to catch fish. The fly is cast using a fly rod, reel, and specialized weighted line. Casting a nearly weightless fly or 'lure' requires casting techniques significantly different from other forms of casting...
.
Firecracker
Bamboo has been traditionally used in Malaysia as a firecracker called a meriam buluh or bamboo cannon. Four feet long sections of bamboo are cut and a mixture of water and calcium carbide are introduced. The resulting acetylene gas is ignited with a stick producing a loud bang.
In Asian culture
Bamboo's long life makes it a Chinese symbol of longevity, while in India it is a symbol of friendship. The rarity of its
blossoming
Bamboo blossom
Bamboo blossom is a natural phenomenon in which the bamboos of a place will blossom and become hung with bamboo seeds. In China and India, "bamboo blossom" was traditionally seen as a curse or an indication of a starvation coming.- Mechanism :...
has led to the flowers' being regarded as a sign of impending famine. This may be due to rats feeding upon the profusion of flowers, then multiplying and destroying a large part of the local food supply. The most recent flowering began in May 2006 (see
Mautam
Mautam
Mautam is a cyclic ecological phenomenon that occurs every 48 years in the northeastern Indian states of Mizoram and Manipur, which are thirty percent covered by wild bamboo forests, as well as Chin State in Burma, particularly Hakha, Thantlang, Falam, Paletwa and Matupi Townships, creating a...
). Bamboo is said to bloom in this manner only about every 50 years (see 28–60 year examples in
FAO: 'gregarious' species table
).
In
Chinese culture
Culture of China
Chinese culture is one of the world's oldest and most complex. The area in which the culture is dominant covers a large geographical region in eastern Asia with customs and traditions varying greatly between towns, cities and provinces...
, the bamboo, plum blossom, orchid, and
chrysanthemum
Chrysanthemum
Chrysanthemums, often called mums or chrysanths, are of the genus constituting approximately 30 species of perennial flowering plants in the family Asteraceae which is native to Asia and northeastern Europe.-Etymology:...
(often known as
méi lán zhú jú
梅兰竹菊) are collectively referred to as the
Four Gentlemen
Four Gentlemen
The Four Gentlemen, also called the Four Noble Ones, in Chinese art refers to four plants: the orchid, the bamboo, the chrysanthemum, and the plum blossom. The term compares the four plants to Confucianist junzi, or "gentlemen"...
. These four plants also represent the four
season
Season
A season is a division of the year, marked by changes in weather, ecology, and hours of daylight.Seasons result from the yearly revolution of the Earth around the Sun and the tilt of the Earth's axis relative to the plane of revolution...
s and, in
Confucian
Confucianism
Confucianism is a Chinese ethical and philosophical system developed from the teachings of the Chinese philosopher Confucius . Confucianism originated as an "ethical-sociopolitical teaching" during the Spring and Autumn Period, but later developed metaphysical and cosmological elements in the Han...
ideology, four aspects of the
junzi
Junzi
Junzi or nobleman, was a term used by Confucius , to describe his ideal human. To Confucius, the functions of government and social stratification were facts of life to be sustained by ethical values; thus his ideal human was the junzi...
("prince" or "noble one"). The
pine
Pine
Pines are trees in the genus Pinus ,in the family Pinaceae. They make up the monotypic subfamily Pinoideae. There are about 115 species of pine, although different authorities accept between 105 and 125 species.-Etymology:...
(
sōng
松), the bamboo (
zhú
竹), and the plum blossom (
méi
梅) are also admired for their perseverance under harsh conditions, and are together known as the "
Three Friends of Winter
Three Friends of Winter
The Three Friends of Winter, also known as Suihan Sanyou, are the pine, bamboo, and plum. Every year, as the cold days deepen into the winter season, many plants begin to wither. That the pine, bamboo and plum do not was noted by the Chinese. Known by them as Three Friends of Winter, they entered...
" (岁寒三友
suìhán sānyǒu
) in Chinese culture. The "Three Friends of Winter" is traditionally used as a system of ranking in Japan, for example in
sushi
Sushi
is a Japanese food consisting of cooked vinegared rice combined with other ingredients . Neta and forms of sushi presentation vary, but the ingredient which all sushi have in common is shari...
sets or accommodations at a traditional
ryokan
Ryokan (inn)
A is a type of traditional Japanese inn that originated in the Edo period , when such inns served travelers along Japan's highways. They typically feature tatami-matted rooms, communal baths, and other public areas where visitors may wear yukata and talk with the owner.Ryokan are difficult to find...
. Pine (
matsu
松) is of the first rank, bamboo (
také
竹) is of second rank, and plum (
ume
梅) is of the third.
Bamboo,noble and useful
Bamboo, one of the "four gentlemen" (bamboo, orchid, plum blossom and chrysanthemum), plays such an important role in traditional Chinese culture that it is even regarded as a behaviour model of the gentleman. As bamboo has some features like upright, tenacity and hollow heart, people endow bamboo with integrity, elegance and plainness though it is not physically strong. Ancient Chinese poets wrote countless poems to praise bamboo, but actually they were truly talking about people like bamboo and express their understanding of what is a real gentleman should be like. According to Laws,an ancient poet Bai, Juyi (772-846) thought that to be a gentleman, a man doesn't need to be physically strong, but he must be mentally strong. He must be upright, perseverant, and, just as a bamboo is hollow-hearted, he should open his heart to accept anything that is benefit and never has arrogance and prejudice.
Bamboo is not only a symbol of gentleman, but also an important role in Buddhism. In the first century, Buddhism was introduced into China. As cannons of Buddhism don't allow its believers to do anything cruel to animals, meat, egg and fish were not allowed in the diet. However, people need something nutritional to live, thus, the tender bamboo shoot (it is called "sun" in Chinese) became a good choice. The bamboo shoot is nutritional and eating it does not violate the cannon. With thousands of years' development, how to eat bamboo shoot has become a part of cuisine system, especially for monks. A Buddhist monk named Zan Ning, wrote a manual of the bamboo shoot called "Sun Pu". He offered descriptions and recipes for many kinds of bamboo shoots.
Bamboo shoot has always been a traditional dish on Chinese's dinner table, especially in southern China.
In ancient time, as long as people have money to buy a big house with yard, they will always plant bamboos in their garden. Bamboo is a necessary element of Chinese culture, or even in the whole Asian civilization. People plant bamboos, eat bamboo shoots, paint bamboos, write poems for bamboos, and speak highly of gentlemen who are like bamboos. Bamboo, is not only a plant, but also a part of people's life.
In
Japan
Japan
Japan is an island nation in East Asia. Located in the Pacific Ocean, it lies to the east of the Sea of Japan, China, North Korea, South Korea and Russia, stretching from the Sea of Okhotsk in the north to the East China Sea and Taiwan in the south...
, a bamboo forest sometimes surrounds a Shinto
shrine
Jinja (Shinto)
A Shinto shrine is a structure whose main purpose is to house one or more Shinto kami....
as part of a sacred barrier against
evil
Evil
Evil is the violation of, or intent to violate, some moral code. Evil is usually seen as the dualistic opposite of good. Definitions of evil vary along with analysis of its root motive causes, however general actions commonly considered evil include: conscious and deliberate wrongdoing,...
. Many Buddhist temples also have bamboo groves.
In northern Indian state of
Assam
Assam
Assam , also, rarely, Assam Valley and formerly the Assam Province , is a northeastern state of India and is one of the most culturally and geographically distinct regions of the country...
, the fermented bamboo paste known as
khorisa
Cuisine of Assam
Assamese cuisine is the cuisine of Assam, a state in North-East India. It is a style of cooking that is a confluence of cooking habits of the hills that favor fermentation and drying as forms of food preservation, and those from the plains that provide fresh vegetables and abundance of fish from...
is known locally as a folk remedy for the treatment of impotence, infertility, and menstrual pains.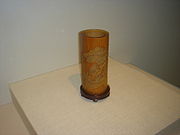 Bamboo plays an important part of the
culture of Vietnam
Culture of Vietnam
The Culture of Vietnam, an agricultural civilization based on the cultivation of wet rice, is one of the oldest in East Asia; the ancient Bronze age Dong Son culture is considered to be one of its most important progenitors...
. Bamboo symbolizes the spirit of
Vovinam
Vovinam
Vovinam is a Vietnamese martial art.Vovinam is practiced with and without weapons. It is based on the principle of between hard and soft. It includes training of the body as well as the mind. It uses force and reaction of the opponent. Vovinam also includes hand, elbow, kicks, escape- and levering...
(a Vietnamese martial arts):
cương nhu phối triển
(coordination between
hard and soft (martial arts)
Hard and soft (martial arts)
In martial arts, the terms hard and soft technique denote how forcefully a defender martial artist counters the force of an attack in armed and unarmed combat...
). Bamboo also symbolizes the Vietnamese hometown and Vietnamese soul: the gentlemanlike, straightforwardness, hard working, optimism, unity and adaptability. A Vietnamese proverb says: "When the bamboo is old, the bamboo sprouts appear", the meaning being
Vietnam
Vietnam
Vietnam – sometimes spelled Viet Nam , officially the Socialist Republic of Vietnam – is the easternmost country on the Indochina Peninsula in Southeast Asia. It is bordered by China to the north, Laos to the northwest, Cambodia to the southwest, and the South China Sea –...
will never be annihilated; if the previous generation dies, the children take their place. Therefore, the Vietnam nation and Vietnamese value will be maintained and developed eternally. Traditional Vietnamese villages are surrounded by thick bamboo hedges (
lũy tre
).
The
Song Dynasty
Song Dynasty
The Song Dynasty was a ruling dynasty in China between 960 and 1279; it succeeded the Five Dynasties and Ten Kingdoms Period, and was followed by the Yuan Dynasty. It was the first government in world history to issue banknotes or paper money, and the first Chinese government to establish a...
(960-1279 AD) Chinese scientist and
polymath
Polymath
A polymath is a person whose expertise spans a significant number of different subject areas. In less formal terms, a polymath may simply be someone who is very knowledgeable...
Shen Kuo
Shen Kuo
Shen Kuo or Shen Gua , style name Cunzhong and pseudonym Mengqi Weng , was a polymathic Chinese scientist and statesman of the Song Dynasty...
(1031–1095) used the evidence of underground petrified bamboo found in the dry northern climate of
Yan'an
Yan'an
Yan'an , is a prefecture-level city in the Shanbei region of Shaanxi province in China, administering several counties, including Zhidan County , which served as the Chinese communist capital before the city of Yan'an proper took that role....
,
Shanbei
Shanbei
Shanbei specifies the northern portion of Shaanxi province, Northwest China, and is a natural as well as cultural area, forming part of the Loess Plateau...
region,
Shaanxi
Shaanxi
' is a province in the central part of Mainland China, and it includes portions of the Loess Plateau on the middle reaches of the Yellow River in addition to the Qinling Mountains across the southern part of this province...
province to support his geological theory of gradual
climate change
Climate change
Climate change is a significant and lasting change in the statistical distribution of weather patterns over periods ranging from decades to millions of years. It may be a change in average weather conditions or the distribution of events around that average...
.
Other cultures
The ethnic group known as the
Bozo
Bozo people
The Bozo are a West African ethnic group located predominantly along the Niger River in Mali. The name Bozo is thought to derive from Bambara bo-so, 'Bamboo house'; the people accept it as referring to the whole of the ethnic group but use more specific clan names such as Sorogoye, Hain, and Tieye...
of
West Africa
West Africa
West Africa or Western Africa is the westernmost region of the African continent. Geopolitically, the UN definition of Western Africa includes the following 16 countries and an area of approximately 5 million square km:-Flags of West Africa:...
, take their name from the Bambara phrase
bo-so
, which means "bamboo house".
The bamboo is the national plant of St. Lucia.
Myths and legends
Several Asian cultures, including that of the
Andaman Islands
Andaman Islands
The Andaman Islands are a group of Indian Ocean archipelagic islands in the Bay of Bengal between India to the west, and Burma , to the north and east...
, believe humanity emerged from a bamboo stem. In the Philippine creation myth, legend tells that the first man and the first woman each emerged from split bamboo stems on an island created after the battle of the elemental forces (Sky and Ocean). In
Malaysia
n legends a similar story includes a man who dreams of a beautiful woman while sleeping under a bamboo plant; he wakes up and breaks the bamboo stem, discovering the woman inside. The
Japanese
Japanese folklore
The folklore of Japan is heavily influenced by both Shinto and Buddhism, the two primary religions in the country. It often involves humorous or bizarre characters and situations and also includes an assortment of supernatural beings, such as bodhisattva, kami , yōkai , yūrei ,...
folktale "Tale of the Bamboo Cutter" (
Taketori Monogatari
) tells of a princess from the Moon emerging from a shining bamboo section.
Hawaiian
Hawaiian Islands
The Hawaiian Islands are an archipelago of eight major islands, several atolls, numerous smaller islets, and undersea seamounts in the North Pacific Ocean, extending some 1,500 miles from the island of Hawaii in the south to northernmost Kure Atoll...
bamboo ('ohe) is a
kinolau
or body form of the
Polynesian
Polynesian mythology
Polynesian mythology is the oral traditions of the people of Polynesia, a grouping of Central and South Pacific Ocean island archipelagos in the Polynesian triangle together with the scattered cultures known as the Polynesian outliers...
creator god
Kāne
Kāne
In Hawaiian mythology, Kāne is considered the highest of the four major Hawaiian deities, along with Kanaloa, Kū, and Lono. He represented the god of procreation and was worshipped as ancestor of chiefs and commoners. Kāne is the creator and gives life associated with dawn, sun and sky...
.
Bamboo cane is also the weapon of
Vietnamese
Vietnamese people
The Vietnamese people are an ethnic group originating from present-day northern Vietnam and southern China. They are the majority ethnic group of Vietnam, comprising 86% of the population as of the 1999 census, and are officially known as Kinh to distinguish them from other ethnic groups in Vietnam...
legendary hero Saint Giong - who had grown up immediately and magically since the age of three because of his national liberating wish against Ân invaders.
An ancient Vietnamese legend (
The Hundred-knot Bamboo Tree
The Hundred-knot Bamboo Tree
The Hundred-knot Bamboo Tree is a Vietnamese fable and parable, and part of Vietnamese oral tradition. The story is included in anthologies of Vietnamese stories.-Story:...
) tells of a poor, young farmer who fell in love with his landlord's beautiful daughter. The farmer asked the landlord for his daughter's hand in marriage, but the proud landlord would not allow her to be bound in marriage to a poor farmer. The landlord decided to foil the marriage with an impossible deal; the farmer must bring him a "bamboo tree of one-hundred nodes". But
Buddha
Gautama Buddha
Siddhārtha Gautama was a spiritual teacher from the Indian subcontinent, on whose teachings Buddhism was founded. In most Buddhist traditions, he is regarded as the Supreme Buddha Siddhārtha Gautama (Sanskrit: सिद्धार्थ गौतम; Pali: Siddhattha Gotama) was a spiritual teacher from the Indian...
(
Bụt
) appeared to the farmer and told him that such a tree could be made from one-hundred nodes from several different trees.
Bụt
gave to him four magic words to attach the many nodes of bamboo:
Khắc nhập, khắc xuất
, which means "joined together immediately, fell apart immediately". The triumphant farmer returned to the landlord and demanded his daughter. Curious to see such a long bamboo, the landlord was magically joined to the bamboo when he touched it as the young farmer said the first two magic words. The story ends with the happy marriage of the farmer and the landlord's daughter after the landlord agreed to the marriage and asked to be separated from the bamboo.
In a Chinese legend, the Emperor Yao gave two of his daughters as a test for his potential to rule to the future Emperor Shun. Shun passed the test of being able to run his household with the two emperor's daughters as wives, and thus Yao made Shun his successors, bypassing his unworthy son. Later, Shun drowned in the
Xiang River
Xiang River
The Xiang River , in older transliterations as the Siang River or Hsiang River, is a river in southern China...
. The tears his two bereaved wives let fall upon the bamboos growing there explains the origin of
spotted bamboo
Spotted bamboo
Spotted bamboo refers to several species of bamboo, apparently within the genus Phyllostachys, also known as "teardrop" bamboo and as mottled bamboo, which are types of bamboo with stems that are mottled by dark spots...
. The two women later became goddesses.
As a writing surface
Bamboo was in widespread use in early China as a medium for written documents. The earliest surviving examples of such documents, written in ink on string-bound bundles of bamboo strips (or "slips"), date from the fifth century BC during the Warring States period. However, references in earlier texts surviving on other media make it clear that some precursor of these
Warring States period
Warring States Period
The Warring States Period , also known as the Era of Warring States, or the Warring Kingdoms period, covers the Iron Age period from about 475 BC to the reunification of China under the Qin Dynasty in 221 BC...
bamboo slips was in use as early as the late
Shang
Shang
The shang is a flat ritual upturned handbell employed by Bönpo and Asian shamans. The sizes of the shang range from approximately 3 to 20 inches in diameter. It is traditionally held to have originated in Zhangzhung and is symbolically similar to the tantric dril-bhu. Shang are traditionally...
period (from about 1250 BC).
Bamboo or wooden strips were the standard writing material during the
Han dynasty
Han Dynasty
The Han Dynasty was the second imperial dynasty of China, preceded by the Qin Dynasty and succeeded by the Three Kingdoms . It was founded by the rebel leader Liu Bang, known posthumously as Emperor Gaozu of Han. It was briefly interrupted by the Xin Dynasty of the former regent Wang Mang...
, and excavated examples have been found in abundance. Subsequently,
paper
History of paper
Paper was invented by the Chinese by 105 AD during the Han Dynasty and spread slowly to the west via Samarkand and Baghdad. Papermaking and manufacturing in Europe started in Spain and Sicily in the 10th century by the Muslims living there at the time, and slowly spread to Italy and South France...
began to displace bamboo and wooden strips from mainstream uses, and by the fourth century AD, bamboo had been largely abandoned as a medium for writing in China.
Several paper industries are surviving on bamboo forests. Ballarpur (Chandrapur, Maharstra) paper mills use bamboo for paper production.
As a weapon
Bamboo is used in several East Asian and South Asian martial arts.
In the ancient Tamil martial art of Silambam

Silambam

Silambam or silambattam is a weapon-based Dravidian martial art from Tamil Nadu in south India but also practised by the Tamil community of Sri Lanka and Malaysia. In Tamil, the word silambam refers to the bamboo staff which is the main weapon used in this style...


, fighters would hit each other rapidly with bamboo sticks.
In the Japanese martial art Kendo

Kendo

, meaning "Way of The Sword", is a modern Japanese martial art of sword-fighting based on traditional Japanese swordsmanship, or kenjutsu.Kendo is a physically and mentally challenging activity that combines strong martial arts values with sport-like physical elements.-Practitioners:Practitioners...


, bamboo is used to make the Shinai

Shinai

is a weapon used for practice and competition in kendo representing a Japanese sword. Shinai are also used in other martial arts, but may be styled differently from kendo shinai, and represented with different characters....


sword.
A bamboo stick can be made into a simple spear by sharpening one of the ends
Archery longbow and recurve bow limbs are commonly crafted with flat ground bamboo, and make superior weapons for bowhunting and target archery.
See also
Bamboo Farm and Coastal Gardens

Bamboo Farm and Coastal Gardens

Bamboo Farm and Coastal Gardens is an experimental research station and botanical garden located at 2 Canebrake Road, Savannah, Georgia. The gardens are open daily, except holidays, without charge....



Menstruocalamus

Menstruocalamus

Menstruocalamus is a genus of bamboo....



Plant textiles
International Network for Bamboo and Rattan

International Network for Bamboo and Rattan

The International Network for Bamboo and Rattan is an independent intergovernmental organization established in 1997 to develop and promote innovative solutions to poverty and environmental sustainability using bamboo and rattan....



Big Bambú

Big Bambú

Big Bambú: You Can't, You Don't, and You Won't Stop is a piece of installation art by identical twin artists Doug and Mike Starn.Big Bambú had its first installation in the artists' studio in Beacon, New York. In the summer of 2010 it was the featured exhibition at the Metropolitan Museum of Art...



Bamboo Processing Machine

Bamboo Processing Machine

Bamboo processing machines are used to prepare bamboo for use in manufacture of handicrafts, furniture and other products.- Bamboo processing tasks :Bamboo processing machines are usually built to perform a single task such as:...



Xiang River goddesses

Xiang River goddesses

The Xiang River goddesses were daughters of the Emperor Yao who were said to have been married by him to his chosen successor, and eventually emperor, Shun, as a sort of test of his administrative abilities: later they became goddesses....



External links