 Sleeping bag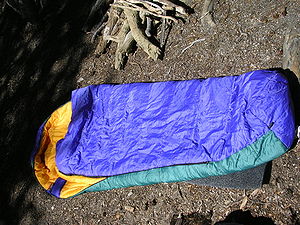 A
sleeping bag
is a protective "bag" for a person to
sleep
Sleep
Sleep is a naturally recurring state characterized by reduced or absent consciousness, relatively suspended sensory activity, and inactivity of nearly all voluntary muscles. It is distinguished from quiet wakefulness by a decreased ability to react to stimuli, and is more easily reversible than...
in, essentially a
blanket
Blanket
A blanket is a type of bedding, generally speaking, a large piece of cloth, intended to keep the user warm, especially while sleeping. Blankets are distinguished from sheets by their thickness and purpose; the thickest sheet is still thinner than the lightest blanket. Blankets are generally used...
that can be closed with a
zipper
Zipper
A zipper is a commonly used device for temporarily joining two edges of fabric...
or similar means, and functions as a bed in situations where a bed is unavailable (e.g. when
camping
Camping
Camping is an outdoor recreational activity. The participants leave urban areas, their home region, or civilization and enjoy nature while spending one or several nights outdoors, usually at a campsite. Camping may involve the use of a tent, caravan, motorhome, cabin, a primitive structure, or no...
,
hiking
Hiking
Hiking is an outdoor activity which consists of walking in natural environments, often in mountainous or other scenic terrain. People often hike on hiking trails. It is such a popular activity that there are numerous hiking organizations worldwide. The health benefits of different types of hiking...
, hill walking or
climbing
Climbing
Climbing is the activity of using one's hands and feet to ascend a steep object. It is done both for recreation and professionally, as part of activities such as maintenance of a structure, or military operations.Climbing activities include:* Bouldering: Ascending boulders or small...
). Its primary purpose is to provide warmth and
thermal insulation
Thermal insulation
Thermal insulation is the reduction of the effects of the various processes of heat transfer between objects in thermal contact or in range of radiative influence. Heat transfer is the transfer of thermal energy between objects of differing temperature...
. It also protects, to some extent, against
wind chill
Wind chill
Wind chill is the felt air temperature on exposed skin due to wind. The wind chill temperature is always lower than the air temperature, and the windchill is undefined at the higher temps...
,
precipitation
Precipitation (meteorology)
In meteorology, precipitation In meteorology, precipitation In meteorology, precipitation (also known as one of the classes of hydrometeors, which are atmospheric water phenomena is any product of the condensation of atmospheric water vapor that falls under gravity. The main forms of precipitation...
, and exposure to view, but a
tent
Tent
A tent is a shelter consisting of sheets of fabric or other material draped over or attached to a frame of poles or attached to a supporting rope. While smaller tents may be free-standing or attached to the ground, large tents are usually anchored using guy ropes tied to stakes or tent pegs...
performs those functions better. The bottom surface also provides some cushioning, but a
sleeping pad
Sleeping pad
In camping, a ground pad, sleeping pad, sleeping mat or roll mat is a simple device often used in conjunction with a sleeping bag. Its purpose is to provide padding and thermal insulation...
is usually used in addition for that purpose. A
bivouac sack
Bivouac sack
A bivouac sack is an extremely small, lightweight, waterproof shelter, and an alternative to traditional tent systems. It is used by climbers, mountaineers, hikers, ultralight backpackers, soldiers and minimalist campers...
(
bivy
) is a waterproof cover for a sleeping bag that may be used in place of a tent for lightweight travelers or as a backup if inclement weather occurs.
History
The "Euklisia Rug", patented by mail-order pioneer
Pryce Pryce-Jones
Pryce Pryce-Jones
Sir Pryce Pryce-Jones was a Welsh entrepreneur who was one of the first to succeed in the mail order business.-Life history:...
in the late 19th century, is considered by many to have been the first forerunner of the modern sleeping bag.
Design types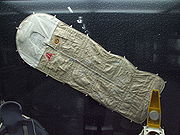 A basic sleeping bag is simply a square
blanket
Blanket
A blanket is a type of bedding, generally speaking, a large piece of cloth, intended to keep the user warm, especially while sleeping. Blankets are distinguished from sheets by their thickness and purpose; the thickest sheet is still thinner than the lightest blanket. Blankets are generally used...
, fitted with a
zipper
Zipper
A zipper is a commonly used device for temporarily joining two edges of fabric...
on two or three sides, allowing it to be folded in half and secured in this position. A sleeping bag of this type is packed by being folded in half or thirds, rolled up, and bound with
strap
Strap
A strap, sometimes also called strop, is an elongated flap or ribbon, usually of fabric or leather.Thin straps are used as part of clothing or baggage, or bedding such as a sleeping bag. See for example spaghetti strap, shoulder strap...
s or cords with
cord lock
Cord lock
A plastic cord lock attaches to drawstrings and tightens without the use of knots. Cord locks allow mountaineers to fasten clothing and camping equipment quickly in cold conditions when the fingers are encased in heavy gloves. They consist generally of three parts: a barrel, a toggle , and a spring...
s. The basic design works well for most camping needs but is inadequate under more demanding circumstances.
The second major type of sleeping bag, sometimes called a
mummy bag
because of its shape, is different in a number of important ways. It tapers from the head end to the foot end, reducing its
volume
Volume
Volume is the quantity of three-dimensional space enclosed by some closed boundary, for example, the space that a substance or shape occupies or contains....
and
surface area
Surface area
Surface area is the measure of how much exposed area a solid object has, expressed in square units. Mathematical description of the surface area is considerably more involved than the definition of arc length of a curve. For polyhedra the surface area is the sum of the areas of its faces...
, and improving its overall heat retention properties. Some bags are designed specially to accommodate women's body shapes. Most mummy bags do not unzip all the way to the feet. The zipper is a weak point in any sleeping bag's insulating qualities. Together with the tapered shape, this design feature helps protect the
feet
Foot
The foot is an anatomical structure found in many vertebrates. It is the terminal portion of a limb which bears weight and allows locomotion. In many animals with feet, the foot is a separate organ at the terminal part of the leg made up of one or more segments or bones, generally including claws...
, which are more vulnerable to heat loss than other parts of the body. Another design feature is a
drawstring
Drawstring
A drawstring is a string, cord, or rope used to "draw" or tie closed an opening in fabric or other material...
, equipped with a
cord lock
Cord lock
A plastic cord lock attaches to drawstrings and tightens without the use of knots. Cord locks allow mountaineers to fasten clothing and camping equipment quickly in cold conditions when the fingers are encased in heavy gloves. They consist generally of three parts: a barrel, a toggle , and a spring...
, at the head end to help prevent the escape of warm air. A mummy bag often cannot be rolled like a rectangular bag. Instead, it is simply stuffed into a
stuff sack
Stuff sack
A stuff sack is a type of drawstring bag, usually used for storing camping items. Stuff sacks may be used to collect many small items together, so that they do not become lost...
or compression sack.
Fill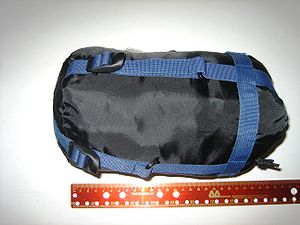 Many different insulating materials are available for sleeping bags. Outdoor professionals usually prefer either synthetic fill (e.g.
PrimaLoft
PrimaLoft
PrimaLoft is a patented synthetic microfiber thermal insulation material that was developed for the United States Army in the 1980s. PrimaLoft is a registered trademark of Albany International Corp....
), or natural fill (e.g.
down
Down feathers
The down of birds is a layer of fine feathers found under the tougher exterior feathers. Very young birds are clad only in down. Powder down is a specialized type of down found only in a few groups of birds. Down is a fine thermal insulator and padding, used in goods such as jackets, bedding,...
), and they have debated the merits of these materials for years.
Synthetic fill does not readily absorb
water
Water
Water is a chemical substance with the chemical formula H2O. A water molecule contains one oxygen and two hydrogen atoms connected by covalent bonds. Water is a liquid at ambient conditions, but it often co-exists on Earth with its solid state, ice, and gaseous state . Water also exists in a...
, dries easily, and provides some warmth even when thoroughly soaked. These properties may save the owner's life if, for example, the sleeping bag is accidentally dropped into water on a cold day. Synthetic material is also firm and resilient, so it insulates well even underneath a person's weight. On the flipside, synthetic fill cannot be compressed as much as down and it weighs more, causing such bags to take up more space and weight when not in use. Furthermore synthetic insulation tend to break down faster than its natural counterpart.
Down fill weighs less than synthetic and retains heat better, but usually costs more. Down must be kept dry; a soaked, down sleeping bag may provide even less insulation than no sleeping bag at all, leading to
hypothermia
Hypothermia
Hypothermia is a condition in which core temperature drops below the required temperature for normal metabolism and body functions which is defined as . Body temperature is usually maintained near a constant level of through biologic homeostasis or thermoregulation...
. Newer, more technically advanced sleeping bags often have water-resistant shells and can be used in damper conditions. It is also recommended to keep a sleeping bag in a larger sack (storage sack) as opposed to the small traveling sack (compression bag) during long periods of storage. However, many regular backpackers and hikers agree that hanging a sleeping bag, taking care to move the position of the bag on the hanger at intervals so as to not create a "dead spot" (a spot where the fill has been crushed so that it is no longer useful), is the best method of storing a bag for long durations.
Other materials, notably
cotton
Cotton
Cotton is a soft, fluffy staple fiber that grows in a boll, or protective capsule, around the seeds of cotton plants of the genus Gossypium. The fiber is almost pure cellulose. The botanical purpose of cotton fiber is to aid in seed dispersal....
and
wool
Wool
Wool is the textile fiber obtained from sheep and certain other animals, including cashmere from goats, mohair from goats, qiviut from muskoxen, vicuña, alpaca, camel from animals in the camel family, and angora from rabbits....
, have also been used for sleeping bags. Wool repels water nicely and also resists compression, but it weighs much more than any alternative. Cotton suffers from high water retention and significant weight, but its low cost makes it an attractive option for uses like stationary camping where these drawbacks are of little consequence.
Temperature ratings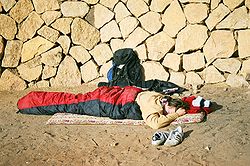 In
Europe
Europe
Europe is, by convention, one of the world's seven continents. Comprising the westernmost peninsula of Eurasia, Europe is generally 'divided' from Asia to its east by the watershed divides of the Ural and Caucasus Mountains, the Ural River, the Caspian and Black Seas, and the waterways connecting...
, the
EN 13537
EN 13537
EN 13537 is a European standard designed to standardize the temperature ratings on sleeping bags manufactured and/or sold in Europe. As of January 1, 2005 a CEN criterion came into effect covering the testing and publication of temperature ratings for sleeping bags...
standard
Standardization
Standardization is the process of developing and implementing technical standards.The goals of standardization can be to help with independence of single suppliers , compatibility, interoperability, safety, repeatability, or quality....
normalizes the
temperature
Temperature
Temperature is a physical property of matter that quantitatively expresses the common notions of hot and cold. Objects of low temperature are cold, while various degrees of higher temperatures are referred to as warm or hot...
s at which a sleeping bag can be used. A test, relying on a heated
mannequin
Mannequin
A mannequin is an often articulated doll used by artists, tailors, dressmakers, and others especially to display or fit clothing...
, provides four temperatures:
the upper limit is the highest temperature at which a 'standard' adult man is able to have a comfortable night's sleep without excess sweating.
the comfort rating is based on a 'standard' adult woman having a comfortable night's sleep.
the lower limit is based on the lowest temperature at which a 'standard' adult man is deemed to be able to have a comfortable night's sleep.
the extreme rating is a survival only rating for a 'standard' adult man. This is an extreme survival rating only and it is not advisable to rely on this rating for general use.
The
transition zone
, in between the comfort and lower temperature, is usually considered as the best purchase guideline.
In the U.S., a sleeping bag's rating typically indicates the lowest temperature at which it will keep the average sleeper warm. For example, with a 0° bag, you should be able to sleep comfortably in 0° temperature.
There is no standard measurement rating in the U.S., so a 20° bag from one company may not provide the same warmth as a 20° from another company. And there are other variables to consider, such as what you plan to wear when you sleep, what type of sleeping pad you use, and how well you hold the heat in your bag.
Indoor sleeping bags
Indoor sleeping bags, sometimes called
slumber bags
, are widely available, often for use particularly by children. These are usually not designed to be weatherproof and are often made of natural fabrics instead of the synthetic fabrics commonly used for outdoor sleeping bags. Children's sleeping bags in particular often feature elaborate, brightly-colored printed designs, such as images of popular media characters. Slumber bags make floor sleeping more comfortable, and are often used for
sleepover
Sleepover
A sleepover, also known as a pajama party or a slumber party, is a party most commonly held by children or teenagers, where a guest or guests are invited to stay overnight at the home of a friend, sometimes to celebrate birthdays or other special events...
s, family visits, and other situations where there are not enough beds for everyone.
Infant use
An infant sleeping bag is a bag-like
garment
Clothing
Clothing refers to any covering for the human body that is worn. The wearing of clothing is exclusively a human characteristic and is a feature of nearly all human societies...
or covering worn by
infant
Infant
A newborn or baby is the very young offspring of a human or other mammal. A newborn is an infant who is within hours, days, or up to a few weeks from birth. In medical contexts, newborn or neonate refers to an infant in the first 28 days after birth...
s for sleeping in. Infant sleeping bags differ from regular sleeping bags in design and purpose, being designed primarily for indoor rather than outdoor use, and usually featuring either arm holes or
sleeve
Sleeve
Sleeve is that part of a garment which covers the arm, or through which the arm passes or slips. The pattern of the sleeve is one of the characteristics of fashion in dress, varying in every country and period...
s.
The definition used in the British Standard for safety of children's sleep bags is "sleep bags for the use of children with a minimum weight of 4 kg designed to provide sufficient warmth so as to remove the need for additional bedding when sleeping in a cot or similar product in which a child is contained." It goes on to exclude "garments with sleeves and feet, i.e. sleep suits or baby gros, or to products designed primarily for outdoor use or to keep children warm when in a pushchair."
The June 2009 issue of the SGS Softlines publication provides more information about the British Standard, stating that it specifies minimum children's sleep bag safety requirements for chemical hazards, thermal hazards and insulation, entanglement, choking and suffocation hazards, structural integrity and flammability, and shows an example of a baby sleep bag.