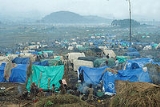 Refugee camp
A
refugee camp
is a temporary settlement built to receive
refugee
Refugee
A refugee is a person who outside her country of origin or habitual residence because she has suffered persecution on account of race, religion, nationality, political opinion, or because she is a member of a persecuted 'social group'. Such a person may be referred to as an 'asylum seeker' until...
s. Hundreds of thousands of people may live in any one single camp. Usually they are built and run by a government, the
United Nations
United Nations
The United Nations is an international organization whose stated aims are facilitating cooperation in international law, international security, economic development, social progress, human rights, and achievement of world peace...
, or international organizations, (such as the
Red Cross
International Committee of the Red Cross
The International Committee of the Red Cross is a private humanitarian institution based in Geneva, Switzerland. States parties to the four Geneva Conventions of 1949 and their Additional Protocols of 1977 and 2005, have given the ICRC a mandate to protect the victims of international and...
) or
NGO
Non-governmental organization
A non-governmental organization is a legally constituted organization created by natural or legal persons that operates independently from any government. The term originated from the United Nations , and is normally used to refer to organizations that do not form part of the government and are...
s.
Refugee camps are generally set up in an impromptu fashion and designed to meet
basic human needs
Maslow's hierarchy of needs
Maslow's hierarchy of needs is a theory in psychology, proposed by Abraham Maslow in his 1943 paper A Theory of Human Motivation. Maslow subsequently extended the idea to include his observations of humans' innate curiosity...
for only a short time. Some refugee camps are dirty and unhygienic.