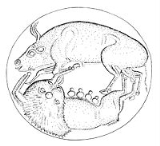 Seal (device)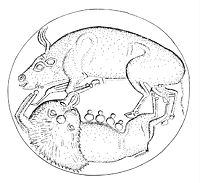 A
seal
can be a figure impressed in wax, clay, or some other medium, or embossed on paper, with the purpose of authenticating a document (or, less often, a package of trade goods); but the term can also mean the device for making such impressions, being essentially a
mould
Molding (process)
Molding or moulding is the process of manufacturing by shaping pliable raw material using a rigid frame or model called a pattern....
with the mirror image of the design carved in sunken- (or counter-)
relief
Relief
Relief is a sculptural technique. The term relief is from the Latin verb levo, to raise. To create a sculpture in relief is thus to give the impression that the sculpted material has been raised above the background plane...
or
intaglio
Intaglio
Intaglio are techniques in art in which an image is created by cutting, carving or engraving into a flat surface and may also refer to objects made using these techniques:* Intaglio , a group of printmaking techniques with an incised image...
. This article is concerned with devices and methods for making such imprints.
The device for making the seal is technically known as the seal matrix or die; the imprint it creates as the seal impression (or, rarely, the sealing). If the impression is made as a relief resulting from the greater pressure on the paper where the high parts of the matrix touch, the seal is known as a dry seal; in all other cases a liquid or liquified medium (such as ink or wax) is used, usually in another color than the paper.
For legal purposes, the definition of seal may be extended to include
rubber stamp
Rubber stamp
Rubber stamping, also called stamping, is a craft in which some type of ink made of dye or pigment is applied to an image or pattern that has been carved, molded, laser engraved or vulcanized, onto a sheet of rubber. The rubber is often mounted onto a more stable object such as a wood, brick or an...
s, or writing specified words ("seal" or "L.S.").
In the United States, the word "seal" is sometimes assigned to a
facsimile
Facsimile
A facsimile is a copy or reproduction of an old book, manuscript, map, art print, or other item of historical value that is as true to the original source as possible. It differs from other forms of reproduction by attempting to replicate the source as accurately as possible in terms of scale,...
of the seal design (in monochrome or color), which may be used in a variety of contexts including architectural settings, on
flag
Flag
A flag is a piece of fabric with a distinctive design that is usually rectangular and used as a symbol, as a signaling device, or decoration. The term flag is also used to refer to the graphic design employed by a flag, or to its depiction in another medium.The first flags were used to assist...
s, or on official
letterhead
Letterhead
A letterhead is the heading at the top of a sheet of letter paper . That heading usually consists of a name and an address, and a logo or corporate design, and sometimes a background pattern...
s: for example, the
Great Seal of the United States
Great Seal of the United States
The Great Seal of the United States is used to authenticate certain documents issued by the United States federal government. The phrase is used both for the physical seal itself , and more generally for the design impressed upon it...
, among other uses, appears on the reverse of the
one-dollar bill
United States one-dollar bill
The United States one-dollar bill is the most common denomination of US currency. The first president, George Washington, painted by Gilbert Stuart, is currently featured on the obverse, while the Great Seal of the United States is featured on the reverse. The one-dollar bill has the oldest...
; and several of the
seals of the U.S. states
Seals of the U.S. states
The following gallery displays the official seals of the 50 states, federal district, and territories of the United States of America:-See also:* Coat of Arms of the U.S. States* Seals of Governors of the U.S. States* Flags of the U.S. states...
appear on their respective
state flags
Flags of the U.S. states
The flags of the U.S. states exhibit a wide variety of regional influences and local histories, as well as widely different styles and design principles. Modern state flags date from the 1890s when states wanted to have distinctive symbols at the 1893 World's Columbian Exposition in Chicago...
. In Europe, although
coats of arms
Coat of arms
A coat of arms is a unique heraldic design on a shield or escutcheon or on a surcoat or tabard used to cover and protect armour and to identify the wearer. Thus the term is often stated as "coat-armour", because it was anciently displayed on the front of a coat of cloth...
and
heraldic badge
Heraldic badge
A heraldic badge is an emblem or personal device worn as a badge to indicate allegiance to or the property of an individual or family. Medieval forms are usually called a livery badge, and also a cognizance...
s may well feature in such contexts as well as on seals, the seal design in its entirety rarely appears as an emblem.
The study of seals is known as
sigillography
Sigillography
Sigillography is one of the auxiliary sciences of history. It refers to the study of seals attached to documents as a source of historical information. It concentrates on the legal and social meaning of seals, as well as the evolution of their design...
or
sphragistics
.
Ancient Near East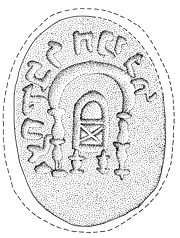 Seals were used in the earliest civilizations and are of considerable interest in
archaeology
Archaeology
Archaeology, or archeology , is the study of human society, primarily through the recovery and analysis of the material culture and environmental data that they have left behind, which includes artifacts, architecture, biofacts and cultural landscapes...
. In ancient
Mesopotamia
Mesopotamia
Mesopotamia is a toponym for the area of the Tigris–Euphrates river system, largely corresponding to modern-day Iraq, northeastern Syria, southeastern Turkey and southwestern Iran.Widely considered to be the cradle of civilization, Bronze Age Mesopotamia included Sumer and the...
seals were engraved on
cylinders
Cylinder seal
A cylinder seal is a cylinder engraved with a 'picture story', used in ancient times to roll an impression onto a two-dimensional surface, generally wet clay. Cylinder seals were invented around 3500 BC in the Near East, at the contemporary site of Susa in south-western Iran and at the early site...
, which could be rolled to create an impression on clay e.g.,
as a label on a consignment of trade goods. From
Ancient Egypt
Ancient Egypt
Ancient Egypt was an ancient civilization of Northeastern Africa, concentrated along the lower reaches of the Nile River in what is now the modern country of Egypt. Egyptian civilization coalesced around 3150 BC with the political unification of Upper and Lower Egypt under the first pharaoh...
seals in the form of signet-rings of kings have been found.
Recently, seals have come to light in
South Arabia
South Arabia
South Arabia as a general term refers to several regions as currently recognized, in chief the Republic of Yemen; yet it has historically also included Najran, Jizan, and 'Asir which are presently in Saudi Arabia, and Dhofar presently in Oman...
datable to the Himyarite age. One example shows a name written in Aramaic (Yitsḥaq bar Ḥanina) and engraved in reverse so as to be visible in the impression.
In the
Indus Valley Civilization
Indus Valley Civilization
The Indus Valley Civilization was a Bronze Age civilization that was located in the northwestern region of the Indian subcontinent, consisting of what is now mainly modern-day Pakistan and northwest India...
, rectangular seals were used to label trade goods and also had other purposes.
Ancient Greece and Rome
From the beginning of the 3rd millennium BC until the Dark Ages, seals of various kinds were in production in the Aegean islands and mainland Greece. In the Early Minoan age these were formed of soft stone and ivory and show particular characteristic forms. By the Middle Minoan age a new set for seal forms, motifs and materials appear. Hard stone requires new rotary carving techniques. The Late Bronze Age is the time par excellence of the lens-shaped seal and the seal ring, which continued in to the Archaic, Classical and Hellenistic periods, in the form of pictorial engraved gems. These were a major luxury art form and became keenly collected, with King
Mithridates VI of Pontus
Mithridates VI of Pontus
Mithridates VI or Mithradates VI Mithradates , from Old Persian Mithradatha, "gift of Mithra"; 134 BC – 63 BC, also known as Mithradates the Great and Eupator Dionysius, was king of Pontus and Armenia Minor in northern Anatolia from about 120 BC to 63 BC...
the first major collector according to
Pliny the Elder
Pliny the Elder
Gaius Plinius Secundus , better known as Pliny the Elder, was a Roman author, naturalist, and natural philosopher, as well as naval and army commander of the early Roman Empire, and personal friend of the emperor Vespasian...
. His collection fell as booty to Pompey the Great, who deposited it in a temple in Rome. Engraved gems continued to be produced and collected until the 19th century.
East Asia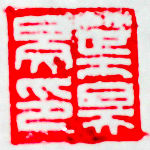 Known as yinzhang in
China
China
Chinese civilization may refer to:* China for more general discussion of the country.* Chinese culture* Greater China, the transnational community of ethnic Chinese.* History of China* Sinosphere, the area historically affected by Chinese culture...
, dojang or ingam in
Korea
Korea
Korea ) is an East Asian geographic region that is currently divided into two separate sovereign states — North Korea and South Korea. Located on the Korean Peninsula, Korea is bordered by the People's Republic of China to the northwest, Russia to the northeast, and is separated from Japan to the...
and inkan or hanko in
Japan
Japan
Japan is an island nation in East Asia. Located in the Pacific Ocean, it lies to the east of the Sea of Japan, China, North Korea, South Korea and Russia, stretching from the Sea of Okhotsk in the north to the East China Sea and Taiwan in the south...
, seals have been used in East Asia as a form of written identification since the
Qin dynasty
Qin Dynasty
The Qin Dynasty was the first imperial dynasty of China, lasting from 221 to 207 BC. The Qin state derived its name from its heartland of Qin, in modern-day Shaanxi. The strength of the Qin state was greatly increased by the legalist reforms of Shang Yang in the 4th century BC, during the Warring...
. The seals of the
Han dynasty
Han Dynasty
The Han Dynasty was the second imperial dynasty of China, preceded by the Qin Dynasty and succeeded by the Three Kingdoms . It was founded by the rebel leader Liu Bang, known posthumously as Emperor Gaozu of Han. It was briefly interrupted by the Xin Dynasty of the former regent Wang Mang...
were impressed in a soft clay, but from the
Tang dynasty
Tang Dynasty
The Tang Dynasty was an imperial dynasty of China preceded by the Sui Dynasty and followed by the Five Dynasties and Ten Kingdoms Period. It was founded by the Li family, who seized power during the decline and collapse of the Sui Empire...
a red ink made from
cinnabar
Cinnabar
Cinnabar or cinnabarite , is the common ore of mercury.-Word origin:The name comes from κινναβαρι , a Greek word most likely applied by Theophrastus to several distinct substances...
was normally used. Even in modern times, seals are still commonly used instead of handwritten
signature
Signature
A signature is a handwritten depiction of someone's name, nickname, or even a simple "X" that a person writes on documents as a proof of identity and intent. The writer of a signature is a signatory. Similar to a handwritten signature, a signature work describes the work as readily identifying...
s to
authenticate
Authentication
Authentication is the act of confirming the truth of an attribute of a datum or entity...
official documents or financial transactions. Both individuals and organizations have official seals, and they often have multiple seals in different sizes and styles for different situations. East Asian seals usually bear the names of the people or organizations represented, but they can also bear poems or personal mottoes. Sometimes both types of seals, or large seals that bear both names and mottoes, are used to authenticate official documents. Seals are so important in East Asia that foreigners who frequently conduct business there also commission the engraving of personal seals.
East Asian seals are carved from a variety of hard materials, including wood, soapstone, sea glass and jade. East Asian seals are traditionally used with a red oil-based paste consisting of finely ground cinnabar, which contrasts with the black ink traditionally used for the
ink brush
Ink brush
Ink brushes are used in Chinese calligraphy. They are also used in Chinese painting and descendant brush painting styles. The ink brush was invented in China, believed to be around 300BCE...
. Red chemical inks are more commonly used in modern times for sealing documents. Seal engraving is considered a form of calligraphy in East Asia. Like ink-brush calligraphy, there are several styles of engraving. Some engraving styles emulate calligraphy styles, but many styles are so highly stylized that the characters represented on the seal are difficult for untrained readers to identify. Seal engravers are considered artists, and, in the past, several famous calligraphers also became famous as engravers. Some seals, carved by famous engravers, or owned by famous artists or political leaders, have become valuable as historical works of art.
Because seals are commissioned by individuals and carved by artists, every seal is unique, and engravers often personalize the seals that they create. The materials of seals and the styles of the engraving are typically matched to the personalities of the owners. Seals can be traditional or modern, or conservative or expressive. Seals are sometimes carved with the owners'
zodiac animals
Chinese zodiac
The Shēngxiào , better known in English as the Chinese Zodiac, is a scheme that relates each year to an animal and its reputed attributes, according to a 12-year mathematical cycle...
on the tops of the seals. Seals are also sometimes carved with images or calligraphy on the sides.
Although it is a utilitarian instrument of daily business in East Asia, westerners and other non-Asians seldom see Asian seals except on Asian paintings and calligraphic art. All traditional paintings in
China
Chinese painting
Chinese painting is one of the oldest continuous artistic traditions in the world. The earliest paintings were not representational but ornamental; they consisted of patterns or designs rather than pictures. Early pottery was painted with spirals, zigzags, dots, or animals...
,
Japan
Japanese art
Japanese art covers a wide range of art styles and media, including ancient pottery, sculpture in wood and bronze, ink painting on silk and paper and more recently manga, cartoon, along with a myriad of other types of works of art...
,
Korea
Korean painting
Korean painting includes paintings made in Korea or by overseas Koreans on all surfaces. It includes art as old as the petroglyphs through post-modern conceptual art using transient forms of light...
,
Vietnam
Vietnam
Vietnam – sometimes spelled Viet Nam , officially the Socialist Republic of Vietnam – is the easternmost country on the Indochina Peninsula in Southeast Asia. It is bordered by China to the north, Laos to the northwest, Cambodia to the southwest, and the South China Sea –...
, and the rest of East Asia are watercolor paintings on silk, paper, or some other surface to which the red ink from seals can adhere. East Asian paintings often bear multiple seals, including one or two seals from the artist, and the seals from the owners of the paintings.
East Asian seals are the predecessors to block printing.
The Western tradition
There is a direct line of descent from the seals used in the ancient world, to those used in medieval and post-medieval Europe, and so to those used in legal contexts in the western world to the present day. Seals were historically most often impressed in
sealing wax
Sealing wax
Sealing wax is a wax material of a seal which, after melting, quickly hardens forming a bond that is difficult to separate without noticeable tampering. Wax is used to verify something such as a document is unopened, to verify the sender's identity, for example with a signet ring, and as decoration...
(often simply described as "wax"): in the Middle Ages, this generally comprised a compound of about two-thirds
beeswax
Beeswax
Beeswax is a natural wax produced in the bee hive of honey bees of the genus Apis. It is mainly esters of fatty acids and various long chain alcohols...
to one-third of some kind of
resin
Resin
Resin in the most specific use of the term is a hydrocarbon secretion of many plants, particularly coniferous trees. Resins are valued for their chemical properties and associated uses, such as the production of varnishes, adhesives, and food glazing agents; as an important source of raw materials...
, but in the post-medieval period the resin (and other ingredients) came to dominate. During the early Middle Ages seals of lead, or more properly "
bullae
Bulla (seal)
Bulla , is a type of seal impression. It comes in two forms: metal and clay.- Clay bullae :The original bulla was a lump of clay molded around a cord and stamped with a seal...
" (from the Latin), were in common use both in East and West, but with the notable exception of documents ("
bulls
Papal bull
A Papal bull is a particular type of letters patent or charter issued by a Pope of the Catholic Church. It is named after the bulla that was appended to the end in order to authenticate it....
") issued by the Papal Chancery these leaden authentications fell out of favour in western Christendom. Byzantine Emperors sometimes issued documents with gold seals, known as
Golden Bull
Golden Bull
A Golden Bull or chrysobull was a golden ornament representing a seal , attached to a decree issued by Byzantine Emperors and later by monarchs in Europe during the Middle Ages and Renaissance. The term was originally coined for the golden seal itself but came to be applied to the entire decree...
s.
Wax seals were being used on a fairly regular basis by most western royal
chanceries
Chancery (medieval office)
Chancery is a general term for a medieval writing office, responsible for the production of official documents. The title of chancellor, for the head of the office, came to be held by important ministers in a number of states, and remains the title of the heads of government in modern Germany,...
by about the end of the 10th century. In England, few wax seals have survived of earlier date than the Norman Conquest, although some earlier matrices are known, recovered from archaeological contexts: the earliest is a gold double-sided matrix found near
Postwick
Postwick with Witton
Postwick with Witton is a civil parish on the Broads in the English county of Norfolk, comprising the two nearby villages of Postwick and Witton. Postwick is some east of the city of Norwich, just south of the eastern end of the A47 Norwich southern bypass on the north bank of the River Yare...
, Norfolk, and dated to the late 7th century; the next oldest is a mid-9th-century matrix of a Bishop Ethilwald (probably Æthelwold, Bishop of East Anglia). The practice of sealing in wax gradually moved down the social hierarchy from monarchs and bishops to great magnates, to petty knights by the end of the 12th century, and to ordinary freemen by the middle of the 13th century. They also came to be used by a variety of corporate bodies, including
cathedral chapter
Cathedral chapter
In accordance with canon law, a cathedral chapter is a college of clerics formed to advise a bishop and, in the case of a vacancy of the episcopal see in some countries, to govern the diocese in his stead. These councils are made up of canons and dignitaries; in the Roman Catholic church their...
s, municipalities, monasteries etc., to validate the acts executed in their name.
Traditional wax seals continue to be used on certain high-status and ceremonial documents, but in the 20th century they were gradually superseded in many other contexts by inked or dry embossed seals and by
rubber stamp
Rubber stamp
Rubber stamping, also called stamping, is a craft in which some type of ink made of dye or pigment is applied to an image or pattern that has been carved, molded, laser engraved or vulcanized, onto a sheet of rubber. The rubber is often mounted onto a more stable object such as a wood, brick or an...
s.
While many
instruments
Legal instrument
Legal instrument is a legal term of art that is used for any formally executed written document that can be formally attributed to its author, records and formally expresses a legally enforceable act, process, or contractual duty, obligation, or right, and therefore evidences that act, process, or...
formerly required seals for validity (e.g.
deed
Deed
A deed is any legal instrument in writing which passes, or affirms or confirms something which passes, an interest, right, or property and that is signed, attested, delivered, and in some jurisdictions sealed...
s or covenants) it is now unusual in most countries in the west for private citizens to use seals. In Central and Eastern Europe, however, as in East Asia, a signature alone is considered insufficient to authenticate a document of any kind in business, and all managers, as well as many book-keepers and other employees, have personal seals, normally just containing text, with their name and their position. These are applied to all letters, invoices issued, and similar documents. In Europe these are today plastic self-inking stamps.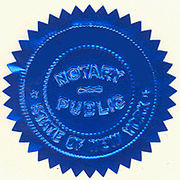 Notaries
Notary
A notary is a lawyer or person with legal training who is licensed by the state to perform acts in legal affairs, in particular witnessing signatures on documents...
also still use seals on a daily basis. At least in Britain, each registered notary has an individual personal seal, registered with the authorities, which includes his or her name and a pictorial emblem, often an animal - the same combination found in many seals from Ancient Greece.
Seals are also affixed on architectural or
engineering
Engineering
Engineering is the discipline, art, skill and profession of acquiring and applying scientific, mathematical, economic, social, and practical knowledge, in order to design and build structures, machines, devices, systems, materials and processes that safely realize improvements to the lives of...
construction documents, or
land survey
Surveying
See Also: Public Land Survey SystemSurveying or land surveying is the technique, profession, and science of accurately determining the terrestrial or three-dimensional position of points and the distances and angles between them...
drawings, to certify the identity of the
licensed professional
Licensure
Licensure refers to the granting of a license, which gives a "permission to practice." Such licenses are usually issued in order to regulate some activity that is deemed to be dangerous or a threat to the person or the public or which involves a high level of specialized skill...
who supervised the development. Depending on the authority having jurisdiction for the project, these seals may be embossed and signed, stamped and signed, or in certain situations a computer generated facsimile of the original seal validated by a digital certificate owned by the professional may be attached to a security protected computer file. The identities on the professional seals determine legal responsibility for any errors or omissions, and in some cases financial responsibility for their correction.
Sealing practices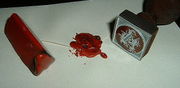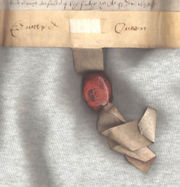 Seals are used to primarily to authenticate documents, specifically those which carry some
legal
Legal instrument
Legal instrument is a legal term of art that is used for any formally executed written document that can be formally attributed to its author, records and formally expresses a legally enforceable act, process, or contractual duty, obligation, or right, and therefore evidences that act, process, or...
import. There are two main ways in which a seal may be attached to a document. It may be applied directly to the face of the paper or
parchment
Parchment
Parchment is a thin material made from calfskin, sheepskin or goatskin, often split. Its most common use was as a material for writing on, for documents, notes, or the pages of a book, codex or manuscript. It is distinct from leather in that parchment is limed but not tanned; therefore, it is very...
(an applied seal); or it may hang loose from it (a pendent seal). A pendent seal may be attached to the document by cords or ribbons (sometimes in the owner's
livery colours
Tincture (heraldry)
In heraldry, tinctures are the colours used to emblazon a coat of arms. These can be divided into several categories including light tinctures called metals, dark tinctures called colours, nonstandard colours called stains, furs, and "proper". A charge tinctured proper is coloured as it would be...
); by a strip (or tag) of parchment threaded through a slot cut in the document, with its two ends joined together by the seal; or by a narrow strip of the material of the document (again, in this case, usually parchment), sliced and folded down, as a tail or tongue, but not detached from the document. All these methods help maintain authenticity by not allowing the reuse of the seal. If a forger tries to remove an applied seal from its document, it will almost certainly break. In the case of a pendent seal, although the forger might easily detach the seal from its document by cutting the cords or strips of parchment which secure it, he would still have great difficulty in attaching it to another document (not least because the cords or parchment are normally knotted inside the seal), and would again almost certainly break it.
In the Middle Ages, the majority of seals were pendent. They were attached both to
legal instrument
Legal instrument
Legal instrument is a legal term of art that is used for any formally executed written document that can be formally attributed to its author, records and formally expresses a legally enforceable act, process, or contractual duty, obligation, or right, and therefore evidences that act, process, or...
s and to
letters patent
Letters patent
Letters patent are a type of legal instrument in the form of a published written order issued by a monarch or president, generally granting an office, right, monopoly, title, or status to a person or corporation...
(i.e. open letters) conferring rights or privileges, which were intended to be available for all to view. In the case of important transactions or agreements, the seals of all parties to the arrangement as well as of witnesses might be attached to the document, and so once executed it would carry several seals. Most governments still attach pendent seals to
letters patent
Letters patent
Letters patent are a type of legal instrument in the form of a published written order issued by a monarch or president, generally granting an office, right, monopoly, title, or status to a person or corporation...
.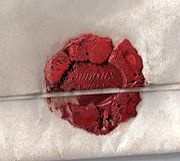 Applied seals, by contrast, were originally used to seal a document closed: that is to say, the document would be folded and the seal applied in such a way that the item could not be opened without the seal being broken. Applied seals were used on
letters close
Letters close
Letters close are a type of legal document which is a closed letter issued by a monarch or government granting a right, monopoly, title, or status to someone or some entity such as a corporation. These letters are personal in nature and were delivered folded sealed so that only the recipient can...
(letters intended only for the recipient) and parcels to indicate whether or not the item had been opened or tampered with since it had left the sender, as well as providing evidence that the item was actually from the sender and not a forgery. In the post-medieval period, seals came to be commonly used in this way for private letters. A letter writer would fold the completed letter, pour wax over the joint formed by the top of the page, and then impress a ring or other seal matrix. Governments sometimes sent letters to citizens under the governmental seal for their eyes only, known as letters secret. In general, seals are no longer used in these ways except for ceremonial purposes. However, applied seals also came to be used on legal instruments applied directly to the face of the document, so that there was no need to break them, and this use continues.
Seal design
Historically, the majority of seals were circular in design, although ovals, triangles, shield-shapes and other patterns are also known. The design generally comprised a graphic emblem (sometimes, but not always, incorporating
heraldic devices
Heraldry
Heraldry is the profession, study, or art of creating, granting, and blazoning arms and ruling on questions of rank or protocol, as exercised by an officer of arms. Heraldry comes from Anglo-Norman herald, from the Germanic compound harja-waldaz, "army commander"...
), surrounded by a text (the legend) running around the perimeter. The legend most often consisted merely of the words "The seal of [the name of the owner]", either in Latin or in the local
vernacular
Vernacular
A vernacular is the native language or native dialect of a specific population, as opposed to a language of wider communication that is not native to the population, such as a national language or lingua franca.- Etymology :The term is not a recent one...
language: the Latin word Sigillum was frequently abbreviated to a simple S:. Occasionally, the legend took the form of a
motto
Motto
A motto is a phrase meant to formally summarize the general motivation or intention of a social group or organization. A motto may be in any language, but Latin is the most used. The local language is usual in the mottoes of governments...
.
In the Middle Ages it became customary for the seals of women and of ecclesiastics to be given a
vesica
Vesica piscis
The vesica piscis is a shape that is the intersection of two circles with the same radius, intersecting in such a way that the center of each circle lies on the circumference of the other. The name literally means the "bladder of a fish" in Latin...
(pointed oval) shape. The central emblem was often a standing figure of the owner, or (in the case of ecclesiastical seals) of a saint.
Sealing wax
Sealing wax
Sealing wax is a wax material of a seal which, after melting, quickly hardens forming a bond that is difficult to separate without noticeable tampering. Wax is used to verify something such as a document is unopened, to verify the sender's identity, for example with a signet ring, and as decoration...
was naturally yellowish or pale brownish in tone, but could also be artificially coloured red or green (with many intermediary variations). In some medieval royal chanceries, different colours of wax were customarily used for different functions or departments of state.
The matrices for pendent seals were sometimes accompanied by a smaller counter-seal, which would be used to impress a small emblem on the reverse of the impression. In some cases the seal and counter-seal would be kept by two different individuals, in order to provide an element of double-checking to the process of authentication. Sometimes, a large official seal, which might be in the custody of chancery officials, would need to be counter-sealed by the individual in whose name it had been applied (the monarch, or the mayor of a town): such a counter-seal might take the form of a signet-ring, and so would be necessarily smaller. Other pendent seals were double-sided, with elaborate and equally-sized
obverses
Obverse and reverse
Obverse and its opposite, reverse, refer to the two flat faces of coins and some other two-sided objects, including paper money, flags , seals, medals, drawings, old master prints and other works of art, and printed fabrics. In this usage, obverse means the front face of the object and reverse...
and reverses. The impression would be formed by pressing a "sandwich" of matrices and wax firmly together by means of rollers or, later, a lever-press or a
screw press
Screw press
A screw press is a type of machine press in which the ram is driven up and down by a screw. The screw shaft can be driven by a handle, or a wheel. It works by using a coarse screw to convert the rotation of the handle or drive-wheel into a small downward movement of greater force. The overhead...
. Certain medieval seals were more complex still, involving two levels of impression on each side of the wax which would be used to create a scene of three-dimensional depth.
Seal matrices would frequently be handed down from father to son, and so the son would effectively inherit the symbols used by his father. It is generally agreed that this custom was a significant factor in the emergence of hereditary
heraldry
Heraldry
Heraldry is the profession, study, or art of creating, granting, and blazoning arms and ruling on questions of rank or protocol, as exercised by an officer of arms. Heraldry comes from Anglo-Norman herald, from the Germanic compound harja-waldaz, "army commander"...
in western Europe in the 12th century.
Ecclesiastical seals
The use of a seal by men of wealth and position was common before the Christian era, but high functionaries of the Church adopted the habit. An incidental allusion in one of
St. Augustine
Augustine of Hippo
Augustine of Hippo , also known as Augustine, St. Augustine, St. Austin, St. Augoustinos, Blessed Augustine, or St. Augustine the Blessed, was Bishop of Hippo Regius . He was a Latin-speaking philosopher and theologian who lived in the Roman Africa Province...
's letters (217 to Victorinus) indicates that he used a seal. The practice spread, and it seems to be taken for granted by King
Clovis I
Clovis I
Clovis Leuthwig was the first King of the Franks to unite all the Frankish tribes under one ruler, changing the leadership from a group of royal chieftains, to rule by kings, ensuring that the kingship was held by his heirs. He was also the first Catholic King to rule over Gaul . He was the son...
at the very beginning of the
Merovingian dynasty
Merovingian dynasty
The Merovingians were a Salian Frankish dynasty that came to rule the Franks in a region largely corresponding to ancient Gaul from the middle of the 5th century. Their politics involved frequent civil warfare among branches of the family...
.

Later ecclesiastical synods require that letters under the
bishop
Bishop
A bishop is an ordained or consecrated member of the Christian clergy who is generally entrusted with a position of authority and oversight. Within the Catholic Church, Eastern Orthodox, Oriental Orthodox Churches, in the Assyrian Church of the East, in the Independent Catholic Churches, and in the...
's seal should be given to
priest
Priest
A priest is a person authorized to perform the sacred rites of a religion, especially as a mediatory agent between humans and deities. They also have the authority or power to administer religious rites; in particular, rites of sacrifice to, and propitiation of, a deity or deities...
s when for some reason they lawfully quit their own proper diocese. Such a ruling was enacted at Chalon-sur-Saône in 813.
Pope Nicholas I
Pope Nicholas I
Pope Nicholas I, , or Saint Nicholas the Great, reigned from April 24, 858 until his death. He is remembered as a consolidator of papal authority and power, exerting decisive influence upon the historical development of the papacy and its position among the Christian nations of Western Europe.He...
in the same century complained that the bishops of Dôle and Reims had, "contra morem" (contrary to custom), sent their letters to him unsealed. The custom of bishops possessing seals may from this date be assumed to have been pretty general.
In the British Museum collection the earliest bishop's seals preserved are those of William de St-Calais, Bishop of Durham (1081–96) and of St. Anselm, Archbishop of Canterbury (1093–1109).
Destruction of seals
The importance of the seal as a means of authentication necessitated that when authority passed into new hands the old seal should be destroyed and a new one made. When the pope dies it is the first duty of the Cardinal Camerlengo to obtain possession of the
Ring of the Fisherman
Ring of the Fisherman
The Ring of the Fisherman, also known as the Piscatory Ring, Annulus Piscatoris and the Anello Piscatorio , is an official part of the regalia worn by the Pope, who is head of the Catholic Church and successor of Saint Peter, who was a fisherman by trade...
, the papal signet, and to see that it is broken up. A similar practice prevailed in the Middle Ages and it is often alluded to by historians, as it seems to have been a matter of some ceremony. For example, on the death of
Robert of Holy Island
Robert of Holy Island
Robert of Holy Island was a medieval Bishop of Durham.Robert was the son of crofters and was a native of the island of Lindisfarne. He had a brother, Henry, who became Robert's executor. He became a Benedictine monk at Durham, where he served as sacrist from 1265 to 1269. He was prior of Durham's...
, Bishop of Durham, in 1283, the chronicler Robert Greystones reports: "After his burial, his seal was publicly broken up in the presence of all by Master Robert Avenel."
Matthew Paris
Matthew Paris
Matthew Paris was a Benedictine monk, English chronicler, artist in illuminated manuscripts and cartographer, based at St Albans Abbey in Hertfordshire...
gives a similar description of the breaking of the seal of William of Trumpington, Abbot of St Albans, in 1235.
Silver seal matrices have been found in the graves of some of the 12th-century queens of France. They were probably deliberately buried as a means of cancelling them.
When King
James II
James II of England
James II & VII was King of England and King of Ireland as James II and King of Scotland as James VII, from 6 February 1685. He was the last Catholic monarch to reign over the Kingdoms of England, Scotland, and Ireland...
of England was dethroned in the
Glorious Revolution
Glorious Revolution
The Glorious Revolution, also called the Revolution of 1688, is the overthrow of King James II of England by a union of English Parliamentarians with the Dutch stadtholder William III of Orange-Nassau...
of 1688/9, he is supposed to have thrown the
Great Seal of the Realm
Great Seal of the Realm
The Great Seal of the Realm or Great Seal of the United Kingdom is a seal that is used to symbolise the Sovereign's approval of important state documents...
into the
River Thames
River Thames
The River Thames flows through southern England. It is the longest river entirely in England and the second longest in the United Kingdom. While it is best known because its lower reaches flow through central London, the river flows alongside several other towns and cities, including Oxford,...
before his flight to France in order to ensure that the machinery of government would cease to function. It is unclear how much truth there is to this story, but certainly the seal was recovered: James's successors,
William III
William III of England
William III & II was a sovereign Prince of Orange of the House of Orange-Nassau by birth. From 1672 he governed as Stadtholder William III of Orange over Holland, Zeeland, Utrecht, Guelders, and Overijssel of the Dutch Republic. From 1689 he reigned as William III over England and Ireland...
and
Mary
Mary II of England
Mary II was joint Sovereign of England, Scotland, and Ireland with her husband and first cousin, William III and II, from 1689 until her death. William and Mary, both Protestants, became king and queen regnant, respectively, following the Glorious Revolution, which resulted in the deposition of...
used the same Great Seal matrix, fairly crudely adapted - possibly quite deliberately, in order to demonstrate the continuity of government.
A related practice of destruction is found among blacksmiths: their touchmark (a stamp used on the hot metal to show who made it) is destroyed upon their death.
Signet rings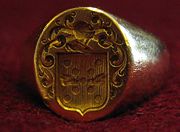 Signet rings, in recent times generally bearing a coat of arms, are made by
intaglio engraving, either in metal or engraved gems (generally semiprecious).
Agate
Agate
Agate is a microcrystalline variety of silica, chiefly chalcedony, characterised by its fineness of grain and brightness of color. Although agates may be found in various kinds of rock, they are classically associated with volcanic rocks and can be common in certain metamorphic rocks.-Etymology...
is a frequent material, especially
carnelian
Carnelian
Carnelian is a brownish-red mineral which is commonly used as a semi-precious gemstone. Similar to carnelian is sard, which is generally harder and darker...
or banded agate like sardonyx; the banding make the impression contrast with the ground. Most classical engraved gems were originally worn as signet rings.
Metal signet rings can also be cast, which is cheaper but yields a weaker material.
The wearing of signet rings (from Latin "signum" meaning sign) goes back to ancient Egypt; the distinctive personal signature was not developed in antiquity and most documents needed a seal. The tradition continues, especially among the armigerous, in European and some other cultures.
Because it is used to attest the authority of its bearer, the ring has also been seen as a symbol of his power, which is one explanation for its inclusion in the
regalia
Regalia
Regalia is Latin plurale tantum for the privileges and the insignia characteristic of a Sovereign.The word stems from the Latin substantivation of the adjective regalis, 'regal', itself from Rex, 'king'...
of certain monarchies. After the death of a Pope, the destruction of his signet ring is a prescribed act clearing the way for the sede vacante and subsequent election of a new Pope.
Signet rings are also used as souvenir or membership attribute, e.g.
class ring
Class ring
A class ring is a ring worn by students and alumni in the United States and Canada to commemorate their graduation, generally for a high school, college, or university.-History:...
(typically bear the
coat of arms
Coat of arms
A coat of arms is a unique heraldic design on a shield or escutcheon or on a surcoat or tabard used to cover and protect armour and to identify the wearer. Thus the term is often stated as "coat-armour", because it was anciently displayed on the front of a coat of cloth...
or crest of the school), as an alternative to one with a stone.
The wearing of a signet ring is declining as the European aristocracy diminishes, however noble families have upheld long standing traditions of wearing signet rings for centuries. Sometimes the initials of the individual are engraved into the ring if the person is not of noble descent and does not have the right to bear arms.
Seal of approval

The expression Seal of Approval refers to a formal approval, regardless whether it involves a seal or other external marking, by an authoritative person or institute.
It is also part of the formal name of certain quality marks, such as:
Good Housekeeping Seal of Approval of the Good Housekeeping Institute
Good Netkeeping Seal of Approval

Good Netkeeping Seal of Approval

The Good NetKeeping Seal of Approval or GNKSA is a designation that indicates a piece of Usenet newsreader software meets a set of usability and formatting standards...



Nintendo Seal of Quality
See also
Bulla (seal)

Bulla (seal)

Bulla , is a type of seal impression. It comes in two forms: metal and clay.- Clay bullae :The original bulla was a lump of clay molded around a cord and stamped with a seal...


, a lump of clay molded around a cord and stamped with a seal
Cylinder seal

Cylinder seal

A cylinder seal is a cylinder engraved with a 'picture story', used in ancient times to roll an impression onto a two-dimensional surface, generally wet clay. Cylinder seals were invented around 3500 BC in the Near East, at the contemporary site of Susa in south-western Iran and at the early site...



Seal of Dartmouth College

Seal of Dartmouth College

The Seal of Dartmouth College is the official insignia of Dartmouth College, an Ivy League university located in Hanover, New Hampshire, United States. Anglo-American law generally requires a corporate body to seek official government sanction, usually in the form of a charter, in order to operate...


, used by Dartmouth College of Hanover, New Hampshire, USA.
Golden Bull

Golden Bull

A Golden Bull or chrysobull was a golden ornament representing a seal , attached to a decree issued by Byzantine Emperors and later by monarchs in Europe during the Middle Ages and Renaissance. The term was originally coined for the golden seal itself but came to be applied to the entire decree...


, a gold seal used by Byzantine Emperors
Great Seal (disambiguation)

Great Seal of the Realm

Great Seal of the Realm

The Great Seal of the Realm or Great Seal of the United Kingdom is a seal that is used to symbolise the Sovereign's approval of important state documents...


, a British institution for authorising the monarch's official documents a personal signature
Great Seal of Scotland

Great Seal of Scotland

The Great Seal of Scotland allows the monarch to authorise official documents without having to sign each document individually. Wax is melted in a metal mould or matrix and impressed into a wax figure that is attached by cord or ribbon to documents that the monarch wishes to make official...


allows the monarch to authorise documents without signing
Great Seal of France

Great Seal of France

The Great Seal of France is the official seal of the French Republic.- Description :The Great Seal features Liberty personnified as a seated Juno wearing a crown with seven arches. She holds a fasces and is supported by a ship's tiller with a cock carved or printed on it. At her feet is a vase...


, used to authenticate constitutional documents of the French Republic
Imperial Seal of Japan

Imperial Seal of Japan

The Imperial Seal of Japan is a mon or crest used by members of the Japanese Imperial family. Under the Meiji Constitution, no one was permitted to use the Imperial Seal except the Emperor of Japan, who used a 16 petal chrysanthemum with sixteen tips of another row of petals showing behind the...


, called 菊の御紋 in Japanese, meaning "Noble Symbol of Chrysanthemum"
Presidential Seal of the Philippines
Great Seal of the United States

Great Seal of the United States

The Great Seal of the United States is used to authenticate certain documents issued by the United States federal government. The phrase is used both for the physical seal itself , and more generally for the design impressed upon it...


used since 1782 to authenticate some documents issued by the United States government
Great Seal of Northern Ireland

Great Seal of Northern Ireland

The Great Seal of Northern Ireland is the seal used for Northern Ireland. The great seal is currently under the possession of the Secretary of State for Northern Ireland...



Great Seal of Canada

Great Seal of Canada

The Great Seal of Canada is a seal used for official purposes of state in Canada such as the certification of Acts of Parliament that have been granted Royal Assent....



National Seal of Brazil

National Seal of Brazil

The National Seal of Brazil is one of Brazil's national symbols, displayed on several official documents, such as graduation diplomas, consular and diplomatic papers, military conscription forms, etc...



Public Seal of Hong Kong

Public Seal of Hong Kong

The Public Seal of Hong Kong , formally known as Public Seal of the Hong Kong Special Administrative Region is the seal for certifying government documents and legislations...



Privy Seal

Privy Seal

A privy seal refers to the personal seal of a reigning monarch, used for the purpose of authenticating official government document.-Privy Seal of England:The Privy Seal of England can be traced back to the reign of King John...


, of England can be traced back to the reign of King John
Lord Privy Seal

Lord Privy Seal

The Lord Privy Seal is the fifth of the Great Officers of State in the United Kingdom, ranking beneath the Lord President of the Council and above the Lord Great Chamberlain. The office is one of the traditional sinecure offices of state...


or Lord Keeper of the Privy Seal is one of the traditional sinecure offices of state in the United Kingdom

Knights Templar Seal

Knights Templar Seal

The Grand Masters of the Knights Templar during the later 12th and the 13th century used a double-sided great seal which showed a representation of The Dome of the Rock on one side, and the Order's symbol of two knights on one horse on the other side.This design is first attested as in use by...


used to validate documents approved by the order
Manu propria

Manu propria

Manu propria is a Latin phrase in the ablative case meaning " with one's own hand". In its abbreviated form , it is sometimes used at the end of typewritten or printed documents or official notices right after the name of the person who "signed" the document exactly in those cases when there is no...



Rubber stamp

Rubber stamp

Rubber stamping, also called stamping, is a craft in which some type of ink made of dye or pigment is applied to an image or pattern that has been carved, molded, laser engraved or vulcanized, onto a sheet of rubber. The rubber is often mounted onto a more stable object such as a wood, brick or an...



Seal (East Asia)
Seal of Solomon

Seal of Solomon

In Medieval Jewish, Christian and Islamic legends, the Seal of Solomon was a magical signet ring said to have been possessed by King Solomon, which variously gave him the power to command demons, genies , or to speak with animals.-In legend :...


, a legendary magical signet ring said to have belonged to King Solomon
Sealing wax

Sealing wax

Sealing wax is a wax material of a seal which, after melting, quickly hardens forming a bond that is difficult to separate without noticeable tampering. Wax is used to verify something such as a document is unopened, to verify the sender's identity, for example with a signet ring, and as decoration...



Seals of the U.S. states

Seals of the U.S. states

The following gallery displays the official seals of the 50 states, federal district, and territories of the United States of America:-See also:* Coat of Arms of the U.S. States* Seals of Governors of the U.S. States* Flags of the U.S. states...



Security seal

Security seal

Security seals are mechanisms used to seal containers in a way that provides tamper evidence and some level of security. Such seals can help to detect theft or contamination, either accidental and deliberate. Security seals are commonly used to secure vehicles, chemical drums, airline duty free...



Sigillography

Sigillography

Sigillography is one of the auxiliary sciences of history. It refers to the study of seals attached to documents as a source of historical information. It concentrates on the legal and social meaning of seals, as well as the evolution of their design...



Signature

Signature

A signature is a handwritten depiction of someone's name, nickname, or even a simple "X" that a person writes on documents as a proof of identity and intent. The writer of a signature is a signatory. Similar to a handwritten signature, a signature work describes the work as readily identifying...



State seal

State seal

State seal may refer to one of the following:*One of Seals of the U.S. states*One of State seals of Russian Empire...



Notary public (New York)#Seal or stamp
External links
Not All Online Authority Seals are Credible - Harvard's Ben Edelman says "Suppose users have seen a seal on dozens of sites that turn out to be legitimate. Dubious sites can present that same seal to encourage more users to buy, register, or download."
Signet ring article - Berganza, London: http://www.berganza.com/feature-signets__sealed_with_a_ring.html
http://linnet.cch.kcl.ac.uk:8080/seals/ (database of Byzantine Seal impressions from Prosopography of the Byzantine World project (PBW)