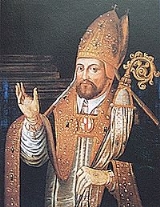 Bishop
A
bishop
is an
ordained
Ordination
In general religious use, ordination is the process by which individuals are consecrated, that is, set apart as clergy to perform various religious rites and ceremonies. The process and ceremonies of ordination itself varies by religion and denomination. One who is in preparation for, or who is...
or
consecrated
Consecration
Consecration is the solemn dedication to a special purpose or service, usually religious. The word "consecration" literally means "to associate with the sacred". Persons, places, or things can be consecrated, and the term is used in various ways by different groups...
member of the Christian clergy who is generally entrusted with a position of authority and oversight. Within the Catholic Church, Eastern Orthodox, Oriental Orthodox Churches, in the
Assyrian Church of the East
Assyrian Church of the East
The Assyrian Church of the East, officially the Holy Apostolic Catholic Assyrian Church of the East ʻIttā Qaddishtā w-Shlikhāitā Qattoliqi d-Madnĕkhā d-Āturāyē), is a Syriac Church historically centered in Mesopotamia. It is one of the churches that claim continuity with the historical...
, in the
Independent Catholic Churches
Independent Catholic Churches
Independent Catholic churches are Catholic congregations that are not in communion with the Roman Catholic Church or any other churches whose sacraments are recognized by the Roman Catholic Church...
, and in the Anglican churches, bishops claim
apostolic succession
Apostolic Succession
Apostolic succession is a doctrine, held by some Christian denominations, which asserts that the chosen successors of the Twelve Apostles, from the first century to the present day, have inherited the spiritual, ecclesiastical and sacramental authority, power, and responsibility that were...
, a direct historical lineage dating back to the original Twelve Apostles. Within these churches, bishops can ordain clergy including other bishops.
506 The bishops of Visigothic Gaul meet in the Council of Agde.
1328 Antipope Nicholas V, a claimant to the papacy, is consecrated in Rome by the Bishop of Venice.
1539 Council of Trent: Paul III sends out letters to his bishops, delaying the Council due to war and the difficulty bishops had traveling to Venice.
1792 During what became known as the September Massacres of the French Revolution, rampaging mobs slaughter three Roman Catholic Church bishops, more than two hundred priests, and prisoners believed to be royalist sympathizers.
1871 Bishop John Coleridge Patteson is martyred on the island of Nukapu, a Polynesian outlier island now in the Temotu Province of the Solomon Islands. He is the first bishop of Melanesia.
1886 The Anglo-Chinese School, Singapore is founded by Bishop William Oldham.