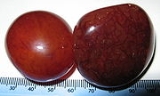 Carnelian
Carnelian
is a brownish-red
mineral
Mineral
A mineral is a naturally occurring solid chemical substance formed through biogeochemical processes, having characteristic chemical composition, highly ordered atomic structure, and specific physical properties. By comparison, a rock is an aggregate of minerals and/or mineraloids and does not...
which is commonly used as a semi-precious
gemstone
Gemstone
A gemstone or gem is a piece of mineral, which, in cut and polished form, is used to make jewelry or other adornments...
. Similar to carnelian is
sard
, which is generally harder and darker. (The difference is not rigidly defined, and the two names are often used interchangeably.) Both carnelian and sard are varieties of the silica mineral
chalcedony
Chalcedony
Chalcedony is a cryptocrystalline form of silica, composed of very fine intergrowths of the minerals quartz and moganite. These are both silica minerals, but they differ in that quartz has a trigonal crystal structure, while moganite is monoclinic...
colored by impurities of
iron oxide
Iron(III) oxide
Iron oxide or ferric oxide is the inorganic compound with the formula Fe2O3. It is one of the three main oxides of iron, the other two being iron oxide , which is rare, and iron oxide , which also occurs naturally as the mineral magnetite. As the mineral known as hematite, Fe2O3 is the main...
. The color can vary greatly, ranging from pale orange to an intense almost-black coloration.
History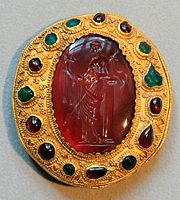 The
bow drill
Bow drill
The bow drill is an ancient tool. While it was usually used to make fire, it was also used for primitive woodworking and dentistry. It consists of a bearing block or handhold, a spindle or drill, a hearth or fireboard, and a simple bow...
was used to drill holes into carnelian in
Mehrgarh
Mehrgarh
Mehrgarh , one of the most important Neolithic sites in archaeology, lies on the "Kachi plain" of Balochistan, Pakistan...
between 4th-5th millennium BC.
Carnelian was recovered from
Bronze Age
Bronze Age
The Bronze Age is a period characterized by the use of copper and its alloy bronze as the chief hard materials in the manufacture of some implements and weapons. Chronologically, it stands between the Stone Age and Iron Age...
Minoan
Minoan civilization
The Minoan civilization was a Bronze Age civilization that arose on the island of Crete and flourished from approximately the 27th century BC to the 15th century BC. It was rediscovered at the beginning of the 20th century through the work of the British archaeologist Arthur Evans...
layers at
Knossos
Knossos
Knossos , also known as Labyrinth, or Knossos Palace, is the largest Bronze Age archaeological site on Crete and probably the ceremonial and political centre of the Minoan civilization and culture. The palace appears as a maze of workrooms, living spaces, and store rooms close to a central square...
on
Crete
Crete
Crete is the largest and most populous of the Greek islands, the fifth largest island in the Mediterranean Sea, and one of the thirteen administrative regions of Greece. It forms a significant part of the economy and cultural heritage of Greece while retaining its own local cultural traits...
in a form that demonstrated its use in decorative arts; this use dates to approximately 1800 BC. Carnelian was used widely during Roman times to make engraved gems for signet or seal rings for imprinting a seal with wax on correspondence or other important documents. Hot wax does not stick to carnelian. Sard was used for
Assyria
Assyria
Assyria was a Semitic Akkadian kingdom, extant as a nation state from the mid–23rd century BC to 608 BC centred on the Upper Tigris river, in northern Mesopotamia , that came to rule regional empires a number of times through history. It was named for its original capital, the ancient city of Assur...
n
cylinder seal
Cylinder seal
A cylinder seal is a cylinder engraved with a 'picture story', used in ancient times to roll an impression onto a two-dimensional surface, generally wet clay. Cylinder seals were invented around 3500 BC in the Near East, at the contemporary site of Susa in south-western Iran and at the early site...
s,
Egyptian
Ancient Egypt
Ancient Egypt was an ancient civilization of Northeastern Africa, concentrated along the lower reaches of the Nile River in what is now the modern country of Egypt. Egyptian civilization coalesced around 3150 BC with the political unification of Upper and Lower Egypt under the first pharaoh...
and
Phoenicia
Phoenicia
Phoenicia , was an ancient civilization in Canaan which covered most of the western, coastal part of the Fertile Crescent. Several major Phoenician cities were built on the coastline of the Mediterranean. It was an enterprising maritime trading culture that spread across the Mediterranean from 1550...
n scarabs, and early
Greek
Ancient Greece
Ancient Greece is a civilization belonging to a period of Greek history that lasted from the Archaic period of the 8th to 6th centuries BC to the end of antiquity. Immediately following this period was the beginning of the Early Middle Ages and the Byzantine era. Included in Ancient Greece is the...
and Etruscan gems. The
Hebrew
Hebrew language
Hebrew is a Semitic language of the Afroasiatic language family. Culturally, is it considered by Jews and other religious groups as the language of the Jewish people, though other Jewish languages had originated among diaspora Jews, and the Hebrew language is also used by non-Jewish groups, such...
odem (translated sardius), the first stone in the
High Priest's breastplate
Hoshen
The priestly breastplate was a sacred breastplate worn by the High Priest for the Israelites, according to the Book of Exodus...
, was a red stone, probably sard but perhaps red
jasper
Jasper
Jasper, a form of chalcedony, is an opaque, impure variety of silica, usually red, yellow, brown or green in color; and rarely blue. This mineral breaks with a smooth surface, and is used for ornamentation or as a gemstone. It can be highly polished and is used for vases, seals, and at one time for...
.
Etymology
The word carnelian is derived from the
Latin
Latin
Latin is an Italic language originally spoken in Latium and Ancient Rome. It, along with most European languages, is a descendant of the ancient Proto-Indo-European language. Although it is considered a dead language, a number of scholars and members of the Christian clergy speak it fluently, and...
word
caro, carnis
meaning flesh, in reference to the flesh color sometimes exhibited. According to
Pliny the Elder
Pliny the Elder
Gaius Plinius Secundus , better known as Pliny the Elder, was a Roman author, naturalist, and natural philosopher, as well as naval and army commander of the early Roman Empire, and personal friend of the emperor Vespasian...
, sard derives its name from the city of
Sardis
Sardis
Sardis or Sardes was an ancient city at the location of modern Sart in Turkey's Manisa Province...
in
Lydia
Lydia
Lydia was an Iron Age kingdom of western Asia Minor located generally east of ancient Ionia in the modern Turkish provinces of Manisa and inland İzmir. Its population spoke an Anatolian language known as Lydian....
, but it more likely comes from the
Persian
Persian language
Persian is an Iranian language within the Indo-Iranian branch of the Indo-European languages. It is primarily spoken in Iran, Afghanistan, Tajikistan and countries which historically came under Persian influence...
word سرد
sered
, meaning yellowish-red.
Distinction between carnelian and sard
The names carnelian and sard are often used interchangeably, but they can also be used to describe distinct subvarieties. The general differences are as follows:
| | Carnelian | Sard |
| --- | --- | --- |
| Color | Lighter, with shades ranging from orange to reddish-brown. | Darker, with shades ranging from a deep reddish-brown to almost black. |
| Hardness | Softer | Harder and tougher. |
| Fracture | Uneven, splintery and conchoidal | Like carnelian, but duller and more hackly. |
All of these properties vary across a continuum, and so the boundary between carnelian and sard is inevitably blurred.
External links