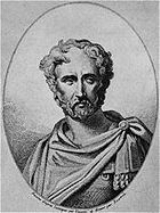 Pliny the Elder
Gaius Plinius Secundus
(23 AD – August 25, 79 AD), better known as
Pliny the Elder
, was a Roman
author
Author
An author is broadly defined as "the person who originates or gives existence to anything" and that authorship determines responsibility for what is created. Narrowly defined, an author is the originator of any written work.-Legal significance:...
,
naturalist
Naturalist
Naturalist may refer to:* Practitioner of natural history* Conservationist* Advocate of naturalism * Naturalist , autobiography-See also:* The American Naturalist, periodical* Naturalism...
, and natural philosopher, as well as naval and army commander of the early
Roman Empire
Roman Empire
The Roman Empire was the post-Republican period of the ancient Roman civilization, characterised by an autocratic form of government and large territorial holdings in Europe and around the Mediterranean....
, and personal friend of the emperor
Vespasian
Vespasian
Vespasian , was Roman Emperor from 69 AD to 79 AD. Vespasian was the founder of the Flavian dynasty, which ruled the Empire for a quarter century. Vespasian was descended from a family of equestrians, who rose into the senatorial rank under the Emperors of the Julio-Claudian dynasty...
. Spending most of his spare time studying, writing or investigating natural and geographic phenomena in the field, he wrote an encyclopedic work,
Naturalis Historia
, which became a model for all such works written subsequently.
Fortune favours the brave…

Attributed by Pliny the Younger to his uncle during the eruption of Mount Vesuvius|Mount Vesuvius in which the Elder died
In comparing various authors with one another, I have discovered that some of the gravest and latest writers have transcribed, word for word, from former works, without making acknowledgment.

Book I, Dedication, sec. 22
The only certainty is that nothing is certain.

Book II, sec. 7
It is far from easy to determine whether she [Nature] has proved to man a kind parent or a merciless stepmother.

Book VII, sec. 1
Man alone at the very moment of his birth, cast naked upon the naked earth, does she [Nature] abandon to cries and lamentations.

Book VII, sec. 2
To laugh, if but for an instant only, has never been granted to man before the fortieth day from his birth, and then it is looked upon as a miracle of precocity.

Book VII, sec. 2
Man is the only one that knows nothing, that can learn nothing without being taught. He can neither speak nor walk nor eat, and in short he can do nothing at the prompting of nature only, but weep.

Book VII, sec. 4
With man, most of his misfortunes are occasioned by man.

Book VII, sec. 5
Indeed, what is there that does not appear marvelous when it comes to our knowledge for the first time? How many things, too, are looked upon as quite impossible until they have actually been effected?

Book VII, sec. 6
The human features and countenance, although composed of but some ten parts or little more, are so fashioned that among so many thousands of men there are no two in existence who cannot be distinguished from one another.

Book VII, sec. 8