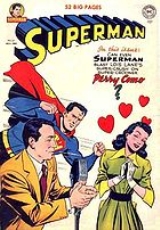 Perry Como
Pierino Ronald "Perry" Como
(May 18, 1912 – May 12, 2001) was an American singer and television personality. During a career spanning more than half a century he recorded exclusively for the RCA Victor label after signing with them in 1943. "Mr. C.", as he was nicknamed, sold millions of records for Radio Corporation of America (RCA) and pioneered a weekly musical variety television show, which set the standards for the genre and proved to be one of the most successful in television history. Como was seen weekly on television from 1949 to 1963, then continued hosting the
Kraft Music Hall
Kraft Music Hall (TV series)
Kraft Music Hall is an umbrella title for several television series aired by NBC in the United States from the 1950s to the 1970s in the musical variety genre, sponsored by Kraft Foods, the producers of a well-known line of cheeses and related dairy products...
variety program on a monthly basis until 1967. His television shows and seasonal specials were broadcast throughout the world. Also a popular recording artist, Perry Como produced numerous hit records with record sales so high the label literally stopped counting at Como's behest. His combined success on television and popular recordings was not matched by any other artist of the time. Como's appeal spanned generations and he was widely respected for both his professional standards and the conduct in his personal life. In the official RCA Records
Billboard magazine
Billboard (magazine)
Billboard is a weekly American magazine devoted to the music industry, and is one of the oldest trade magazines in the world. It maintains several internationally recognized music charts that track the most popular songs and albums in various categories on a weekly basis...
memorial, his life was summed up in these few words: "50 years of music and a life well lived. An example to all." Composer
Ervin Drake
Ervin Drake
Ervin Drake, born Ervin Maurice Druckman is an American songwriter whose works include such American Songbook standards as "It Was a Very Good Year". He has written in a variety of styles and his work has been recorded by musicians from all over the world in a multitude of styles...
said of him, "... [o]ccasionally someone like Perry comes along and won't 'go with the flow' and still prevails in spite of all the bankrupt others who surround him and importune him to yield to their values. Only occasionally."
One of the many factors in his success was Como's insistence on his principles of good taste; if he considered something to be in bad or poor taste, it was not in the show or broadcast. When a remark made by
Julius La Rosa
Julius La Rosa
Julius La Rosa is an American traditional popular music singer who has worked in both radio and television since the 1950s.-Early years and big break:...
about television personality
Arthur Godfrey
Arthur Godfrey
Arthur Morton Godfrey was an American radio and television broadcaster and entertainer who was sometimes introduced by his nickname, The Old Redhead...
on
The Perry Como Show
was misconstrued, Como offered an on-air apology at the beginning of his next show, against the advice of his staff. While his performance of "Ave Maria" was a tradition of his holiday television programs, Como refused to sing it at live performances, saying, "It's not the time or place to do it.", even though it was the number one request of his audiences. Another was his naturalness; the man viewers saw on the screen was the same person who could be encountered behind a supermarket shopping cart, at a bowling alley, or in a kitchen making breakfast. From his first
Chesterfield Supper Club
television show, if scripts were written at all, they were based on the way Como would say something. Como was not devoid of a temper, and it could be seen at times as a result of the frustrations of daily life. His music director from 1948 – 1963,
Mitchell Ayres
Mitchell Ayres
Mitchell Ayres was an orchestra leader, music arranger, composer and performer. He is best known for his many years of work with Perry Como on radio, records, and television and as the musical conductor for The Hollywood Palace.-Early years:Born Mitchell Agress in Milwaukee, Wisconsin, he...
, said, "Perry has a temper like everyone else. And he loses his temper at the normal things everyone else does. When we're driving, for instance, and somebody cuts him off, he really lets the offender have it."
Como received five
Emmys
Emmy Award
An Emmy Award, often referred to simply as the Emmy, is a television production award, similar in nature to the Peabody Awards but more focused on entertainment, and is considered the television equivalent to the Academy Awards and the Grammy Awards .A majority of Emmys are presented in various...
from 1955 to 1959, a
Christopher Award
Christopher Award
The Christopher Award is presented to the producers, directors, and writers of books, motion pictures and television specials that "affirm the highest values of the human spirit"...
(1956) and shared a
Peabody Award
Peabody Award
The George Foster Peabody Awards recognize distinguished and meritorious public service by radio and television stations, networks, producing organizations and individuals. In 1939, the National Association of Broadcasters formed a committee to recognize outstanding achievement in radio broadcasting...
with good friend Jackie Gleason in 1956. He was inducted into the Academy of Television Arts & Sciences Hall of Fame in 1990 and received a
Kennedy Center Honor
Kennedy Center Honors
The Kennedy Center Honors is an annual honor given to those in the performing arts for their lifetime of contributions to American culture. The Honors have been presented annually since 1978 in Washington, D.C., during gala weekend-long events which culminate in a performance for—and...
in 1987. Posthumously, Como received the
Grammy Lifetime Achievement Award
Grammy Lifetime Achievement Award
The Grammy Lifetime Achievement Award is awarded by the Recording Academy to "performers who, during their lifetimes, have made creative contributions of outstanding artistic significance to the field of recording."...
in 2002; he was inducted into the
Long Island Music Hall of Fame
Long Island Music Hall of Fame
The Long Island Music Hall of Fame is an organization whose office is located in Port Jefferson, New York. It was incorporated in July 2005 under the New York State Board of Regents as a non profit organization and holds a provisional charter to operate as a museum in the state of New York...
in 2006 and the Hit Parade Hall of Fame in 2007. Como has the distinction of having three stars on the
Hollywood Walk of Fame
Hollywood Walk of Fame
The Hollywood Walk of Fame consists of more than 2,400 five-pointed terrazzo and brass stars embedded in the sidewalks along fifteen blocks of Hollywood Boulevard and three blocks of Vine Street in Hollywood, California...
for his work in radio, television, and music.
Personal life
Como was born in
Canonsburg, Pennsylvania
Canonsburg, Pennsylvania
Canonsburg is a borough in Washington County, Pennsylvania, southwest of Pittsburgh. Canonsburg was laid out by Colonel John Canon in 1789 and incorporated in 1802....
, 18 miles southwest of
Pittsburgh
Pittsburgh, Pennsylvania
Pittsburgh is the second-largest city in the US Commonwealth of Pennsylvania and the county seat of Allegheny County. Regionally, it anchors the largest urban area of Appalachia and the Ohio River Valley, and nationally, it is the 22nd-largest urban area in the United States...
. He was the seventh of the 13 children of Pietro Como (1877–1945), and Lucia Travaglini (1883–1961), who both emigrated to the US in 1910 from the Abruzzese town of Palena,
Italy
Italy
Italy , officially the Italian Republic languages]] under the European Charter for Regional or Minority Languages. In each of these, Italy's official name is as follows:;;;;;;;;), is a unitary parliamentary republic in South-Central Europe. To the north it borders France, Switzerland, Austria and...
. Perry was the first of their children born in the United States. He did not begin speaking English until he entered school, since the Comos spoke
Italian
Italian language
Italian is a Romance language spoken mainly in Europe: Italy, Switzerland, San Marino, Vatican City, by minorities in Malta, Monaco, Croatia, Slovenia, France, Libya, Eritrea, and Somalia, and by immigrant communities in the Americas and Australia...
at home. The family had a second-hand organ Pietro had bought for $3; as soon as Perry was able to toddle, he would head to the instrument, pump the
bellows
Reed organ
A reed organ, also called a parlor organ, pump organ, cabinet organ, cottage organ, is an organ that generates its sounds using free metal reeds...
, and play music he had heard by ear. His father, a mill hand and an amateur
baritone
Baritone
Baritone is a type of male singing voice that lies between the bass and tenor voices. It is the most common male voice. Originally from the Greek , meaning deep sounding, music for this voice is typically written in the range from the second F below middle C to the F above middle C Baritone (or...
, had all his children attend music lessons even if he could barely afford them. In a rare 1957 interview, Como's mother, Lucia, described how her young son also took on other jobs to pay for more music lessons; Como learned to play many different instruments, but never had a voice lesson. Perry showed more musical talent in his teenage years as a
trombone
Trombone
The trombone is a musical instrument in the brass family. Like all brass instruments, sound is produced when the player's vibrating lips cause the air column inside the instrument to vibrate...
player in the town's
brass band
Brass band
A brass band is a musical ensemble generally consisting entirely of brass instruments, most often with a percussion section. Ensembles that include brass and woodwind instruments can in certain traditions also be termed brass bands , but are usually more correctly termed military bands, concert...
, playing
guitar
Guitar
The guitar is a plucked string instrument, usually played with fingers or a pick. The guitar consists of a body with a rigid neck to which the strings, generally six in number, are attached. Guitars are traditionally constructed of various woods and strung with animal gut or, more recently, with...
, singing at weddings, and as an
organist
Organist
An organist is a musician who plays any type of organ. An organist may play solo organ works, play with an ensemble or orchestra, or accompany one or more singers or instrumental soloists...
at church. He was a member of the Canonsburg Italian Band along with the father of singer
Bobby Vinton
Bobby Vinton
Bobby Vinton is an American pop music singer of Polish origin. In pop music circles, he became known as "The Polish Prince".-Early life:...
, bandleader Stan Vinton, who was often a customer at his barber shop.
Young Como started helping his family at age 10, working before and after school in Steve Fragapane's barber shop for 50¢ a week. By age 13, he had graduated to having his own chair in the Fragapane barber shop, even though he had to stand on a box to tend to his customers. It was also around this time when young Como lost his week's wages in a dice game. Filled with shame, he locked himself in his room and did not come out until hunger got the better of him. He managed to tell his father what had happened to the money his family depended on; his father told him he was entitled to make a mistake and that he hoped his son would never do anything worse than this. When Perry was 14, his father became unable to work due to a severe heart condition; Como and his brothers became the support of the household.
Despite his musical ability, Como's primary ambition was to become the best
barber
Barber
A barber is someone whose occupation is to cut any type of hair, and to shave or trim the beards of men. The place of work of a barber is generally called a barbershop....
in Canonsburg. Training on his father, young Como mastered the skills well enough to have his own shop at age 14. One of Como's regular customers at the Fragapane barber shop owned a Greek coffee house that included a barber shop area, and asked the young barber if he would like to take over that portion of his shop. Como had so much work after moving to the coffee house, he had to hire two barbers to help with it. His customers mainly worked at the nearby steel mills. They were well-paid, did not mind spending money on themselves and enjoyed hearing Como's song renditions. Perry did especially well when one of his customers would marry. The groom and his men would avail themselves of every treatment Como and his assistants had to offer. Como sang romantic songs while busying himself with the groom as the other two barbers worked with the rest of the groom's party. During the wedding preparation, the groom's friends and relatives would come into the shop with gifts of money which would be given to Como. He became so popular as a "wedding barber" in the Greek community he was asked to provide his services in Pittsburgh and Ohio.
In 1929, the 17 year old Como met Roselle Belline at a picnic on
Chartiers Creek
Chartiers Creek
Chartiers Creek is a tributary of the Ohio River in Western Pennsylvania in the United States. The creek was named after Pierre Chartiers, a trapper of French and Native American parentage who established a trading post at the mouth of the creek in 1743....
that attracted many young people from Canonsburg and the surrounding area. Como, who attended the cookout with another girl, did not spot Roselle until everyone was around the campfire singing and the gathering was coming to a close. When it came Como's turn to sing, he chose
More Than You Know
More Than You Know (1929 song)
"More Than You Know" is a popular song, with music written by Vincent Youmans and lyrics by Billy Rose and Edward Eliscu. The song was published in 1929....
, with his eyes on Roselle for the entire song. The teenage sweethearts were married July 31, 1933. They raised three children, Ronnie, David, and Terri, with traditional, non-show-business values. Because Perry Como believed his professional life and his personal life should be kept separate, he declined repeated interview requests from
Edward R. Murrow
Edward R. Murrow
Edward Roscoe Murrow, KBE was an American broadcast journalist. He first came to prominence with a series of radio news broadcasts during World War II, which were followed by millions of listeners in the United States and Canada.Fellow journalists Eric Sevareid, Ed Bliss, and Alexander Kendrick...
's
Person to Person
Person to Person
Person to Person was a popular television program in the United States that ran from 1953 to 1961. Well-respected news reporter Edward R. Murrow hosted it until 1959, interviewing celebrities in their homes from a comfortable chair in his New York studio Person to Person was a popular television...
.
In 1958, the Comos celebrated their
silver wedding anniversary
Wedding anniversary
-Official recognition:In the Commonwealth realms, one can receive a message from the monarch for 60th, 65th, and 70th wedding anniversaries, and any wedding anniversary after that...
with a family trip to Italy. On the itinerary was an audience with
Pope Pius XII
Pope Pius XII
The Venerable Pope Pius XII , born Eugenio Maria Giuseppe Giovanni Pacelli , reigned as Pope, head of the Catholic Church and sovereign of Vatican City State, from 2 March 1939 until his death in 1958....
. Como, who sat in a side wing of the Long Island church where he attended Sunday Mass in an effort to avoid attracting attention, was both puzzled and upset on returning home that photos from the visit made the newspapers throughout the world. A thorough check of both the Como and National Broadcasting Company (NBC) publicity offices found that neither was responsible for the release of the photos to the media; it was done by the
Vatican
Holy See
The Holy See is the episcopal jurisdiction of the Catholic Church in Rome, in which its Bishop is commonly known as the Pope. It is the preeminent episcopal see of the Catholic Church, forming the central government of the Church. As such, diplomatically, and in other spheres the Holy See acts and...
's press department. When Perry and Roselle became Knight Commander and Lady Commander of the Equestrian Order of the
Order of the Holy Sepulchre
Order of the Holy Sepulchre
The Equestrian Order of the Holy Sepulchre of Jerusalem is a Roman Catholic order of knighthood under the protection of the pope. It traces its roots to Duke Godfrey of Bouillon, principal leader of the First Crusade...
in 1952, it was a news item only after
Archbishop
Archbishop
An archbishop is a bishop of higher rank, but not of higher sacramental order above that of the three orders of deacon, priest , and bishop...
Fulton J. Sheen
Fulton J. Sheen
Servant of God Fulton John Sheen, born Peter John Sheen was an American archbishop of the Catholic Church known for his preaching and especially his work on television and radio...
, who had been honored at the same ceremony, made mention of it some time later.
Como suffered a debilitating fall from a stage platform in 1971 while taping
Perry Como's Winter Show
in Hollywood. X-rays taken at a local hospital showed no serious injury to his knee, but by the next morning, it was twice normal size. The ailing Como chartered a jet back to his home and doctors in Florida, where a second exam showed it had been seriously broken. His knee was re-set and placed in a cast with a recuperation time of eight months. In 1993, he was successfully treated for bladder cancer. When Roselle died suddenly on August 12, 1998 at age 84, the couple had been married for 65 years. Como was reportedly devastated by her loss.
Bing Crosby
Bing Crosby
Harry Lillis "Bing" Crosby was an American singer and actor. Crosby's trademark bass-baritone voice made him one of the best-selling recording artists of the 20th century, with over half a billion records in circulation....
once described Como as, "the man who invented casual". His preference for casual clothing did not keep him from being named one of the Best Dressed Men beginning in 1946, and continuing long after Como stopped appearing on weekly television. Como also had his own line of sports/casual men's clothing made by Bucknell circa early 1950s.
Perry was an enthusiastic and accomplished golfer; there was always time to try getting in a game of
golf
Golf
Golf is a precision club and ball sport, in which competing players use many types of clubs to hit balls into a series of holes on a golf course using the fewest number of strokes....
. "Perry Como Putters" were sold by MacGregor, each stamped with a Como facsimile autograph. His colleagues held an annual Perry Como Golf Tournament to honor him and his love for the game. In what must have been one of his favorite shows of his weekly series, Como's guests on the October 3, 1962 broadcast were
Jack Nicklaus
Jack Nicklaus
Jack William Nicklaus , nicknamed "The Golden Bear", is an American professional golfer. He won 18 career major championships on the PGA Tour over a span of 25 years and is widely regarded as one of the greatest professional golfers of all time. In addition to his 18 Majors, he was runner-up a...
,
Arnold Palmer
Arnold Palmer
Arnold Daniel Palmer is an American professional golfer, who is generally regarded as one of the greatest players in the history of men's professional golf. He has won numerous events on both the PGA Tour and Champions Tour, dating back to 1955...
, and
Gary Player
Gary Player
Gary Player DMS; OIG is a South African professional golfer. With his nine major championship victories, he is widely regarded as one of the greatest players in the history of golf. He was inducted into the World Golf Hall of Fame in 1974. Player has won 165 tournaments on six continents over six...
. The four golfers played 18 holes for the cameras at
Sands Point, New York
Sands Point, New York
Sands Point is a village located at the northernmost tip of the Cow Neck Peninsula on the North Shore of Long Island in Nassau County, New York. As of the United States 2010 Census, the village population was 2,675. The Incorporated Village of Sands Point is in the Town of North...
, where the Comos made their home in the television years. Como also enjoyed
fishing
Recreational fishing
Recreational fishing, also called sport fishing, is fishing for pleasure or competition. It can be contrasted with commercial fishing, which is fishing for profit, or subsistence fishing, which is fishing for survival....
and could be found out on his boat almost every day after the family moved to Florida. Perry's "catches" would turn out to be the Como family's dinners. Como also used his boat as a rehearsal hall with pre-recorded instrumental tapes sent to him by RCA Victor. Perry would work on material while he was waiting for the fish to bite. Having enjoyed golfing and fishing in the North Carolina mountains for a number of years, Como built a vacation home in the small town of
Saluda, North Carolina
Saluda, North Carolina
The City of Saluda is located in both Henderson and Polk counties in the U.S. state of North Carolina. The population was 713 at the 2010 census. Saluda is famous for sitting at the top of the Norfolk Southern Railway's Saluda Grade, the steepest main line standard gauge railroad line east of the...
in 1980. He allowed no photos of his home, as it was his private place to get away from the celebrity life.
Freddy Carlone and Ted Weems
In 1932, Como left Canonsburg, moving about 100 miles away to
Meadville, Pennsylvania
Meadville, Pennsylvania
Meadville is a city in and the county seat of Crawford County, Pennsylvania, United States. The city is generally considered part of the Pittsburgh Tri-State and is within 40 miles of Erie, Pennsylvania. It was the first permanent settlement in northwest Pennsylvania...
, where his uncle had a barber shop in the
Hotel Conneaut
Conneaut Lake Park
Conneaut Lake Park is a summer amusement resort, located in Conneaut Lake, Pennsylvania, USA. It has long served as a regional tourist destination, and is loved by roller coaster enthusiasts for its classic Blue Streak coaster, which was recently classified as "historic" by the group American...
. About 80 miles from Cleveland, it was a stop on the itinerary for dance bands who worked up and down the Ohio Valley. Como, Roselle, and their friends had gone to nearby Cleveland; their good times took them to the Silver Slipper Ballroom where Freddy Carlone and his orchestra were playing. Carlone invited anyone who thought he might have singing talent to come up and sing with his band. Young Como was terrified, but his friends urged him onto the stage.
The young man was not certain if he should accept the offer Freddy Carlone made, so he returned to Canonsburg to talk the matter over with his father. Perry expected he would tell him to stay in the barber business, but to his surprise, the senior Como told him if he did not try this, he would never know whether or not he could be a professional singer. The decision was also made with an eye on finances; Como earned $125 per week from his barber shop while the job with Carlone paid $28 per week. Roselle was willing to be a wife on the road, traveling with her husband and the band, but the salary could not support two people like this. Perry and Roselle were married in Meadville on July 31, 1933; four days later, Como joined Freddy Carlone's band and began working with them. Roselle returned home to Canonsburg; her new husband would be on the road for the next 18 months.
Three years after joining the Carlone band, Como moved to
Ted Weems
Ted Weems
Wilfred Theodore Weems was an American bandleader and musician. Weems' work in music was recognized with a star on the Hollywood Walk of Fame.- Biography :...
' Orchestra and his first recording dates. Como and Weems met in 1936 while the Carlone orchestra was playing in
Warren, Ohio
Warren, Ohio
As of the census of 2000, there were 46,832 people, 19,288 households and 12,035 families residing in the city. The population density was 2,912.4 people per square mile . There were 21,279 housing units at an average density of 1,322.9 per square mile...
. Perry initially did not take the offer. Apparently realizing it was the best move for his young vocalist, Freddy Carlone urged him to sign with Weems.
Art Jarrett
Art Jarrett
Arthur L. Jarrett, Jr. born to stage actor and playwright Arthur L. Jarrett, Sr. . Art Jr...
had just left the Weems organization to start his own band. Weems was in need of a vocalist; Como got a raise, as Weems paid $50 per week, and his first chance for nationwide exposure. Ted Weems and his orchestra were based in
Chicago
Chicago
Chicago is the largest city in the US state of Illinois. With nearly 2.7 million residents, it is the most populous city in the Midwestern United States and the third most populous in the US, after New York City and Los Angeles...
, and were regulars on radio shows such as
The Jack Benny Program
The Jack Benny Program
The Jack Benny Program, starring Jack Benny, is a radio-TV comedy series that ran for more than three decades and is generally regarded as a high-water mark in 20th-century American comedy.-Cast:*Jack Benny - Himself...
and
Fibber McGee and Molly
Fibber McGee and Molly
Fibber McGee and Molly was an American radio comedy series which maintained its popularity over decades. It premiered on NBC in 1935 and continued until its demise in 1959, long after radio had ceased to be the dominant form of entertainment in American popular culture.-Husband and wife in real...
. The Weems band also had its own weekly radio program on the Mutual Broadcasting System from 1936 – 1937.
It was here where the young Como acquired polish and his own unique style, with the help of Ted Weems. Mutual Broadcasting System member
WGN
WGN (AM)
WGN is a radio station in Chicago, Illinois, USA. It is the only radio station owned by the Tribune Company, which also owns the flagship television station WGN-TV, the Chicago Tribune newspaper and Chicago magazine locally. WGN's transmitter is located in Elk Grove Village, Illinois...
radio threatened to stop carrying the Weems broadcasts from Chicago's
Palmer House
Palmer House
The Palmer House Hilton is a famous and historic hotel in downtown Chicago.-History:There have been three Palmer House Hotels at the corner of State and Monroe Streets in Chicago....
if Weems' new singer did not improve. Weems had recordings of some previous radio programs; one evening he and Como listened to them after the show. From listening to them, Como realized no one could make out the words to the songs he was singing. Weems told Como there was no need for him to resort to vocal tricks; what was necessary was to sing from the heart.
Como's first recording with the Weems band was a novelty tune called "You Can't Pull the Wool Over My Eyes", recorded for the
Decca Records
Decca Records
Decca Records began as a British record label established in 1929 by Edward Lewis. Its U.S. label was established in late 1934; however, owing to World War II, the link with the British company was broken for several decades....
label in May, 1936. During one of Como's early Decca recording sessions with the Weems orchestra, Weems was told to get rid of "that kid" (Como) because he sounded too much like Bing Crosby. Before Como could reply, Ted Weems did, saying that Como was part of the session or it was over. By the time Como had been with Ted Weems about a year, he was mentioned in a 1937
Life
magazine NBC Radio ad for
Fibber McGee and Molly
as "causing cardiac flutters with his crooning." The weekly radio show,
Beat the Band
Beat the Band
Beat the Band was a musical quiz show heard on NBC radio from 1940 to 1944 in two distinctly different series. The program popularized the show business catch phrase, "Give me a little traveling music," often uttered on TV a decade later by Jackie Gleason....
, which ran on NBC from 1940 – 1944, was a "stump the band" type musical quiz show where Weems and his orchestra were the featured band from 1940 – 1941.
RCA Victor and radio
The Como's first child, Ronnie, was born in 1940 while the Weems band was working in Chicago. Como left the performance to be at his wife's side even though he was threatened with dismissal if he did so. Though Perry was now making $250 a week and travel expenses for the family were no problem, young Ronnie could not become used to a normal routine when they were able to stay in one place for a period of time. The radio program
Beat the Band
did not always originate from Chicago, but was often done from locations such as Milwaukee, Denver and St. Louis, as the band continued to play road engagements while part of the radio show cast. The Comos decided road life was no place to try raising a child, and Roselle and the baby went back to Canonsburg.
In late 1942, Como made the decision to quit the Weems band, even if it meant giving up singing. He returned to Canonsburg, his family, and his trade, tired of life on the road without his wife and young son. Como received an offer to become a Frank Sinatra imitator, but chose to keep his own style. While Perry was negotiating for a store lease to re-open a barber shop, he had a call from Tommy Rockwell at General Artists Corporation, who also represented Ted Weems. Como had many other calls bringing offers; what was different was that he knew and trusted Rockwell, who was offering him his own sustaining (non-sponsored)
Columbia Broadcasting System (CBS)
CBS
CBS Broadcasting Inc. is a major US commercial broadcasting television network, which started as a radio network. The name is derived from the initials of the network's former name, Columbia Broadcasting System. The network is sometimes referred to as the "Eye Network" in reference to the shape of...
radio show and to get him a recording contract. It also mattered that the offers meant staying in New York with no more road tours. As Perry pondered the offer, Roselle Como told him, "You can always get another barber shop if it doesn't work out!" Until the radio show and recording contract offers, he did not really view singing as his career, believing the years with Carlone and Weems had been enjoyable, but now it was time to get back to work. Como said in an 1983 interview, "I thought I'd have my fun and I'd go home to work."
Perry went on the air for CBS on March 12, 1943. Rockwell's next move was to book Como into the renown Copacabana night club for two weeks beginning on June 10, 1943. One week later he signed his first RCA Victor contract and three days after that cut his first record for the company: "Goodbye, Sue". It was the beginning of a 44 year professional relationship; no major artist has been with a recording company longer. He became a very successful performer in theater and
night club
Nightclub
A nightclub is an entertainment venue which usually operates late into the night...
engagements; Como's initial two weeks at the Copacabana in June stretched into August. There were times when
Frank Sinatra
Frank Sinatra
Francis Albert "Frank" Sinatra was an American singer and actor.Beginning his musical career in the swing era with Harry James and Tommy Dorsey, Sinatra became an unprecedentedly successful solo artist in the early to mid-1940s, after being signed to Columbia Records in 1943. Being the idol of the...
would ask Como to fill in for him at his
Paramount Theater
Paramount Theater
Paramount Theater or Paramount Theatre may refer to:In China*Paramount or Paramount Theatre, Shanghai, ChinaIn the United States *Paramount Theater on the U.S...
performances. The
crooning
Crooner
Crooner is an American epithet given to male singers of pop standards, mostly from the Great American Songbook, either backed by a full orchestra, a big band or by a piano. Originally it was an ironic term denoting an emphatically sentimental, often emotional singing style made possible by the use...
craze was at its height during this time and the "
bobby soxer
Bobby soxer
Bobby soxer is a 1940s sociologic coinage denoting the over zealous, usually teenage and young adult girls from about 12 to 25, fans of singer Frank Sinatra, the first singing teen idol. Fashionable adolescent girls wore poodle skirts and rolled down their socks to the ankle...
" and "swooner" teenage girls who were wild about Sinatra added Como to their list, a "swooners" club voting him "Crooner of the Year" in 1943. The line for a Perry Como Paramount performance was three deep and wound around the city block. Como's popularity also extended to a more mature audience when he played the Versailles and returned to the Copacabana, where the management placed "SRO-Swooning Ruled Out" cards on their tables.
Doug Storer
Doug Storer
Doug Storer was a radio producer, talent agent, and writer responsible for creating and producing radio programs from the 1930s to the 1960s, including Ripley's Believe It or Not and Renfrew of the Royal Mounted.-External links:...
, who was an advertising manager with the Blackman Company at the time, became convinced of Como's abilities after hearing him on his non-sponsored CBS Radio show. Storer produced a
demo
Demo
Demo may refer to:*DEMOs, a business process design methodology by Jan Dietz*Demo , a comic book series by Brian Wood and Becky Cloonan*Demo , a non-interactive multimedia presentation...
radio program recording with Como and the Mitchell Ayres Orchestra which he brought to the advertising agency that handled the Chesterfield cigarettes account. Initially, the agency liked the format of the show, but wanted someone else as the star, asking Storer to obtain the release of the singer they preferred, so he would be free for their new program. Storer decided to do nothing about getting the singer released from his contract. When he was contacted by the agency some weeks later, saying they were ready to put the program on the air on NBC, Storer bluntly told them the man for their show was the man they had heard on the demo recording. The program was scheduled to make its debut in about a week; the only option was to hire Como for the show. Storer then arranged for Como's release from his CBS contract. On December 11, 1944, he moved from CBS to
NBC
NBC
The National Broadcasting Company is an American commercial broadcasting television network and former radio network headquartered in the GE Building in New York City's Rockefeller Center with additional major offices near Los Angeles and in Chicago...
for a new radio program,
Chesterfield Supper Club
.
The April 5, 1946 broadcasts of the
Chesterfield Supper Club
took place 20,000 feet in the air; these were the first known instances of a complete radio show being presented from an airplane. Como,
Jo Stafford
Jo Stafford
Jo Elizabeth Stafford was an American singer of traditional pop music and jazz standards and occasional actress whose career ran from the late 1930s to the early 1960s...
, the Lloyd Shaffer Orchestra and the entire "Supper Club" crew made the flights for the shows. There were two "Supper Club" broadcast flights that evening: at 6 PM and again at 10 PM for the West Coast broadcast of the show. In addition to the instruments for the band, the plane also carried a small piano. Because the stand-held microphones were not very useful on the plane, hand-held mikes were then used, but due to the cabin pressure, they became extremely heavy to hold after a few minutes. This mid-air performance caused the
American Federation of Musicians
American Federation of Musicians
The American Federation of Musicians of the United States and Canada is a labor union of professional musicians in the United States and Canada...
to consider this a new type of engagement and issue a special set of rates for it.
Como in concert
After 26 years of not making night club appearances, Como accepted an engagement at the International Hotel in Las Vegas in June 1970, which also resulted in his first "live" album,
Perry Como in Person at the International Hotel, Las Vegas
Perry Como in Person at the International Hotel, Las Vegas
Perry Como In Person at the International Hotel, Las Vegas was Perry Como's 18th RCA Victor 12" long-play album, the 16th recorded in full "living" stereophonic sound and his first live album....
. Ray Charles, whose Ray Charles Singers were heard with Como for over 35 years, formed a special edition of the vocal group for his Las Vegas opening. Prior to this he had last appeared at New York's
Copacabana
Copacabana (nightclub)
The Copacabana is a famous New York City nightclub. Many entertainers, among them Danny Thomas, Pat Cooper and the comedy team of Martin and Lewis, made their debuts at the Copacabana. The 1978 Barry Manilow song "Copacabana" is named after, and is about the nightclub. Part of the 2003 Yerba...
in 1944. Como continued to do periodic engagements in Las Vegas and Lake Tahoe, limiting his night club appearances to Nevada.
Performing live again brought Como a new sense of enjoyment. In May 1974, he embarked on his first concert appearance outside of the United States, a show at the
London Palladium
London Palladium
The London Palladium is a 2,286 seat West End theatre located off Oxford Street in the City of Westminster. From the roster of stars who have played there and many televised performances, it is arguably the most famous theatre in London and the United Kingdom, especially for musical variety...
for the
Variety Club
Variety, the Children's Charity
Variety, the Children's Charity is an organisation founded in Pittsburgh, Pennsylvania on October 10, 1927, when a group of eleven men involved in show business set up a social club which they named the "Variety Club". On Christmas Eve 1928, a small baby was left on the steps the Sheridan Square...
of Great Britain to aid children's charities. It was here where he discovered what he had been missing when the audience cheered for ten minutes after he walked onstage. At the show's end, Como sat in a chair, delightedly chatting back and forth with his equally delighted fans. Perry returned to the United Kingdom (UK) in November for a
Royal Variety Performance
Royal Variety Performance
The Royal Variety Performance is a gala evening held annually in the United Kingdom, which is attended by senior members of the British Royal Family, usually the reigning monarch. In more recent years Queen Elizabeth II and The Prince of Wales have alternately attended the performance...
to benefit the Entertainment Artistes' Benevolent Fund with the
Queen Mother
Elizabeth Bowes-Lyon
Elizabeth Angela Marguerite Bowes-Lyon was the queen consort of King George VI from 1936 until her husband's death in 1952, after which she was known as Queen Elizabeth The Queen Mother, to avoid confusion with her daughter, Queen Elizabeth II...
in attendance. Como was invited to visit
Buckingham Palace
Buckingham Palace
Buckingham Palace, in London, is the principal residence and office of the British monarch. Located in the City of Westminster, the palace is a setting for state occasions and royal hospitality...
the day after the show. Since the invitation did not extend to his associates traveling and working with him, Como politely declined. When word reached the Palace regarding the reason for Perry's turning down the invitation, it was then extended to include all in the Como party. Soon after, he announced his first concert tour that began in the UK in the spring of 1975.
In 1982, Como and Frank Sinatra were invited to entertain
Italian
Italy
Italy , officially the Italian Republic languages]] under the European Charter for Regional or Minority Languages. In each of these, Italy's official name is as follows:;;;;;;;;), is a unitary parliamentary republic in South-Central Europe. To the north it borders France, Switzerland, Austria and...
President
Sandro Pertini
at a
White House
White House
The White House is the official residence and principal workplace of the president of the United States. Located at 1600 Pennsylvania Avenue NW in Washington, D.C., the house was designed by Irish-born James Hoban, and built between 1792 and 1800 of white-painted Aquia sandstone in the Neoclassical...
State dinner when he made an official visit. President Pertini enjoyed their performance enough to join them in singing "Santa Lucia". The pair reprised this routine the next year in California as part of the entertainment for Queen Elizabeth's Royal visit. Perry was on the program by special request of the Queen.
1984 found Como traveling the US with his 50th Anniversary tour. Having spent most of his professional life in radio or recording studios and on television soundstages, he was enjoying doing live performances. Even after his 80th birthday, Perry continued the concert tours. Gone however, were the
cardigan sweaters
Cardigan (sweater)
A cardigan is a type of machine- or hand-knitted sweater that ties, buttons or zips down the front; by contrast, a pullover does not open in front but must be "pulled over" the head to be worn. The cardigan was named after James Brudenell, 7th Earl of Cardigan, a British military commander,...
which were a staple of his weekly television shows. Como now performed in a
tuxedo
Black tie
Black tie is a dress code for evening events and social functions. For a man, the main component is a usually black jacket, known as a dinner jacket or tuxedo...
, saying, "It shows respect for the audience." The return to live appearances also provided Como with an opportunity to have a little fun with his "Mister Nice Guy" image in a song Ray Charles and
Nick Perito
Nick Perito
Nicholas Perito was a Hollywood composer and arranger and, for 40 years, the closest collaborator of singer Perry Como.-Early years:...
his closest collaborator since 1963, wrote for him:

It doesn't take a guy equipped with ESP, to see what's cookin' with your curiosity!

Is "Mister Nice Guy" just a press agent's pitch? his dearest friends say he's a . . .
You never thought you'd see me in Las Vegas 'live' I haven't played a "club" since 1885!
It's spelled out in dollar signs ( you better believe it! ) I can almost read your minds!

–Nick Perito and Ray Charles, "If I Could Almost Read Your Mind"



Vocal characteristics
Perry Como credited Bing Crosby for influencing his voice and style. Perry Como's voice is widely known for its good-natured vocal acrobatics as portrayed in his highly popular novelty songs such as "Hot Diggity (Dog Ziggity Boom)", but there was another side to Perry Como. Music critic
Gene Lees
Gene Lees
Frederick Eugene John "Gene" Lees was a Canadian music critic, biographer, lyricist, and former journalist. Lees worked as a newspaper journalist in his native Canada before moving to the United States where he was a music critic and lyricist...
describes it in his
sleeve note
Liner notes
Liner notes are the writings found in booklets which come inserted into the compact disc jewel case or the equivalent packaging for vinyl records and cassettes.-Origin:...
to Como's 1968 album
Look To Your Heart
:
Despite his immense popularity, Como is rarely given credit for what, once you stop and think of it, he so clearly is: one of the great singers and one of the great artists of our time.


Perhaps the reason people rarely talk about his formidable attributes as a singer is that he makes so little fuss about them. That celebrated ease of his has been too little understood. Ease in any art is the result of mastery over the details of the craft. You get them together to the point where you can forget about how you do things and concentrate on what you are doing. Como got them together so completely that the muscles don't even show. It seems effortless, but a good deal of effort has gone into making it seem so. Como is known to be meticulous about rehearsal of the material for an album. He tries things out in different keys, gives the song thought, makes suggestions, tries it again, and again, until he is satisfied. The hidden work makes him look like Mr. Casual, and too many people are taken in by it — but happily so.


–Gene Lees-sleeve note, Look To Your Heart
From 1989 until his death in 2001, Como co-hosted a weekly syndicated radio show with John Knox, called
Weekend With Perry
.
Films
Como's Hollywood type good looks earned him a seven year contract with 20th Century-Fox in 1943. He made five films:
Something for the Boys
(1944),
March of Time
(1945),
Doll Face
Doll Face
Doll Face is a 1946 American film directed by Lewis Seiler starring Vivian Blaine as "Doll Face" Carroll. The film is also known as Come Back to Me in the United Kingdom.- Plot summary :...
(1946),
If I'm Lucky
(1946), and
Words and Music
Words and Music (1948 film)
Words and Music is a 1948 movie loosely based on the creative partnership of the composer Richard Rodgers and lyricist Lorenz Hart. The film starred Mickey Rooney, Tom Drake, Janet Leigh, Betty Garrett, and Ann Sothern, It is best remembered for the final screen pairing between Rooney and Judy...
(1948), but he never appeared to be truly comfortable with the medium, feeling his roles did not match his personality.
Some misguided advisers sought to alter Como's life story by changing his previous occupation from barber to coal miner, claiming it would make for better press. Fred Othman, a Hollywood columnist, publicly stated he believed Como the barber was just a publicity gimmick. Perry gave him a shave and haircut at the Fox Studios barber shop to prove him wrong. In 1985, Como related the story of his first film role experience in
Something for the Boys
. He sat ready to work in his dressing room for two weeks without being called. Perry spent the next two weeks playing golf, still not missed by the studio. It was five weeks before he was actually called to the set, despite the studio's initial urgent report for work notice. When Como finally appeared, the director had no idea who he was.
At the time Como was signed, fewer
musicals
Musical film
The musical film is a film genre in which songs sung by the characters are interwoven into the narrative, sometimes accompanied by dancing. The songs usually advance the plot or develop the film's characters, though in some cases they serve merely as breaks in the storyline, often as elaborate...
were being made by the studios because audiences were not going to the box office for this type of film. He was put into a sort of stock company, where the actors or actresses worked only when the studio needed to fill out a schedule. Though his last movie,
Words and Music
, was a
Metro-Goldwyn-Mayer
Metro-Goldwyn-Mayer
Metro-Goldwyn-Mayer Inc. is an American media company, involved primarily in the production and distribution of films and television programs. MGM was founded in 1924 when the entertainment entrepreneur Marcus Loew gained control of Metro Pictures, Goldwyn Pictures Corporation and Louis B. Mayer...
production, Como fared no better. Less than two weeks before the film's release,
Walter Winchell
Walter Winchell
Walter Winchell was an American newspaper and radio gossip commentator.-Professional career:Born Walter Weinschel in New York City, he left school in the sixth grade and started performing in a vaudeville troupe known as Gus Edwards' "Newsboys Sextet."His career in journalism was begun by posting...
printed in his syndicated column, "Someone at MGM must have been dozing when they wrote the script for
Words and Music
. In most of the film Perry Como is called Eddie Anders and toward the end (for no reason) they start calling him Perry Como." Como asked for and received a release from the remainder of his movie contract in the same year. Quoting Como, "I was wasting their time and they were wasting mine."
Como's comments during a 1949 interview were prophetic, as far as his success was concerned. At the time he was doing the
Chesterfield Supper Club
on both radio and television, "Television is going to do me a lot more personal good than the movies ever have...The reason should be obvious. On television, I'm allowed to be myself; in pictures, I was always some other guy. I come over like just another bum in a tuxedo." Como received some movie offers that pleased him while he was doing the weekly television shows, but there was just never enough time to pursue the film work.
Early years: 1948 – 1955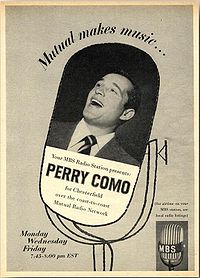 Perry Como made the move to television when NBC initially televised the
Chesterfield Supper Club
radio program on December 24, 1948. A very special guest on that first television show was Como's eight year old son, Ronnie, as part of a boys' choir singing "Silent Night" with his father. The show was the usual Friday night
Chesterfield Supper Club
with an important exception—it was also being broadcast on television. The experimental simulcast was to continue for three Friday "Supper Club" shows, but had gone so well, NBC decided to extend the televised version through August 1949. Years later, Como admitted to being scared and feeling awkward initially, but somehow managed to just be himself. Said Como, "You can't act on TV. With me, what you see is what you get." While still in its experimental phase, Como and the television show survived an on location broadcast in
Durham, North Carolina
Durham, North Carolina
Durham is a city in the U.S. state of North Carolina. It is the county seat of Durham County and also extends into Wake County. It is the fifth-largest city in the state, and the 85th-largest in the United States by population, with 228,330 residents as of the 2010 United States census...
, on April 15, 1949.
On September 8, 1949, it became a weekly half-hour offering on Sunday nights, directly opposite
Ed Sullivan
Ed Sullivan
Edward Vincent "Ed" Sullivan was an American entertainment writer and television host, best known as the presenter of the TV variety show The Ed Sullivan Show. The show was broadcast from 1948 to 1971 , which made it one of the longest-running variety shows in U.S...
's
Toast of the Town
. In 1950, Perry moved to CBS and the show's title was changed to
The Perry Como Chesterfield Show
, again sponsored by Liggett & Myers'
Chesterfield
Chesterfield
Chesterfield is a market town and a borough of Derbyshire, England. It lies north of Derby, on a confluence of the rivers Rother and Hipper. Its population is 70,260 , making it Derbyshire's largest town...
cigarettes. Como hosted this informal 15 minute musical variety series on Monday, Wednesday and Friday, immediately following the
CBS Television News
CBS Evening News
CBS Evening News is the flagship nightly television news program of the American television network CBS. The network has broadcast this program since 1948, and has used the CBS Evening News title since 1963....
.
The Faye Emerson Show
Faye Emerson
Faye Margaret Emerson was an American film actress and television interviewer, known as "The First Lady of Television". She acted in many Warner Brothers films beginning in 1941...
was initially broadcast in the same time slot on Tuesday and Thursday. By 1952, it was evident that television would replace radio as the major entertainment medium.
Gary Giddins
Gary Giddins
Gary Giddins is an American jazz critic, author, and director, best known for his longtime work with The Village Voice. Born in Brooklyn, and raised on Long Island, Giddins graduated from Grinnell College, Iowa, in 1970...
, the biographer of Bing Crosby, said in 2001, "He (Como) came from this whole generation of crooners--Crosby and Sinatra, but he was the only one of them who figured out TV." Como's 15-minute
television show
Television program
A television program , also called television show, is a segment of content which is intended to be broadcast on television. It may be a one-time production or part of a periodically recurring series...
was also
simulcast
Simulcast
Simulcast, shorthand for "simultaneous broadcast", refers to programs or events broadcast across more than one medium, or more than one service on the same medium, at the same time. For example, Absolute Radio is simulcast on both AM and on satellite radio, and the BBC's Prom concerts are often...
on radio via the
Mutual Broadcasting System
Mutual Broadcasting System
The Mutual Broadcasting System was an American radio network, in operation from 1934 to 1999. In the golden age of U.S. radio drama, MBS was best known as the original network home of The Lone Ranger and The Adventures of Superman and as the long-time radio residence of The Shadow...
beginning on August 24, 1953; while the
Chesterfield Supper Club
broadcasts were simulcast on radio and television, this was the first instance of a simulcast between two networks.
Como's CBS contract was to expire on July 1, 1955. The year before, he had been asked to be the master of ceremonies and narrator of the NBC Radio 35th anniversary special. That April, Perry Como signed a 12 year "unbreakable" contract with NBC. On his last CBS show, June 24, 1955, Como was in high spirits, bringing all those who worked off camera on the air for introductions. Perry tried his hand at camera work, getting a picture on the air but one that was upside-down. In appreciation for the 11 year association, his sponsor, Chesterfield, presented him with all the musical arrangements used during this time as a parting gift.
Sing to me, Mr. C.: 1955 – 1959
He moved back to NBC with a weekly hour long variety show featuring additional musical and production numbers, comedy sketches and guest stars called
The Perry Como Show
, premiering Saturday, September 17, 1955. This version of his show was also so popular that in the 1956 – 1957 television season, it reached ninth in the
Nielsen ratings
Nielsen Ratings
Nielsen ratings are the audience measurement systems developed by Nielsen Media Research, in an effort to determine the audience size and composition of television programming in the United States...
, the only show on NBC that season to land in the top ten.
Como's "Dream Along With Me" became the show's opening theme song, "Mr. C." received the first of many "stacks and stacks of letters" requesting him to sing a specific song. It was also here where he began wearing his trademark cardigan sweaters. The "Sing to me, Mr. C." segment of the Como shows with Perry seated on a stool singing viewer requested songs had its roots in the first television broadcasts of
Chesterfield Supper Club
. When cameras entered the "Supper Club" radio studio, they found Como and his guests sitting on stools behind music stands. The show's closing theme was, "You Are Never Far Away From Me".
Perry's announcer on the broadcasts,
Frank Gallop
Frank Gallop
Frank Gallop was an American radio and television personality.-Radio:Frank Gallop went into broadcasting by chance...
, became a foil for Como's jokes. When the television show began, there was not enough room for Gallop to appear on stage; he was an invisible "voice from the clouds" until the show's 1958 – 1959 season. There was as much fun at rehearsals as on the show itself. Como's relaxed and fun-loving manner at rehearsals put many nervous guests at ease. It was common for Como to leave the Saturday afternoon rehearsal for about a half-hour to go to
confession
Sacrament of Penance (Catholic Church)
In the teachings of the Roman Catholic Church, the Sacrament of Penance and Reconciliation is the method by which individual men and women may be freed from sins committed after receiving the sacrament of Baptism...
. He managed to save some time by asking his music publisher, Mickey Glass, to wait in line for him at the confessional. Glass, who was Jewish, was most agreeable to this, but wondered what to do if his turn came before Como arrived.
Perry thoroughly enjoyed what he was doing, saying in a 1989 interview, "I got a kick out of live television. The spontaneity was the fun of it." Spontaneity and the ability to be himself came in handy for swimmer/actress
Esther Williams
Esther Williams
Esther Jane Williams is a retired American competitive swimmer and MGM movie star.Williams set multiple national and regional swimming records in her late teens as part of the Los Angeles Athletic Club swim team...
' guest appearance of March 16, 1957. A wardrobe malfunction meant that viewers were seeing more of Esther than 1950s television considered to be in good taste; more live show mishaps followed. At the show's end, Williams was swimming in a pool specially constructed on the set for her appearance. Como simply said, "Goodnight, folks," and leaped, fully clothed, into the swimming pool.
On December 17, 1955, viewers were able to see first-hand what Perry did for a living before he was a professional singer. Actor
Kirk Douglas
Kirk Douglas
Kirk Douglas is an American stage and film actor, film producer and author. His popular films include Out of the Past , Champion , Ace in the Hole , The Bad and the Beautiful , Lust for Life , Paths of Glory , Gunfight at the O.K...
was one of Como's television guests; Douglas had grown a beard for his
Vincent Van Gogh
Vincent van Gogh
Vincent Willem van Gogh , and used Brabant dialect in his writing; it is therefore likely that he himself pronounced his name with a Brabant accent: , with a voiced V and palatalized G and gh. In France, where much of his work was produced, it is...
role in
Lust For Life
Lust for Life (film)
Lust for Life is a MGM biographical film about the life of the Dutch painter Vincent van Gogh, based on the 1934 novel by Irving Stone and adapted by Norman Corwin.It was directed by Vincente Minnelli and produced by John Houseman...
, which finished filming that week. Como shaved Douglas' movie beard live on national television. On September 15, 1956, the season premiere of
The Perry Como Show
was broadcast from NBC's new
color television
Color television
Color television is part of the history of television, the technology of television and practices associated with television's transmission of moving images in color video....
studios at the New York
Ziegfeld Theatre
Ziegfeld Theatre
The Ziegfeld Theatre was a Broadway theater located at the intersection of Sixth Avenue and 54th Street in Manhattan, New York City. It was built in 1927 and, despite public protests, was razed in 1966....
, making it one of the first weekly color TV shows. In addition to this season premiere as a color television show, there was also a royal visit from Prince Rainier of
Monaco
Monaco
Monaco , officially the Principality of Monaco , is a sovereign city state on the French Riviera. It is bordered on three sides by its neighbour, France, and its centre is about from Italy. Its area is with a population of 35,986 as of 2011 and is the most densely populated country in the...
and his bride of six months,
Grace Kelly
Grace Kelly
Grace Patricia Kelly was an American actress who, in April 1956, married Rainier III, Prince of Monaco, to become Princess consort of Monaco, styled as Her Serene Highness The Princess of Monaco, and commonly referred to as Princess Grace.After embarking on an acting career in 1950, at the age of...
.
Como competed with
Jackie Gleason
Jackie Gleason
Jackie Gleason was an American comedian, actor and musician. He was known for his brash visual and verbal comedy style, especially by his character Ralph Kramden on The Honeymooners, a situation-comedy television series. His most noted film roles were as Minnesota Fats in the drama film The...
in what was billed as the "Battle of the Giants" and won. This is now rarely mentioned, in part because Como commonly downplayed his own achievements, and also because the two men were friends. The weekly ratings winner would phone the loser for some mock gloating. At the height of this television competition, Como asked Gleason a favor: to visit his home when his mother-in-law, a big Gleason fan, was there. Though Mrs. Belline spoke no English and Gleason no Italian, Roselle's mother was thrilled. Como's words to Gleason after the visit, "Anything you want, you got it. In fact, I'll even do one of your shows so the ratings will be better." Como was among those who filled in for Gleason on
The Jackie Gleason Show
The Jackie Gleason Show
The Jackie Gleason Show is the name of a series of popular American network television shows that starred Jackie Gleason, which ran from 1952 to 1970.-Cavalcade of Stars:...
in 1954 when the entertainer suffered a broken ankle and leg in an on-air fall.
An example of Como's popularity came in 1956, when
Life
Life (magazine)
Life generally refers to three American magazines:*A humor and general interest magazine published from 1883 to 1936. Time founder Henry Luce bought the magazine in 1936 solely so that he could acquire the rights to its name....
conducted a poll of young women, asking them which man in public life most fit the concept of their ideal husband: it was Perry Como. A 1958 nationwide poll of U.S. teenagers found Perry Como to be the most popular male singer, beating
Elvis Presley
Elvis Presley
Elvis Aaron Presley was one of the most popular American singers of the 20th century. A cultural icon, he is widely known by the single name Elvis. He is often referred to as the "King of Rock and Roll" or simply "the King"....
, who was the winner of the previous year's poll. At one point, his television show was broadcast in at least 12 other countries.
Another way to judge the value of the Como show to the network can be found in the following: during sound checks at
rehearsal
Rehearsal
For other uses, see Rehearsal or Dress rehearsal A rehearsal is a preparatory event in music and theatre that is performed before the official public performance, as a form of practice, and to ensure that all details of the performance are adequately prepared and coordinated for professional...
s, it was often difficult to hear Como's soft voice without having a large microphone ruin a camera shot. NBC had RCA design a
microphone
Microphone
A microphone is an acoustic-to-electric transducer or sensor that converts sound into an electrical signal. In 1877, Emile Berliner invented the first microphone used as a telephone voice transmitter...
for the show, which was known as the "Como mike"; the microphone was able to pick up Como's voice properly and was small enough not to interfere with camera shots.
Kraft Music Hall: 1959 – 1967
In 1959, Como moved to Wednesday nights, hosting
Perry Como's Kraft Music Hall
Kraft Music Hall (TV series)
Kraft Music Hall is an umbrella title for several television series aired by NBC in the United States from the 1950s to the 1970s in the musical variety genre, sponsored by Kraft Foods, the producers of a well-known line of cheeses and related dairy products...
weekly for the next eight years; the last four seasons from 1963 to 1967 were done as monthly specials alternating with
Kraft Suspense Theatre
Kraft Suspense Theatre
Kraft Suspense Theatre, an anthology series, was telecast from 1963 to 1965 on NBC. Sponsored by Kraft Foods, it was seen three weeks out of every four and was pre-empted for Perry Como's Kraft Music Hall specials once monthly...
,
The Andy Williams Show
The Andy Williams Show
The Andy Williams Show is a television variety show which ran from 1959 to 1971 , and a short-lived run in syndication, beginning in the fall of 1976...
, and finally
The Road West
The Road West
The Road West is an American Western television series that aired on NBC from September 12, 1966 to May 1, 1967 for twenty-nine episodes with rebroadcasts continuing until August 28. The hour-long series, sponsored by Kraft Foods, aired in the 9 p.m...
. Como became the highest-paid performer in the history of television to that date, earning mention in the
Guinness Book of World Records
. Como himself took part in none of this; his production company, Roncom, named for son Ronnie Como, handled the transaction along with all other Como business matters. Como also had control of the show which would replace his during the summer television hiatus. While "Mr. C." was having a holiday, viewers would see
Perry Presents
, beginning in 1959.
In late 1962, after the
Cuban Missile Crisis
Cuban Missile Crisis
The Cuban Missile Crisis was a confrontation among the Soviet Union, Cuba and the United States in October 1962, during the Cold War...
had settled well enough to permit the evacuated servicemen's families to return to
Guantanamo Bay Naval Base
Guantanamo Bay Naval Base
Guantanamo Bay Naval Base is located on of land and water at Guantánamo Bay, Cuba which the United States leased for use as a coaling station following the Cuban-American Treaty of 1903. The base is located on the shore of Guantánamo Bay at the southeastern end of Cuba. It is the oldest overseas...
in
Cuba
Cuba
The Republic of Cuba is an island nation in the Caribbean. The nation of Cuba consists of the main island of Cuba, the Isla de la Juventud, and several archipelagos. Havana is the largest city in Cuba and the country's capital. Santiago de Cuba is the second largest city...
, Secretary of Defense
Robert McNamara
Robert McNamara
Robert Strange McNamara was an American business executive and the eighth Secretary of Defense, serving under Presidents John F. Kennedy and Lyndon B. Johnson from 1961 to 1968, during which time he played a large role in escalating the United States involvement in the Vietnam War...
was eager to do more for morale there. He asked Perry Como to bring his television show to the Naval base. Perry and his cast and crew were at Guantanamo when the loved ones began their return. The first entertainers to visit the base since the crisis, the Como show filmed there for eight days. Some highlights of the program, which was seen in the US on December 12, 1962, included Como's shaving a serviceman with a Castro-like beard and the enthusiastic participation when Perry asked for volunteers to come on stage to do the
Twist
Twist (dance)
The Twist was a dance inspired by rock and roll music. It became the first worldwide dance craze in the early 1960s, enjoying immense popularity among young people and drawing fire from critics who felt it was too provocative. It inspired dances such as the Jerk, the Pony, the Watusi, the Mashed...
with the lovely ladies who were part of the visiting dance troupe.
Filming for the
Kraft Music Hall
Christmas show that was aired on December 17, 1964 began at the Vatican November 7. By special permission of
Pope Paul VI
Pope Paul VI
Paul VI , born Giovanni Battista Enrico Antonio Maria Montini , reigned as Pope of the Catholic Church from 21 June 1963 until his death on 6 August 1978. Succeeding Pope John XXIII, who had convened the Second Vatican Council, he decided to continue it...
, Como and his crew were able to shoot segments in the Vatican gardens and other areas where cameras had never been permitted previously. The show featured the first television appearance of the
Sistine Chapel Choir
Sistine Chapel Choir
The Sistine Chapel Choir is a choir based in Vatican City and is one of the oldest religious choirs in the world. At present, the choir comprises approximately twenty adult singers and thirty unpaid boy choristers .-Middle Ages :Although it is known that the Church, from her earliest days,...
, and also the first time a non-choir member (Como) sang with them. The choir performed a Christmas hymn in
Latin
Latin
Latin is an Italic language originally spoken in Latium and Ancient Rome. It, along with most European languages, is a descendant of the ancient Proto-Indo-European language. Although it is considered a dead language, a number of scholars and members of the Christian clergy speak it fluently, and...
written by their director,
Domenico Bartolucci
Domenico Bartolucci
Domenico Bartolucci is an Italian Cardinal of the Catholic Church. He is Director Emeritus of the Sistine Chapel Choir and the Accademia Nazionale di Santa Cecilia, and is recognized in the field of music both as a director and a prolific composer...
, called "Christ Is Born", as part of their presentation. Como asked his associate, Ray Charles, to write English lyrics for the song, using it many times on both television shows and his Christmas albums.
The Carpenters
The Carpenters
Carpenters were an American vocal and instrumental duo, consisting of sister Karen and brother Richard Carpenter. The Carpenters were the #1 selling American music act of the 1970s. Though often referred to by the public as "The Carpenters", the duo's official name on authorized recordings and...
also recorded the song on their first Christmas album,
Christmas Portrait
Christmas Portrait
Christmas Portrait is the first Christmas album recorded by The Carpenters , originally released on October 13, 1978 ....
.
Specials
Between 1963 and 1986, Como's television appearances began tapering off, gradually becoming limited to seasonal and holiday specials with the emphasis being on Christmas. Como had numerous
Christmas
Christmas
Christmas or Christmas Day is an annual holiday generally celebrated on December 25 by billions of people around the world. It is a Christian feast that commemorates the birth of Jesus Christ, liturgically closing the Advent season and initiating the season of Christmastide, which lasts twelve days...
television specials, beginning on
Christmas Eve
Christmas Eve
Christmas Eve refers to the evening or entire day preceding Christmas Day, a widely celebrated festival commemorating the birth of Jesus of Nazareth that takes place on December 25...
1948, and continuing to 1994, when his final Christmas special was recorded in
Ireland
Ireland
Ireland is an island to the northwest of continental Europe. It is the third-largest island in Europe and the twentieth-largest island on Earth...
. They were recorded in many countries, including the
Holy Land
Holy Land
The Holy Land is a term which in Judaism refers to the Kingdom of Israel as defined in the Tanakh. For Jews, the Land's identifiction of being Holy is defined in Judaism by its differentiation from other lands by virtue of the practice of Judaism often possible only in the Land of Israel...
,
Mexico
Mexico
The United Mexican States , commonly known as Mexico , is a federal constitutional republic in North America. It is bordered on the north by the United States; on the south and west by the Pacific Ocean; on the southeast by Guatemala, Belize, and the Caribbean Sea; and on the east by the Gulf of...
, and
Canada
Canada
Canada is a North American country consisting of ten provinces and three territories. Located in the northern part of the continent, it extends from the Atlantic Ocean in the east to the Pacific Ocean in the west, and northward into the Arctic Ocean...
, as well as many locations throughout the United States. The 1987 Christmas special was cancelled at the behest of Como;
American Broadcasting Company (ABC)
American Broadcasting Company
The American Broadcasting Company is an American commercial broadcasting television network. Created in 1943 from the former NBC Blue radio network, ABC is owned by The Walt Disney Company and is part of Disney-ABC Television Group. Its first broadcast on television was in 1948...
was willing to offer him only a Saturday 10 PM time slot for it 3 weeks before the holiday. Perry filled the yearly gap for his fans with live Christmas concerts in various locations.
A farewell concert from Ireland
Como's final Christmas special was filmed in January 1994 in
Dublin
's
Point Theatre
Point Theatre
The Point Theatre was a concert and events venue in Ireland, that ran from 1988–2007, enjoyed by in excess of 2 million people. It was located on the North Wall Quay of the River Liffey, amongst the Dublin Docklands...
before an audience of 4,500 people, including Irish President
Mary Robinson
Mary Robinson
Mary Therese Winifred Robinson served as the seventh, and first female, President of Ireland from 1990 to 1997, and the United Nations High Commissioner for Human Rights, from 1997 to 2002. She first rose to prominence as an academic, barrister, campaigner and member of the Irish Senate...
.
Perry Como's Irish Christmas
was a
Public Broadcasting Service (PBS)
Public Broadcasting Service
The Public Broadcasting Service is an American non-profit public broadcasting television network with 354 member TV stations in the United States which hold collective ownership. Its headquarters is in Arlington, Virginia....
production. Como appeared to be in less than the best of health; though the show as broadcast was less than ninety minutes long, its recording took over four hours. The performance is heartbreaking as it was evident he was unwell, but at the same time, heart-warming, because despite all that, Como persevered and sang those songs for his fans this one last time. At the show's conclusion, Como apologized to his Dublin audience for a performance he felt was not up to his usual standards.
During his visit to Dublin, Como visited a barber shop called "The Como" on
Thomas Street
Thomas Street (Dublin)
Thomas Street is a street in The Liberties in central Dublin, Ireland.-History:The street is named after the church of St. Thomas, founded in 1175 near St. Catherine's church. The founder was William FitzAldelm, deputy and kinsman of King Henry II. The church was dedicated to Thomas à Beckett...
. The owners, lifelong fans who named their business in his honor, had sent photographs of the shop and letters to Como inviting him to visit. Photos of Como with the barbers were framed in the shop. "The Como" closed in 2002 but it remains a household name in
The Liberties
The Liberties
The Liberties of Dublin, Ireland were jurisdictions that existed since the arrival of the Anglo-Normans in the 12th century. They were town lands united to the city, but still preserving their own jurisdiction. The most important of these liberties were the Liberty of St...
.
Hometown honors
Canonsburg has always been very proud to be the birthplace of Perry Como; the local newspaper of the time,
Canonsburg Daily Notes
, seems to have been the first to write an article about him. Their edition of July 19, 1934, featured a photo and the following: "A young Canonsburg boy threatens to snatch the crown from Bing Crosby's head. Perry Como, son of Mr. and Mrs. Pietro Como of 530 Franklin street is said to have one of the grandest baritone voices in the country." The borough honored him three times over the course of his life. The first of these events took place September 14, 1946, when Third Street, where Perry worked in the barber shop of Steve Fragapane, was renamed "Perry Como Avenue". Perry, Roselle, and Como's mother, Lucy, attended the ceremonies and banquet held at the State Armory.
A second ceremony marking Perry Como Day took place August 24, 1977, but the most ambitious project began in 1997 – a statue of the singer. The planned statue had the blessing of Como's wife, Roselle, who died the year before it was unveiled on May 15, 1999. As part of the festivities, Como's stool and music stand from
The Perry Como Show
and the equipment he used at Steve Fragapane's barber shop were donated to the borough. Como was not present at the unveiling because of poor health. The inscription on the base, "To This Place God Has Brought Me", was a favorite saying of Como's; the musical feature was added in 2002.
The Como celebration crossed the Atlantic in August 2002. Palena, Italy, the birthplace of Como's parents, had a long-standing week-long festival in honor of the singer. A smaller version of the statue was taken to Palena by the mayor of Canonsburg, Anthony Colaizzo. Perry's son, David, and his wife were also in attendance when the town of Palena renamed a street for Como. There is a marble plaque on a Palena town wall stating that Pietro and Lucia Como, parents of Perry Como, emigrated from this village to the United States which dates from these ceremonies.
In 2007, the local
McDonald's
McDonald's
McDonald's Corporation is the world's largest chain of hamburger fast food restaurants, serving around 64 million customers daily in 119 countries. Headquartered in the United States, the company began in 1940 as a barbecue restaurant operated by the eponymous Richard and Maurice McDonald; in 1948...
was totally rebuilt. The new building decor features memorabilia of Como along with that of fellow singer and Canonsburg native, Bobby Vinton. A children's playground in Canonsburg on Giffin Avenue is also named for Como. In downtown Canonsburg, all of the tree grates are marked with information about the records that sold a million copies and the town clock hourly plays one of the hits of Como (141), Vinton (44), or the Four Coins (7), also from Canonsburg.
Perry Como never forgot Canonsburg either. One of the things he did to give a helping hand to his home town was to convince RCA to open a record-pressing plant there. Those who needed to raise funds for local projects like Boys' and Girls' Clubs found him always ready to do whatever was needed.
Death
Como died in his sleep on May 12, 2001 at his home in
Jupiter Inlet Colony, Florida
Jupiter Inlet Colony, Florida
Jupiter Inlet Colony is a town in Palm Beach County, Florida, United States. The population was 368 at the 2000 census. As of 2004, the population recorded by the U.S. Census Bureau is 388.-Geography:Jupiter Inlet Colony is located at...
, six days before his eighty-ninth birthday. He was reported to have suffered from symptoms of
Alzheimer's disease
Alzheimer's disease
Alzheimer's disease also known in medical literature as Alzheimer disease is the most common form of dementia. There is no cure for the disease, which worsens as it progresses, and eventually leads to death...
during the final two years of his life. His funeral Mass took place at St. Edward's Catholic Church in
Palm Beach, Florida
Palm Beach, Florida
The Town of Palm Beach is an incorporated town in Palm Beach County, Florida, United States. The Intracoastal Waterway separates it from the neighboring cities of West Palm Beach and Lake Worth...
. Perry and Roselle are buried at Riverside Memorial Park,
Tequesta
Tequesta, Florida
Tequesta is an incorporated village in Palm Beach County, Florida, United States. The population was 5,273 at the 2000 census. It is the northernmost municipality in the South Florida metropolitan area, which in 2007 had an estimated population of 5,413. According to the U.S...
(
Palm Beach County
Palm Beach County, Florida
Palm Beach County is the largest county in the state of Florida in total area, and third in population. As of 2010, the county's estimated population was 1,320,134, making it the twenty-eighth most populous in the United States...
),
Florida
Florida
Florida is a state in the southeastern United States, located on the nation's Atlantic and Gulf coasts. It is bordered to the west by the Gulf of Mexico, to the north by Alabama and Georgia and to the east by the Atlantic Ocean. With a population of 18,801,310 as measured by the 2010 census, it...
.
See also
Perry Como discography
Perry Como television and radio shows

Perry Como television and radio shows

Perry Como was an American singer, radio and television performer whose career covered more than fifty years. He is probably best-known for his television shows and specials over a period of almost thirty years. Como came to television in 1948 when his radio show was selected by NBC for...



Perry Como albums
Best selling music artists
List of popular music performers
Seventh son of a seventh son

Seventh son of a seventh son

The seventh son of a seventh son is a concept from folklore regarding special powers given to, or held by, such a son. The seventh son must come from an unbroken line with no female children born between, and be, in turn, born to such a seventh son...



External links