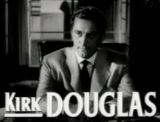 Kirk Douglas
Kirk Douglas
is an American stage and film actor, film producer and author. His popular films include
Out of the Past
Out of the Past
Out of the Past is a 1947 film noir directed by Jacques Tourneur and starring Robert Mitchum, Jane Greer, and Kirk Douglas. The film was adapted by Daniel Mainwaring , with uncredited revisions by Frank Fenton and James M...
(1947),
Champion
Champion (1949 film)
Champion is an American film noir drama based on a short story by Ring Lardner. Filmed in black-and-white, it recounts the struggles of boxer "Midge" Kelly fighting his own demons while working to achieve success in the boxing ring. The drama was directed by Mark Robson, with cinematography by...
(1949),
Ace in the Hole
(1951),
The Bad and the Beautiful
The Bad and the Beautiful
The Bad and the Beautiful is a 1952 MGM melodramatic film that tells the story of a film producer who alienates all around him. It was directed by Vincente Minelli and stars Lana Turner, Kirk Douglas, Walter Pidgeon, Dick Powell, Barry Sullivan, Gloria Grahame and Gilbert Roland. The film was...
(1952),
Lust for Life
Lust for Life (film)
Lust for Life is a MGM biographical film about the life of the Dutch painter Vincent van Gogh, based on the 1934 novel by Irving Stone and adapted by Norman Corwin.It was directed by Vincente Minnelli and produced by John Houseman...
(1956),
Paths of Glory
Paths of Glory
Paths of Glory is a 1957 American anti-war film by Stanley Kubrick based on the novel of the same name by Humphrey Cobb. Set during World War I, the film stars Kirk Douglas as Colonel Dax, the commanding officer of French soldiers who refused to continue a suicidal attack...
(1957),
Gunfight at the O.K. Corral
(1957),
Spartacus
Spartacus (film)
Spartacus is a 1960 American epic historical drama film directed by Stanley Kubrick and based on the novel of the same name by Howard Fast...
(1960), and
Lonely Are the Brave
Lonely are the Brave
Lonely are the Brave is a 1962 film adaptation of the Edward Abbey novel The Brave Cowboy. It stars Kirk Douglas as cowboy Jack Burns, Gena Rowlands as his best friend's wife, and Walter Matthau as a sheriff who sympathizes with Burns but must do his job and chase him down...
(1962).
He is No.17 on the
American Film Institute
American Film Institute
The American Film Institute is an independent non-profit organization created by the National Endowment for the Arts, which was established in 1967 when President Lyndon B. Johnson signed the National Foundation on the Arts and the Humanities Act...
's
list of the greatest male American screen legends of all time
AFI's 100 Years... 100 Stars
Part of the AFI 100 Years... series, AFI's 100 Years...100 Stars is a list of the top 50 greatest screen legends of American cinema, 25 male and 25 female...
. In 1996, he received the
Academy Honorary Award
Academy Honorary Award
The Academy Honorary Award, instituted in 1948 for the 21st Academy Awards , is given by the discretion of the Board of Governors of the Academy of Motion Picture Arts and Sciences to celebrate motion picture achievements that are not covered by existing Academy Awards, although prior winners of...
"for 50 years as a creative and moral force in the motion picture community."
Douglas was born
Issur Danielovitch
in
Amsterdam, New York
Amsterdam (city), New York
Amsterdam is a city located in Montgomery County, New York, USA. As of the 2010 census, the city had a total population of 18,620. The name is derived from the city of Amsterdam in the Netherlands....
, the son of Bryna "Bertha" (née Sanglel) and Herschel "Harry" Danielovitch, a businessman.
In order to achieve anything, you must be brave enough to fail.

I tell my sons they didn't have my advantages growing up. I came from abject poverty. There was nowhere to go but up.

Give your children lots of rope. Allow them to make their own mistakes. Don't give them too much advice. Each child is different; you have to respect that. It's a crapshoot: You roll the dice, and you see what happens.

Love has more depth as you get older.

The more I've studied the Torah, the less religious I've become, the more spiritual. We Jews are taught to read Hebrew, but we don't know what the hell we're reading. At Yom Kippur services, I was reading the English translations, and it came to me: There's so much adoration of God, but God doesn't need us to sing his praises. He just wants us to be better people.

Muslims follow Muhammad to reach God. Christians follow Jesus. Jews follow Moses. But it's all the same God.

Everybody has an ego.

I never wanted to be a movie actor. I started out on the stage. The first time I was invited out here, I turned it down. Then Michael was born and I needed money, so I came. Sometimes, the thing that ties you down sets you free.

The learning process continues until the day you die.

If I thought a man had never committed a sin in his life, I don't think I'd want to talk with him. A man with flaws is more interesting.