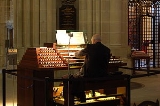 Organist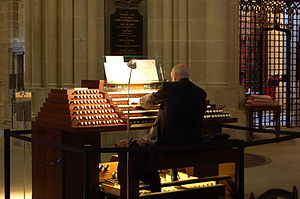 An
organist
is a musician who plays any type of
organ
Organ (music)
The organ , is a keyboard instrument of one or more divisions, each played with its own keyboard operated either with the hands or with the feet. The organ is a relatively old musical instrument in the Western musical tradition, dating from the time of Ctesibius of Alexandria who is credited with...
. An organist may play
solo organ works
Organ repertoire
The organ repertoire consists of music written for the organ. Because it is one of the oldest musical instruments in existence, written organ repertoire spans a time period almost as long as that of written music itself. The organ's solo repertoire is among the largest for any musical instrument...
, play with an
ensemble
Musical ensemble
A musical ensemble is a group of people who perform instrumental or vocal music. In classical music, trios or quartets either blend the sounds of musical instrument families or group together instruments from the same instrument family, such as string ensembles or wind ensembles...
or
orchestra
Orchestra
An orchestra is a sizable instrumental ensemble that contains sections of string, brass, woodwind, and percussion instruments. The term orchestra derives from the Greek ορχήστρα, the name for the area in front of an ancient Greek stage reserved for the Greek chorus...
, or accompany one or more singers or instrumental soloists. In addition, an organist may accompany congregational
hymn
Hymn
A hymn is a type of song, usually religious, specifically written for the purpose of praise, adoration or prayer, and typically addressed to a deity or deities, or to a prominent figure or personification...
-singing and play
liturgical music
Liturgy
Liturgy is either the customary public worship done by a specific religious group, according to its particular traditions or a more precise term that distinguishes between those religious groups who believe their ritual requires the "people" to do the "work" of responding to the priest, and those...
.
Classical and church organists
The majority of organists, amateur and professional, are principally involved in
church music
Church music
Church music may be defined as music written for performance in church, or any musical setting of ecclestiacal liturgy, or music set to words expressing propositions of a sacred nature, such as a hymn. This article covers music in the Judaeo-Christian tradition. For sacred music outside this...
. The
pipe organ
Pipe organ
The pipe organ is a musical instrument that produces sound by driving pressurized air through pipes selected via a keyboard. Because each organ pipe produces a single pitch, the pipes are provided in sets called ranks, each of which has a common timbre and volume throughout the keyboard compass...
still plays a large part in the leading of traditional western Christian worship, with roles including the accompaniment of
hymn
Hymn
A hymn is a type of song, usually religious, specifically written for the purpose of praise, adoration or prayer, and typically addressed to a deity or deities, or to a prominent figure or personification...
s, choral
anthem
Anthem
The term anthem means either a specific form of Anglican church music , or more generally, a song of celebration, usually acting as a symbol for a distinct group of people, as in the term "national anthem" or "sports anthem".-Etymology:The word is derived from the Greek via Old English , a word...
s and other parts of the worship. The degree to which the organ is involved varies depending on the church and denomination. It also may depend on the standard of the organist. In more provincial settings, organists may be more accurately described as pianists obliged to play the organ for worship services; nevertheless, some churches are fortunate to have trained organists capable of more elaborate "voluntaries" (the solo music before, during and after the service) and
improvisation
Improvisation
Improvisation is the practice of acting, singing, talking and reacting, of making and creating, in the moment and in response to the stimulus of one's immediate environment and inner feelings. This can result in the invention of new thought patterns, new practices, new structures or symbols, and/or...
. As most churches can afford to employ only one musician, the organist is usually also responsible for directing and rehearsing the
choir(s)
Choir
A choir, chorale or chorus is a musical ensemble of singers. Choral music, in turn, is the music written specifically for such an ensemble to perform.A body of singers who perform together as a group is called a choir or chorus...
. In the twentieth-century, many pipe organs were replaced by pipe-less
electronic and digital organ
Electronic organ
An electronic organ is an electronic keyboard instrument which was derived from the harmonium, pipe organ and theatre organ. Originally, it was designed to imitate the sound of pipe organs, theatre organs, band sounds, or orchestral sounds....
s, often as a low-cost alternative to rebuilding older pipe organs.
In the English
cathedral
Cathedral
A cathedral is a Christian church that contains the seat of a bishop...
tradition the organist is now generally called "Director of Music", although his or her function is mainly in the training and direction of music rather than actual playing; there will generally be one or more assistant or sub-organists who play for most services and some recitals. Sometimes the organist will be assisted by an
organ scholar
Organ scholar
An organ scholar is a young musician employed as a part-time assistant organist at an institution where regular choral services are held. The idea of an organ scholarship is to provide the holder with playing, directing and administrative experience....
. The post of organist at most of the great cathedrals includes recital work and choral training. Musicians such as
Malcolm Archer
Malcolm Archer
Malcolm Archer is an English organist, conductor and composer. He combines this work with a recital career. Archer was formerly Organist and Director of Music at St Paul's Cathedral, and is now Director of Chapel Music at Winchester College....
,
John Scott
John Scott (organist)
John Gavin Scott LVO is an English-born organist and choirmaster. He directed the Choir of St. Paul's Cathedral in London from 1990 to 2004. He now directs the Choir of Men and Boys of Saint Thomas Church on 53rd Street and Fifth Avenue in New York City...
and
Barry Rose
Barry Rose
Barry Michael Rose is a choir trainer and organist. He is best known for conducting the choir of St Paul's Cathedral at the wedding of Charles, Prince of Wales and Diana, Princess of Wales at St Paul's Cathedral in London on 29 July 1981.-Biography:Born in Chingford, England, Rose grew up...
are accomplished organists as well as choral directors. Another function of an organist is often as teacher to future players. Few organists hold historically special positions such as Carol Williams who is the Civic Organist of San Diego, the last true Civic Organist position still active in this the USA.
Since the strengths and weaknesses of the organ are difficult to understand without a good deal of playing experience, most music composed for organ has been written by organists. Since the majority of pre-twentieth-century organs were installed in churches, classical organ literature was almost exclusively written for liturgical use.
Many composers, therefore, are equally known for their performance talents, some historical examples being
Johann Sebastian Bach
Johann Sebastian Bach
Johann Sebastian Bach was a German composer, organist, harpsichordist, violist, and violinist whose sacred and secular works for choir, orchestra, and solo instruments drew together the strands of the Baroque period and brought it to its ultimate maturity...
,
Dieterich Buxtehude
Dieterich Buxtehude
Dieterich Buxtehude was a German-Danish organist and composer of the Baroque period. His organ works represent a central part of the standard organ repertoire and are frequently performed at recitals and in church services...
,
Felix Mendelssohn
Felix Mendelssohn
Jakob Ludwig Felix Mendelssohn Barthóldy , use the form 'Mendelssohn' and not 'Mendelssohn Bartholdy'. The Grove Dictionary of Music and Musicians gives ' Felix Mendelssohn' as the entry, with 'Mendelssohn' used in the body text...
,
Franz Liszt
Franz Liszt
Franz Liszt ; ), was a 19th-century Hungarian composer, pianist, conductor, and teacher.Liszt became renowned in Europe during the nineteenth century for his virtuosic skill as a pianist. He was said by his contemporaries to have been the most technically advanced pianist of his age...
,
César Franck
César Franck
César-Auguste-Jean-Guillaume-Hubert Franck was a composer, pianist, organist, and music teacher who worked in Paris during his adult life....
,
Charles-Marie Widor
Charles-Marie Widor
Charles-Marie Jean Albert Widor was a French organist, composer and teacher.-Life:Widor was born in Lyon, to a family of organ builders, and initially studied music there with his father, François-Charles Widor, titular organist of Saint-François-de-Sales from 1838 to 1889...
,
Louis Vierne
Louis Vierne
Louis Victor Jules Vierne was a French organist and composer.-Life:Louis Vierne was born in Poitiers, Vienne, nearly blind due to congenital cataracts, but at an early age was discovered to have an unusual gift for music. Louis Victor Jules Vierne (8 October 1870 – 2 June 1937) was a French...
, and
Marcel Dupré
Marcel Dupré
Marcel Dupré , was a French organist, pianist, composer, and pedagogue.-Biography:Marcel Dupré was born in Rouen . Born into a musical family, he was a child prodigy. His father Albert Dupré was organist in Rouen and a friend of Aristide Cavaillé-Coll, who built an organ in the family house when...
. In Europe, the historical importance of churches as employers of musicians meant that many composers who now are very seldom remembered for their association with the organ were, nevertheless, engaged as professional organists: for example,
Wolfgang Amadeus Mozart
Wolfgang Amadeus Mozart
Wolfgang Amadeus Mozart , baptismal name Johannes Chrysostomus Wolfgangus Theophilus Mozart , was a prolific and influential composer of the Classical era. He composed over 600 works, many acknowledged as pinnacles of symphonic, concertante, chamber, piano, operatic, and choral music...
,
Camille Saint-Saëns
Camille Saint-Saëns
Charles-Camille Saint-Saëns was a French Late-Romantic composer, organist, conductor, and pianist. He is known especially for The Carnival of the Animals, Danse macabre, Samson and Delilah, Piano Concerto No. 2, Cello Concerto No. 1, Havanaise, Introduction and Rondo Capriccioso, and his Symphony...
, and
Edward Elgar
Edward Elgar
Sir Edward William Elgar, 1st Baronet OM, GCVO was an English composer, many of whose works have entered the British and international classical concert repertoire. Among his best-known compositions are orchestral works including the Enigma Variations, the Pomp and Circumstance Marches, concertos...
.
For a list of organists, see
List of organists
.
Ancient titles still in current use
In English churches, chapels and cathedrals the Organist may also be known as
Master of the Choristers
Organist and Master of the Choristers
An Organist and Master of the Choristers is a title given to a Director of Music at a Cathedral, particularly an Anglican Cathedral in England. The tradition dates back to the Middle Ages. He is both the organist and the choirmaster....
,
Choirmaster
or
Director of Music
; however, there are some ancient titles still in current usage:
Theater organists
The theater organ has a separate repertoire and playing style, and in its heyday (during the first third of the twentieth century) there were considerable numbers of organists employed. A few carry on the tradition today.
Organists in popular music
There are many organists employed in the production of popular and jazz music. In the United States most of them play the
Hammond organ
Hammond organ
The Hammond organ is an electric organ invented by Laurens Hammond in 1934 and manufactured by the Hammond Organ Company. While the Hammond organ was originally sold to churches as a lower-cost alternative to the wind-driven pipe organ, in the 1960s and 1970s it became a standard keyboard...
, and many are classically trained, often in piano rather than organ. In England and Japan, one of the most popular series of instruments is the Yamaha
Electone
Electone
Electone is the trademark used for electronic organs produced by Yamaha.-History:After Hammond pioneered the electronic organ in the 1930s, other manufacturers began to market their own versions of the instrument...
; while Electones of recent decades are more properly characterized as digital
synthesizer
Synthesizer
A synthesizer is an electronic instrument capable of producing sounds by generating electrical signals of different frequencies. These electrical signals are played through a loudspeaker or set of headphones...
s rather than as organs, the player interface, and the skills and coordination required to play, mean that it is effectively an organ in these respects.
Organizations
The
Royal College of Organists
Royal College of Organists
The Royal College of Organists or RCO, is a charity and membership organisation based in the United Kingdom, but with members around the world...
(RCO) in the
United Kingdom
United Kingdom
The United Kingdom of Great Britain and Northern IrelandIn the United Kingdom and Dependencies, other languages have been officially recognised as legitimate autochthonous languages under the European Charter for Regional or Minority Languages...
is the oldest institution of organ studies. From that sprang the
American Guild of Organists
American Guild of Organists
The American Guild of Organists, or AGO, is a national organization of academic, church, and concert organists in the U.S., headquartered in The Interchurch Center in New York City. It was founded in 1896 as both an educational and service organization...
(AGO), the Gesellschaft der Orgelfreunde e.V. (GdO) in Germany, and the
Royal Canadian College of Organists
Royal Canadian College of Organists
The Royal Canadian College of Organists , founded in 1909,is a national association of organists and church musicians in Canada, with 32 centres from Victoria, British Columbia to Charlottetown, Prince Edward Island.The National Office is in Toronto....
(RCCO). All these institutions are oriented toward the organist involved in classical music rather than
popular music
Popular music
Popular music belongs to any of a number of musical genres "having wide appeal" and is typically distributed to large audiences through the music industry. It stands in contrast to both art music and traditional music, which are typically disseminated academically or orally to smaller, local...
. There is also the American Theatre Organ Society.
See also
Organ recital

Organ recital

An organ recital is a concert at which music specially written for the organ is played.The music played at such recitals was typically written for pipe organ, which includes church organs, and symphonic organs...



Organ shoes

Organ shoes

Organ shoes are shoes worn by organists, designed to facilitate playing of an organ. Also, since organ shoes are worn only at the organ, the use of special footwear avoids picking up grit or grime that could scar or stain the pedals.-Description:...



Further reading
External links