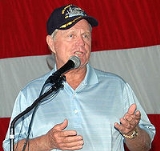 Jack Nicklaus
Jack William Nicklaus
(born January 21, 1940), nicknamed
"The Golden Bear"
, is an American professional golfer. He won 18 career major championships on the PGA Tour over a span of 25 years and is widely regarded as one of the greatest professional golfers of all time. In addition to his 18 Majors, he was runner-up a record 19 times, and placed 3rd an additional 9 times. Nicklaus did not play that many tournaments because he wanted to focus on the Majors, but is still second on the PGA-tournament winning list, with 73 victories.
After winning two U.S.
The older you get the stronger the wind gets—and it's always in your face.

International Herald Tribune (Paris, February 28, 1990)