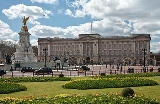 Buckingham Palace
Buckingham Palace
, in London, is the principal residence and office of the
British monarch
Monarchy of the United Kingdom
The monarchy of the United Kingdom is the constitutional monarchy of the United Kingdom and its overseas territories. The present monarch, Queen Elizabeth II, has reigned since 6 February 1952. She and her immediate family undertake various official, ceremonial and representational duties...
. Located in the
City of Westminster
City of Westminster
The City of Westminster is a London borough occupying much of the central area of London, England, including most of the West End. It is located to the west of and adjoining the ancient City of London, directly to the east of the Royal Borough of Kensington and Chelsea, and its southern boundary...
, the
palace
Palace
A palace is a grand residence, especially a royal residence or the home of a head of state or some other high-ranking dignitary, such as a bishop or archbishop. The word itself is derived from the Latin name Palātium, for Palatine Hill, one of the seven hills in Rome. In many parts of Europe, the...
is a setting for state occasions and royal hospitality. It has been a focus for the British people at times of national rejoicing and crisis.
Originally known as
Buckingham House
, the building which forms the core of today's palace was a large
townhouse
Townhouse
A townhouse is the term historically used in the United Kingdom, Ireland and in many other countries to describe a residence of a peer or member of the aristocracy in the capital or major city. Most such figures owned one or more country houses in which they lived for much of the year...
built for the
Duke of Buckingham
John Sheffield, 1st Duke of Buckingham and Normanby
John Sheffield, 1st Duke of Buckingham and Normanby, KG, PC , was a poet and notable Tory politician of the late Stuart period, who served as Lord Privy Seal and Lord President of the Council.-Career:...
in 1705 on a site which had been in private ownership for at least 150 years.