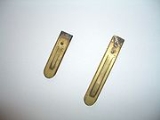 Reed organ
A
reed organ
, also called a
parlor (or parlour) organ, pump organ, cabinet organ, cottage organ
, is an
organ
Organ (music)
The organ , is a keyboard instrument of one or more divisions, each played with its own keyboard operated either with the hands or with the feet. The organ is a relatively old musical instrument in the Western musical tradition, dating from the time of Ctesibius of Alexandria who is credited with...
that generates its sounds using free metal reeds. Smaller, cheaper and more portable than
pipe organ
Pipe organ
The pipe organ is a musical instrument that produces sound by driving pressurized air through pipes selected via a keyboard. Because each organ pipe produces a single pitch, the pipes are provided in sets called ranks, each of which has a common timbre and volume throughout the keyboard compass...
s, reed organs were widely used in smaller churches and in private homes in the 19th century, but their
volume
Loudness
Loudness is the quality of a sound that is primarily a psychological correlate of physical strength . More formally, it is defined as "that attribute of auditory sensation in terms of which sounds can be ordered on a scale extending from quiet to loud."Loudness, a subjective measure, is often...
and tonal range are limited, and they were generally confined to one or two
manuals
Manual (music)
A manual is a keyboard designed to be played with the hands on a pipe organ, harpsichord, clavichord, electronic organ, or synthesizer. The term "manual" is used with regard to any hand keyboard on these instruments to distinguish it from the pedalboard, which is a keyboard that the organist plays...
, with pedal-boards being extremely rare.
Structure and method of sound production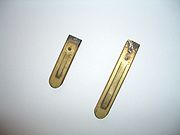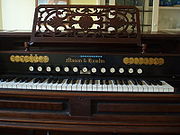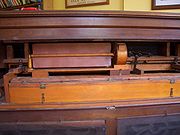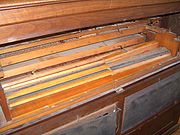 In the generation of its tones, a reed organ is similar to an
accordion
Accordion
The accordion is a box-shaped musical instrument of the bellows-driven free-reed aerophone family, sometimes referred to as a squeezebox. A person who plays the accordion is called an accordionist....
or
concertina
Concertina
A concertina is a free-reed musical instrument, like the various accordions and the harmonica. It has a bellows and buttons typically on both ends of it. When pressed, the buttons travel in the same direction as the bellows, unlike accordion buttons which travel perpendicularly to it...
, but not in its installation, as an accordion is held in both hands whereas a reed organ is usually positioned on the floor in a wooden casing (which might make it mistakable for a piano at the very first glimpse).
Reed organs are operated either with
pressure
Pressure
Pressure is the force per unit area applied in a direction perpendicular to the surface of an object. Gauge pressure is the pressure relative to the local atmospheric or ambient pressure.- Definition :...
or with
suction
Suction
Suction is the flow of a fluid into a partial vacuum, or region of low pressure. The pressure gradient between this region and the ambient pressure will propel matter toward the low pressure area. Suction is popularly thought of as an attractive effect, which is incorrect since vacuums do not...
bellows
Bellows
A bellows is a device for delivering pressurized air in a controlled quantity to a controlled location.Basically, a bellows is a deformable container which has an outlet nozzle. When the volume of the bellows is decreased, the air escapes through the outlet...
. Pressure bellows permit a wider range to modify the volume, depending on if the pedaling of the bellows is faster or slower. In
North America
North America
North America is a continent wholly within the Northern Hemisphere and almost wholly within the Western Hemisphere. It is also considered a northern subcontinent of the Americas...
and the United Kingdom, a reed organ with pressure bellows is referred to as a
harmonium
Harmonium
A harmonium is a free-standing keyboard instrument similar to a reed organ. Sound is produced by air being blown through sets of free reeds, resulting in a sound similar to that of an accordion...
, whereas in
Europe
Europe
Europe is, by convention, one of the world's seven continents. Comprising the westernmost peninsula of Eurasia, Europe is generally 'divided' from Asia to its east by the watershed divides of the Ural and Caucasus Mountains, the Ural River, the Caspian and Black Seas, and the waterways connecting...
, any reed organ is called a harmonium regardless of whether it has pressure or suction bellows. As reed organs with pressure bellows were more difficult to produce and therefore more expensive, North American and British reed organs and
melodeon
Melodeon (organ)
A melodeon is a type of 19th century reed organ with a foot-operated vacuum bellows, and a piano keyboard. It differs from the related harmonium, which uses a pressure bellows. Melodeons were manufactured in the United States sometime after 1812 until the Civil War era...
s generally use suction bellows and operate on
vacuum
Vacuum
In everyday usage, vacuum is a volume of space that is essentially empty of matter, such that its gaseous pressure is much less than atmospheric pressure. The word comes from the Latin term for "empty". A perfect vacuum would be one with no particles in it at all, which is impossible to achieve in...
.
Stops
Reed organs of European and U.S. design nearly always have a split keyboard, with one set of stop controls for the bass register at E3 and below and another for the treble.
The standard European configuration of stops for pressure-bellows instruments included five numbered draw-knobs for each register:
An 8' foundation rank
A 16' foundation rank
A 4' reed-like rank
An 8' reed-like rank
A 16' soft, salicional-like rank
Because this specification was so widespread and the numbering of each type of stop was standard between manufacturers sheet music could be printed with the specific registrations to be used by the organist- something that could not be done to any great level of detail with music for
pipe organ
Pipe organ
The pipe organ is a musical instrument that produces sound by driving pressurized air through pipes selected via a keyboard. Because each organ pipe produces a single pitch, the pipes are provided in sets called ranks, each of which has a common timbre and volume throughout the keyboard compass...
s because of the great differences in specification between instruments.
This standard configuration was not found amongst U.S. instrument makers (and wasn't applied by European makers of vacuum-bellows instruments) which therefore varied considerably in their stop-lists, with the most common instruments having two complete sets of reeds and ten or more draw-knobs controlling various
coupler
Coupler
Coupler is a word used to describe any of a number of things:* A railway coupling device;** A Janney coupler;* An electronic device, more properly, an acoustic coupler;* A telecommunications device known as a directional coupler;...
s and expression features. The main sets of reeds were invariably divided into Bass and Treble sections controlled by two separate draw-knobs to allow varying tones to be created on each half of the
keyboard
Musical keyboard
A musical keyboard is the set of adjacent depressible levers or keys on a musical instrument, particularly the piano. Keyboards typically contain keys for playing the twelve notes of the Western musical scale, with a combination of larger, longer keys and smaller, shorter keys that repeats at the...
- for example, a 4' stop may be drawn on the Bass and a 16' of a different tone on the Treble, to produce two readily available sounds of the same pitch but of a different tonal quality, or a solo stop could be used on the treble with several stops together on the bass part of the manual providing an accompaniment. Alternatively both stops of the same pair could be drawn on each half of the keyboard to produce the same tone and pitch across the compass of the instrument. Stops that controlled a Bass or Treble section of a complete set of reeds often had numbers or other indicators on their faces to allow the player to tell which stops were paired.
As well as the main ranks spanning the entire compass of the keyboard, makers frequently added sets of reeds only playable on one half. A half-set of reeds may be provided (with its own draw-knob) to act in conjunction with another as a '
Voix céleste
Voix céleste
The Voix celeste, [Fr.] is an organ stop consisting of either one or two ranks of pipes slightly out of tune. The term celeste refers to a rank of pipes detuned slightly so as to produce a beating effect when combined with a normally tuned rank...
'. A set of reeds played only on the bottom-most
octave
Octave
In music, an octave is the interval between one musical pitch and another with half or double its frequency. The octave relationship is a natural phenomenon that has been referred to as the "basic miracle of music", the use of which is "common in most musical systems"...
of the keyboard and of 16' (or even on occasion 32') pitch was common on instruments intended for large churches or concert performances- such a stop was usually termed a 'Sub Bass'.
It was common for organ builders to provide multiple draw-knobs controlling each rank of reeds- for example, one draw-stop would open the mute over the reeds fully, whilst another would only open the mute half way when pulled, providing a softer tone.
Mechanical stops controlled various functions on the instrument. Octave Couplers were commonly fitted, where the key one octave above the key being pressed would also be pulled down. On larger instruments this function was split between the two halves of the keyboard- the Bass Coupler coupled the octave below the key being played, the Treble Coupler the octave above. A 'Forte' stop controlled the shutters over the reed ranks- when pulled a louder, richer tone was created. Larger instruments had the Forte mechanism doubled-up to allow separate control of Bass and Treble sections. A rare feature was 'Pedal Point'- when the draw-knob was pulled the organist could press a key in the bottom octave of the keyboard and the key would be held down once finger-pressure was released until another key was pressed. This went some way to compensate for the lack of a pedal-board. On some organs this feature was controlled by a knee-operated lever instead of a draw-knob.
On all but the smallest instruments a '
Vox Humana
Vox humana
The Vox Humana is a short-resonator reed stop on the pipe organ, so named because of its supposed resemblance to the human voice. As a rule, the stop is used with a tremulant, which undulates the wind supply, causing a vibrato effect...
' or tremolant was a common feature. This is a mechanical stop which controls a vacuum-powered fan to disturb the airflow over the reeds and create the desired
vibrato
Vibrato
Vibrato is a musical effect consisting of a regular, pulsating change of pitch. It is used to add expression to vocal and instrumental music. Vibrato is typically characterised in terms of two factors: the amount of pitch variation and the speed with which the pitch is varied .-Vibrato and...
effect.
What with the splitting of the main reed sets, the duplication of controls for each set and the presence of mechanical stops means that whilst an instrument may only have 3 or 4 sets of reeds it may have as many as 20 draw-knobs.
Larger reed organs were made that had multiple manuals, and in some cases a pedal-board. These were sold primarily as practice organs to professional organists and to churches unable to afford or house a pipe organ. Since the pedal-board prevented the player pumping the bellows with his or her feet as on a smaller instrument such organs had a separate handle which an assistant would operate to produce the vacuum, or on later instruments an electric air pump. Instruments with more than one manual and/or a pedal-board would also feature coupling mechanisms between keyboards as on a conventional
pipe organ
Pipe organ
The pipe organ is a musical instrument that produces sound by driving pressurized air through pipes selected via a keyboard. Because each organ pipe produces a single pitch, the pipes are provided in sets called ranks, each of which has a common timbre and volume throughout the keyboard compass...
.
History
The reed organ was popular in the late 19th century, replacing the melodion. Advances in piano manufacturing technology in the early 1900s made pianos more affordable, causing reed organs to fall out of favor. Other reasons for the replacement of reed organs were their wavering status somewhere between a
sacred
Sacred
Holiness, or sanctity, is in general the state of being holy or sacred...
pipe organ surrogate and a secular home instrument and the lack of original compositions for reed organs.
A handful of instruments continued to be made until about 1950, some with innovations such as electric blowers; the last US company making reed organs was
Estey
Estey Organ
The Estey Organ Company was founded by Jacob Estey when he bought out a Brattleboro, Vermont manufacturing business in 1852. The company went on to become the largest manufacturer of organs in the United States. The original company had been founded in 1846...
, which closed down in 1957. Some of the companies also made pianos—Mason & Hamlin, Baldwin, and Steinway, for example—and are still in business. Another, Kimball, made both pianos and reed organs, but is no longer in the music business; it now makes furniture.
A small number of self-playing reed organs (often called 'organettes') were built in the early 20th century. These used a pin-hole music roll and a pneumatic action as used on
player piano
Player piano
A player piano is a self-playing piano, containing a pneumatic or electro-mechanical mechanism that operates the piano action via pre-programmed music perforated paper, or in rare instances, metallic rolls. The rise of the player piano grew with the rise of the mass-produced piano for the home in...
s. These often had a much higher number of
stops
Organ stop
An organ stop is a component of a pipe organ that admits pressurized air to a set of organ pipes. Its name comes from the fact that stops can be used selectively by the organist; some can be "on" , while others can be "off" .The term can also refer...
than normal reed organs, since the player's hands were freed from the need to operate the keyboard. This allowed more complex stop arrangements. However, by the time these instruments reached their developmental peak, the market for reed organs in general was starting to decline.
Many reed organs were shipped overseas to support
missionary
Missionary
A missionary is a member of a religious group sent into an area to do evangelism or ministries of service, such as education, literacy, social justice, health care and economic development. The word "mission" originates from 1598 when the Jesuits sent members abroad, derived from the Latin...
efforts, though they remain common (though often disused) in both private and ecclesiastical ownership. Reed organs (as with true
harmonium
Harmonium
A harmonium is a free-standing keyboard instrument similar to a reed organ. Sound is produced by air being blown through sets of free reeds, resulting in a sound similar to that of an accordion...
s) were preferable to
piano
Piano
The piano is a musical instrument played by means of a keyboard. It is one of the most popular instruments in the world. Widely used in classical and jazz music for solo performances, ensemble use, chamber music and accompaniment, the piano is also very popular as an aid to composing and rehearsal...
s in tropical climates and regions of the world with poor transport infrastructure. As well as being cheaper to purchase, reed organs kept their tune regardless of temperature or humidity. They lacked the fragile strings, hammers and sounding boards found in pianos and so stood up much more easily to being shipped long distances, even on poor roads. Portable foot-pumped reed organs remained in use in the U.S. armed forces until the end of
World War II
World War II
World War II, or the Second World War , was a global conflict lasting from 1939 to 1945, involving most of the world's nations—including all of the great powers—eventually forming two opposing military alliances: the Allies and the Axis...
, where they were used by
chaplain
Chaplain
Traditionally, a chaplain is a minister in a specialized setting such as a priest, pastor, rabbi, or imam or lay representative of a religion attached to a secular institution such as a hospital, prison, military unit, police department, university, or private chapel...
s to lead
worship
Worship
Worship is an act of religious devotion usually directed towards a deity. The word is derived from the Old English worthscipe, meaning worthiness or worth-ship — to give, at its simplest, worth to something, for example, Christian worship.Evelyn Underhill defines worship thus: "The absolute...
services aboard
ship
Ship
Since the end of the age of sail a ship has been any large buoyant marine vessel. Ships are generally distinguished from boats based on size and cargo or passenger capacity. Ships are used on lakes, seas, and rivers for a variety of activities, such as the transport of people or goods, fishing,...
s and in remote locations. Although rudimentary as musical instruments they were adequate for their purpose--keeping a group of untrained singers more-or-less on pitch.
These portable reed organs were brought to India by British missionaries and army chaplains. Indian musicians took them up and incorporated them into their musical life; various companies in India still make reed organs for this market. However, in response to the differences between Indian and Western musical practices, certain changes were made.
Indian music emphasizes melody, rather than harmony; furthermore, Indian musicians prefer to sit on the ground, rather than on chairs. Hence, rather than having the bellows operated by the feet while both hands play on the keyboard, Indian harmonia have bellows on the back operated by one hand while the player picks out the melody on the other. The Indian Harmonium also has a drone stop.
One would think that the accordion or concertina would serve Indian musicians' needs better, but while the British knew the accordion, it wasn't
their
instrument as it was for either the French or the Germans; hence, few accordions were brought into India by the British, and the Indians were not exposed to that instrument.
Some expatriate Indian musicians, when they could not find reed organ have adopted accordions and concertinas, and a few have brought them back to India.
Today
Reed organs have been largely replaced by
electronic organ
Electronic organ
An electronic organ is an electronic keyboard instrument which was derived from the harmonium, pipe organ and theatre organ. Originally, it was designed to imitate the sound of pipe organs, theatre organs, band sounds, or orchestral sounds....
s, but there remain a number of enthusiasts. The finer instruments have a unique tone, and the
cabinets
Cabinet (furniture)
A cabinet is usually a box-shaped piece of furniture with doors or drawers for storing miscellaneous items. Some cabinets stand alone while others are built into a wall or are attached to it like a medicine cabinet. Cabinets are typically made of wood or, now increasingly, of synthetic...
of those intended for churches and affluent homes were often excellent pieces of
furniture
Furniture
Furniture is the mass noun for the movable objects intended to support various human activities such as seating and sleeping in beds, to hold objects at a convenient height for work using horizontal surfaces above the ground, or to store things...
. Several million reed organs and melodeons were made in the U.S. between the 1850s and the 1920s.
Similar instruments
Free reed aerophone

Free reed aerophone

A free reed aerophone is a musical instrument where sound is produced as air flows past a vibrating reed in a frame. Air pressure is typically generated by breath or with a bellows.- Operation :...



variations of reed organ
related instruments
Pipe organ

Pipe organ

The pipe organ is a musical instrument that produces sound by driving pressurized air through pipes selected via a keyboard. Because each organ pipe produces a single pitch, the pipes are provided in sets called ranks, each of which has a common timbre and volume throughout the keyboard compass...



Portative organ

Portative organ

A portative organ is a small pipe organ that consists of one rank of flue pipes, sometimes arranged in two rows, to be played while strapped to the performer at a right angle...



External links